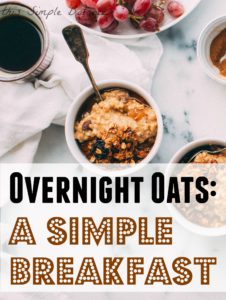 Breakfast: the most important meal of the day, or so the doctors and scientists say.  Yet most of us do not give breakfast the attention it deserves.  If you are rushing through your mornings, you might think you don't have time for breakfast (these overnight oats just might change your mind).
That's certainly what I thought.
Most mornings, I threw back a couple cups of coffee (literally – when you have four kids, you drink it fast if you want it hot) and often didn't feel hungry for breakfast.  The results showed around 10 a.m. – I was cranky and tired and hungry.
I knew I needed a better breakfast habit, but nothing thrilled me.  There was nothing I actually wanted to eat that didn't require cooking, which was out of the question. So the occasional morning I managed to find a minute to scarf down something, I usually poured a bowl or cereal or grabbed a granola bar.
Read More

»
Posted by
June Doran