Inside: Have a difficult time choosing books for young boys? Grab these books at your local library – our boys loved them and asked to read them over and over again!
It's time for another installment of "Books for Young Boys"! We've finally waded through enough books, sifting through the mediocre ones to bring you some truly awesome books perfect for young boys (and probably girls, too!).
The more library books I choose books for my boys, the more I'm surprised by how you truly cannot judge a book by its cover.
Some book covers make a book seem like an instant hit…only to find that its contents, while well-illustrated, are just so-so. Other covers are lackluster, but inside? A truly memorable story.
Lately, my library trips look like quickly pulling several books off the shelves, usually the ones the librarians set out on top (fingers crossed they're good!). The covers and the titles, along with familiar authors, are usually all I have go by. There's absolutely no time to read them when your toddler is fighting to pull them off the shelves at the same time.
Related: The Ultimate Guide to Homeschooling with Babies and Toddlers
Then we sit down at home with a huge pile and start reading through them…and sometimes, I'm amazed. How on earth did half of these books get published at all! Were they read to actual children?! And which ones?
That aside, about half of them end up being duds. Some of them I don't even finish – and I'm a "finisher". They get tossed on the return pile pretty fast.
As you know, we do happen on some truly amazing books. To this day, I still can't predict which ones are going to be awesome and which ones are duds. Because even when you get the classics, the ones everyone else says are great, they still sometimes just don't connect with your kids.
THIS POST PROBABLY CONTAINS AFFILIATE LINKS. AS AN AMAZON ASSOCIATE, I EARN FROM QUALIFYING PURCHASES. YOU CAN READ OUR FULL DISCLOSURE POLICY HERE.
Certain Books Require Precise Timing
Don't give up on those lists completely, though, even if you've tried some of them with no success.
Sometimes it's just a timing thing.
When our oldest was around age 5 or 6, I tried reading the Little House series aloud. We started at the very beginning of course, and I read enthusiastically, sure this series was going to be the most beloved books of her childhood!
Guess what? We didn't even make it through the first book. It was a total flop.
I gave up until this year. Her love of audio books grew exponentially, and she was making it through entire audio books in just a couple of days. I saw Little House in the Big Woods on the shelf and thought, "Let's give this another shot. We'll see what happens."
And I'm so glad I tried again!
In the past few months, she has listened all the way through the series and is on her second round. Sometimes, it's just a matter of timing.
The Best Books for Young Boys
Without further ado, here are the winners from the past few months: the beloved books that they asked for over and over again. They vary from hilariously funny books to books with incredibly engaging storylines.
Side note: The last book I originally chose for my daughter, but it was a HUGE hit with the boys! Just goes to show that you never know what books will resonate with your kids.
If you're new to these book lists, my boys are currently six and four (with an up and coming two-year-old who doesn't sit still for books just yet). I hope your kids enjoy them as much as we did!
Related: 17 Unexpectedly Awesome Books for Young Boys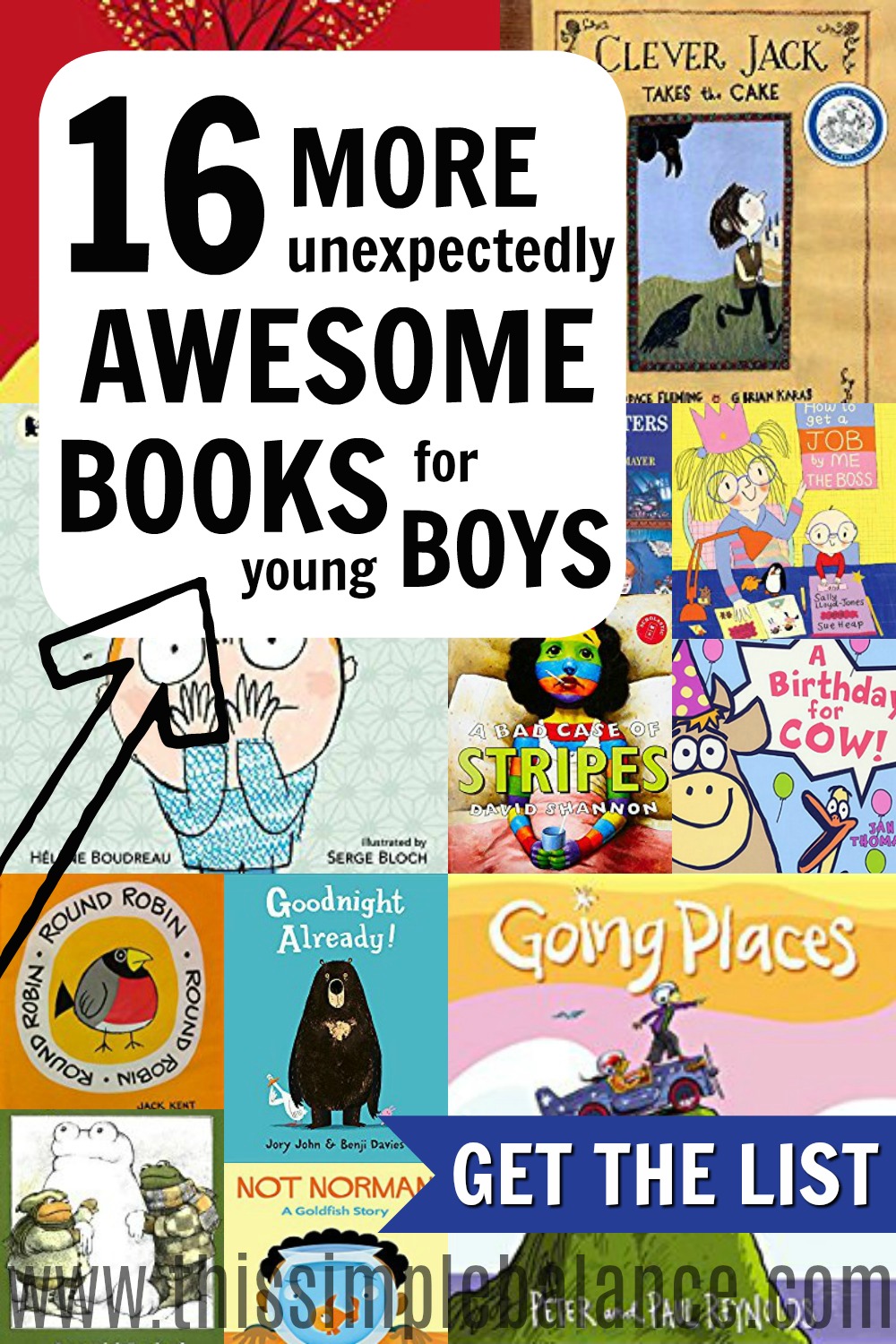 16 More Awesome Books for Young Boys
1. Going Places
2. There are Monsters Everywhere
4. Moo Moo in a Tutu (A Moo Moo and Mr. Quackers Book)
7. Sam, the Most Scaredy-Cat Kid in the Whole World
10. Round Robin
11. Not Norman: A Goldfish Story
13. How to Get a Job…by Me, the Boss
16. Crafty Chloe