Inside: Everyone has an opinion on what you need to have on your baby registry, but do you really need it all? Get tips from a mom of 5 on what you really need to have a baby registry you don't won't regret. 
Baby registries are so exciting! You're given that magical scanner, sent off with a checklist of things you "need" as a new parent. Off you go, adding everything that looks beautiful and fun, and of course, everything on that essential checklist.
Want to know a secret? You don't need three quarters of it! And those baby registry checklists are definitely not made with multiple kids in mind.
Check out these tips and registry must-haves that this minimalist mom of four wishes someone would have told her when she was making her baby registry eight years ago.
Baby Registries & Christmas Wish Lists (they're super similar)
Making a baby registry for your first child can be like making a Christmas wish list as a kid. Do you remember being given a Toys'R'Us catalog as a kid? "Go through and circle what you like," our parents said.
Oh my goodness, THE BLISS.
Page after page filled with tantalizing, colorful toys. Fifty circles later, I handed it back to my parents, completely clueless about what I really wanted for Christmas.
Think Beyond Your First Child
When my husband and I went to Babies'R'Us to make our baby registry, we were dazzled. As soon as they gave us that awesome scanner again, we were off, just like kids at Christmas.
We were having a girl: everything needed to be pink!
I even registered for a pink stroller, until someone jokingly remarked, "That's brave! You must be confident the rest of your kids will be girls!"
Flabbergasted, I realized I wasn't thinking past the first child. I hastily switched to the blue and brown version of the BOB. Still, I didn't think twice about registering for the humongous convertible car seat – pink and brown again – that took up half the back seat of our tiny Toyota Corolla.
Little did I know that one day, I would need to fit three car seats across that back seat (new car seats are cheaper than a new car, FYI).
This list is the one I wish I had 7 years ago.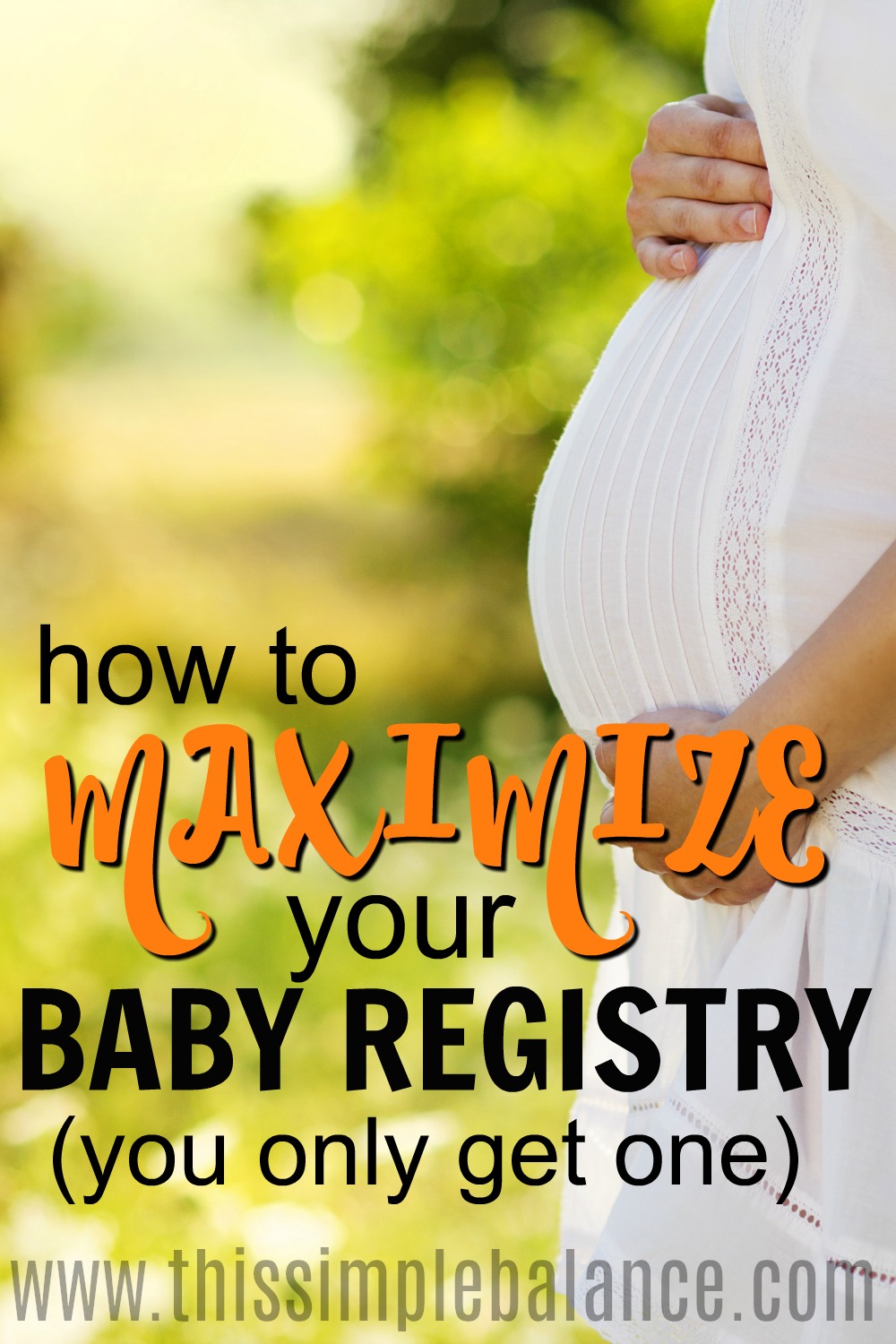 Baby Registry Must Haves
1) Double Stroller
Do yourself a favor and skip the single stroller altogether.
Most parents do not get a second baby shower, so make this one count: register for a double stroller, not just one that can convert – the WHOLE double stroller. Don't forget attachments like a car seat adaptor.
Questions to consider when choosing a stroller:
Doors: Do you live in the city? Will your stroller need to fit through narrow door frames, like restaurants or even your own door?
Terrain: What type of terrain will you need the stroller to tackle? City sidewalks? Dirt paths?
Storage: Where will you store your stroller? Do you have space inside or will it need to sit outside somewhere?
My Recommendations:
(From Left to Right: BOB 2016 Revolution FLEX Duallie Stroller, Baby Jogger 2017 City Select Stroller)
2) Optimal Car Seat(s) & Accessories
The Diono Radian Car Seat is a convertible car seat – you can use it from birth until your child no longer needs a car seat. It is the narrowest car seat on the market and will fit three across in small cars. While it is on the pricier side, you will NEVER need to buy another car seat. In fact, register for two while you're at it (especially if you have two cars)!
Now while you may not need an infant car seat, it is so much easier those first few months to be able to carry the baby in and out of the car or stroller without waking the baby up. If you need to prioritize, go with the Diono and borrow an infant car seat from friends or family.
My Recommendations:
(From Left to Right: Diono Radian RTX All-In-One Convertible, Chicco Keyfit 30 Infant Car Seat)
3) Non-Back Breaking Baby Carrier
I had a baby Bjorn baby carrier without the back strap with my first child. My second child was 10 lbs at birth, and by the time he was two months old, I suffered severe back pain. Bjorn carriers have come a long way since then, and I rarely see ones without a back support strap.
My personal preference is the Ergo Baby Carrier. Parents main complaint about the Ergo Baby is the inability to face babies outward while strapped to the parent's chest. Well, those Ergo geniuses have come up with a solution for that: the Ergo Baby 360.
I still prefer facing the baby towards me, as it provides more opportunity for interaction, which enhances language development (see the Read-Aloud Handbook), but if you prefer baby to face outwards at times, the 360 is below.
My Recommendations:
(from Left to Right: new Ergo Baby 360 Carrier, Ergo Baby 3 Position Carrier, Ergo Baby Infant Insert)
4) Baby Seat (Just one!)
Swings, bouncers, jumpers, exersaucers. The choices for baby seats seem to be as numerous as the stars these days. And guess what? Each one gets used for about two months…and then you need to find a place to put that thing for the next couple years. I've lost many a good baby seat to mold from a damp basement.
My advice? Choose one to register for, and borrow the rest. You can borrow from fellow parents, or consignment shops now rent equipment as well.
Swings are probably the most versatile (and difficult to replicate with another option). If you decide to go with another seat, I have borrowed some fabulous ones listed below.
My Recommendations:
(From Left to Right: Fisher Price My Little Snugapuppy Cradle n' Swing, BABYBJORN Bouncer Balance Soft)
5) All Things Diapering
A Word on Diapers & Wipes
When you register for diapers, go with Pampers. Every baby is different, with the potential for skin sensitivities to any diaper, BUT Pampers is probably the safest choice if you are going to stock up in advance. Discovering your baby is allergic to your stockpile one pack in is not pleasant (all that wasted money can make you cry – literally). 
In contrast, Pampers wipes are the most worthless wipe I have every come across. Stick to Huggies wipes: trust me.
After my first child, I rarely used the diaper changing table, but I must admit that especially the first two months, a changing pad is essential (because:exploding poop). A changing pad can be slid under a crib or a bed.
Potty Training Essentials
After horrendous potty training experiences with my first two kids, I went the early potty training route with my third and fourth, but the lazy version (starting at 7-8 months old – totally doable!). Even if you don't decide to give early potty training a try, you'll need this stuff eventually, right?
A "Grown-up" Diaper Bag
Four kids later, you'll want a grown-up diaper bag. That's all.
My Recommendations:
BONUS: Gift Cards & Amazon Prime
If there was nothing I wanted more those first few months of parenthood, it was easy dinner, take-out preferred. Thankfully, our church community provided 3 meals a week for 6 weeks (phenomenal, I know!). Unfortunately, at no other time is it less plausible to eat out frequently. Many parents are choosing to stay home full-time for the first time (transitioning to one income can be rough), or they only have a partially paid maternity/paternity leave.
Make those first few months easier: register for restaurant gift cards.
Another gift that's easy to give and ask for is Amazon Prime. As a parent with four kids, I don't know how I lived with Prime before. I use Amazon Subscribe & Save to order diapers, wipes, paper goods, and snacks. They are delivered right to my door and often cheaper than I could get in store. Crazy!
Simple, affordable, genius.
Did this help you? Pin it!