Inside: Get encouragement, tips and ideas from a small blogger income and traffic report. Follow along as I work towards my goal of $1,000 a month income from this blog.
Last month was a huge success for my little blog, but it ended on a very sour note. I've heard about Pinterest glitches before, and bloggers being put in "Pinterest jail", but I have never been on the receiving end of one of these glitches.
There's a first time for everything, I suppose.
During the last week of March, I was riding a huge increase in Pinterest traffic, receiving over 4,000 pageviews a day almost every day. Thursday, that wave crashed down as Pinterest started blocking my pins. Every time you tried to click through, you received a, "This link has been blocked due to possible inappropriate content" message.
I e-mailed Pinterest every day to attempt to get this fixed, but they seemed to be experiencing multiple issues site-wide and were unresponsive. My pageviews dropped like a rock.
Those were low days for me: as I'm sure you can imagine, it felt like all my hard work was being thrown away.
THIS POST PROBABLY CONTAINS AFFILIATE LINKS. AS AN AMAZON ASSOCIATE, I EARN FROM QUALIFYING PURCHASES. YOU CAN READ OUR FULL DISCLOSURE POLICY HERE.
Painful Blogging Lessons from "Pinterest Jail"
When I had given up all hope that I would ever get out of "Pinterest jail", my Pinterest traffic magically turned back on five days later. I never received an e-mail back about this particular issue. They just fixed it somehow, and things are now back to normal with my Pinterest account.
Those five days made me think long and hard about the stability of my blogging income.
Until now, I've put most of my eggs in the "Pinterest basket", and I learned the hard way that relying too heavily on any one traffic source a HUGE long-term risk.
The lesson, while painful, was a necessary one. After pulling myself out of a pit of discouragement, I was able to step back and reevaluate my overall blog strategy. I have been far too reliant on Pinterest traffic to grow my blog. I need to diversify my traffic if I want the income from my blog to be reliable and sustainable. This was the kick in the pants I needed to start seriously pursuing other ways to get traffic.
Moving forward, I am focusing on building up additional traffic sources. One of my favorite bloggers Lena Gott of What Mommy Does sent an e-mail this week encouraging her readers to build up their Pinterest account, and then "set it and forget it". My Pinterest account is fairly well-established after a year of intense focus and effort, so I will be "setting it and forgetting it" a lot more often. I will schedule my own pins and other's content in Tailwind once a week, pin from the smartfeed every night, and participate in one pin thread a week.
I will be redirecting my focus to Facebook, SEO, and building my e-mail list.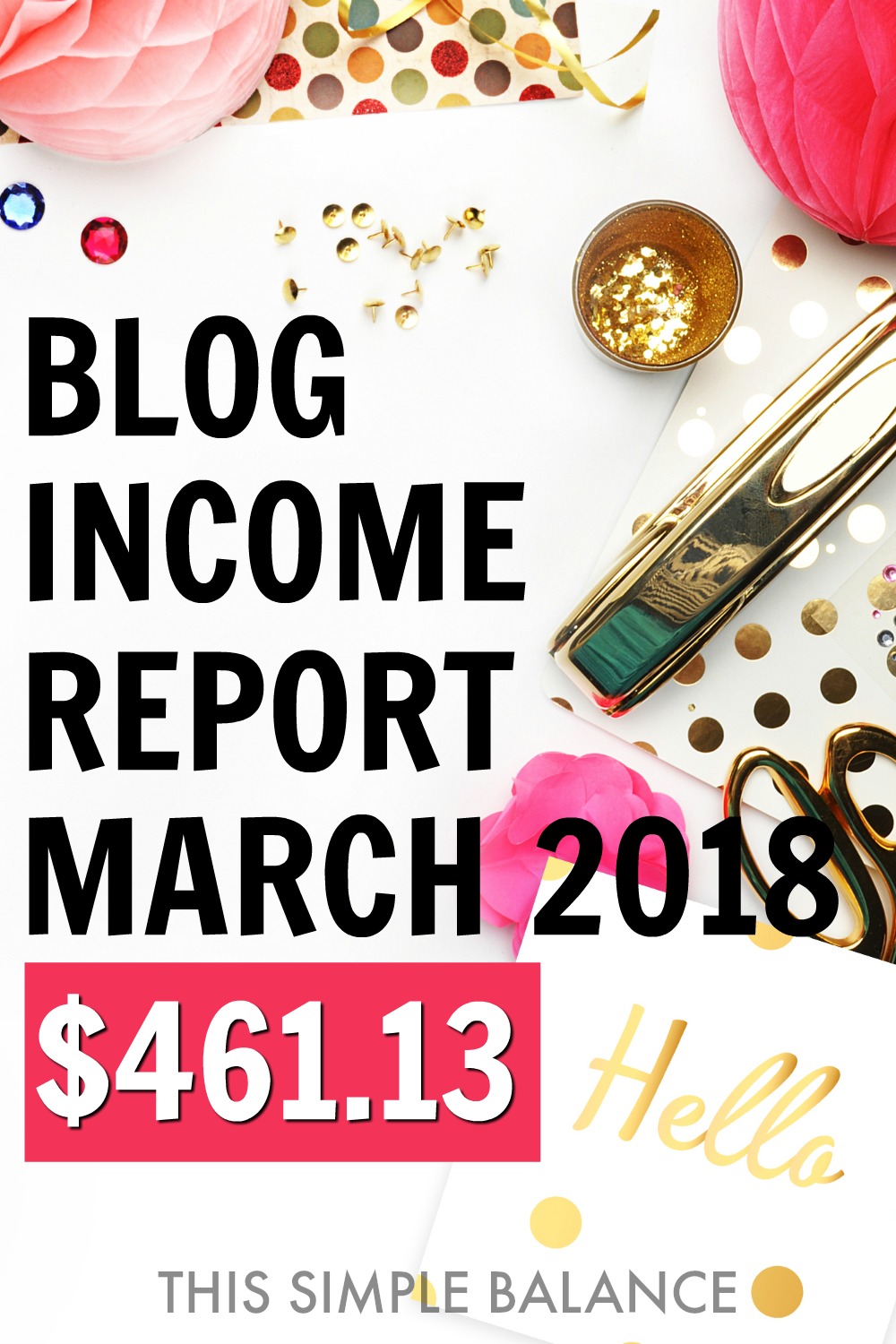 Blog Income and Traffic Report
Blog Traffic
This month, my traffic soared (Spoiler Alert: I will hit and surpass my $1,000 a month earning goal early in June as a result of the ad earnings from all that traffic)! The dramatic traffic increase can be attributed to one new post and one updated, older post with a new title and pin.
I will hopefully not lose too much traction in April due to being blocked by Pinterest.
Pageviews: 96,168
Users: 71,005
Sessions: 79,633
My Most Popular Posts
Top Referrers
Pinterest
Direct
Organic Search
What Worked This Month
Writing about Minimalism on a Low Income
Apparently this is my hallmark topic. I have found my unique slant in this niche, and I will continue to write posts that can interlink to my high traffic posts, which are clearly my pillar posts.
Updating Old Content
This month, I was only able to write five or six new posts total. We were all so sick for almost the entire month, I just didn't have the energy to produce a ton of new content.
There are several posts that are starting to get organic search traffic and Pinterest traffic (without me even pinning them at all, except for the original pin). I decided to update those older posts by deciding on a new title, editing the content itself and creating new pins for the post.
This paid off as an old post took off like never before. Granted, this was squelched a little by the Pinterest block, but traffic to that post has picked back up.
Getting Dates Removed from my URLs
When I first started blogging, no one mentioned that the default setting on WordPress included dates in the URLs. For a long time, I wasn't worried about it. Other than the ability to republish old posts without a redirect, I didn't see any advantages or disadvantages to removing the dates.
Then someone mentioned that dates in your URLs can negatively affect SEO. It makes sense. With dates, your keywords are farther back in the URL than your competition, making it harder to rank for your target keywords.
I decided to hire Grayson Bell from iMark Interactive to remove the dates and code redirects directly in my .htaccess file. He was affordable (to me), fast, and most importantly trustworthy. He comes highly recommended by pretty much everyone I know in the blogging community.
Continuing to Invest in Education
As much as I wince every time I purchase a new course, I know that I need to keep learning. I purchased four new courses last month:
Adventures in SEO by Lena Gott
10 Step Blog Post SEO Improvement Plan by Pot Pie Girl
1644 Tracking by Pot Pie Girl (can you tell she's really good at upsells? lol)
The first two courses focused yet again on Pinterest. I think they finally solidified and finalized all my Pinterest knowledge, aside from Pinterest updates and changes which happen every few months.
I highly recommend Pinterest Master Improvement Plan (P.I.M.P.) because it helps you understand how Pinterest actually works.
P.I.M.P. answers questions like:
How does Pinterest really know what my pins are about? (Pinterest is a search engine.)
How does Pinterest assign keywords to my pins?
How does Pinterest know what my boards are about?
Am I confusing Pinterest by how I pin my content to Pinterest, which boards I'm using, etc.?
Adventures in SEO was pricey, but as much as I loathe expensive blogging courses, I need organic search traffic. If I can learn how to optimize my posts simultaneously for both Pinterest and organic search traffic, I will set myself up for blogging success in the short-term and the long-term. When a post inevitably dies down in Pinterest (and it will), SEO will kick and start sending highly coveted organic traffic my way.
The 10 Step SEO Blog Post Improvement Plan is the most straight-forward method I've seen yet to optimize old posts to rank the best they can in search engines. It also is helping me to learn about keywords some of my posts are already ranking for, which in turn is helping me brainstorm new posts that will actually rank well in organic search (this is a major weakness for me as a multi-niche mom blog).
I haven't had time to dig into the 1644 Tracking Resource yet, but I'm sure it will be another great resource. I've loved all of Pot Pie Girl's courses so far.
Blog Income: $461.13
I count income as it hits my bank account. This can be slightly confusing, as I already know I'll be earning over $1,000 in June (and it's only the beginning of April). However, I think it's important to realize that I can't count on income earned in the future right now, and I want you to understand that it took me over a year to start earning any significant blog income. Perseverance is essential to success in blogging.
Mediavine Ads: $197.10
Affiliate Income: $180.35
Freelance Writing: $33.68
Sponsored Posts: $50
I will make one note here that I am no longer pursuing sponsored posts. They take a lot of time for me to write, taking time away from the million other things I could be doing to grow my business.
I will also be no longer pursuing freelance writing assignments, once my current assignment (monthly posts through November) is finished. While they do provide invaluable backlinks, I would rather use my time and energy to produce content for my own blog.
Blogging Expenses: $350.41
Convertkit: $29.99
Courses: $277.98
Grayson Bell (redirects): $42
The best advice I ever received was to invest all my income back into my blog, until it reached $1,000 monthly income. As you can see, I invest a LOT in blogging education, even though we really could use the income from this blog. I'd rather learn now than later and have to undo mistakes.
Related: Grow Your Blog on a Budget (Affordable Blogging Courses for Beginners)
What I'm Changing
Facebook Traffic
In my last income report, I said I was abandoning Facebook. Yeah, I spoke too soon.
Because I had minimal Facebook traffic to begin with, I didn't take the "Facebook is dead for bloggers and businesses" quite the same way as bloggers whose significant Facebook traffic has tanked in the past month. I signed up for Smarterqueue at the recommendation of a friend in order to make Facebook scheduling doable.
I have actually enjoyed diving into Facebook more than I thought I would. I am still determining what exactly I want my Facebook page to be like in order to generate the most engagement, but also to drive traffic (the posts will only drive traffic if I've attracted the right audience and they are engaging with my page.
This is definitely an experiment, and I'll keep you posted to let you know how it goes!
You can try Smarterqueue for FREE using my referral link.
Working on SEO Like a Boss
It's always a fine line between writing content for your readers and writing content that will generate passive traffic in the long run. I am attempting to do both.
I will continue to do keyword research, mainly through the 10 Step Blog Post SEO Improvement Plan by Pot Pie Girl. This seems to be the easiest way for me to figure out new keywords I could actually rank for and I want to write about.
Ironically, the posts that seem to generate the most search traffic are the ones I've worked least to optimize. Google seems to be mocking me, but that's o.k. I'll take any search traffic I can get.
Building My E-mail List
My list is still small, in my opinion. Just shy of 400 subscribers, I have some serious work to do in order to build my list. At this point, I am mainly using my list to drive traffic to new blog posts and share freebies with affiliate links (my favorite form of affiliate marketing!).
I write two e-mails a week: one to almost my entire list (except folks who have subscribed for only my minimalism posts), and one to my homeschool/pre-homeschool mom list. E-mails are actually one of my favorite parts of blogging.
I still love Convertkit and consider it money well spent.
Goals for April
I want to recover from the "Pinterest Jail" debacle, and the make sure my Pinterest traffic is more "set it and forget it". While I do still manually pin, I need to free up time to build up other traffic sources.
I already mentioned building up Facebook and Google traffic. I would really like to see an increase in both by the end of the month.
I still need to set up a separate welcome sequence for my homeschool moms, so they can get a better idea of my homeschool style and whether or not staying on my list will be helpful to them. I really don't want to pay for more subscribers than will actually appreciate and open my e-mails. In turn, I am a strong advocate for moms only receiving e-mails that benefit them. If my content isn't their jam, I want them to find another blogger whose e-mails they can truly look forward to every week.
I will be participating in the Ultimate Homemaking Bundle Sale this month, so I hope to develop my own unique way to effectively promote something I truly love without sending a gazillion e-mails (I despise getting a million e-mails for a limited time product, and I refuse to buy into the "Send 7 e-mails in 5 days to make sales.").
If this encouraged you at all, would you pin this so other small bloggers can find it? Thanks so much!