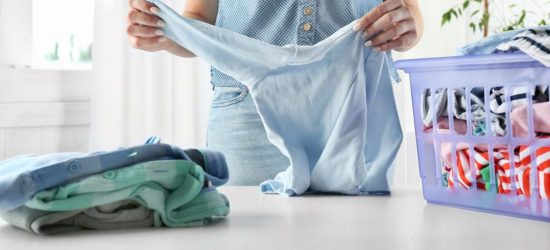 Inside: Are you spending all your time folding your kids' laundry? Here are six good reasons to stop folding laundry and exactly how to do it to get your time back.
Neat and tidy drawers with nicely folded clothes make me happy. I am intent on raising kids who not only appreciate a clean home, but also know how to keep it that way.
And want to know something else? I'm one of those weird people who actually enjoys folding laundry.
I really do! Really.
In fact, I wrote an entire blog post about how the Konmari method of folding clothes changed my mom life (and if after you read this, you still want to fold your kids' clothes, use the Konmari method).
Messy drawers? Gone for good with all those clothes filed neatly away, so you could see every single piece.
My husband's drawers were no longer a complete disaster just one day after I put away clothes. Even the kids could keep their drawers straight (mostly).
I do still fold the adult clothes that require folding (and I still use and love the Konmari method for those clothes). About half of our clothes hang in closets, so that just leaves things like t-shirts, shorts, and pajamas.
Deeply wrinkled clothes aren't really kosher for adults, so I don't think I could ever stop folding our clothes. Although I did stop folding underwear – I mean, really, what's the point?
But back to why I stopped folding the kids' laundry….
So why on earth did a mom who loves neat and tidy drawers and folding clothes quit folding her kids' clothes?
There are six, really good reasons.
Read More

»
Posted by
June