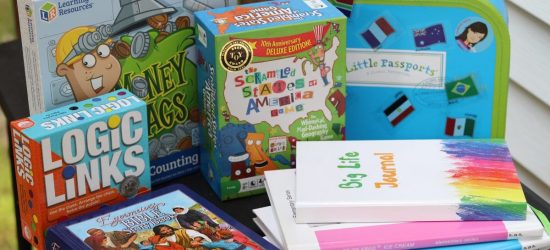 Inside: Are you going to homeschool 3rd grade or 1st grade this year? Check out the third grade homeschool curriculum section of this post for our core resources, and the rest of the post for additional resources we are using for the 2018-2019 school year for both grades.
Even though I am writing a curriculum post for the 2018-2019 school year, we are technically year-round homeschoolers.
I suppose you could consider our annual standardized test – as required by the state of North Carolina – the marker for when one school year ends and another school year begins. I typically administer the test in July or August each year.
While we don't have an official "back to homeschool" day, we are starting a new tradition: an annual "NOT back to school" day!
I'm generally not bothered by the fluid nature of our homeschool days and years, but I know that my kids might need/want more special days to mark the years by.
Going out for ice cream (something we never do), playing board games and watching movies together all seemed like fun and easy ideas for an annual back to school day. Now to pick an official date in early September!
Read More

»
Posted by
June