Inside: The ultimate list of fall activities for kids. Bake, read, play, learn, create, decorate and more!
I'm from New England. At least, that's where I spent the majority of my adult life. When I first set foot on my college campus fourteen years ago, I had no idea that part of living in Boston would mean falling head over heels in love with fall!
It's almost like a religion.
In New England, people love fall almost as much as Christmas (o.k., maybe as much?). September 1st rolls around, and the scarves, boots, and vests come out – regardless of the temperature. We count down the days until the Pumpkin Spice Latte returns to Starbucks, and if you haven't gone apple picking you haven't lived!
No time to read now? Pin these ideas for later!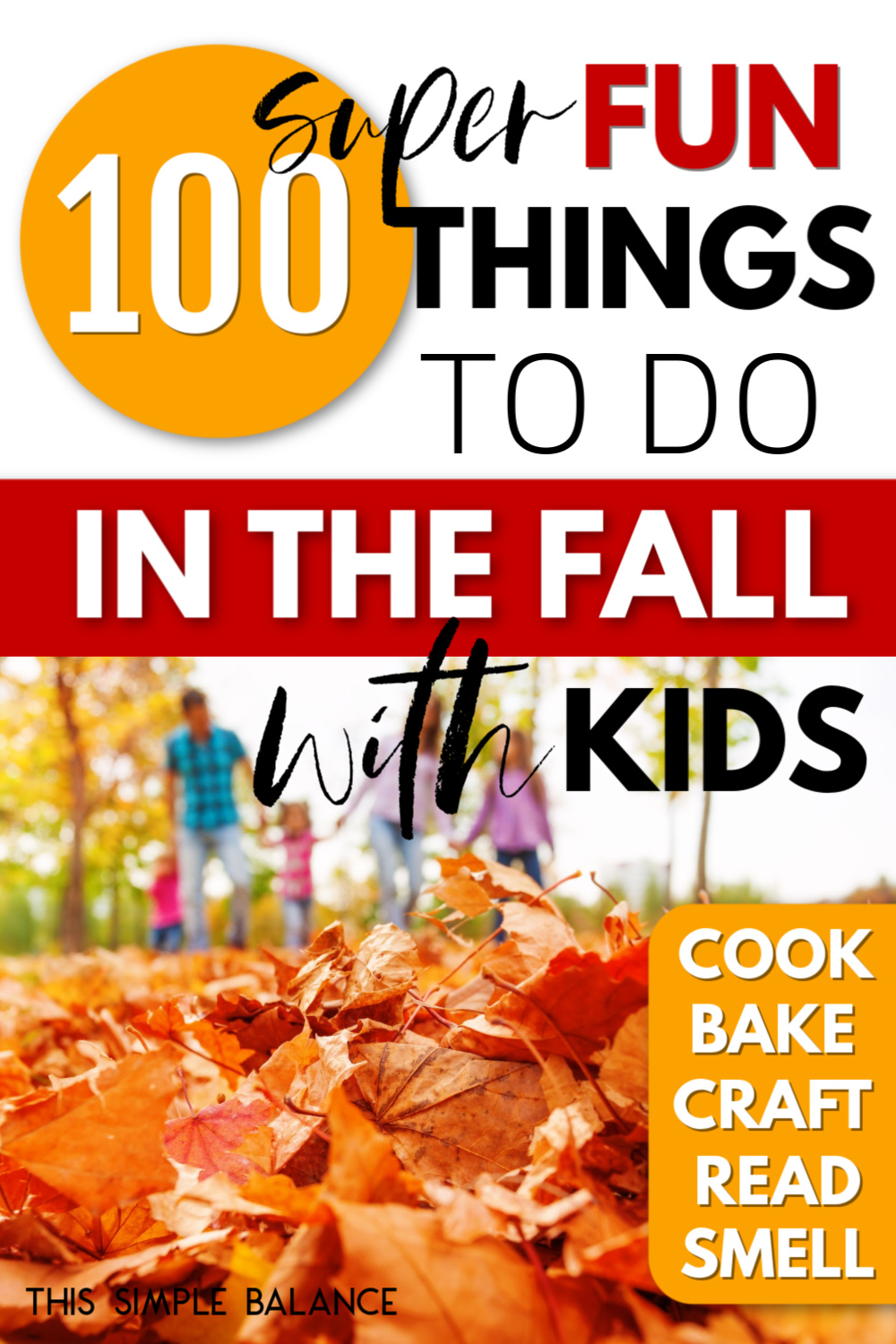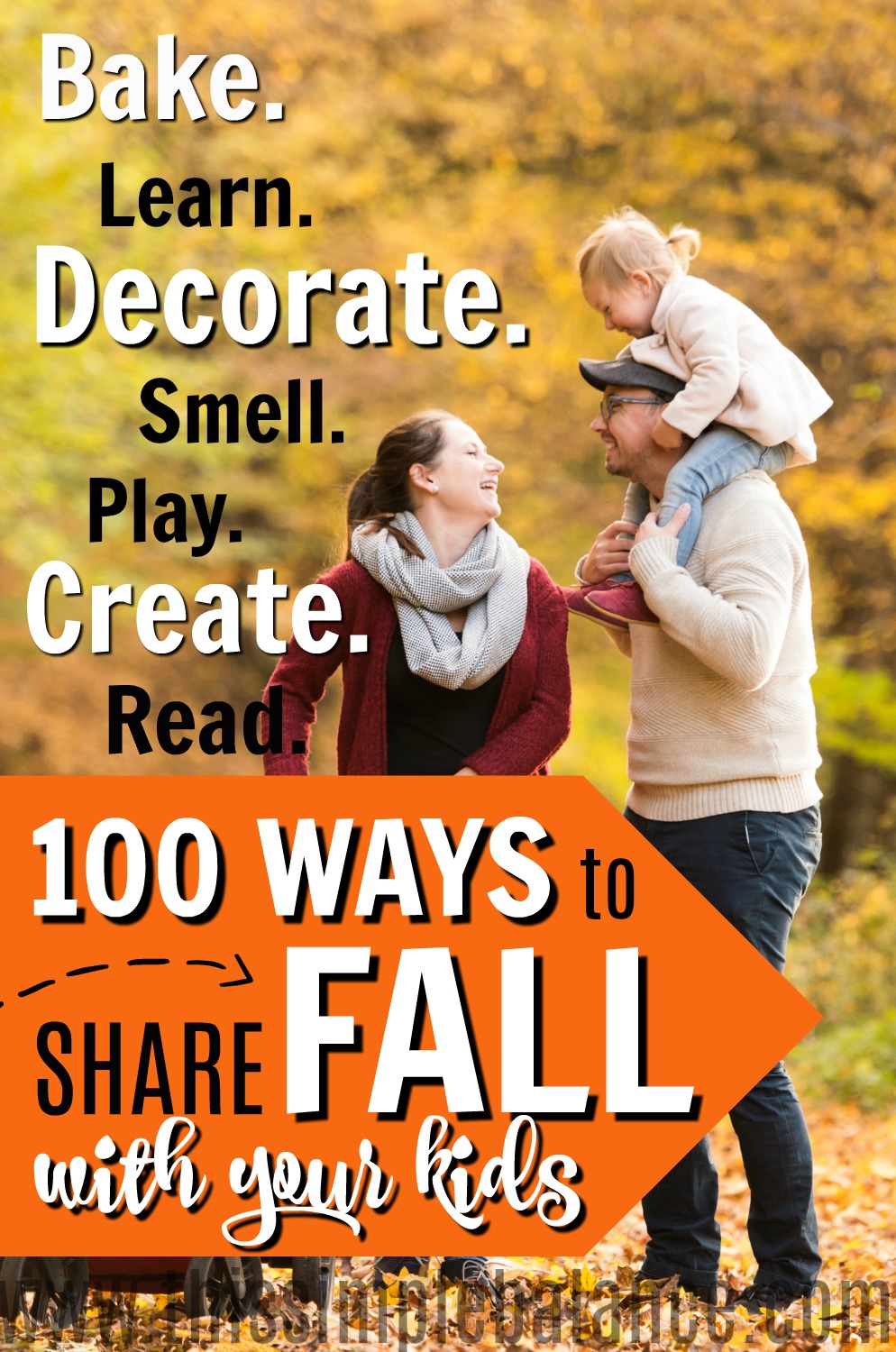 We recently relocated to North Carolina with our four kids, and let me tell you, fall is not the same. As a forever New Englander at heart, I am committed to transferring my love of fall to my kids (even when I'm sweating in October).
Will you join me?
I compiled a list of 100 fall activities for kids that will help you transfer your deeply sincere love of fall to your kids. You're not going to want to miss the treats, heart-warming foods, fall activities, books, scents, and more.
When you're done reading, let me know your favorite way to celebrate fall in the comments!
THIS POST PROBABLY CONTAINS AFFILIATE LINKS. AS AN AMAZON ASSOCIATE, I EARN FROM QUALIFYING PURCHASES. YOU CAN READ OUR FULL DISCLOSURE POLICY HERE.
100 Fall Activities for Kids
So many things to bake, taste, smell, read, experience and do that will make your kids fall in love with fall!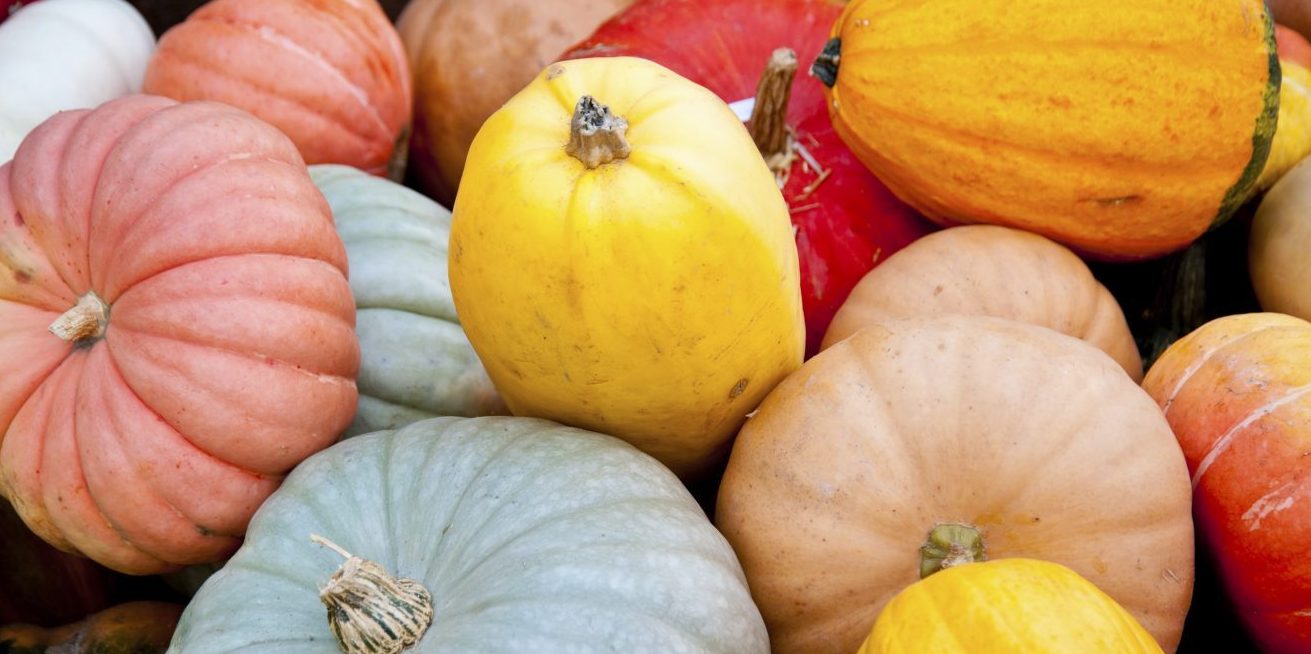 Bake Pumpkin Desserts that aren't Pumpkin Pie
Normally, I don't love baking, but come fall? I am all of a sudden not just willing, but eager to bake.
You won't find pumpkin pie on this list because everyone has heard of pumpkin pie! These unique pumpkin treats will make you love pumpkin in a whole new way this fall.
Banana Pumpkin Streusel Muffins by Kristina at Mother's Niche
Pumpkin French Toast by Jaclyn at Cooking Classy
Baked Pumpkin Donut Holes by Danielle at Live Well Bake Often
The Best Pumpkin Bread by Hayley at The Domestic Rebel
Pumpkin Pie Puff Pastry Turnovers by Mallory at Chocolate with Grace
Pumpkin Pie Cheesecake Dip by Kimberly at A Night Owl Blog
Pumpkin Scones by Annie at Everyday Annie
Pumpkin Roll by Lana at Lana's Cooking
Pumpkin Spice Granola by Annie at Annie's Noms
Rice Krispie Pumpkin Treats by Dianna at The Kennedy Adventures
Salted Caramel Pumpkin Cheesecake by Mallory at Chocolate with Grace
Pumpkin Pecan Cobbler by Lauren at Lauren's Latest
Pumpkin Cream Cheese Muffins by Annie at Everyday Annie (just like Starbucks!)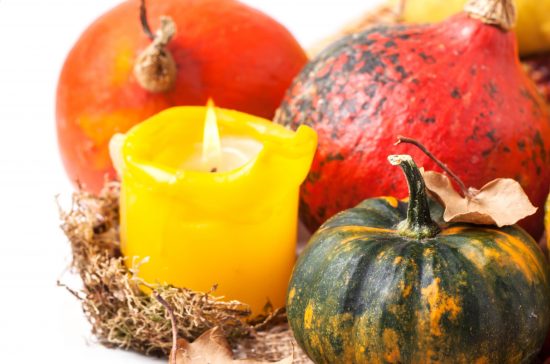 Enjoy Deliciously Awesome Fall Scents
I read once that smell is a vital part of memories. The author pondered what history books would be like if we could include the smells – how much better would our understanding of history be?
Think about the scents you remember from your childhood.
Do you remember the smell of your mother's freshly baked cookies? The poignant scent of your father's cologne? The crisp, clean smell that hit your nostrils stepping outside after the first truly cold day of the year?
Give your kids the perfect smells to remember fall by. Normally, I'm all about saving money with the generic or knock-off versions of things, but candles is one of a few items I'm willing to pay more for to get the best ones – mostly because they actually fill the whole room with the scent (not just a few feet). Get them at a discount by using a 20% off coupon at Bed Bath & Beyond on their already 25% off featured scent of the month.
Don't forget to teach candle and fire safety while you enjoy these fall scents!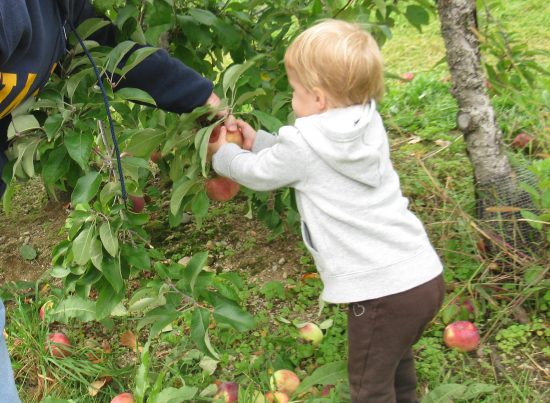 Bake the Best Apple Treats for Fall
Apple picking is an essential part of fall in New England. You pick apples, sample along the way, ride a hay ride, and eat apple cider donuts drenched in cinnamon and sugar before you go. If the only apple treat you've ever tried is apple pie, you need to try these recipes!
Caramel Apple Cinnamon Rolls by Marzia at Little Spice Jar
Apple Cider Donut Holes by Hayley at the Domestic Rebel
The Best Apple Crisp by Lauren at Tastes Better from Scratch (I've already made this 3 times this fall!)
Apple Muffins by Christy at The Girl Who Ate Everything
Easy Candy Apples by Kelly at Just a Taste
Slow Cooker Apple Cider by Rachel at the Stay at Home Chef
Old-Fashioned Apple Pie by Tina at Just Putzing
Apple Pie Bread by Brandie at the Country Cook
Easy Caramel Apple Dip by Trish at Mom on Time Out
Cinnamon Apple Chips by Carrie at Carrie's Experimental Kitchen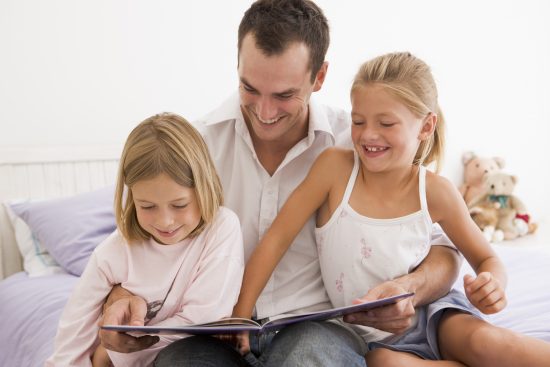 21 Fall Picture Books to Read with Kids
It's amazing how many seasonal picture books there are for kids! Pick up some of these beautiful fall picture books from the library to read together throughout the season.
Mrs. McNosh and the Great Big Squash by Sarah Weeks
The Apple Pie Tree by Zoe Hall
Every Autumn Comes the Bear by Jill Arnosky
Why Do Leaves Change Color by Betsy Maestro
I Love Fall! by Alison Inches
Apple Picking Time by Michele B. Slawson
Red Leaf Yellow Leaf by Lois Ehlert
How Big Could Your Pumpkin Grow? by Wendell Minor
Sophie's Squash by Pat Zietlow Miller
The Apple Orchard Riddle by Margaret Mcnamara
Amelia Bedelia's First Apple Pie by Herman Parish
Flora's Very Windy Day by Jeanne Birdsall
Fletcher and the Falling Leaves by Julia Rawlinson
We're Going on a Leaf Hunt by Steve Metzger
How to Make an Apple Pie and See the World by Marjorie Priceman
Johnny Appleseed by Reeve Lindburgh
Apples, Apples, Apples Everywhere by Robin Koontz
The Story of the Pilgrims by Katharine Ross
The Berenstein Bears and the Prize Pumpkin by Stan Berenstein
Bad Apple: A Tale of Friendship by Edward Hemingway
Duck & Goose Find a Pumpkin by Tad Hills
Related: 17 Unexpectedly Awesome Books for Young Boys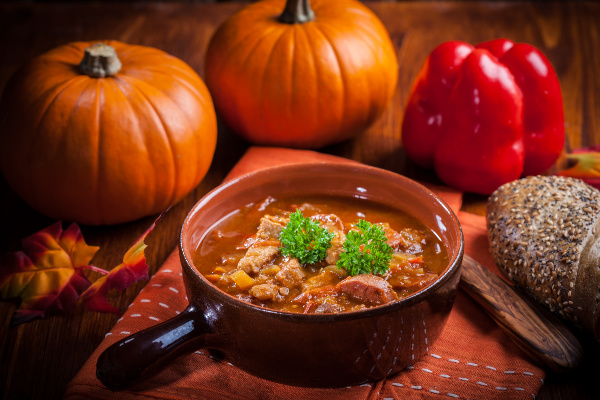 More Fall Foods & Drinks
Fall is the time to break out the slow cooker and hot beverages.
If you haven't invested in a slow cooker yet, now's the time. I love my programmable crockpot – no need to worry about being out of the house when the time is up.
It simply stops cooking on its own and keeps the food warm until we're ready to eat. Also, if you're looking for a new tea kettle, this one has been super reliable and comes in some vibrant fall colors!
Everything Autumn Pretzel Bark by Virginia at That Bald Chick
Chicken Noodle Soup by Annie at Everyday Annie (I sub store-bought broth)
Cinnamon Toast Puppy Chow by Virginia at That Bald Chick
Russian Tea Mix by Lauren at Lauren Greutman (a delicious orange tea)
Pumpkin Hot Chocolate by Julie at Julie's Eats & Treats
Easy Chili by Better Homes and Gardens (a personal favorite!)
Sour Cream Cornbread by Heather at Kitchen Conconctions
Slow Cooker Beef Stew by Nikki at Chef in Training
Brown Sugar & Bacon Baked Beans by Amanda at The Chunky Chef
Easy & Gooey Cinnamon Bread by Jennifer at The Intentional Mom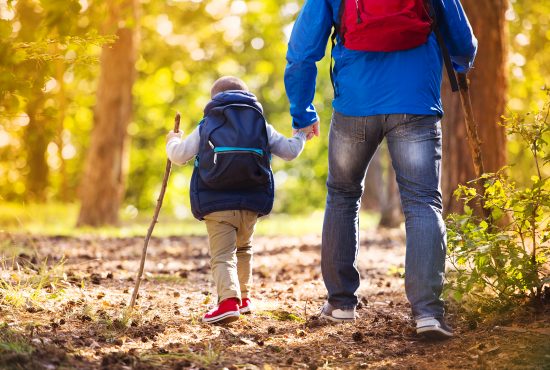 Fun Fall Activities for Kids (& the Whole Family)
So maybe some of these are only achievable in New England (apple picking in 90 degree weather just isn't the same!). If you try to do all of these, you may get overwhelmed. Pick a few that you absolutely LOVE and do those. Make one or two traditions, then try one you've never done before.
Paint a Pumpkin
Navigate a Corn Maze
Decorate Fall Sugar Cookies
Hiking
Apple Picking
Fall Nature Walk Scavenger Hunt
Roast Marshmallows
Make a Leaf Collection Book
Collect Pinecones for Bird Feeders
Leaf Raking & Jumping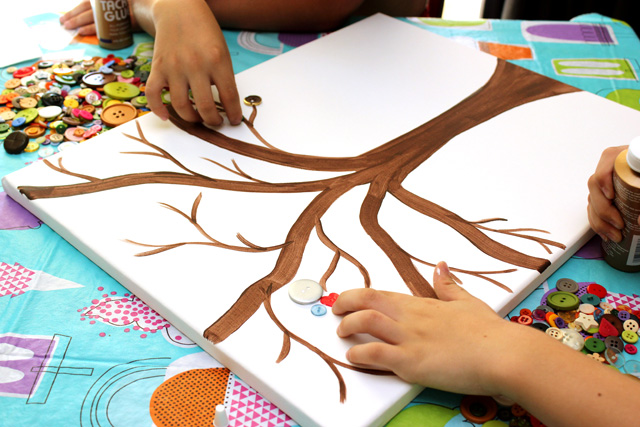 Fall Arts & Crafts for Kids
Most kids LOVE arts and crafts. I'm not super crafty myself (there are enough messes with four little kids), but these activities make me want to get my craft on – forget the mess!
BONUS: Kid's fall artwork makes for easy decorating. Just put up a long piece of twine with mini clothespins and add to it over time.
Adorable Button Tree Craft by Ashley at Simply Designing
The Art of Fall: Mixed Media Workshop by Alisha at Masterpiece Society
Scarecrow Paper Plate Craft by Virginia at That Bald Chick
Birdfeeder Ornaments by Debbie at One Little Project
Fall Snow Globe Craft by Selena at Look We're Learning
Simple Fall Leaf Family by Tara at Homeschool Preschool
Bundled Q-Tip Autumn Tree by Kim at The Pinterested Parent
Beautiful Fall Leaf Suncatchers by Stephanie at eHow
Simple Apple Coffee Filter Craft by Selena at Look! We're Learning
Craft Stick Turkey by Virginia at That Bald Chick
Leaf Projects that are Perfect for Multiple Ages by Alicia at Learning Well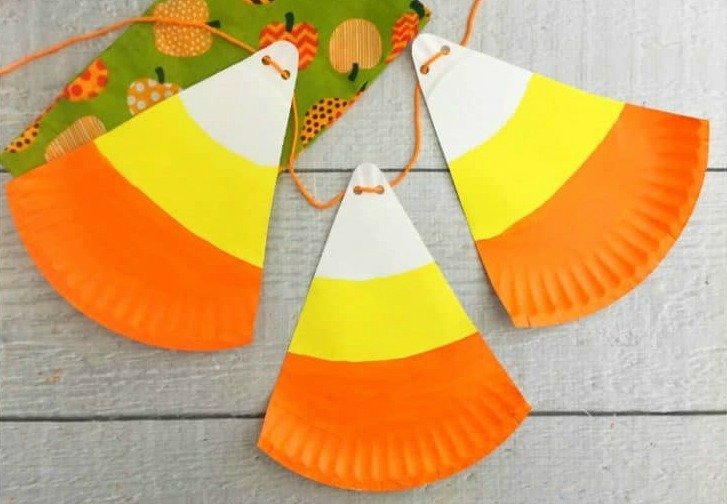 Simple Fall Decor
As a minimalist, I'm not big on saving up decor for every single season and holiday. That being said, there is something about bringing fall colors inside the house that makes me love fall even more!
These are simple ways to decorate without going overboard. Creating some of these DIY Fall decor projects can be a great addition to your fall activities with kids.
Fall Leaf Garland by Katrin & Jessica at Schoenstricken
Twine Pumpkin Luminary by Alisha at Alisha Gratehouse
Paper Pumpkin Ornaments by Alisha at Alisha Gratehouse
Candy Corn Banner by Virginia at This Bald Chick
DIY Thanksgiving Wreath on a Budget by Sara at Embracing Destiny
Book Page Leaf Garland by Alisha at Alisha Gratehouse
Covering Throw Pillows with Fall Covers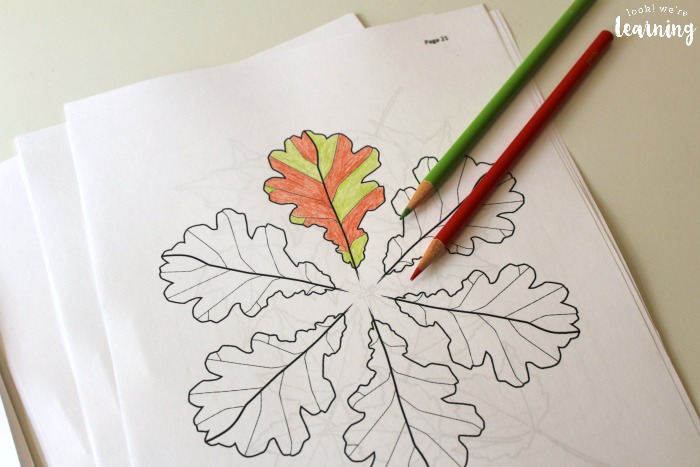 Fantastic Fall Learning Activities for Kids
Whether you homeschool or love doing learning activities with your kids just for the fun of it, these activities use fall to teach everything from why leaves change color to the solar system using pumpkins! Many of these posts also offer free printables and other goodies, so be sure to check them out.
Acorn Color Matching Activity by Karyn at Teach Beside Me
All About Leaves Printable Pack by Selena at Look We're Learning
Leaf Chromotagraphy: Why Leaves Change Color by Karyn at Teach Beside Me
Pumpkin Math: How Many Segments? by Karyn at Teach Beside Me
Harvest Unit Study by Selena at Look We're Learning
Pumpkin Volcano Science Activity by Kim at the Resourceful Mama
Pumpkin Solar System by Karyn at Teach Beside Me
Fall Math Pumpkin Hunt by Devany at Still Playing School
Leaf Identification Flash Cards by Selena at Look We're Learning
Fall Kinetic Sand Learning Tray by Samantha at Stir the Wonder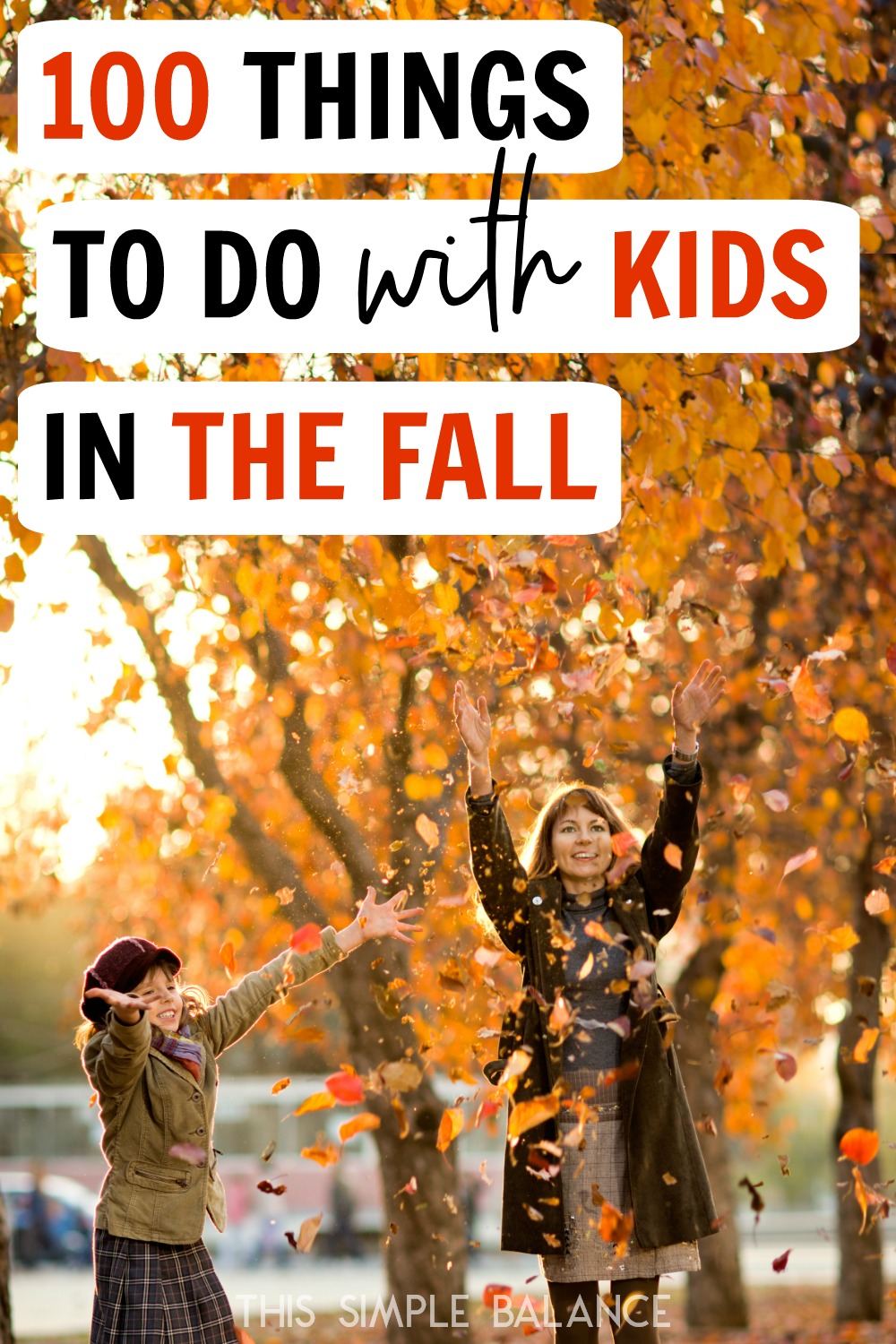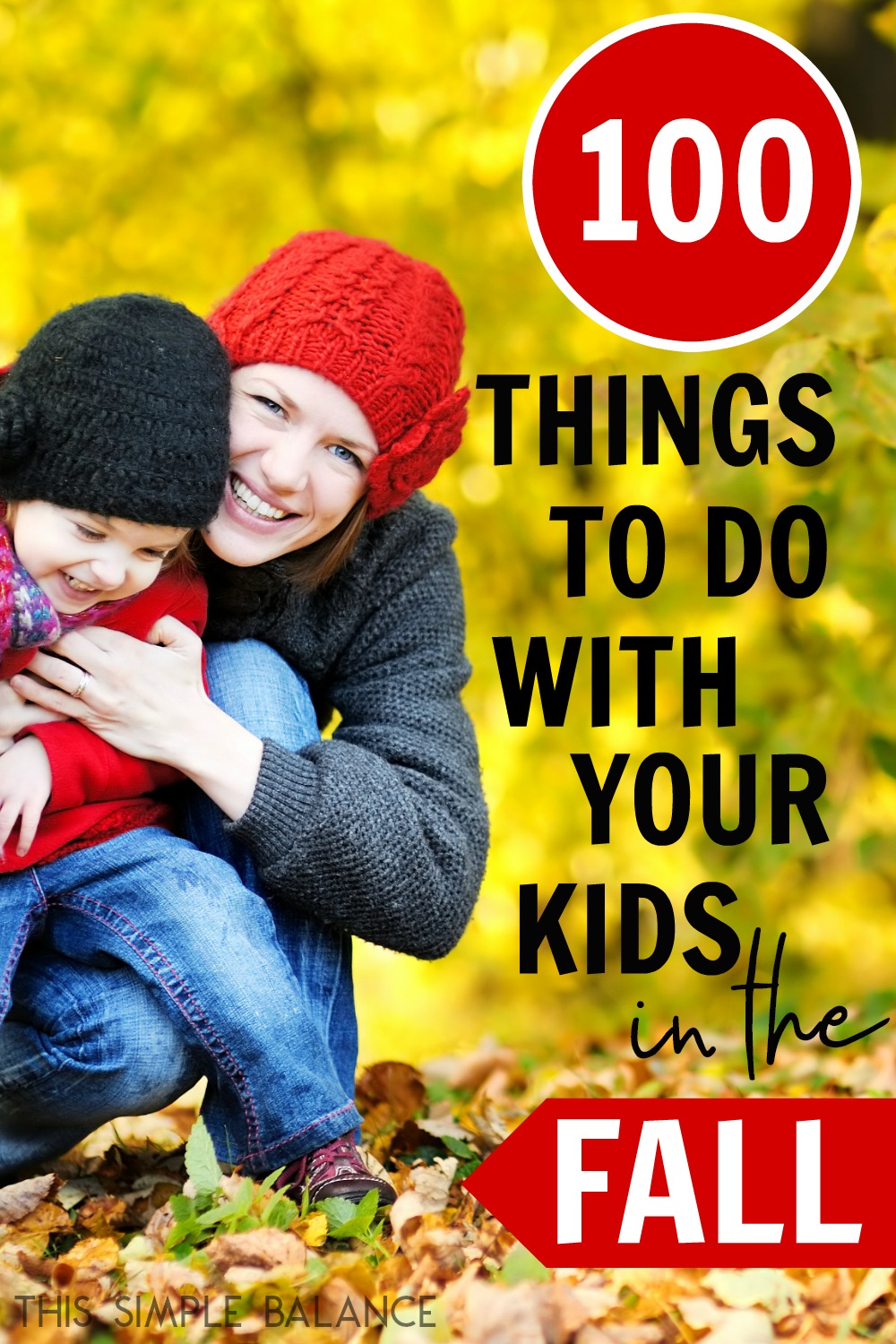 Want more "100 Things" fun? Check out the 100 Things Round-Up at iHomeschool Network!