Inside: Do you ever feel pressured to use your free time as a mom doing things you don't love? Then, you need to read this.
"Make cookies, please, mama?" pleaded my two year old for the second time that week.
The horrible scraping sound of kids pushing stools across the kitchen floor. The awful anticipation of kids surrounding me on all sides.
The stress of keeping three kids from dumping ingredients into the bowl unbidden, trying to remember whose turn was last so each kid got a chance to help.
I started hyperventilating just thinking about it.
So I pacified my son with a few chocolate chips and a murmured promise of making cookies at some later (unspecified) date.
And I tried to stop feeling guilty.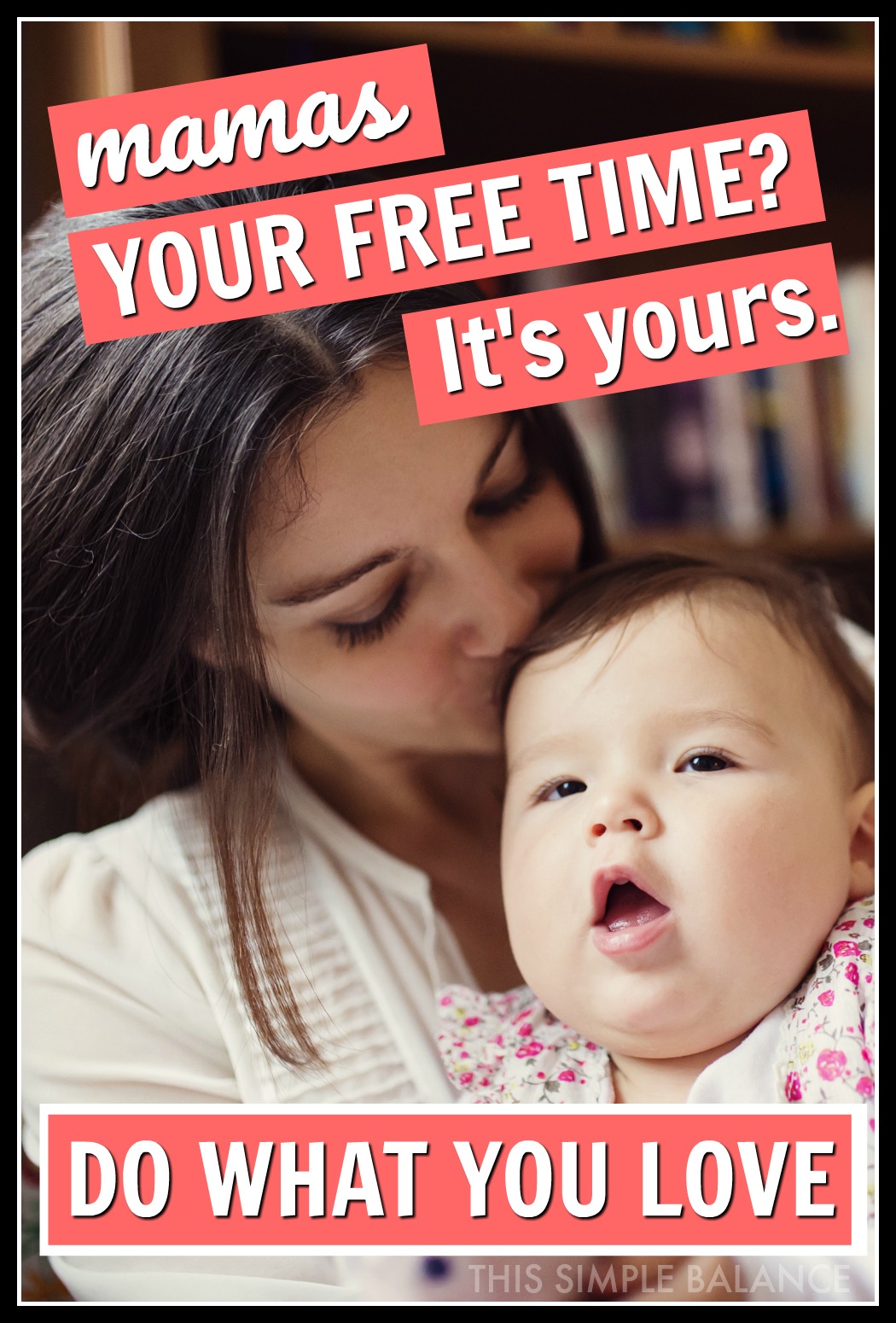 Moms: Stop Using Your Free Time on Things You Don't Love
Once upon a time, I baked.
From the time my oldest two kids were little, I baked. Cookies, muffins, cheesecake, cinnamon rolls. I scoured blogs for new recipes, bought baking supplies, and made it a part of our regular routine.
But the more kids I had, the more anxiety surrounded even the idea of baking. I started avoiding it.
"Why do I bake at all?" As the thought crossed my mind, I stopped short.
I considered it. If I really loved baking, wouldn't I find a way to do it, prioritize it, despite the obstacles? Would I really find any way I could to avoid it?
If I really loved baking, surely I would do it in my spare time, think about doing it when I wasn't able to, miss it when I wasn't doing it.
I certainly enjoyed the results of baking, and I loved avoiding the preservatives in boxed mixes. Baking also appeals to my frugal side, costing pennies in comparison to store baked goods.
But my attempts at birthday cakes never really panned out, and even making Pillsbury cakes from the box stressed me out (crazy, but true).
I dreaded the special days in my kids lives because of the extra work in the kitchen. The guilt kept piling up.
So why did I do it?
Quite simply, I baked because I thought that's what "good moms" did. I baked because I thought I should.
Surprise, surprise. So much of my early adult years had been consumed by "shoulds".
I believed that baking was a fundamental part of a good childhood. So if I didn't do it, I was a bad mom.
Why I Started Baking (and mistakenly thought I loved it)
My mom baked regularly with us when I was a kid. Warm chocolate chip cookies were part of my earliest childhood memories. I wanted my kids to experience that too.
But baking was stealing my time and energy. I had other things I wanted to do, and after a stress-filled baking session, I didn't have energy or desire to do the other things I loved.
There are so many things we have to do in motherhood.
You know, buy our kids clothes, do the laundry, wash the dishes, get the oil changed (oops – that's just adulthood), etc., etc.
Guess what I realized? Baking is NOT one of them.
So I resolved that once all the "have to's" were done, I would spend my free time doing what I loved.
Does this mean I never bake? No. But I dedicate far less time to it than I used to, and I stopped feeling guilty saying to my kids, "Not today."
2 Good Reasons for Moms to Do What They Love (& Quit What You Don't)
1) Be a better mom.
Self-care makes a world of difference. Manicures, reading novels, watching a show, and hot showers are all great ideas for self-care.
I personally have found, however, that all of those things can feel rather empty unless they are in addition to a purposeful hobby or focus besides motherhood.
For me, that's blogging. I love helping others, sharing what has helped me love motherhood and thrive in homeschooling and big family life.
What's your thing?
2) Model for your kids what it looks like to really enjoy something.
Julie Bogart of Brave Writer (a writing curriculum and approach to homeschooling) encourages parents to "Be the kind of adult that makes adulthood look awesome."
"Be the kind of adult that makes adulthood look awesome."
When you stop doing what you don't really enjoy and create time for the things you are truly passionate about, your kids have far more opportunities to observe you doing what you actually enjoy.
Who you are is unique, and what your kids will receive from you is unique.
Don't be afraid that they won't figure out for themselves what they love. By watching you, they will have a good idea of what it looks and feels like to truly love something.
When I first started writing, my oldest daughter curiously asked what I was doing. "I'm writing for my blog," I responded. She lit up and asked excitedly, "Can I write something too?"
When you model passion, your kids will eventually find theirs.
They may mimic you doing whatever it is that you love for a while. They may not ultimately adopt your passions, but they will be encouraged to find their own.
They will eventually spread their wings, discover new things and figure out what they truly love to do. And I'm all about helping my kids find their passions at an earlier age than I did, one of many reasons we homeschool.
Two Years Later…
I decided chocolate chip cookies would be our thing – what we make when we want something sweet, have in the freezer ready to go for events or last-minute guests.
My oldest child is seven and can finally mix the dough for chocolate chip cookies by herself. She dictates to her younger brothers what she needs, and they eagerly do her bidding.
The warm cookies come out of the oven, and we all enjoy the warm, chewy deliciousness.
And the best part? I didn't have to do a thing.
Is there something you do just because you "should"? What do you need to quit doing to make time for what you love?
P.S. One of the best decisions I've made as a mom was to declutter my home. It's given me back SO much! Get started with this decluttering checklist of over 110 things you can get rid of RIGHT NOW to make time for what matters.