This Library Hack Will Save You Hundreds on Books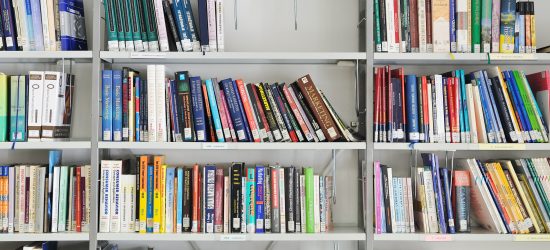 Inside: Love reading the latest books but hate paying for them? Bookworms everywhere will love this little known library hack that will save you SO much money on books!
If you love books, like I do, and you follow blogs that share the latest and greatest books, you're probably itching to get your hands on those new releases. But for any number of reasons, you hesitate to click "purchase" after you add it to your Amazon cart.
Maybe you love physical books, but don't want to clutter your bookshelf with a book you'll likely never read again.
Maybe you're living on one income, and your book budget is non-existent.
Maybe you just love being careful with your money and would rather borrow than buy yourself.
Maybe you homeschool, and if you bought all the books for your kids that you want to buy, you wouldn't be able to pay for groceries!
I get it. Books are expensive, and I'd much rather let my library foot the bill for my reading habit (though we do chip in from time to time to pay off our rather large fines).
Will the Library Buy That Book…Ever?
I'm sure if you're reading this, you're already pretty library savvy. You probably already know about putting books on hold, how to borrow e-books, and all kinds of other library awesomeness.
Because you love the library, it is probably the first place you go to search for new books. Unfortunately, unless you live in a huge metropolitan area with extremely attentive librarians, your local library won't acquire newly released books for quite some time (at least not the ones you want to read) – and possibly never.
So you're stuck.
Your choices are to spend money on a book you'll enjoy, but likely never read again, borrow from a friend (who hopefully buys it), or wait indefinitely to see if the library purchases the book.


Only three so-so choices, right?
Wrong.
I recently discovered a fourth option I never knew existed (and you probably didn't either)!
This option doesn't cost you anything, except a little patience, so you can save hundreds of dollars a year on books and still get the latest books (albeit, a while after everyone else bought them on Amazon).
This wonderful, money-saving library opportunity is called "suggest a purchase."
Suggest a Purchase to Your Library
Did you know that most libraries welcome purchase suggestions from their patrons? I only just learned about awesome opportunity this year after moving to a new city with a library that wasn't quite as up to date with the latest book offerings, particularly new non-fiction books by new authors.
I decided to test it out. So far, I'm three for three!
I suggested that the library purchase three books over the past four months: Stepping Stones, Reading Personality, and The Danish Way of Parenting. The library decided to purchase all three.
It does take time, so you need to be patient. It's a little bit like waiting for a movie to come out on DVD after everyone else saw it in the theater. You just have to resist the urge to buy it on Amazon 1-Click (it's so easy!). 😉
After I submitted each suggestion, it took a good 3-4 weeks to hear back, and then another 4-6 weeks for the library to actually acquire the book.
My library notified me that they decided to purchase my suggestion, and they put it on hold for as soon as it arrived. Not all libraries do this, so you will need to inquire about your local library's policies.
Why Would the Library Listen to Me?
Libraries receive their funding from the state, and the state looks at their statistics to determine whether or not the library is still needed.
The state wants to know if the library is used regularly by the community. They look at how many of the library's books are checked out and how frequently.
It's in the librarians' best interests to choose books for purchase that will actually be checked out.
They like keeping their jobs, and they like their funding. Every good librarian also likes to keep her book budget, which means she needs to spend it.
That means they want to know what their frequent borrowers want to read.
And why purchase books that just sit on the shelves? There are so many new books to choose from, and your suggestions help them make buying decisions faster, while ensuring that their choices are relevant to their readers.
How Much Money Can I Really Save on Books
Even if you only suggested one book purchase a month, you can save close to $200! Most newly released books cost $12-$15.
Especially if you are requesting children's books, the library will likely purchase the more expensive hardcover option, so the item remains in good condition for a long time.
One new book a month at $15 that the library purchases instead of you will save you $180 a year – that doesn't even include tax and shipping!
You'll also save shelf space, or time later on by not needing to figure out what to do with the book once you've finished it.
How to Suggest a Purchase at Your Local Library
Many library websites have this option listed under a main tab on their website. Mine happens to be under "Reading", but you can try searching your library and "suggest a purchase" in Google to find the exact link.
The best way to figure out how your particular library goes about accepting requests for purchases from its patrons is to ask. The next time you're at the library, ask a librarian how to suggest a purchase.
Here's to the library taking your recommendations! Happy reading (and saving)!
Read Next: How You Can Afford to Be a Stay at Home Mom


Posted by
June