Inside: Save time in your homeschool by getting the most out of every picture book you read. Learn how to use picture books to teach multiple subjects.
When you are homeschooling multiple children or juggling babies and toddlers with homeschooling, time is of the essence. The more you can teach in less time, the better. Teaching with picture books engages your younger children while allowing you cover multiple subject areas with your older children at the same time.
It's cheap, time-saving, and just plain fun. You'll be amazed what you can cover with just one picture book.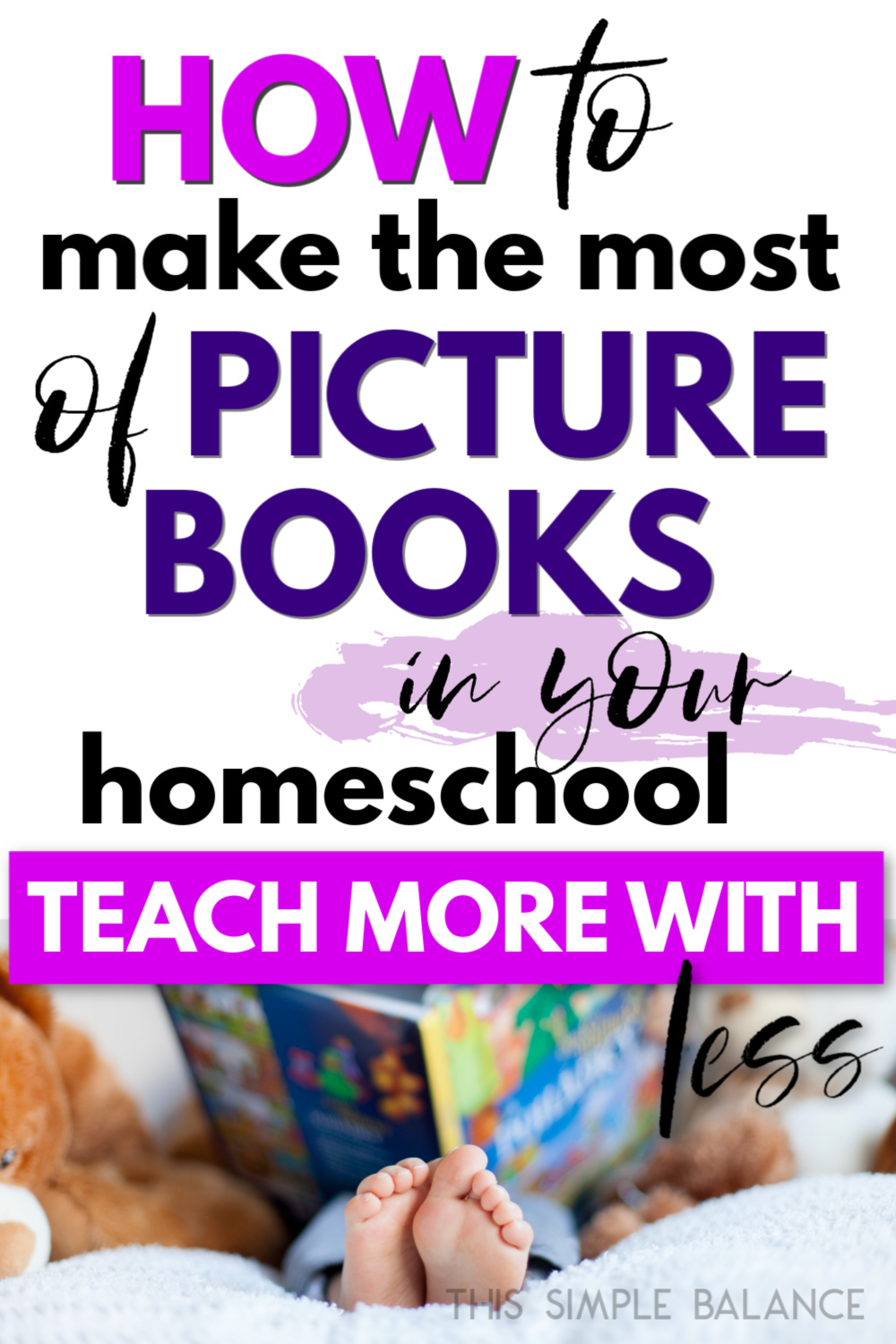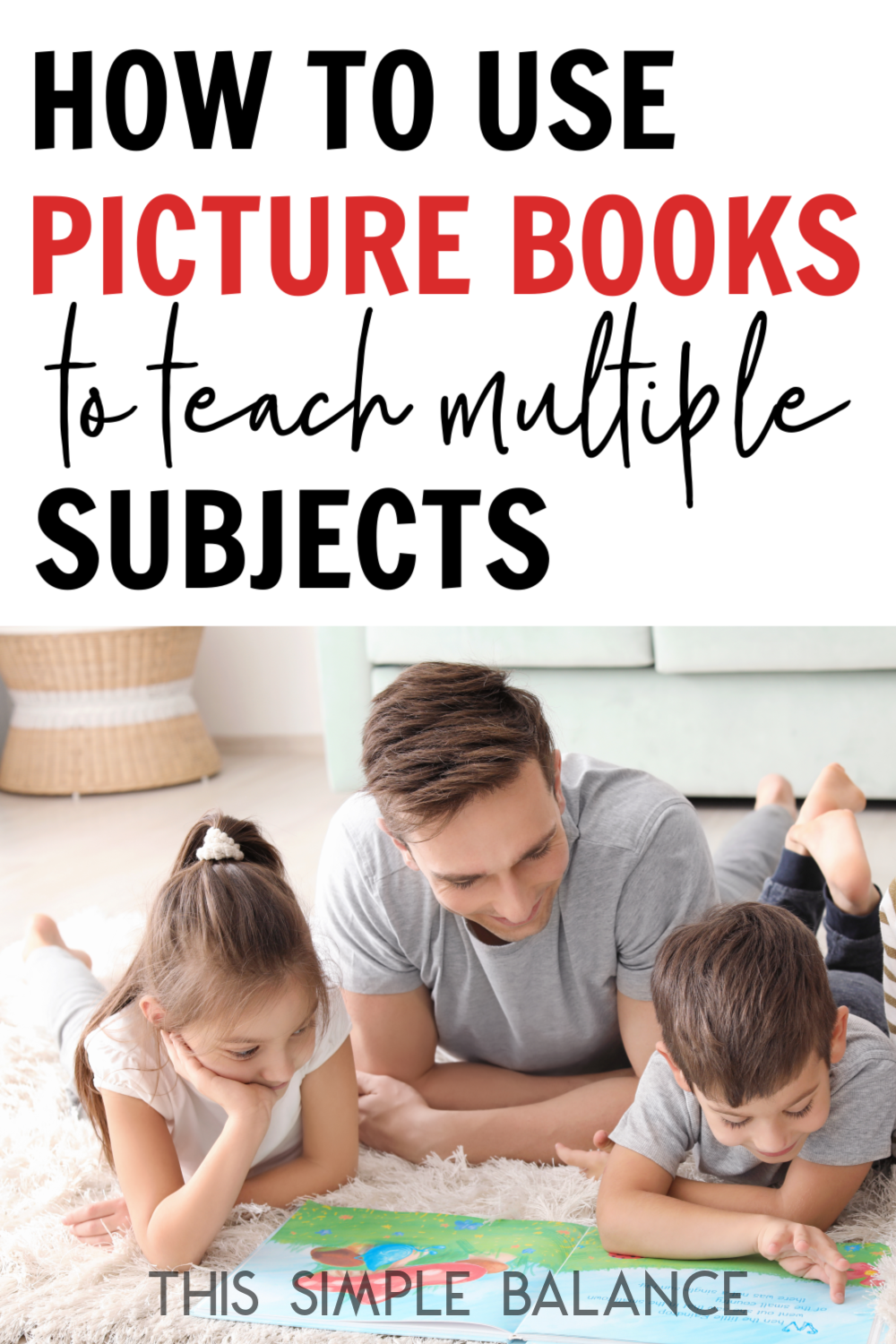 THIS POST PROBABLY CONTAINS AFFILIATE LINKS. AS AN AMAZON ASSOCIATE, I EARN FROM QUALIFYING PURCHASES. YOU CAN READ OUR FULL DISCLOSURE POLICY HERE.
The Simplicity of Teaching with Picture Books
I kept coming across the same concept over and over again. It's the heartbeat of entire blogs, like the Read Aloud Revival and Simple Homeschool.
If all else fails, just read aloud.
That's it.
You don't have to do anything else to consider your homeschool day a success. If you read aloud to your children from any sort of book – a picture book, a chapter book – then you've succeeded. Learn how we maximize our time and cover multiple subjects with just one simple picture book.
Coffee & Books
Reading aloud became one mom's lifeline during the February slump, when many homeschoolers are tempted to quit. Out of that slump, "Coffee and Books" was born.
Every day, she would take a picture of the morning's picture books and share it on Instagram. She grew quite a following and became known for her excellent book recommendations. It is still a cornerstone of her family's homeschool day.
I've come to love her style of homeschooling and find multiple hidden picture book gems from following her on instagram (@my_little_poppies). Her name is Cait Fitzpatrick, and you can read more about her love of picture books and board games on her site My Little Poppies.
---
Related Posts:
Relaxed Homeschooling (A Day in the Life with a 7, 5, 3, & 1 year old)
How to Choose the Perfect Read-Aloud with Just One Question
Minimalist Homeschooling for the Overwhelmed Homeschool Mom
---
Read-Alouds: The One Thing that Stuck
The past few weeks we've been struggling to get back into our homeschool routines. Following our move and long hiatus from school for the past month and a half, nothing is sticking. I half-heartedly attempt to enforce copywork and a math worksheet here and there. But really that's just for me, so I feel like we're "doing school".
The only thing working for us right now is read-alouds. For the first time, the boys are actually paying attention to most of the books we read together, so long as I give them food, drinks, or some other activity to occupy their hands, like Legos or playdough.
This is a major shift from our Boston apartment. There the boys would bounce off the walls, while I tried to read. Inevitably, my extroverted daughter would run to join the fun, leaving our book reading unfinished and me frustrated.
Related: 70+ Best Picture Book Biographies for Kids
Leaving Behind Boxed Curriculum
I just sort of fell into it this past week. It's so simple: teach multiple subjects simultaneously through one picture book biography a day.
This isn't a new concept, I know. Whole curriculums, like Five in a Row, center around picture books. Charlotte Mason spoke over and over again about the power of living books, making them the core of her teaching methods.
But it hasn't clicked for me until now. I used to be drawn to more scripted curriculum. You know, the ones with a daily schedule with what to read each day.
But whenever we would get off schedule, or if a certain book wasn't resonating with my children, I would feel guilty and unable to deviate from the curriculum or skip to the next book (if they included it, it MUST be one of the best books ever! We WILL conquer this, daggonit!).
I felt so bound by scripted, scheduled curriculums that I had to leave them behind altogether, at least for now, in order to find a rhythm that works for me and for my kids.
I latched onto this particular idea because it not only saves time, but it accomplishes SO much in a such short time. It doesn't involve tons of work on my part, and the learning is rich, fun, and makes a clear impact.
I can share my love of history with my kids and incorporate multiple other subjects into history. We will create a timeline soon in order to fit these pieces of history into a framework.

Picture Book Example
Just this morning, for example, we picked up the book Sewing Stories: Harriet Powers' Journey From Slave to Artist. It shares the life story of a slave woman whose claim to fame was telling stories through her quilts.
This is a book I grabbed quickly from the shelves one night at the library. Lately, I've camped out in the historical biographies in the children's wing.
I grab several with colorful covers and interesting titles from a variety of genres, not really knowing which ones will be good. I just grab a stack and go.
This particular book was amazing! We learned about:
What a slave's life was like before the Civil War
What a slave's life was like after the Civil War
The Emancipation Proclamation
Rich Vocabulary Words
The way stories can be passed down verbally and through art
Quilting as an art form
Multiple Digit Subtraction
Math is Everywhere
Say what?! How does a book about a slave's life before, during, and after the Civil War lead to multiple digit subtraction?
Well, the book lists both Harriet Powers' birthday and date of death. I wondered aloud how old she was when she died.
So, we got out a piece of paper and subtracted 1837 from 1910.
As I did the problem, I demonstrated how to complete and multiple digit subtraction problem. It was "so fun", my daughter begged for more problems. I gave her six more problems, which she completed and asked for more! Just because it was fun.
Books, books, books.
The rest of our day included a playdate with friends, an errand, writing in the form of words on pictures, and listening to Cherry Jones read the next chapter of the Little House in the Big Woods on CD from the library (I'm so excited my daughter is finally into these treasures!). We ended our day with picture books for all and finishing Ramona the Pest by Beverly Cleary with just my daughter.
Books are filling our days lately, and I'm feeling more confident that I'm on the right track and may have hit my stride in homeschooling. The latest Read Aloud Revial podcast boosted my confidence.
Sally Clarkson (I've been heavily influenced by her writing) and her son Nathan Clarkson recently released the book Different: The Story of an Outside-the-Box Kid and the Mom who Loved Him.
On the podcast, they shared about the power of the stories that filled their homeschool and carried Nathan through his years of struggle with ADD, OCD, and learning disabilities. Stories gave him hope and metaphors to understand his differences.
I want more of that in our homeschool.
Picture books are a powerful tool, one we'll be using for years to come.
Want to save even more time?
If the simplicity of this idea appeals to you, but you don't want to choose your own picture books, you will LOVE Five in a Row.
The books are already chosen for you, and every book has lesson plan ideas for each subject. You can find the books at local Homeschool Consignment stores, or on Amazon HERE.