Inside: Are coupons more trouble than they're worth? I'm all about saving money, but when I started seeing these five things negatively affecting our entire family (especially #4!), I quit clipping coupons. 
I first read about extreme couponing in the Boston Globe sometime in 2011. The front page featured Kathy Spencer, author of How to Shop For Free: Shopping Secrets for Women Who Love to Get Something for Nothing.
Her minuscule grocery budget inspired me, to say the least, and I immediately jumped on the extreme couponing bandwagon.
We had a new baby, a boatload of student debt, and one income. I committed to being a stay at home mom out of deep conviction, but I itched to contribute financially.
Extreme couponing filled a void, and I convinced myself that saving money was my most valuable contribution to our family.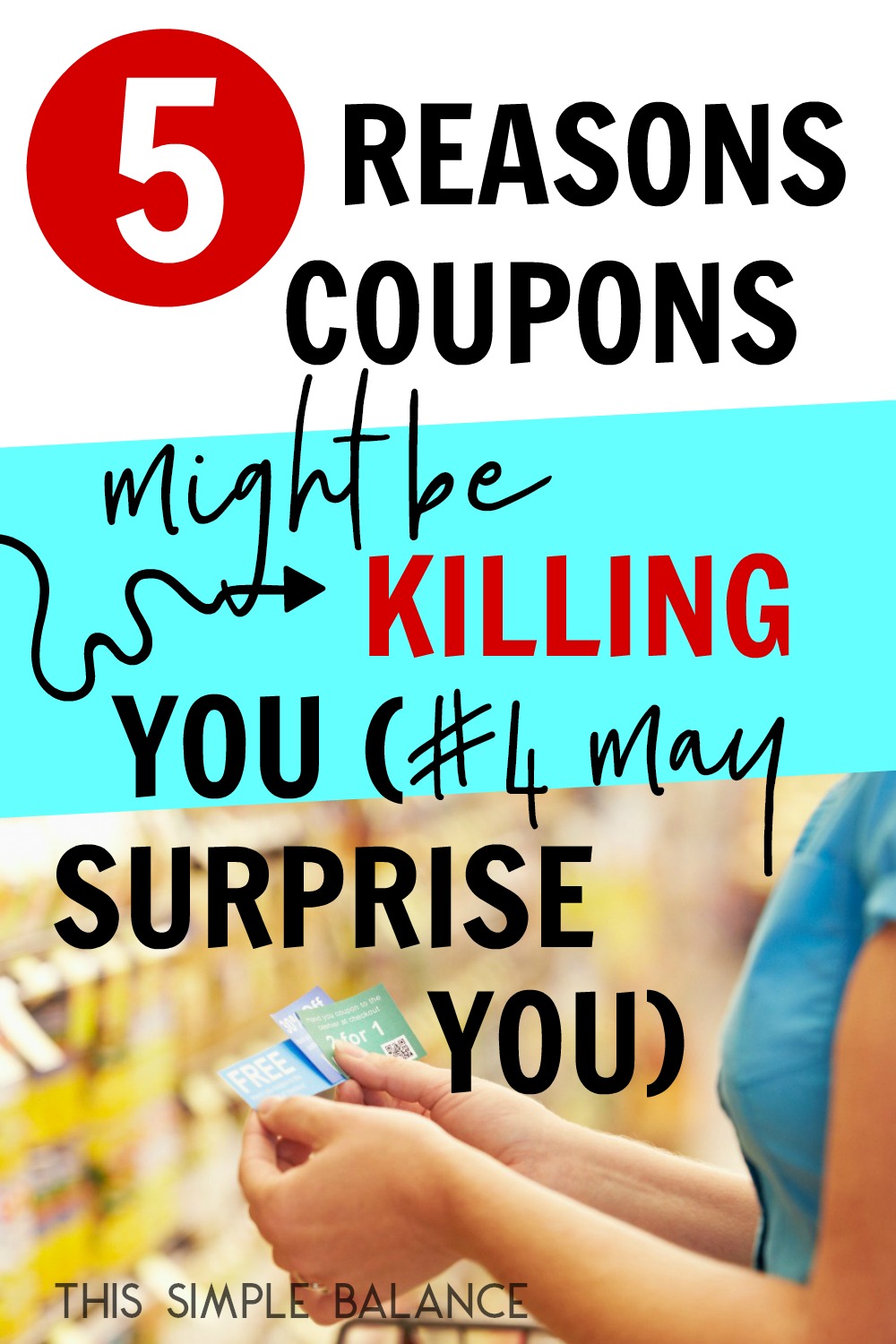 Driven (See Strengths Finder definition of "achiever". I'm textbook.) didn't begin to describe my pursuit of all things deals and free. Sales flyers for the upcoming week printed on Thursdays.
Thursday was my favorite day of the week.
I stalked the local Starbucks for free coupons, researched the best ways to organize them, and got to work building and making room for my stockpile in our tiny apartment. I can still feel the rush of getting something for free.
Some call it focus, others obsession. But in all honesty, extreme couponing was my addiction.
Want to Quit Coupons, Need to Quit Coupons
My pursuit of simple, slow living five years later conflicted intensely with my love of my sport. Still, extreme couponing was difficult to give up. I felt guilty every time I forgot to use a coupon, was too tired to run to the store for a last minute deal, or succumbed to paying full price for a necessary item.
Related: 22 Simple Living and Minimalism Books for Weary Moms
The guilt is gone now…mostly.
While I still wince when I hand over our hard-earned cash for toothpaste, an item I formerly got for free, the benefits far outweigh the cost.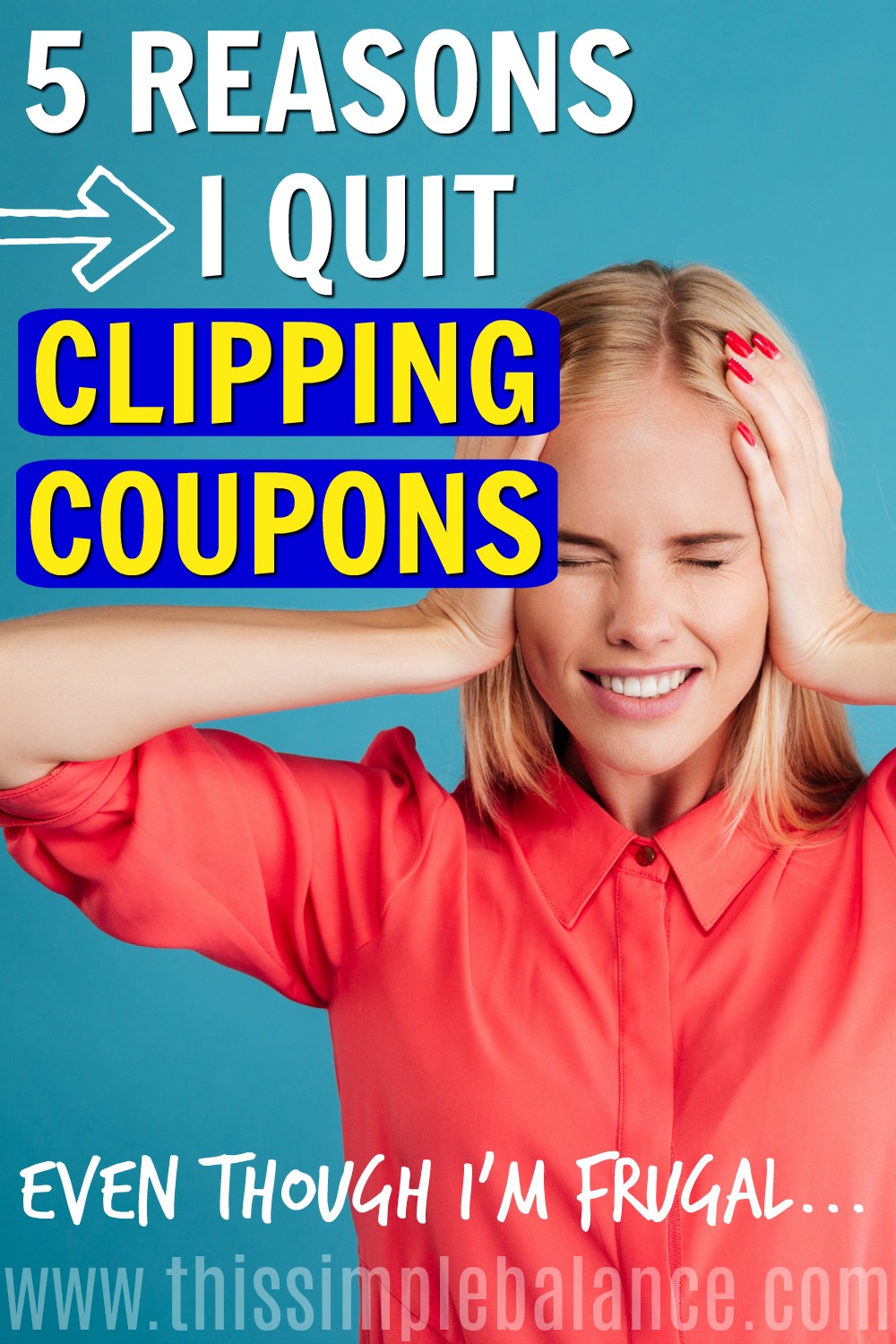 5 Reasons to Quit Clipping Coupons
1) Time
I would spend 3+ hours a week searching for and writing out deals each week, along with printing and cutting coupons. After that, I spent 3+ hours doing the actual shopping, sometimes visiting 3 or 4 different stores. All this became far more difficult and stressful with each additional child.
My husband gingerly suggested from time to time the amount those hours actually paid (money saved divided by the hours spent). I didn't listen. Now, I understand the value of time and the limitations of cutting costs. That time is worth far more earning more income than saving a few dollars.
2) Health
The cravings and eating habits of my oldest daughter demonstrate the quality of the food I got for "free" during my early extreme couponing days. She still recognizes and asks for a box of Cinnamon Toast Crunch when we pass it in the grocery store.
We ate a ton of processed food, and as our family grew, I started to think about feeding my family healthier options. The extreme couponing "Shop for Free" mindset, that there is nothing you shouldn't be able to for free or cheap, held me back.
Thankfully, I finally realized that some things are worth paying for, and your health is one of them.
3) Clutter
I read the Life-Changing Magic of Tidying Up in the summer of 2014, just as I began to question the merits of extreme couponing.
Part of the extreme couponing mindset is the idea that sometimes you need to get something you don't need for free in order to get what you actually need for cheap (if you really want a long explanation of the ins and outs of this, I can tell you). Needless to say, I bought into it. Our apartment was filled with things we didn't need or use (think random toiletries like travel-sized bottles of facial products I would never use).
These items majorly hindered my decluttering efforts. Because they were brand new in package, I felt extremely guilty throwing them away, but I didn't have the time or energy to figure out where I could donate them.
Now, the mere memory of the extreme physical and emotional effort it took to unload all that stuff is a powerful deterrant, especially when I'm tempted to take advantage of an amazing deal I can spot a mile away.
Related: The Best Place to Start Decluttering (when you're too overwhelmed to start)
4) Overspending
The extreme couponing mindset makes passing up a deal extremely difficult. As I started adding healthier items to my cart, I kept on stockpiling all the processed stuff too.
Saying no to a deal is extremely difficult, making overspending ridiculously easy.
Every month when I crunched the numbers, I could not understand how I consistently went over the grocery budget. While my grocery budget was probably unrealistic for a family of 5, extreme couponing also contributed to my lack of perspective and of self-control.
5) Stress
When a CVS deal actually works out perfectly the way you plan without a hitch, and you get diapers, toothpaste, and shampoo for $0.35? Walking on air.
Does your perfect plan on paper always turn out this way? Not so much.
Many store employees look at your sideways and scrutinize each coupon. They don't understand the store policies I have memorized and can readily quote to them word for word. I hate conflict, so arguing over dollars and cents (I'm embarrassed to admit, mostly cents) emotionally drained me.
As fewer and fewer deals actually worked out (either the item I planned to buy was out of stock, or I misread the coupon's fine print, realizing my mistake at the last minute in the checkout line), my stress before each shopping trip steadily increased.
One day, standing in the customer service line in the grocery store to ask for my $0.75 back – the coupon didn't double as it should have – bouncing my crying baby on one hip while trying to keep my older two children from crashing into other customers, an unexpected thought struck me: this stress is so NOT worth $0.75. 
It was like waking up.
Of all the reasons for quitting, this one made walking away so much easier.
Quitting Coupons
The only coupons I clip now are on my way into BJ's, and only because they put them right there for me on the way in the door.
I still cringe when I pay for almost any toiletry, thinking wistfully of the good old days.  
When I see a sales flyer with its enticing deals intentionally designed to entice me to buy more than I need, my heart rate increases slightly. Like an alcoholic passing a bar, I need to purposefully calm myself down and quietly remind myself of all the reasons I don't do this anymore.  
Do I miss the thrill?  Yes.
Do I still love a good deal? Absolutely!
But I've found simpler, far less stressful ways to save money since then.
I can honestly say without hesitation that my life is FAR better without extreme couponing. 
Still, that toothpaste…
Read Next: 14 Things We Aren't Buying to Make Ends Meet