This site contains affiliate links to products. We may receive a commission for purchases made through these links. Please read my disclosure for more info.
Inside: Exhausted from complicated and time-consuming systems that promise to help you save money on groceries? Try these simple tips instead, to save money on groceries without making it your part-time job!
I've tried just about every method to save money on groceries, from extreme couponing to planning meals around store's weekly circulars to freezer cooking. While I'm sure these methods work for some people, they simply didn't work for us long-term.
I have five kids, homeschool and work from home.
I simply don't have time for the complicated and time-consuming methods for saving money on groceries anymore (and even when I did, my results weren't as awesome as I wanted them to be).
If you're a mom reading this, I know you're busy with your own unique mix of responsibilities.
The reality is that saving extreme amounts of money on groceries takes a decent amount of time and energy, so if you're looking for extreme ways to save, you'll have to look elsewhere.
I can, however, offer you several simple tips to save money on groceries, most of which take very little time to implement.
I crave simplicity in pretty much everything. So naturally, when I looked for fresh ideas for how to save money on groceries, minimalism came to the rescue once again!
Minimalism is not just for your physical stuff. It can help you simplify pretty much every area of your life.
How Much Money Should You Be Spending on Groceries?
As our family continues to grow, so does our grocery spending. I used to feel guilty about any increase in our grocery budget and continued to try to make the same numbers work, despite our kid's increasing appetites.
Thankfully, I came across Erin Chase of Grocery Budget Makeover.
She shared a simple worksheet on setting a realistic grocery budget based on family size. It helped me to accept the need to increase the budget as our kids grow.
Our budget did end up being slightly larger than her suggested amount per person. However, increasing our grocery budget helps us to reduce our eat out budget most of the time.
When we love what we have to eat at home, we are far less likely to eat out.
You can get the worksheet for free in order to give you a ballpark grocery budget from someone who makes a living teaching people how to save money on groceries. You can use it as a starting point for forming your own grocery budget and knowing how much you want/need to save in the first place.
Plus, if you want to cut your grocery budget in a more extreme way and you have the time and energy to do so, Erin created a course called Grocery Budget Makeover to help you save even more money on groceries! When you download the worksheet, it comes with a free online workshop with more tips on how to start saving.
Get access to the free online workshop HERE.
How to Save Money on Groceries (Like a Minimalist)
1) Buy fewer fresh fruits and vegetables every week.
Most of us want our kids to eat healthy. But as is the case with most American parents, we think buying more will produce the desired result.
More fruits.
More veggies.
More, more, more.
When we check out with our grocery cart full of healthy food choices, it makes us feel better. At least, it makes me feel better!
Except we end up purchasing more than our families can realistically consume in a week before the produce goes bad, which can be a big money waster.
This was my weak point for a long time, and I wasted a lot of money buying more produce than our family could eat.
Finally, I borrowed the minimalist principle, "Less is more" and immediately saw a positive effect on our grocery budget.
In the past few months, I've decided to stick to two in season fruits a week. Occasionally, I'll splurge on a treat, like a couple packages of strawberries that fly off the shelf the first day.
We typically purchase two fresh vegetables every week: celery and carrots.
Things like broccoli and green beans we buy frozen in bulk from BJs. The frozen produce costs less per pound and often ends up being higher quality than the fresh produce. Plus, I don't need to worry about it going bad!
2) Eat the same meals as much as frequently as you can tolerate it.
Everyone is different in their tolerance for eating the same foods over and over again. In our family, the kids and I could eat the same foods every day, and often do.
I eat the same thing for breakfast pretty much every day. The kids eat the same breakfast almost every day, unless I decide to make a special breakfast. They also eat the same lunch on a regular basis.
Eating the same things often means you can stock up during sales. You also save money because those staple items rarely go bad – you're using them up every single day!
My husband, on the other hand, prefers variety. I need to be careful not to permanently ban a meal from our minimalist meal plan by cooking it too often.
3) Create and use a minimalist meal plan.
Before minimalist meal planning, I wasted hours every month/year reinventing the wheel. I created a new meal plan every week. This was especially true when I was planning meals around the sales circulars.
Until I realized how insane that system was!
Minimalist meal planning came to my rescue and saved me from wasting more time.
The general idea is to create one master meal plan to rotate through weekly, biweekly, or however often for the number of recipes you have. Alternatively, you can create 3-4 seasonal meal plans that last 2-3 months at a time.
But in order to really save time/energy and reduce waste (which also saves money), you need to choose and plan your meals intentionally.
Capsule Pantry Blueprint, a brilliant course created by my friend Elisa at Meal Planning Blueprints, walks you through her system for meal planning only four times a year!
She helps you:
Clean out your pantry.
Strategically choose your meals to avoid waste.
Grocery shop less frequently.
Bonus strategies for how she personally saves money on groceries.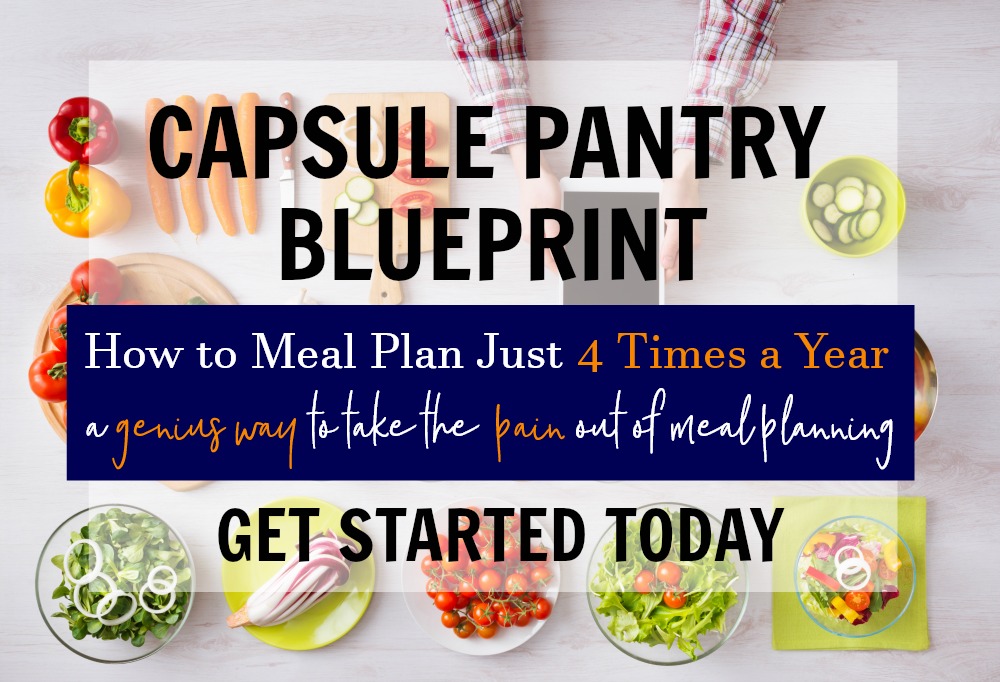 4) Declutter your pantry to avoid buying duplicates, and eventually, expired food.
How often do you buy your grocery staples at the store, only to come home and realize you had three already? They were just hidden behind so much stuff.
When you clean out and organize your cupboards, you can clearly see how much you have.
Expired food and spices are the easiest things to toss. Beyond that, go through your kitchen cabinets and ask yourself whether or not you will actually use those items again, or by their expiration date.
Whatever you decide to get rid of can often be donated to local food pantries or homeless shelters. Win-win!
You get to save money on groceries in the long run, simply by decluttering and organizing, and people in need will be able to eat what you won't use.
Side Note: the same principle holds true for decluttering our belongings, too. If things are just sitting around your house, not being used, why not give them away so other people can enjoy and use them?
Once you've decluttered, make sure that you can see everything you have easily.
My favorite frugal organization hack for kitchen cabinets are old clementine boxes. I store spices in two, baking supplies in one, our everyday pantry staples in one, and popsicle molds and sticks in another. They make it super easy to pull out and see everything at once.
Nothing stays hidden in the deep dark corners of our old kitchen cabinets!
5) Only buy what you know you and your family will actually eat.
Do you ever grocery shop for a fictional family? The one you wish you had that ate healthy all the time, snacked only in moderation, and devoured everything you cooked for dinner?
Yeah, me too.
I eventually realized it's not doing our bank account or our tiny kitchen and freezer any good to pack it full of things no one wants to eat.
Just twist their arms you say and make them eat it? You're certainly welcome to do that, but I haven't found it ideal for a healthy, happy family.
Within reason and including healthy foods, I mostly stick to the things I know my family will actually eat.
6) Swap out low quality staples for fewer, but higher quality versions.
Again, a lot of my advice is centered around buying and cooking foods your family will enjoy. When people eat food they enjoy, they tend to eat less or it and are crave extra snacks and take-out food far less.
Both of those things save money on groceries.
We recently swapped the dirt cheap apples for higher quality apples. They aren't the ridiculously expensive ones, but they are at a mid-level price point.
They are delicious! So much better than the bargain bag apples that sat in the refrigerator FOREVER. Why? Because honestly, they tasted just so-so at best, and awful at worst (the only reason I ate them was out of sheer willpower).
Another similar exchange we made recently was purchasing store brand jasmine rice in bulk instead of the cheapest rice on the shelf.
Now, everyone loves rice! And when everyone fills up on rice, they need fewer snacks and additional foods, thus saving us money.
Think through your grocery list: what items could you swap out for a higher quality option?
7) Reconsider cooking specialty meals with multiple expensive and unique ingredients.
I know many frugal living bloggers who share copycat recipes for your favorite take-out places, and I used to try those recipes from time to time in order to satisfy a craving for Chinese or burgers or Greek.
But there were two main problems with these recipes:
They rarely tasted close to the real deal because I'm not the best chef in the world (which meant we still craved the take-out version).
They contained multiple unique and expensive ingredients that we didn't use on a regular basis.
I tried them in order to avoid eating out, but we often ended up still wanting the actual eat-out meal we were trying to reinvent at home.
We also ended up spending the same amount, or just under what we would have spent on the take-out, for lower quality food and kitchen cabinets cluttered with ingredients we would never use again.
We eventually realized its far better and cheaper to save those unique dishes for the occasional nice meal out or take-out meal.
We satisfy our cravings for XYZ, spend about the same amount, and don't waste those expensive ingredients that will most likely sit in our cabinets for the next six months until they expire.
Unless you are a really good cook and are sure you will cook with the ingredients enough to use them before they expire, save the specialty food for the professionals on special occasions.
8) Avoid the grocery store as much as possible.
Unless you are an extremely disciplined shopper and your kids are very well-trained not to ask for extra items at the grocery store, I recommend avoiding the store as much as possible if you want to save money on groceries.
You can accomplish this in a few different ways:
Shop monthly for shelf-stable and freezer items, only running to the store weekly for fresh ingredients the rest of the month.
Shop weekly for what you need, including fresh ingredients. Avoid mid-week trips: get creative and make do with what you have until the next week.
Have your groceries delivered.
Personally, I use the latter two options most frequently.
And the last one? If you do it right, it's not expensive at all.
It saves me a TON of time and energy, all of which are a commodity as a homeschooling, work-at-home mom (time equals money, too).
In fact, I believe it saves us a TON of money on groceries.
Why? Because getting groceries delivered or ordering them for pick-up helps you avoid impulse buys and accidental/forgotten purchases (from your own frazzled brain or from shopping with kids).
The two programs I use most frequently are both through Instacart:
BJs Grocery Delivery: whenever they have a free delivery coupon code (about once a month). The only additional cost is to tip the shopper.
Food Lion Grocery Pick-up: which costs $1.99 per order over $35. You order and drive to a pick-up spot; they load the groceries into your car.
If you're curious about the first option I listed to avoid the grocery store as much as possible, Elisa offers much better pointers in her Capsule Pantry Blueprint course. She helps you plan your meals, and also your grocery list and shopping, in a way that leads to fewer trips to the grocery store.
And unless you love to grocery shop, that's a pretty great offer!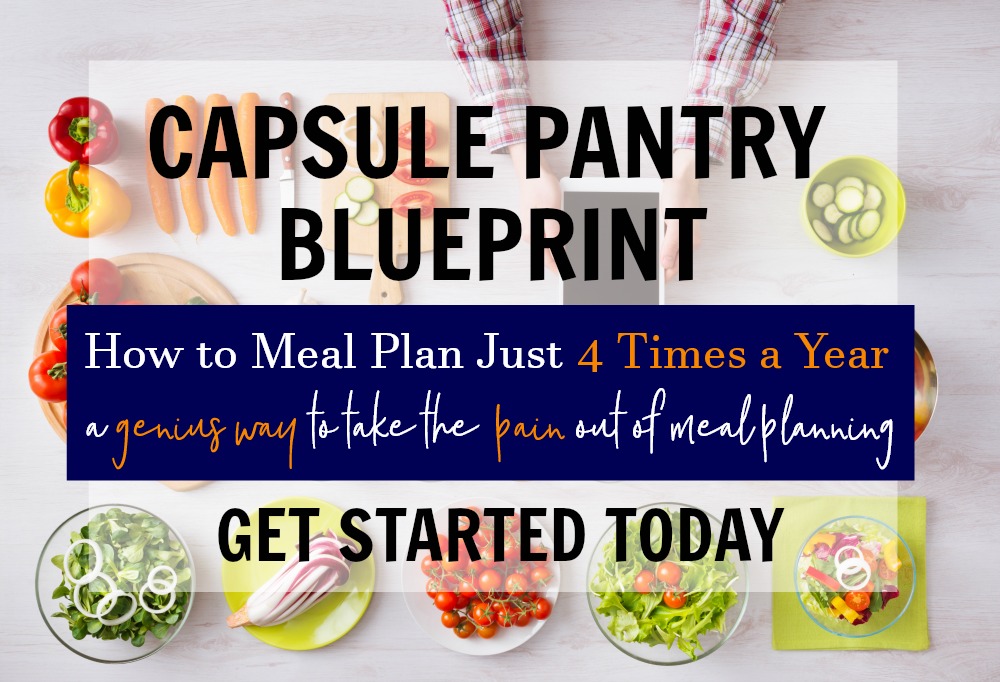 Final Thoughts on How To Save Money on Groceries
Unless you're my friend Melanie at Six on a Budget, groceries are always going to be a significant percentage of your monthly budget. It's also the budget line item you have the most control over, and the most ability to change.
Take advantage of that, but do it the smart way.
I use to sacrifice SO MUCH TIME trying to save money on groceries. But the return just wasn't worth it.
Eventually, when I started this blog and started earning an income from home, I realized I could use my time more wisely generating more income instead of spending so much of my time trying to save money.
I needed to carefully balance the value of my time with my desire to save money on groceries.
These tips from minimalism have helped me find that balance. I hope you find your own version of balance between earning extra money and saving money on groceries, too!
What's your favorite, simple tip to save money on groceries? Be sure to share in the comments for everyone's benefit!