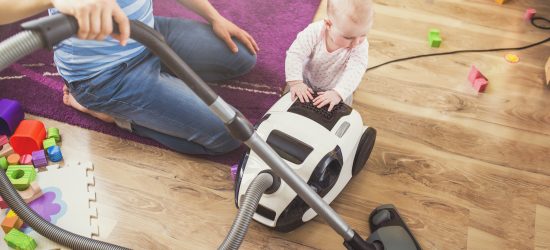 Inside: If you're wondering "How do I keep a house clean with kids?", you might feel like it's impossible ( and let's be real – some days, it is!). But these proven tips will make keeping the house clean with kids so much easier.
When you first start having kids, you realize how hard it is to actually do anything with children. Seriously, how much effort does it take to go anywhere! You used to just grab your purse and hop in your car. Now? An hour later, and five trips back inside (make that six), you're off!
Cleaning the house is another one of those things that gets exponentially harder with kids.
In the beginning, when you only have a baby, the two main problems are finding the energy to clean the house and having your hands free to clean anything (this baby carrier has been a personal life-saver for that – but mastering doing the dishes while wearing it takes practice).
Overcoming those two obstacles to cleaning can feel like climbing Mt. Everest, but oh my goodness, are your problems just beginning! Then you're trying to keep your house clean with a toddler and a baby. If you add one or two (or three, like me) more kids to the mix, keeping your house clean feels darn near impossible.
Read More

»
Posted by
June