The Flexible Homeschool Planner is a homeschool planner designed especially for laid back, relaxed, unschoolish homeschoolers.
Imagine being free to plan your homeschool year in your very own laid back style, while also having the tools to document all the amazing learning that's happening through unplanned, child-led learning.
What if you could feel completely confident that you have all the proper documentation you need for your relaxed homeschool?
"Every homeschool planner I've tried doesn't fit my laid back, relaxed, unschoolish homeschool style."
Sound familiar? That's why I created this planner!
This might be for you if…
Do you not do traditional lesson plans, but loosely plan your homeschool days, often writing down what you did after the fact, instead?
Are you nervous about homeschool documentation for your relaxed homeschool, but can't find an easy way to keep track of everything you do?
Do you want to think intentionally about your homeschool year ahead of time, but don't need intense charts and schedules?
The Flexible Homeschool Planner was created to help you intentionally plan your homeschool year AND document your relaxed homeschool as you go.
The Ultimate Planner for Relaxed Homeschoolers
$17
*Please note that this is a digital product. No physical product will be delivered.
Have you ever thought….
"Every homeschool planner I came across made me feel less confident, instead of more confident about our approach to homeschooling."
Do you ever find yourself looking for something that would help you loosely plan ahead and at the same time, allow you track all the awesome educational things you know you're doing every day…but that rarely follow a set curriculum or plan to make happen?
I wanted to create a printable homeschool planner that makes relaxed homeschooling, "unschoolish" parents feel 100% confident about the education they know their children are getting all day, every day, but that often doesn't look never looks like school (or even like many traditional homeschools!).
With The Flexible Homeschool Planner, you can…
Loosely plan your year (or month to month), and plan your day in a way that suits you,
Intentionally think through practical issues with strategic questions,
Create a simple homeschool mission statement that guides your decisions,
Document all the amazing educational things you do every day, and
Feel organized and prepared for end-of-year evaluator meetings OR
Feel confident that you have on hand everything you need should a homeschool evaluator ever drop by.
Multiple charts and lists have different options, so you can choose the one that's best for you.
Has this ever felt like you….
"Most homeschool planners feel too strict and structured for me. Either that or they make me feel like I'm not planning enough or doing enough."
Does any of this sound familiar?
You see page after page of lesson plans and feel pressured to fill in every.little.box.
Pages with time blocks cramp your style and constantly make you feel guilty that your homeschool doesn't follow a set schedule or use traditional curriculum.
You want to write down what you did after the fact and document learning as it happens…not plan very much in advance.
The Flexible Homeschool Planner gives you the space to be YOU – laid-back, relaxed and even a little unschoolish (or a full-on unschooler!) – and simultaneously, provides the tools you need to give evaluators the documentation they want to see to know you're meeting state (or national) requirements.
Don't miss this special bonus! When you buy now, you'll also get…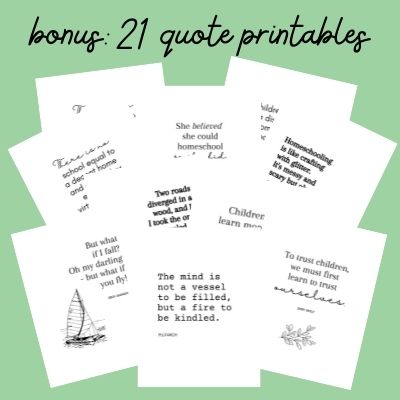 A Visual Reminder of Why Relaxed Homeschooling and Child-Led Learning is Worth Doing
8.5×11 PDF Printables
Minimalist Designs and Images
Minimal Ink, Printer Friendly
Fits Great in an 8×10 Frame
Not For Sale Anywhere Else
What if you never had to feel insecure about your relaxed homeschool style again?
What if you could kick to the curb that unsettling feeling in your stomach that you're not doing enough, even though you hate to plan but you know you're doing AMAZING things in your homeschool every single day? (Those things just don't look a lot like "real school".)
Does this sound familiar…
"Most homeschool planners – all those pages I didn't use – felt like they were screaming at me to be a different kind of homeschooler than I actually am."
With The Flexible Homeschool Planner, there's no need for you to stress about planning for or documenting your relaxed homeschool again.
You'll have everything you need to plan intentionally for your homeschool in your own relaxed style, and document everything you do with ease, so you'll be 100% confident that should a homeschool evaluator randomly drop by, you have what you need at your fingertips, ready to go at a moment's notice.
Do you ever feel anxious about homeschool documentation because you're a relaxed homeschooler?
Does any of this sound familiar…
You know that learning is happening all day, every day in your homeschool, but you feel like you have nothing to show for it?
You feel nervous about a homeschool evaluator stopping by or an end of the year meeting because your homeschool doesn't look enough like school?
You don't lesson plan, and because you don't, you don't have great records of what fills your homeschool days?
What if there was a way to document what you do all day effectively after the fact AND plan for your homeschool year (or month by month, if that's what suits you) in a flexible way that leaves lots of room for improvisation and spontaneity?
That's exactly why I created The Flexible Homeschool Planner. So that you have everything you need in one place to feel confident about planning for the year (even if the only planning you do is so laid back, you aren't sure you can call it "planning") and documenting your relaxed homeschool as you go.
*Please Note: This is a digital product. No physical product will be delivered.
I Couldn't Find a Relaxed Homeschool Planner, So I Made One.
Welcome! I'm June, and I've been homeschooling for six years now. I have five kids – 11 down to 2.
I started out as a literature-based, Charlotte Mason homeschooler, but over the years we baby stepped our way to relaxed homeschooling.
Our laid back, relaxed homeschool style, just didn't fit a lot of the homeschool planners available. When we moved to a highly regulated state, I knew I needed to up my planning and documentation game a bit.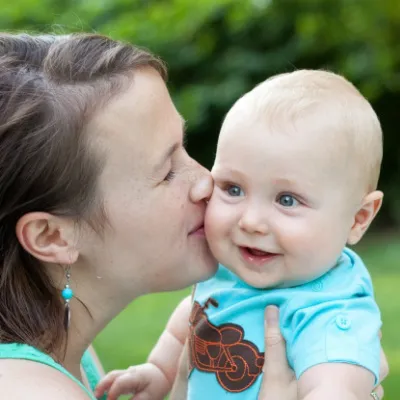 Out of my own need for a homeschool planner that made me feel 100% confident about our relaxed homeschool style – even in a more regulated state – The Flexible Homeschool Planner was born!
So What's Included in The Flexible Homeschool Planner? So Glad You Asked!
There are 50+ Pages Including…
Optional Cover Pages in 2 Different Designs
Daily Planner Pages in 5 Different Formats
Logs for Books/Resources/Curriculum, Videos, Field Trips
Weekly Tracker Pages by Day OR by Subject
Undated Attendance Trackers from July to June
Educational Games Inventory (so you know what you have, and can include it in your documentation)
Monthly/Yearly Subscription Tracker & Password Keeper
Portfolio Preparation List
Year End Reflections Page
Strewing Ideas List
Read Aloud Wish List
Brainstorming Pages (one for you, one for your child(ren))
Homeschool Budget Planner, Homeschool Spending Tracker
Mission Statement Worksheet
Homeschool Vision Worksheet
Practical Planning Worksheet
Morning Meeting Worksheet
Before My Kids Leave List
Undated Calendars
Bonus Portrait-Oriented Weekly Planning Page
Bonus Mom/Dad's Book Lists
50+ pages dedicated to planning your year as a whole, or as you go, and documenting it along the way. Because you're buying at the launch price, you'll also get 2021-2022 cover pages, plus a 2021-2022 school year calendar in review, AND the 21 inspiring homeschool quote printables.
Wondering if this planner will work for you?
This planner is not for you if…
You already have a homeschool planner you use and love.
You're not worried about relaxed homeschooling planning or documentation at all.
You want a dated planner.
You don't have a printer.
This planner is for you if…
You haven't found a homeschool planner you love.
You feel insecure or uncertain about relaxed homeschooling or unschooling because of documentation.
You want an undated planner you can use over and over again for years.
You live in a higher homeschool regulation state, but still want to take a laid-back, relaxed or unschool approach to homeschooling.
Common FAQs
Question: Is this planner a physical product?
Answer: No, this homeschool planner is a digital, printable product. You will receive the PDF files (2 – the planner and bonus quote printables).
Question: Is this planner dated? Do I need to buy a new one every year?
Answer: No. All pages are undated and can be filled in afresh, school year to school year. Because it's brand new, I have included a bonus sheet with a year in review, showing the dates for the entire 2021-2022 school year (July – June). This sheet will be updated in future school years and made available for purchase in the shop at a very low price.
Question: Can I get a refund if I don't like the planner?
Answer: Due to the digital nature of this product, no refunds will be given.
Don't forget about the bonus of 21 inspiring homeschool quote printables! These are currently unavailable anywhere else – you can get them only with The Flexible Homeschool Planner.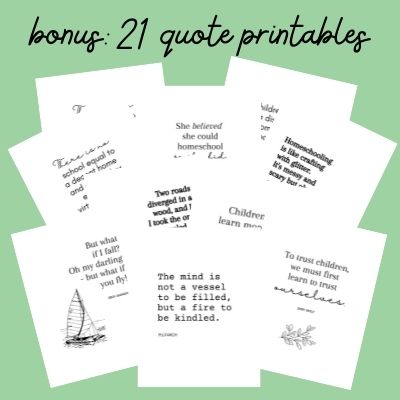 A Visual Reminder of Why Relaxed Homeschooling and Child-Led Learning is Worth Doing
8.5×11 PDF Printables
Minimalist Designs and Images
Minimal Ink, Printer Friendly
Fits Great in an 8×10 Frame
Unavailable Anywhere Else