Inside: When you're in the throes of nighttime potty training, you don't want to be stuck without the supplies you absolutely need. Make sure you have everything on this list for nighttime potty training success!
We just started nighttime potty training our second child. As with our oldest, we kept waiting for it to happen naturally. I expected him to start having the occasional dry pull-up a year ago.
Six months ago.
One month ago.
Those dry pull-ups never came.
Unfortunately, some children just have small bladders. They get them from us, you know! Sometimes, getting older is the only thing that will make nighttime potty training easier, but it doesn't mean you can't try at different intervals to see if you can ditch those pull-ups.
(If you don't succeed the first time around, these pull-ups are the only ones I could find that didn't leak.)
No matter when you choose to start nighttime potty training, it is absolutely essential that you have all the supplies you'll need before you start. You really don't want to wake up two days in to realize you don't have extra sheets or any clean underwear.
Nighttime potty training can be rough, depending on the kid. Everything on this list will make it SO much easier.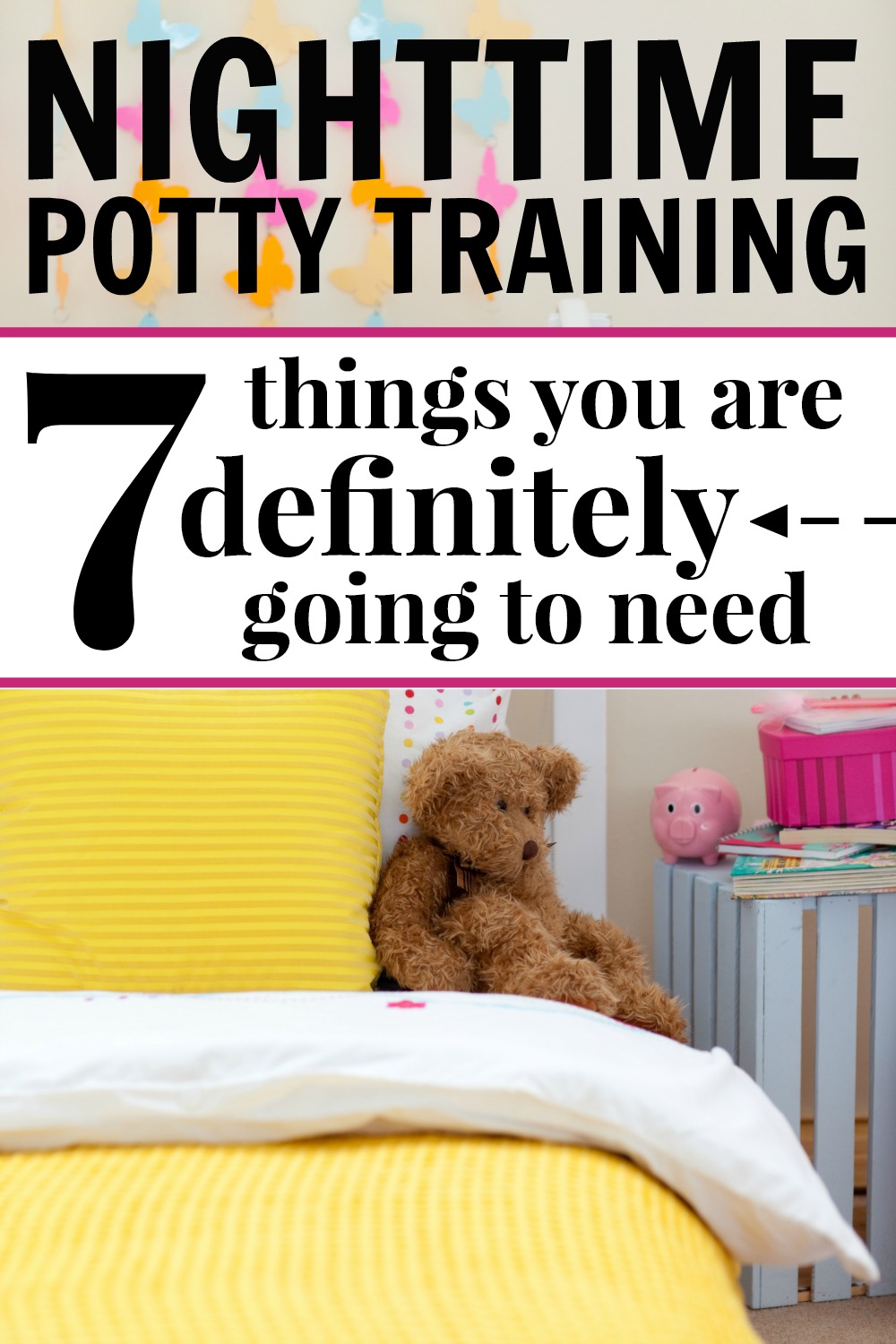 7 Things You'll Need for Nighttime Potty Training
1) Quality Waterproof Mattress Protectors
If you don't already have a waterproof mattress protector, now is the time to buy them.
You need at least two. Four would be better.
You're going to be doing a lot of laundry for a while. If something crazy happens and you don't get to the laundry, you'll be thankful to have a second set.
We recently purchased this mattress protector, and it is holding up beautifully to daily washings. Just be dry the cover on medium or low to maintain the waterproof barrier. High heat can break down the barrier, which leads to leaks, and these aren't cheap!
You definitely want to go with quality on this one. We've tried the ten dollars ones, and we might as well have thrown that money in the trash can.
Buy the good ones and take good care of them!
2) Extra Sheets and Blankets
Extra sheets are a must. You'll be double layering your child's bed for easy middle of the night sheet changes. If your child happens to pee through boy layers (like mine), you are going to want extra sheets.
One way to save yourself money and frustration is to ditch the top sheet altogether. We only use bottom sheets and blankets for our kids' beds.
3) Extra Laundry Baskets
Still in the laundry department, you will need an extra laundry basket or two. You don't want disgusting sheets tossed onto the bedroom carpet in the middle of the night.
I am a minimalist, but with a family our size, you really can't have too many laundry baskets! We purchased this set of 6, and as long as the kids don't use them to build castles, they last a long time.
4) Extra Underwear and Pajamas
Extra, extra, extra. Are you sensing a theme here?
Now is also a good time to make sure your child has enough underwear and pajamas to last the entire nighttime potty training process. While I do advocate that kids need fewer clothes, pajamas are an exception when you're in the middle of nighttime potty training.
It may be that your child gets the hang out it in a week. Bless you – I really hope that happens for your sake.
Orrrr, you could be like me and not see progress for six months or more. Just get the extra pajamas and underwear already.
We love our pajamas from Primary.com. They are cozy, hold up well to multiple washings, and are gender neutral.
Buy them in gender neutral colors, and you've got easy hand me downs for any gender.
You can also find affordable boy's underwear here (my son loves these! He talks about how comfy they are all the time), and girl's underwear here.
Related: Primary.com Clothing Review
Related: How I Get Brand New Clothes for Free ALL THE TIME

5) Nightlight for the Bathroom
If you don't already have a nightlight for the bathroom, now you need one. There is nothing worse than a glaring bathroom light when you're trying to get your child to go to the bathroom in the middle of the night.
We have had this one for years, and it's held up well.
6) Disposable Mattress Pads
When you decide to nighttime potty train, you need to commit to a time period to try. If, like me, you just decide that you need to bite the bullet and just commit for the long haul, you may be at this a while (sorry – mom of four kids being real!)
If you've been at it for several weeks, or if life happens and you're just too tired to deal with nighttime potty training (but you don't want to go back to pull-ups), you'll want to have some of these disposable mattress pads on hand.
Keep a trash can and an extra pad close by the bed, and your child may even be able to take care of the whole thing himself without waking you up! We all have limits. Sometimes, you just need to rest and enjoy a short break before going back to doing multiple loads of laundry a day.
7) Coffee (For You)
You may already be used to interrupted sleep. However, if you've just started getting full nights of sleep, returning to waking up multiple times a night can make you feel like a walking zombie.
Before you start, make sure you are stocked up on your favorite form of caffeine: coffee, tea, soda, chocolate. You're gonna need it! One of the best birthday gifts I ever received was my Keurig (it's still going strong!). I really don't know how I survived the rest of motherhood without it.
The ability to have a fresh, hot cup of coffee in an instant (instead of a lukewarm or burned pot that I kept meaning to get back to) is life-changing.
Nighttime Potty Training: What You Need Above All Else
Finally, to survive nighttime potty training, you definitely need a healthy dose of optimism.
You have to embrace the age-old mantra, "This too shall pass."
The overwhelming majority of children nighttime potty train by the age of seven.
It really doesn't last forever. As a matter of fact, my son had his first dry night last night, when I thought it would take weeks.
Keep your chin up and persevere! Dry beds and full nights of sleep are somewhere in your future.
Read Next: The Easiest Way to Early Potty Train a One-Year-Old