Inside: Decluttering kids' toys can feel overwhelming because what if you declutter something you end up regretting later? After a lot of trial and error – and five kids – I've come up with seven rules for decluttering toys that will make the decision-making process so much easier.
When you take the plunge into minimalism, many books recommend starting with toys if you have kids. You'll see a huge difference which will give you the momentum to continue, or so they say.
But when you worry constantly about decluttering regret, and have young kids with potentially more on the way, decluttering toys can get complicated fast.
I started my own decluttering journey with toys after reading The Life-Changing Magic of Tidying Up, and it was an oh-so-painful process.
I debated a LONG time over things like dolls and Little People and wooden blocks.
Hopefully sharing my experience will save you some of the decision fatigue I experienced.
I'll give you the simple rules that I eventually came up with in order to decide which toys to toss and what to declutter. I'll also show you exactly what remained after we decluttered the first time around.
Your toy collection might look different than ours, but I always find it really helpful to see what other families end up keeping when they finish decluttering toys.
Related: The Best Minimalist Toys for Hours of Happy Play
Decluttering Kids' Toys Is An Ongoing Process, Not A One-Time Event
THIS POST PROBABLY CONTAINS AFFILIATE LINKS. OUR FULL DISCLOSURE POLICY IS REALLY BORING, BUT YOU CAN FIND IT HERE.
When I first read The Life-Changing Magic of Tidying Up, toy after toy (after much debate) went into garbage bags for donation.
Broken toys hit the trash can.
I listed toys on Craigslist.
I practically begged friends to take them off our hands.
After the first go around, I felt accomplished. I checked it off my decluttering list and moved on.
But I quickly realized that when you have kids, decluttering toys (and clothes and shoes and…) is never a one and done event, but an ongoing process.
As a mom with multiple kids of both genders, I wrestled with the types of toys to keep. Gradually, I pared our collection down again and again and again.
You Might Also Like: 21 Minimalist Habits That Will Keep Your Home Clutter-Free for Good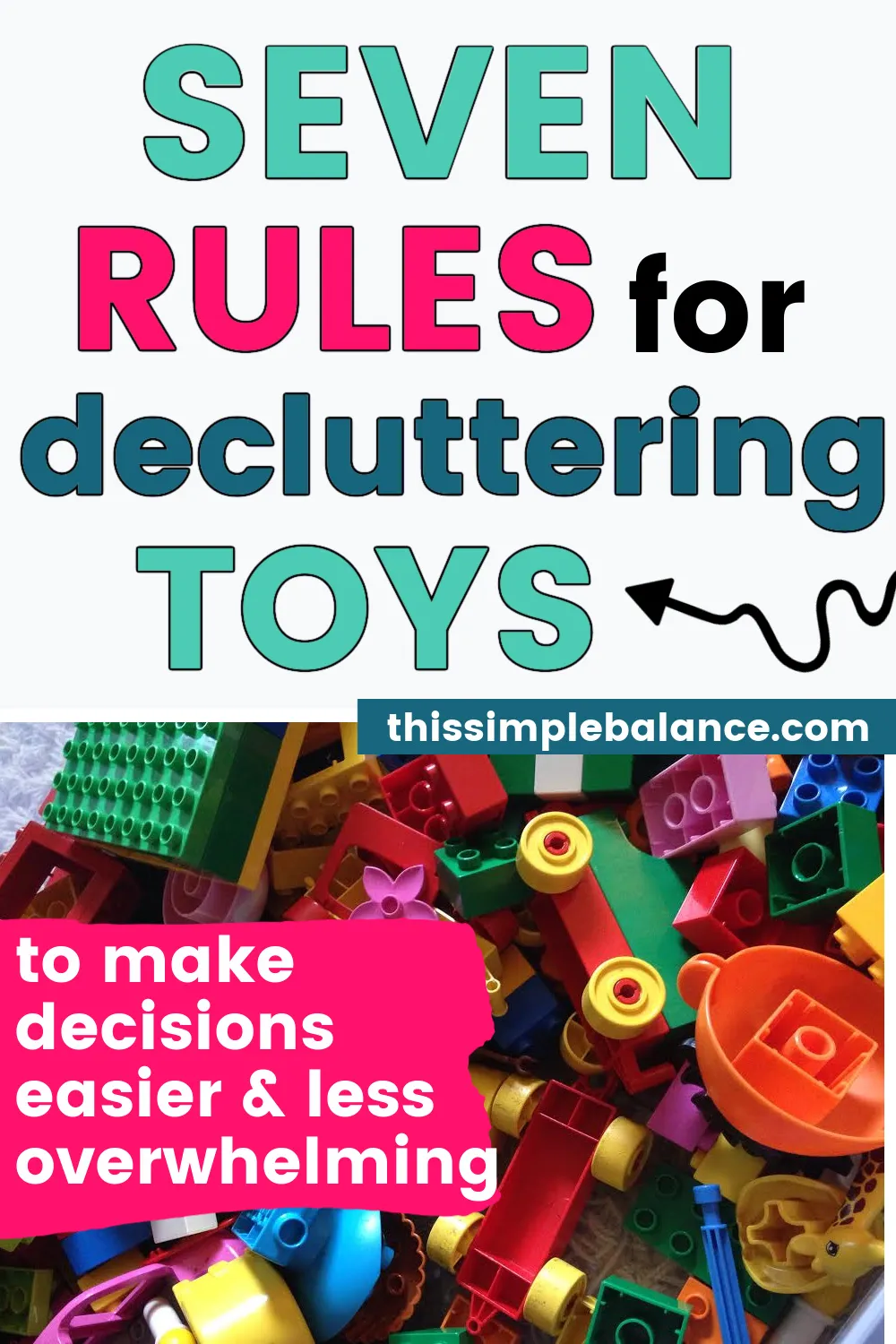 7 Rules for Decluttering Toys
These are the rules I ended up making for myself to streamline the process of deciding what toys to keep and what toys to donate.
I still use these rules to this day!
Also remember that if your child is old enough to be involved in the decision-making and truly loves a toy, don't declutter it without their permission. Wait until they're ready.
I made these rules when my children were all very young – 4 and under. Now they are equal participants in the decision-making process, and I rarely get rid of toys without permission.
1. If the toy is broken, throw it away.
You won't believe how long I debated over broken toys.
Why? Because we spent money on them, or they were given to us by relatives.
What some people find rather quirky about Marie Kondo's decluttering method is her recommendation that you thank an item for its use. I, however, found it extremely helpful.
When I felt guilty about getting rid of a certain toy, I remembered how long my kids enjoyed playing with it.
That toy didn't go to waste. We used it and loved it while it still worked.
With thankfulness for that time, I finally was able to throw it away or pass it to someone who had the desire and expertise to fix it.
2. If a toy causes intense frustration, declutter it.
Simplicity Parenting recommends wooden blocks as an ideal toy for kids.
I heard so many moms recommend them that when our neighbor offered us a beautiful set, I eagerly adopted them. Then I expected my kids to instantly love them and play with them for hours.
The exact opposite happened.
One child would try to build with them, and someone would accidentally bump the tower and done it fell. You can imagine the screams of frustration that instantly pierced my ears.
This happened again and again. My other kids played with them for a few minutes but quickly abandoned them.
My dream blocks were actually a major flop, but I hung onto them long after I realized it.
Why? Because I wanted my kids to love them, which brings me to my next question.
3. If you love the toy – not your kids – give it away.
We received this Little People doll house for free. I love doll houses, and again, they are a toy recommended by so many for pretend play.
Accompanied by a set of Little People that my daughter received for a birthday present, I absolutely loved it and expected the dollhouse to be a hit.
And it was…for a while.
The kids eventually abandoned it in favor of blocks or magna-tiles. But I had a really hard time giving this toy away because I loved it – not them.
Finally, we gave them to a good friend whose has two little girls. They love it and play with it regularly.
If you find yourself unable to declutter a toy you love, try giving to friends or family who you know will really enjoy it.
4. If a toy is played with less than 10 minutes at a time, declutter it.
Like I mentioned earlier, the less specific a toy is, the more likely it is to be played with for extended periods of time.
Less specific, simpler toys equals more imaginative play for longer periods of time.
Even toys that most parents buy thinking they will encourage pretend play turn out to unnecessary. We got rid of our play kitchen during a recent move and were shocked to see pretend play increase, not decrease.
Observe your kids. What do they play with for a long time? What sparks their imagination?
Keep those.
5. If a toy takes a long time to clean up, rotate it or let it go.
I try my best to keep toys that either can be stored in a way that causes minimal mess or store these items in a way that minimizes the mess, that can be easily cleaned up by the kids or myself.
I use open bins. Or I split them into groups and put them in a toy rotation.
But if all the other questions combined point to decluttering that toy AND it takes forever to clean up, it's a no-brainer. Let it go.
6. Make sure you keep enough in one toy category that multiple kids can play together happily.
This might seem like an odd decluttering rule, but it SAVE YOUR SANITY if you have more than two kids!
There's nothing worse than dealing with sharing battles constantly, especially when you homeschool and have multiple kids home together on a regular basis.
For example, when we purchased our first set of magna-tiles a couple of years ago, we quickly realized that one set was not going to be enough for the number of kids we had.
We ended up adding a second set so that everyone could play well together.
7. If a toy is too age-specific, declutter it.
When you have a big family, age-specific toys need to go as much as possible.
We saved three baby toys and a few sentimental board books for our current baby and future babies. That's it.
If they need replacing later on, it's only a few items that can easily be found at yard sales or thrift stores. Every other toy in our house (except LEGOs) can be played with by children of any age.
Our youngest enjoyed Duplo blocks and magna-tiles long before he could walk.
You really don't need much for the littlest kiddos.
Related: The Best Decluttering Questions to Use, Instead of "Does It Spark Joy"?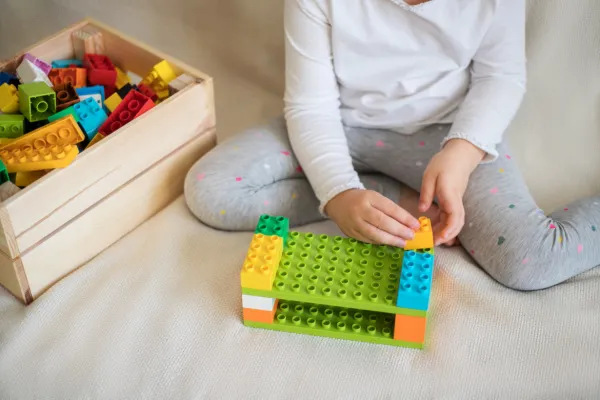 The Toys Ended Up Keeping After Our First Big Declutter
The book Simplicity Parenting by Kim John Payne gave me an initial helpful framework for making better decisions about what toys to keep and what to declutter.
He explains that the fewer toys kids have, and the less specific those toys are, he explains, the better they play. A toy that is too specific forces kids to play with them in one specific way.
An electronic robot, for example, can only be played with in a few ways. At the end of day, he's a robot and is probably not going to become something else in pretend play.
Blocks, on the other hand, can be configured several different ways and become a million different things.
Here's what we kept after going through the toys the first time around…
LEGO Duplo Blocks
LEGO Bricks
Magna-Tiles
Balls
Cars
Dress-Up
Dolls
Puzzles
Art Supplies
This is pretty much what we still have in our toy collection today.
We have additional musical instruments and educational toys/tools because we homeschool, but they aren't stored with our general toy collection.
Related: How to Declutter When You Have a Sentimental Child (& They Want to Keep It All)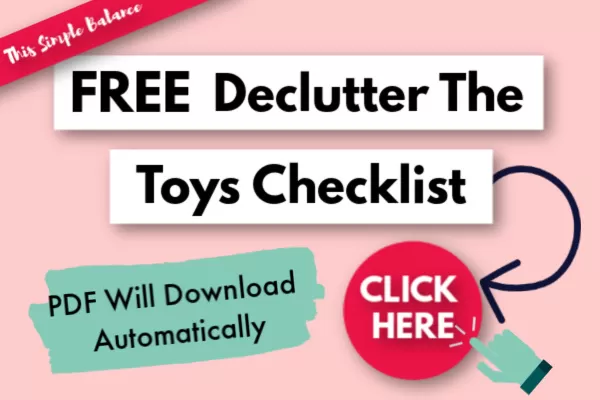 Which Toys Should You Declutter? You Get to Choose
As I said at the beginning, what toys you choose to keep is a personal choice based on you and your kids' personalities.
Hopefully, our collection gives you a starting point and inspiration to declutter your toys.
Minimalism can seem off-putting at times because some people take it to extremes. But as my blog name communicates, I'm all about balanced simple living.
Don't be afraid to embrace minimalist because of extreme examples.
These rules for decluttering toys are the ones that helped me personally. But at the end of the day, remember that you aren't obligated to follow anyone else's decluttering rules.
Take what you need. Take what's helpful. Leave the rest.
Related: What Is Minimalism? A Definition for the Non-Extremists