Inside: Homeschooling can be stressful enough on its own. Trying to homeschool with babies and toddlers? That can make you feel like a crazy woman for choosing to homeschool. Get advice from homeschool mom veterans of how they made it work: because you can, too!
Do you have a baby or a toddler and wonder just how the heck you are going to manage to homeschool this year? You can barely sit down long enough to enjoy a hot cup of coffee, let alone long enough to read a single sentence to your five-year-old.
I just finished a homeschool year with four kiddos, my youngest starting out the year at 9 months old and ending at 15 months old. In my opinion, the baby end is a piece of cake! Once they're mobile and into EVERYTHING, homeschooling gets a lot trickier.
Then again, how easy or hard it is very much depends on the personality of your baby/toddler. If it had been my third child, the school year would have been a breeze (easiest baby and toddler ever).
Regardless of your specific circumstances, homeschooling with babies and toddlers is not impossible. You just need some perspective shift and a few pointers from seasoned homeschoolers. You CAN do this, homeschool mama!
20+ Blog Posts from Experienced Homeschool Moms
THIS POST PROBABLY CONTAINS AFFILIATE LINKS. AS AN AMAZON ASSOCIATE, I EARN FROM QUALIFYING PURCHASES. YOU CAN READ OUR FULL DISCLOSURE POLICY HERE.
In the spirit of making your life easier (and mine), I rounded up tons of amazing resources from homeschooling bloggers around the web. Don't you wish homeschool moms who have been there could hold your hand while you figure out homeschooling with babies and toddlers?
While I can't teleport them to your kitchen with a cup of coffee, I can do the next best thing: round-up some of their best blog posts on homeschooling with babies and toddlers.
I've scoured the web and the sites of experienced homeschooling moms to find many of these gems. Others are from those a little newer to homeschooling.
Some of them suggest genius things I've never thought of; others simply offer a good dose of empathy, acknowledging just how hard homeschooling with toddlers and babies really is.
Not every technique or tip will work for you and your family, but you will probably find at least one tip you can use to make homeschooling with babies and toddlers go a little more smoothly.
Take in all this information and sift through it: keep what resonates with you, and let go what doesn't. At the very least, you will find understanding and compassion, and you'll feel a little less alone in this whole homeschooling journey. And isn't that the main reason we all love homeschool blogs in the first place?
I have titled each article and included a quote so you can find the ones that will best apply to your unique situation.
Click the article title to read these blog posts in full. Enjoy!
Related: How to Love the Terrible Twos, Not Just Survive Them
Save these tips for later: Pin it HERE.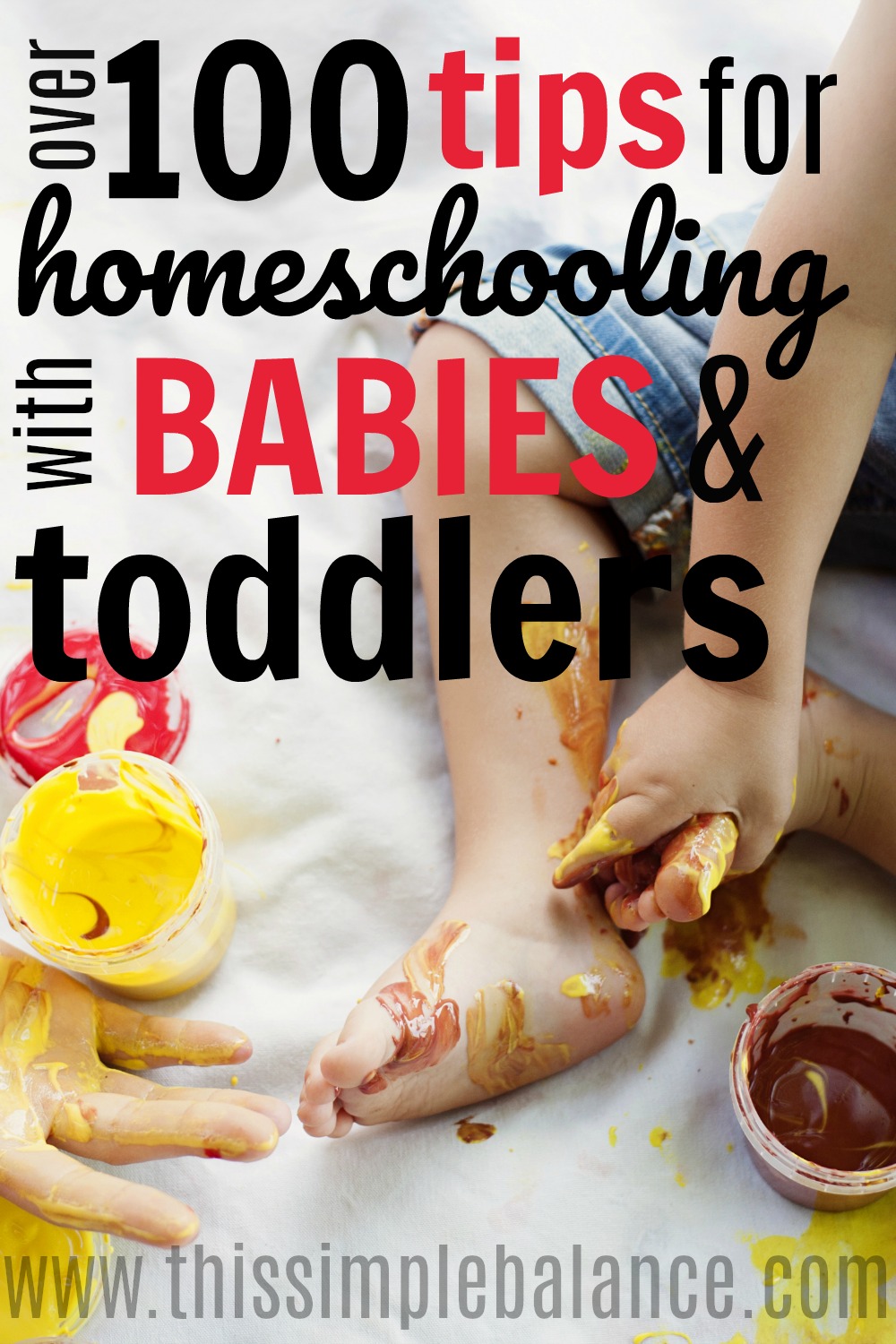 Homeschooling with Babies & Toddlers: 100+ Tips
1. Ten Tips for Managing Babies
"Don't throw in the towel yet! Remember that it is just for a short while. Each year the dynamic will change drastically! Depending on your baby, the first year may be a total cinch while homeschooling with a toddler could be a nightmare. 'Just keep swimming' mama, this too will pass!"
2. Twins, Big Families, and Homeschooling
"It's the everlasting plight of the idealist that reality never matches the vision inside her head, sure, but scrap the beatific visions- my idealist self curled up and went to sleep in the corner about two years ago. This is just blasted hard, that's all there is to it."
(Don't miss Sarah's book Teaching From Rest: A Homeschooler's Guide to Unshakeable Peace, a book I'll be reading again and again for years to come.)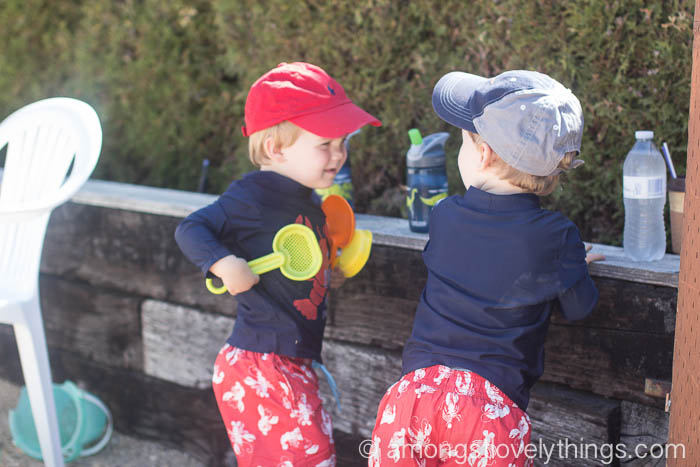 3. The Magical Toddler Box
"When there are babies in the house, you have to be creative and not hold too high of an expectation for yourself or your school day. It's not going to look like 'school at home' (nor should it), it will look more like home with a little bit of school mixed in."
4. Toddlers with Big Kids
"Toddlerhood is a season unlike any other. Well, actually it may be closest to puberty, but don't quote me on that. One minute they're laughing and having fun with some of their favorite toys. The next they are throwing said toys across the room and throwing themselves on the floor for unknown reasons."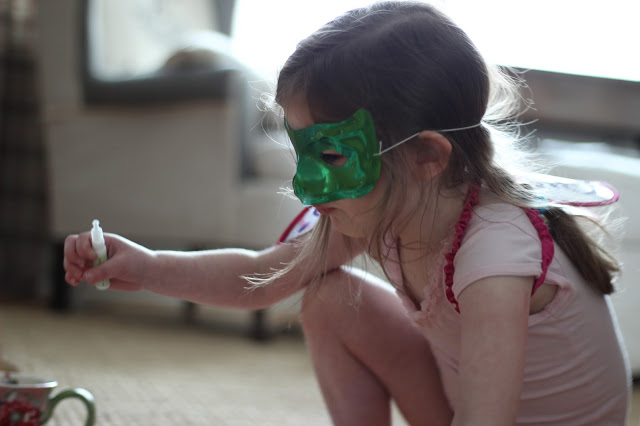 5. 6 Kids + a Newborn = 7 Kids!
"I don't care if you have one kid or six, there is always the mental process of working through exactly what life will look like with a new little one in the family."
6. The Need for Both Breaks & Routines
"We tend to get all worked up over missed school time and missed activities that we think we are failing at homeschooling and at mothering. Your kids will survive time off and will not become dumber because of it!"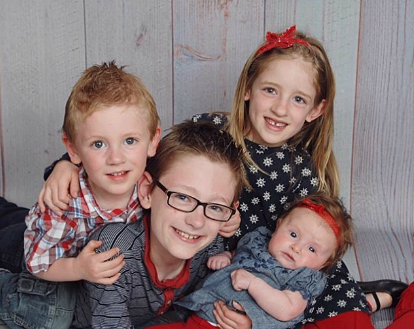 7. Practical Advice for the Baby Stage
"The first three months are usually the hardest as you are still trying to adjust to a new routine. Bringing a baby home changes things for everyone, so everyone needs time to adjust."
8. Three Best Tips from a Mom of Two
"Whether you have a more formal style, or you are unschooling, there will be times when your older child needs your attention, needs to be able to concentrate and work free from major disturbance, and needs not to have their work/project manhandled by tiny fingers. Here's a few things that have worked for us."
9. Tips on Surviving with Babies and Toddlers
"There is no greater comedic relief than a toddler. Don't forget to enjoy your Littles, laugh with them, and revel in the knowledge that your older kids are getting to enjoy them with you."
10. Practical Suggestions for the Newborn Phase
"Mom, can I just say don't stress out about homeschooling looking a certain way during this time! Yes, there can be some pressure to get it all done (usually the pressure comes from ourselves), but don't give in to it. The newborn/young baby stage is such a short stage in the long-range scope of things."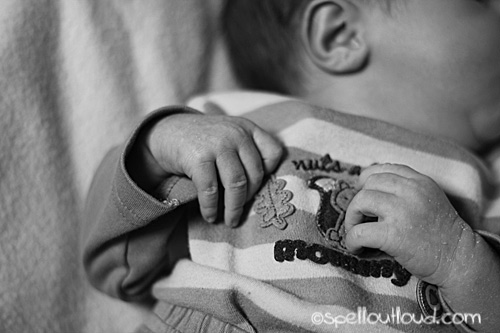 11. An Approach for Mamas Craving Structure
"For over a month now, the Newbie has spent his days launching carpet expeditions hoping to open every cupboard, dump every basket, and upturn every well-laid plan. His curiosity and moxie are natural, but NATURALLY add a new element of adventure to our homeschool day."
12. From an Experienced Homeschool Mom of 3
"Homeschooling can be challenging. Throw a baby, toddler, or preschooler in the mix and chaos is often a much better word. When we started homeschooling in 2002, I had a 7-year-old, a 3-year-old, and a 1-year-old. Fun times, y'all!"
13. A Realistic Perspective on Babies & Toddlers
"I'm taking an honest look at my schedule and I'm working hard on easing up on myself. Seasons of life ebb and flow. As trite as it sounds, my children are only small once. This is HARD WORK – and I'm trying to have realistic expectations."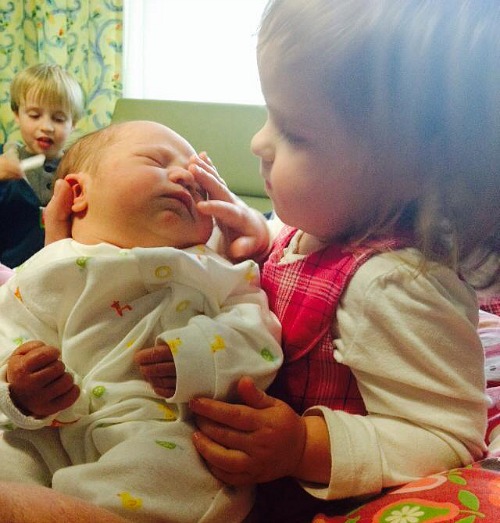 14. From a Work at Home Mom of Three
"Is it possible to successfully homeschool with little ones underfoot? If you've ever wondered the same, here are a four ideas to keep your smile and your sanity while juggling littles and learning."
15. 7 Practical Tips for Toddlers
"Homeschooling with toddlers is a challenge. One minute you're teaching your child math and the next minute you realize your toddler is in the bathroom, unrolling the toilet paper or painting with toothpaste on the wall."
16. A Video Post
"I know this can be a challenging time, and I encourage you to set a schedule that works for your family during this time. Don't worry about what other families might be doing!"
17. From a Mom of Five (9 & Under)
"So much depends on your homeschooling style and the personalities of you, your older children, and your toddler…Babies are the easy part, in my opinion. It's when that baby becomes a needy, clingy, mobile toddler that the juggling really begins."
18. A Kindergartener & a Baby
"Homeschooling with infants and toddlers in tow is a learning process that takes a lot of trial and error. Just when I thought I had it all figured out, I was thrown another curve ball and it would take a few days (or weeks) to figure it out again. After nearly 5 years under my belt with toddlers in tow, I have a few tips and ideas I would like to share with you."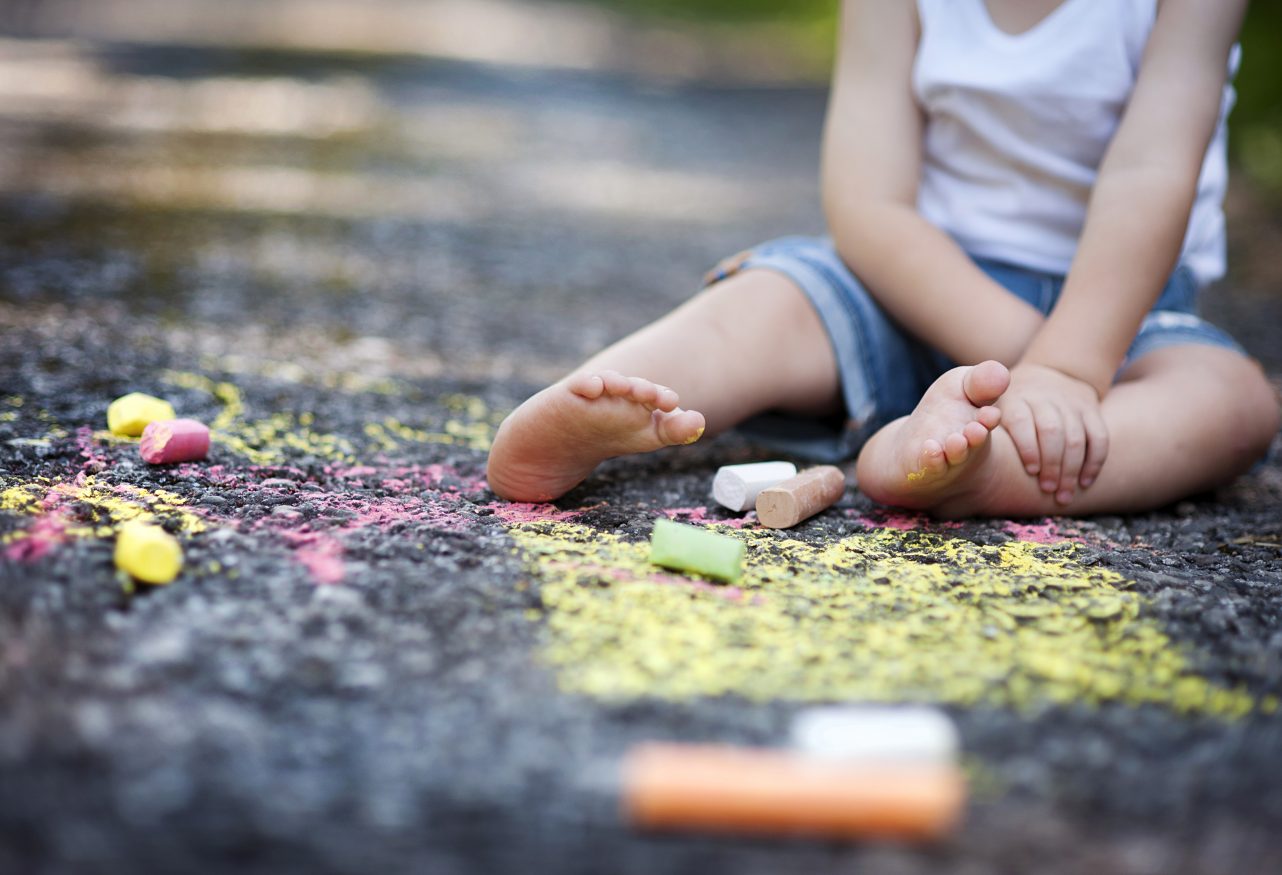 19. Tips for Taming Toddler Energy
"Homeschooling your family can be an awesome experience but as your family grows and add little ones to the mix, it can become challenging to keep up with the older children…What can do you so your toddler doesn't become a distraction to your older students?"
20. Advice from a Mom of 3 Homeschool Graduates
"HERE'S WHAT I RECOMMEND that has worked for me, and has worked for countless other moms in the same situation. And though (for some of you) this may shatter the image you have long held of homeschooling, remember it is a temporary solution to a problem, can always be changed back at any time — plus…IT WORKS."
21. Advice for Each Stage from a Big Family Perspective
"So I've been pregnant or nursing almost constantly for eight years. Thankfully, that's given me plenty of practice managing real life with having babies, and it's brought forth these tips on homeschooling while expanding your family!"
22. Changing How We See Our Little Ones
"For years I viewed my young children's interruptions as distracting me from what I felt was the more important task of teaching my older children at home. My goal for homeschooling was solely academic excellence."
23. For When You Have an Spirited Toddler
"Bless their hearts but I just had a feeling those ideas weren't going to work on my adventuresome little guy and that proved to be absolutely true. Homeschooling with a newborn was a cakewalk compared to teaching with a toddler!"
What are your best tips for homeschooling with babies and toddlers? Share in the comments!