Inside: Do you wonder why on earth any mom would want to switch to a paperless kitchen, especially with messy kids? Get four convincing reasons from a mom who felt the same way – and now LOVES it!
This summer I got this crazy idea in my head to try a paperless kitchen.
With four small kids who make A LOT of messes every day, I wasn't entirely sure my paperless kitchen experiment was going to be a success.
So why, then? I think I needed a tangible, finished achievement – something so rare in motherhood. I wanted to check a box that didn't need to be checked again.
Oh, and we were out of paper towels <sheepish grin>.
It seemed like as good a time as any to go paperless!
Turns out, a paperless kitchen (even with kids) is much easier than I anticipated!
If you're a paperless newbie, this series of three posts will give you everything you need to start your paperless kitchen
If you still need persuading that a paperless kitchen is worth doing, in this first post I'm going to let you in on the surprising benefits of a paperless kitchen that I discovered only after I jumped in with both feet!
And they have nothing to do with saving money.
THIS POST PROBABLY CONTAINS AFFILIATE LINKS. AS AN AMAZON ASSOCIATE, I EARN FROM QUALIFYING PURCHASES. YOU CAN READ OUR FULL DISCLOSURE POLICY HERE.
A Paperless Kitchen: Why do it?
My initial motivation was saving money…until I realized that it would be a year or more before I would really start seeing the savings.
You need to make your own calculations to see how you would save, but when I did the math, I realized our paper towels and sponges were only costing around $10 a month.
I was shocked, and a little disappointed.
We were going through one or two rolls of paper towels a week, and I thought it was costing us far more than it actually was. Sponges? Same thing – I only bought a pack every couple of months.
I quickly realized that if I was going to stick with a paperless kitchen longer than a week or two, I needed to find better reasons than just saving money.
Thankfully, going paperless was surprisingly easy, even with four kids! I don't miss going through a roll of paper towels a day, that's for sure.
In fact, I love all the ways paperless kitchen products make my life easier.
Yes, I said easier.
4 Benefits of a Paperless Kitchen
1) There are fewer items to remember to add to my grocery list.
Buying groceries is an exhausting endeavor with a family of our size.
Streamlining the process takes constant work, and there's nothing worse than getting home only to realize you forgot something and need to go out AGAIN.
The fewer items you need to buy, the less there is to forget!
2) Less waste equals fewer garbage bags and trash to take out.
Obviously, many people choose a paperless kitchen because they care about the environment. While this wasn't my main motivation at first, I'm gradually having the brain space to start caring about adopting a zero waste lifestyle.
Before the paperless kitchen, I was taking the trash out once a day (at least). After switching to a paperless kitchen, I take out the trash every three days or so – a huge difference!
For my birthday this year, I bought myself this new, pretty trash can. It only holds about eight liters of trash (compared to our old trash can, which held 13 liters).
Initially, I thought this was a downside, but it's really forced me to be less lazy with recycling.
I am much more intentional about recycling everything that can possibly be recycled, which has also cut down on waste.
Plus, I really, really love this trash can! It sounds silly, but I love decorating my home primarily by only buying pretty, practical items – from bathroom rugs to trash cans.
3) Paperless products make cleaning faster, more efficient, and more sanitary.
Before switching over to a paperless kitchen, I used paper towels for pretty much everything. Now I wonder how I ever thought paper towels were the best tool for these jobs.
Scotchbrite dishcloths make it so easy to quickly scrub dried food off the counters.
Reusable mop pads work far better than Swiffers (I bought this mop two years and ago and am still in love!).
Unpaper towels and old dish towels are more absorbent than paper towels, and cleaning up spills takes much less time and effort.
When I wash the dishes, I use a new dishcloth every day and run the dish brush through the dishwasher once or twice a week (I replace it every six months or so), compared to trying to keep a disgusting sponge sanitary as long as possible before buying new ones.
4) Making one green decision leads to more.
Ok, I admit it: I'm not very "green". I've only recently started to add organic cleaning products to our home.
I've tried essential oils several times…I just haven't seen the amazing results other moms rave about. Maybe one day?
That being said, when you make one green decision, you see more opportunities to make simple swaps for green(er) living.
For example, another blogger mentioned Mrs. Meyer's Automatic Dish Packs in a post about how to make healthier decisions as moms this year. Before a paperless kitchen, I would have passed it by, but this time, I clicked.
They aren't that much more expensive than our current dishwasher detergent. I made the switch and added it to our Amazon subscribe and save list.
Slowly, but surely, I am working towards a healthier and greener home.
(I don't think I'll ever be able to do cloth diapers, but never say never!)
Related: Is Amazon Prime Worth It? If You Have Kids in Diapers It Is!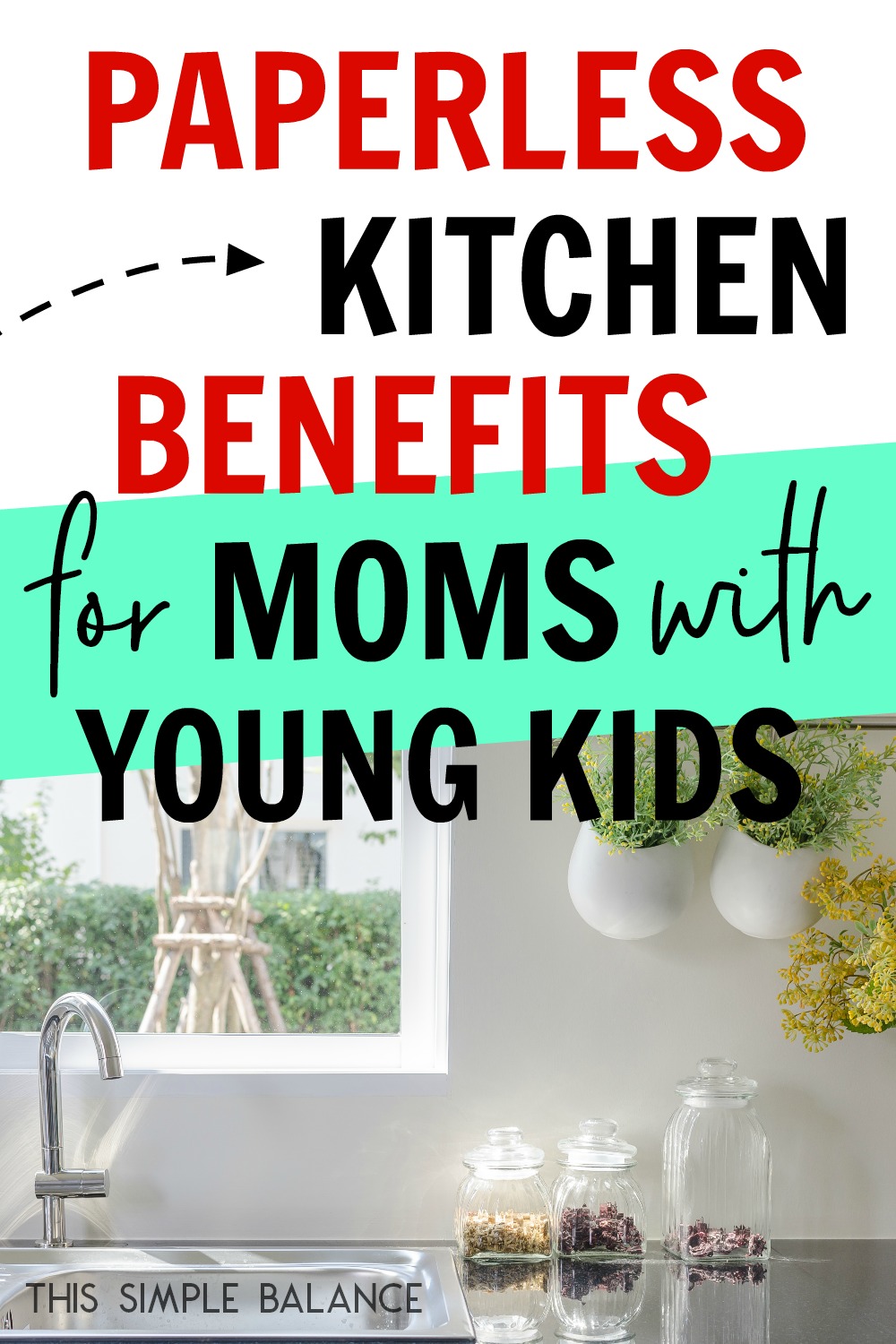 A Paperless Kitchen: It's Possible, Even with Kids!
I started our paperless kitchen experiment with trepidation. I honestly didn't think it would last a week.
It's been over five months now.
I have my bad weeks. There are definitely times when the laundry is backed up, and we are out of unpaper towels, and those rolls of Bounty paper towels my husband insists we keep on hand are SO dang handy!
Side Note: We recently tried Who Gives a Crap Paper Towels – and toilet paper and tissues, and while they're no Bounty, that's actually good because we are FAR more likely to reach for the cloths instead AND they're made from recycled paper.
Try Who Gives a Crap HERE for $10 off your first order.
Before you know it, I sink back into old habits.
It usually on lasts a day though. I put them back under the sink (you'll learn more about this in the next post) and get the laundry done. The paperless kitchen starts again.
If I can do a paperless kitchen with four kiddos eight and under who are home all day, you can too!
Start Your Paperless Kitchen: