Inside: If you're trying to start a paperless kitchen and you have a young family, you NEED these tips to help you get started – especially tip #5!
When I started our paperless kitchen five months ago, I was a total paperless newbie. I also had a serious paper towel habit that needed to be broken ASAP.
These tips come from a mom who is not all that green and just decided on a whim that a paperless kitchen would be a fun challenge (ha! like I don't have enough going on between homeschooling and working from home).
Prior to starting this paperless kitchen experiment, we were going through a roll of paper towels every 3-4 days and at least one sponge a month, if not more.
If you are feeling nervous about switching to a paperless kitchen, these tips will help that apprehension dissipate! I didn't think I'd last a week when I first started, and here I am five months later helping you start yours.
Related: How to Reduce Waste At Home (with kids) – 17 Easy Ways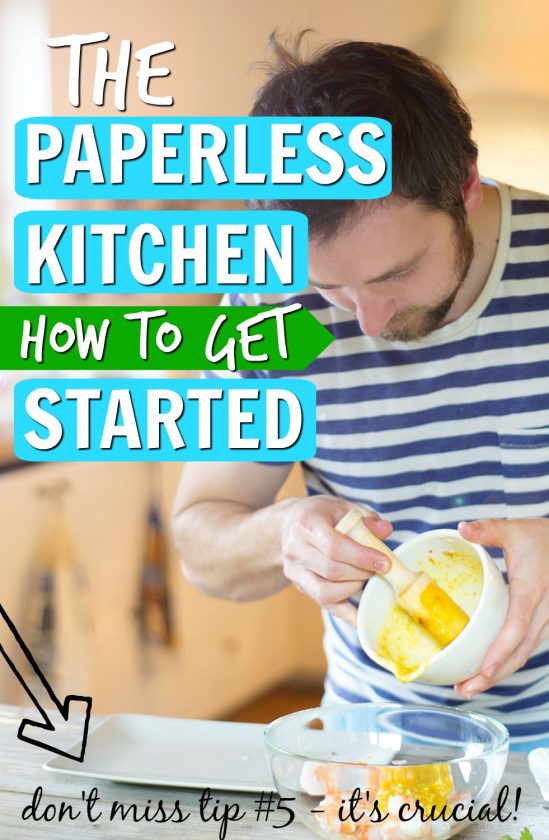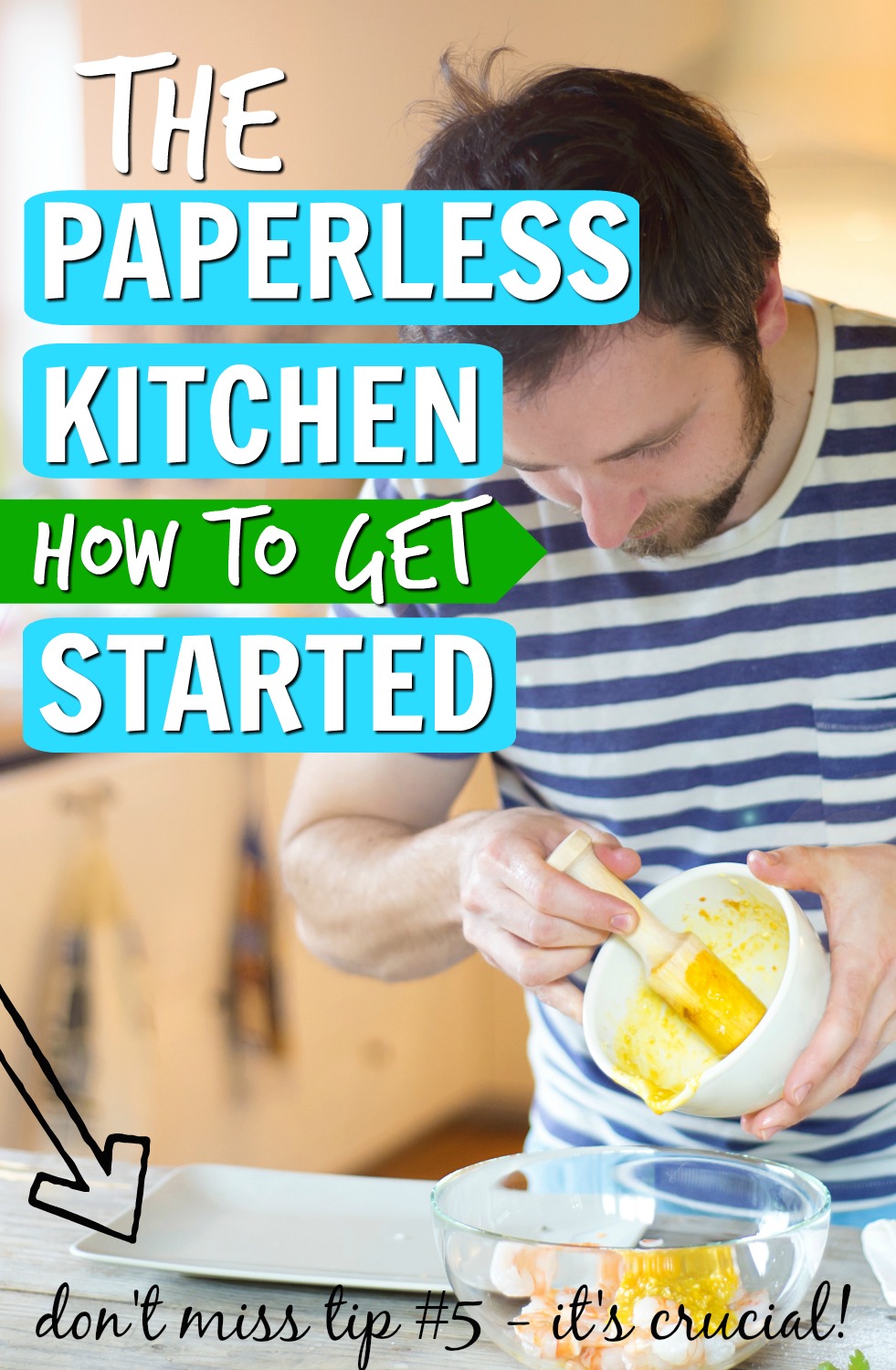 The Paperless Kitchen: How to Get Started
1. Go without paper towels completely for a 1-2 weeks.
I started the paperless kitchen experiment just as we were running out of paper towels. Before going paperless, I used paper towels ALL THE TIME. I honestly thought I would be lost without them.
Often it takes going cold turkey to break the habit.
Like so many other things in life, when what you're used to isn't there anymore, you use what you have on hand instead. Before purchasing the unpaper towels we have now, we simply used old t-shirts torn into strips.
You don't need fancy to make a paperless kitchen work.
2. Get your spouse on board…or don't.
How you decide to approach getting your spouse on board with a paperless kitchen really depends on how much you share housework with your spouse in the first place.
In our home, I do most of the housework. I'm home all day, do the majority of the cooking, and use the kitchen the most.
Young children are fairly easy to retrain. I simply showed them where the unpaper towels were, and they started using them.
In fact, my daughter was thrilled to be doing something to "save the trees". I don't know where she got that from.
Anyways, that was that.
My husband? Well…I didn't really tell my husband about the paperless kitchen experiment.
I simply didn't buy more paper towels.
So two weeks later when I left him home with the kids half the day, I came home to him asking, "Where on earth are the paper towels?!!!"
When he realized I purposefully stopped buying them (as opposed to forgetting to purchase them) he literally thought I was crazy.
He insisted we have a few rolls on hand, if only for his personal use. If I wanted to do this crazy paperless kitchen thing, that was fine, but he WANTED his paper towels.
I agreed, especially since I never did find a good paperless substitute for soaking up bacon grease (grease and grease-related messes are the only thing thing I use paper towels for, unless for some reason laundry is running waaaay behind).
I purchased a 20-pack of paper towel rolls from BJ's in early August. We probably won't need more until March.
I'm hoping to stretch the next pack for an entire year. Maybe I can break hubby of his paper towel dependency?
3. If you decide to keep paper products on hand, store them out of sight.
I was very thankful for the two weeks without any paper towels in the house. I needed those weeks to establish new habits. I stopped relying on them altogether.
That being said, guess what happened once I bought more and left them on the kitchen counter?
You guessed it: I went right back to using them – and in shamefully copious amounts!
As soon as I moved them under the sink, I stopped using them again.
Isn't that true of anything though?
If the snack bag is sitting open right next to you, you're probably gonna eat that snack – without even realizing you're doing it. It's habit.
If you decide to keep paper products in the house, store them out of sight (clear kitchen counters are life-changing, anyway).
Related: Clear Kitchen Counters Will Change Your Life
4. Find easily accessible storage space for your paperless cleaning products – the clean and the dirty.
Unpaper towels are by far the biggest space hog, but you may also need to increase your supply of dish towels and dish cloths, as well.
If you have a small kitchen, wall storage may be your best option.
We currently store dishcloths and dish towels underneath our kitchen sink in neat stacks. The cloth mop pads and extra dish brushes store neatly in a bin with this cleaning solution for floors.
We also have an open bin to store dirty unpaper towels. Open and airy storage is key, as is regular laundry. If you leave dirty unpaper towels to sit for more than a few days, they will get moldy. Yuck.
Unpaper towels are stored in wall mounted mesh bins hung above the trash can. We still need to purchase cloth napkins and cloth baby wipes and find a place to store them.
Did you catch that?
We don't have a completely paperless kitchen…yet.
Tip number five is critical for paperless kitchen success.
5. Take baby steps toward a paperless kitchen.
The thought of big changes can be overwhelming when you're raising little kids.
Ok, let's be real: thinking about making ANY change whatsoever can wreck you completely.
That's why baby steps are SO important for moms who are trying to change anything in their lives. But for some crazy reason, it is extremely tempting to abandon any change at all if we can't "arrive" tomorrow.
Small, incremental changes feel like they are not enough. But they are!
You don't need to run out and replace everything right away, especially if funds are tight. A paperless kitchen is an investment and building up your stash of paperless products will take time.
Take your time. Replace a one or two things a month.
Start with paper towels.
Then tackle napkins.
Next, switch out the baby wipes for food messes.
One thing at a time, and don't forget to breathe.
Related: Top Benefits of Switching to a Paperless Kitchen
The Paperless Kitchen is NOT a Sprint
The paperless kitchen doesn't need to be a sprint. It's not a race with a prize attached when you've "arrived".
Look at me! We haven't even bought the cloth baby wipes yet (it's next on my list), and I'm sitting here writing about why you need to try a paperless kitchen.
You CAN do this whole paperless kitchen thing.
The key? Just start.
Read Next: The Best Paperless Kitchen Products for Your Paperless Kitchen