Inside: This classic, pretend play toy can be found in homes all across America, but what if our kids don't really need it to play pretend, after all?
Don't we all want our kids to play pretend? We stock their play rooms with all the "right" toys that supposedly spark imaginative play…and then don't understand why they aren't playing!
I fell for it, too – believing certain toys to be absolutely necessary for my kids to play pretend.
As my daughter approached three years old, I started looking for the perfect play kitchen (classic, right?!). Home aesthetics are important to me, so I prioritized the ones I could handle looking at every day in our small apartment.
THIS POST PROBABLY CONTAINS AFFILIATE LINKS. AS AN AMAZON ASSOCIATE, I EARN FROM QUALIFYING PURCHASES. YOU CAN READ OUR FULL DISCLOSURE POLICY HERE.
The Play Kitchen: A Beautiful Beginning
My search ended with this kidcraft playkitchen in pink. A friend had one in her home, and it looked amazing, like a piece of furniture instead of a toy. I spent hours admiring the play kitchen's wooden features and searching for the lowest prices. Normally priced at $150, I found one for $100 (a steal!).
It was adorable and pink and the first big present we bought for our first child (you would think we would have rethought the color, since we planned on having more kids, but we weren't smart like that back then).
Lots of firsts going on here. We were pretty excited, anticipating her reaction Christmas morning.
My husband spent hours assembling the kitchen the day before Christmas. When our daughter walked down the stairs and ripped off the wrapping paper, her eyes lit up.
It was every parent's dream Christmas morning face.
That little pink play kitchen was well-loved over the years, even by the multiple brothers that followed our daughter. And unlike some other toys, I actually enjoyed looking at it every day.
---
Related Posts:
Our Moderately Minimalist Toy Collection
How to Declutter with a Sentimental Child
How to Stop Obsessing over a Clean House
---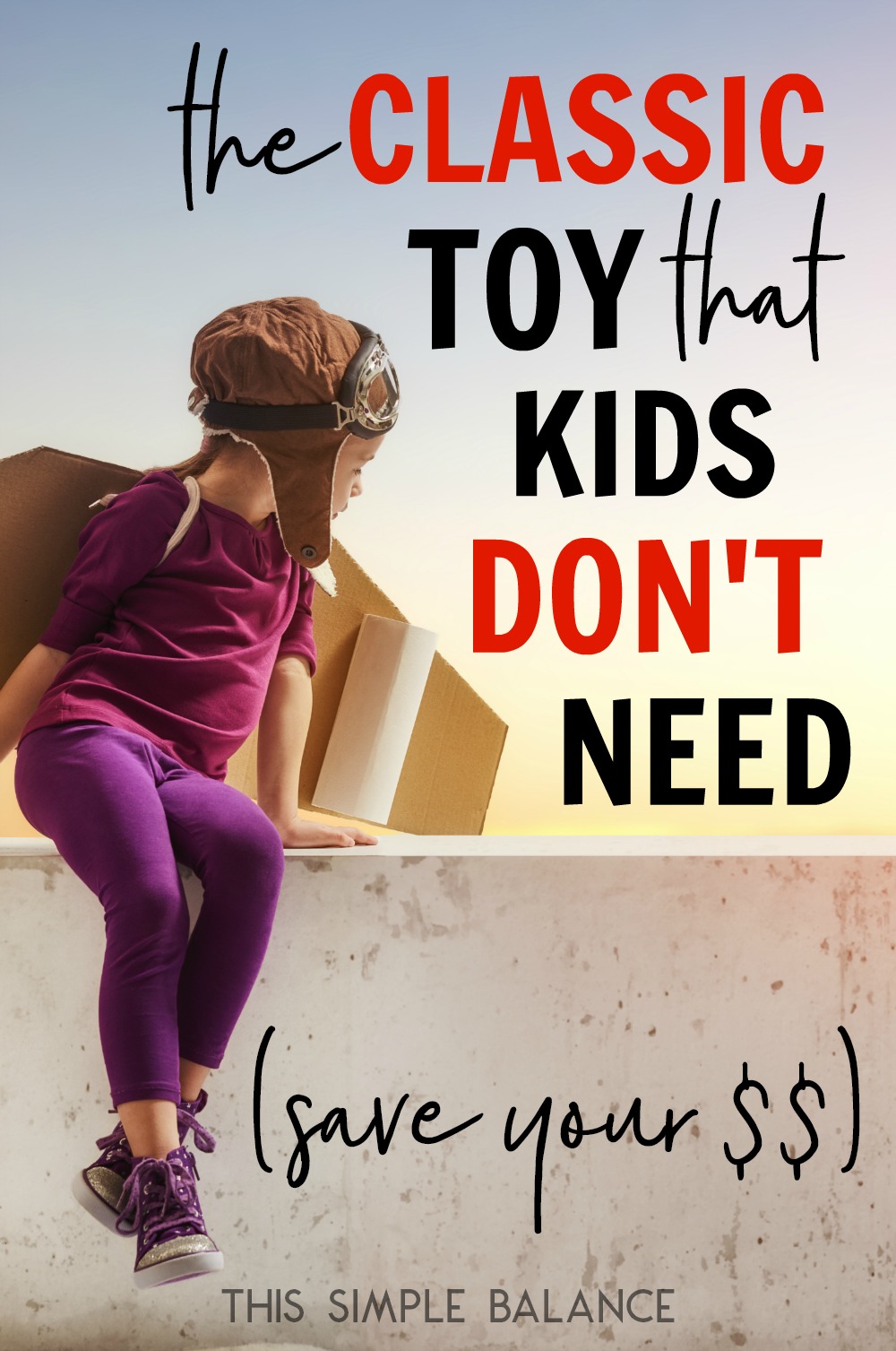 Starting to Break Down
For $100, it certainly didn't hold up very well.
One end of the phone broke off. A cabinet handle broke in half. The faucet quickly started to wobble, and tightening the screws didn't help. Its lack of durability was irritating, but still, I loved it.
I began to notice, however, that whenever they played with the kitchen, the play food, so carefully sorted into baskets, was, without hesitation, immediately dumped on the floor.
Hot dogs flew under the fridge, never to be seen again.
Lemons were stepped on and squashed beyond repair.
Those cute Melissa and Doug aluminum pots and pans?
They quickly became every introverted, highly-sensitive mom's worst-nightmare: oh, the banging. I cringe just thinking about it.
And I spent hard labor and precious time cleaning that thing. It was difficult to clean, with nooks and crannies that attracted tons of dirt and grime.
So as much as I loved the idea of the play kitchen, I gradually began to dread it.
I spent night after night picking up the food, only to have it dumped out again the next day.
And they just did not play with it well. You know…well. Like when kids get lost for hours in some imaginary land, and you marvel at their ability to pretend play on their own?
Yeah…that kitchen did not often lead to that kind of play.
So I put it away in a closet for a while, thinking that when I brought it back out, they would play for hours. Right?
Wrong. Repeat dumping, squashing, banging.
Still, it simply did not occur to me to part with it, especially since we had spent so much money on it.
Good-bye Play Kitchen…With Surprising Results
Fast forward four years, and (gasp!) we sold that adorable play kitchen before our family's first long-distance move.
I was definitely sadder than the kids to see it go, but I took comfort in the thought that the family who bought it would put it to good use. We decided to keep the pots and pans, dishes, and play food (after tossing all broken and squished food, of course). I figured there was the off-chance that they might still play with them occasionally even though there wasn't a kitchen to go with it.
Simplicity best fosters creativity and pretend play.
Guess what? To my surprise, they play with all that stuff, and probably even better than before! Having read Simplicity Parenting, I should have known.
"The toys that are too detailed or complicated—too "fixed"—can rob a child of an imaginative experience." Kim John Payne (Simplicity Parenting: Using the Extraordinary Power of Less to Raise Calmer, Happier, and More Secure Kids)
Magna-tiles easily form the stove burners*. Dolls and stuffed animals circle up on the floor and go to town on the pretend picnic. They even discovered that Magna-tiles can form cups with "lemonade" and "lemons" on the rim, proceeding to set up a shop just like before.
Without the "essential" play kitchen.
I was amazed. They didn't even skip a beat or say a word about the kitchen. They played just as well without it.
No more mindless dumping. Minimal Pot Banging. Beautiful pretend playing.
So my advice? Save your money, space, and time. Skip the play kitchen.
*P.S. Speaking of worthwhile toys, Magna-tiles are hands down the best toy investment we ever made (should have spent the $100 from the play kitchen on more of these! Except they didn't exist back then…never mind). We bought them for Christmas over a year ago, and the kids (especially our boys) play with them daily, multiple times a day. You can find them online HERE.