Inside: The 1000 Hours Outside Challenge is growing in popularity, and if participating benefits you and your family, that's great. I, however, have intentionally chosen not to participate. These are my reasons.
Immediately after joining TikTok last fall, I quickly noticed a trending hashtag: #1000hoursoutside. It was the focus of every other video in my feed…maybe because it's often associated with homeschool families?
I'm no stranger to the 1000 hours outside challenge, but I haven't been exposed to that many influencers participating in – and promoting – the challenge until now.
Perhaps it stood out to me more because a long time ago, when it first became a thing, I made the intentional choice NOT to join in. Even though we had been homeschooling for a few years at that point.
But seeing all those videos and all those hashtags prompted me to clarify exactly why I've decided it's not for us.
And if you've seen the trend, but it still doesn't seem to be the right fit for you, and you're having a hard time putting your finger on exactly why, I hope my reasons will give you some clarity, too.
Related: Conventional Parenting Advice You Don't Need to Follow (Unless You Want To)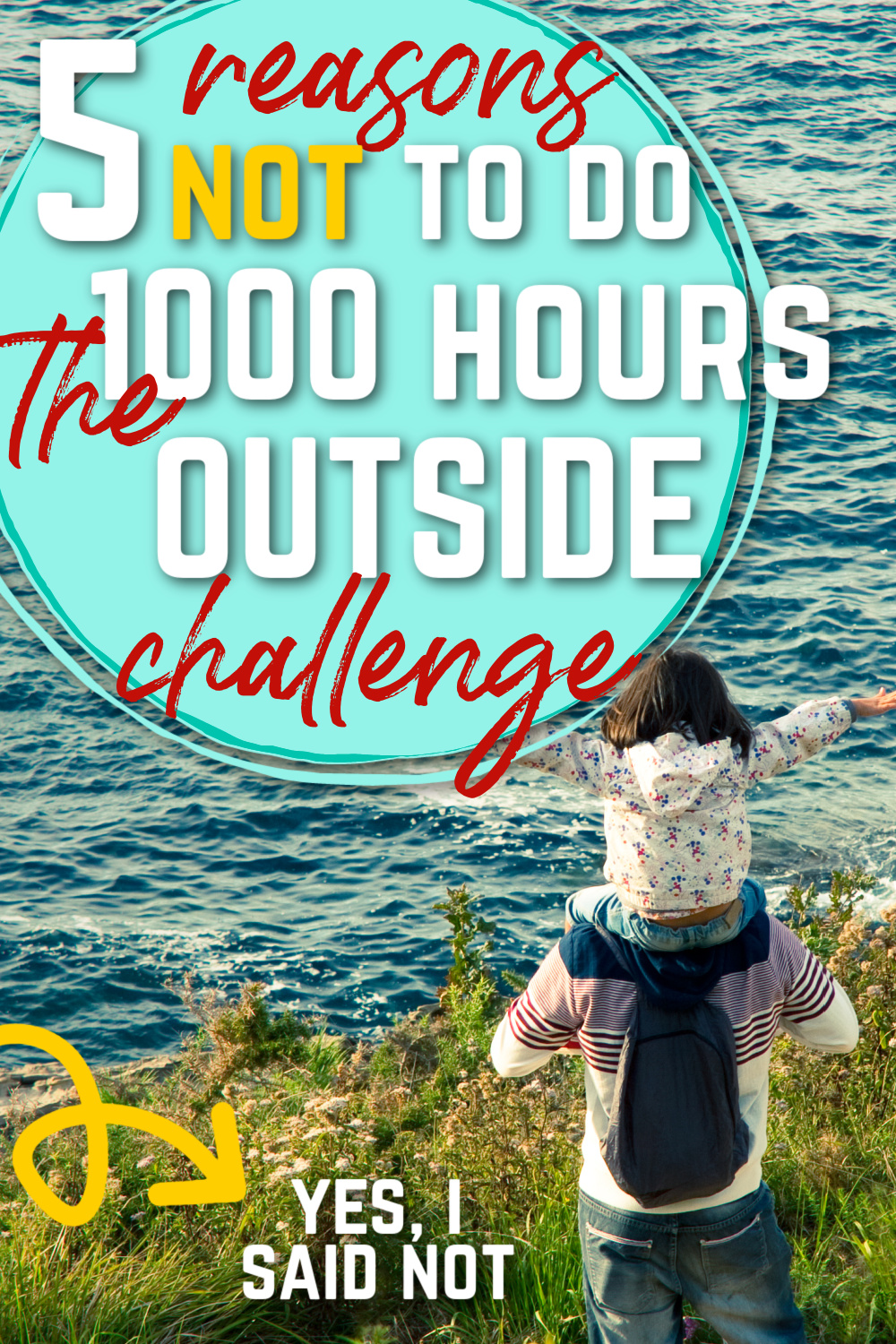 1000 Hours Outside: 5 Reasons We Don't Participate
This post probably contains affiliate links, which means I may earn a commission if you make a purchase through those links. As an Amazon Associate, I earn from qualifying purchases. You can find our full disclosure HERE.
Before all the people who adore the 1000 hours outside challenge jump out of the woodwork and into my comment section, I want to clarify:
I am not against the heart behind the challenge. It's not like I'm over here contemplating, hmmm, how I can raise kids who don't like be outside. Nope. It would be great if my kids loved nature (although as I point out later, it's also o.k. if they don't).
Having read The Last Child in the Woods, I appreciate the need to connect our children with nature more than ever before, especially as things like global warming and rampant consumerism threaten to destroy it.
If the challenge works for you, and your kids are enthusiastic, joint participants, then great! Do what works for your family.
But take it or leave it, here are my reasons for not participating.
Related: Unschooling v. Homeschooling – What's the Difference?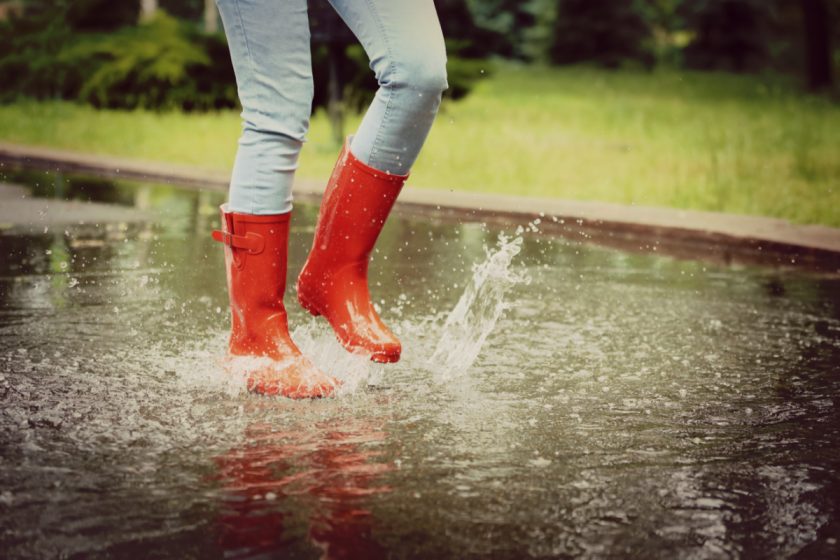 1. I'm not an all weather gal myself, and I have no desire to make myself be one.
We've lived in two very different climates in the past ten years. From long summers and extreme heat (and Asian Tiger Mosquitoes, which I've dubbed "the mosquitoes from hell") to long winters and extreme cold, let's just say extreme weather is not my friend.
I don't like rain. Like at all. Not even with an umbrella and rain boots.
Those things make it doable, but never enjoyable for me. Rain makes me feel cold and soggy and sad.
Maybe if I had a huge Southern front porch where I could watch the rain from my cozy chair? But that's not currently in the cards.
Snow, I'm learning to enjoy more, mostly because I recently purchased a pair of adult snow pants. They make a world of difference in my ability to be outside in extreme cold for long periods of time, but I still probably wouldn't choose to go outside in a snowstorm if my kids didn't beg me to go.
While I do enjoy cold weather, it's more from a "I love wearing cold weather clothing and drinking hot beverages and hygge home vibes" perspective than anything else.
Extreme heat? Air conditioning is my friend. It's been a rough adjustment living without central air the past two years.
I do try to get outside at least 3-4 days a week for a run that lasts anywhere from 30-45 minutes. Does it help my mental health? Absolutely. Do I enjoy it? Most of the time.
So I enjoy being outside…just not 1000 hours level enjoyment.
You Might Also Like: An Invitation to Life Without Goals (& New Year's Eve Alternatives)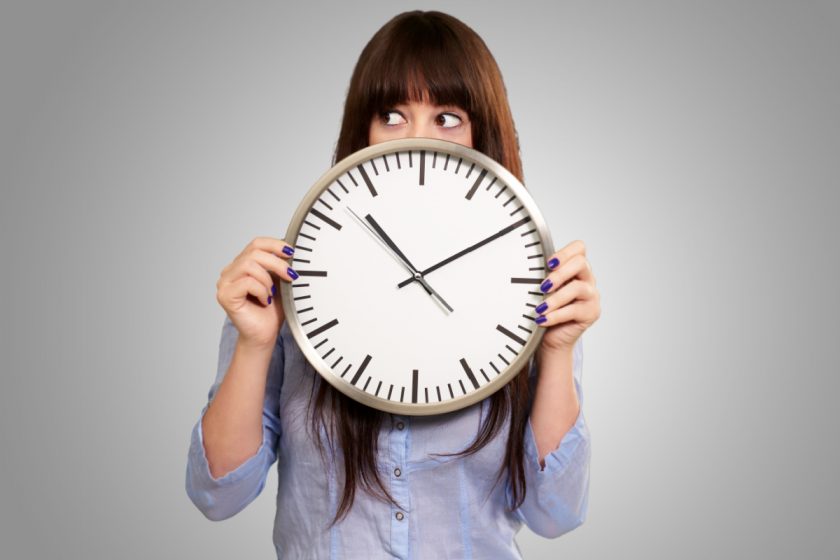 2. 1000 hours outside feels like a LOT of hours.
I know, I know, I've read the breakdowns. 1000 hours outside is doable.
In fact, if you break it down, 1000 hours outside is just under three hours a day for the entire year. That's not horrible.
But even on the best of spring and fall days, my favorite seasons, I'm still not always outside for three hours a day.
Add since winter lasts 4-5 months where we live, I'm rarely outside more than an hour in the winter. There are brutally cold days (like today, for instance) where I have no desire to set foot outside at all, and I don't.
Then there's the extreme heat, when I either want to be swimming or in an air conditioned room in my non-central AC house.
If I don't want to do it, I'm not going to make my kids do it, which brings me to…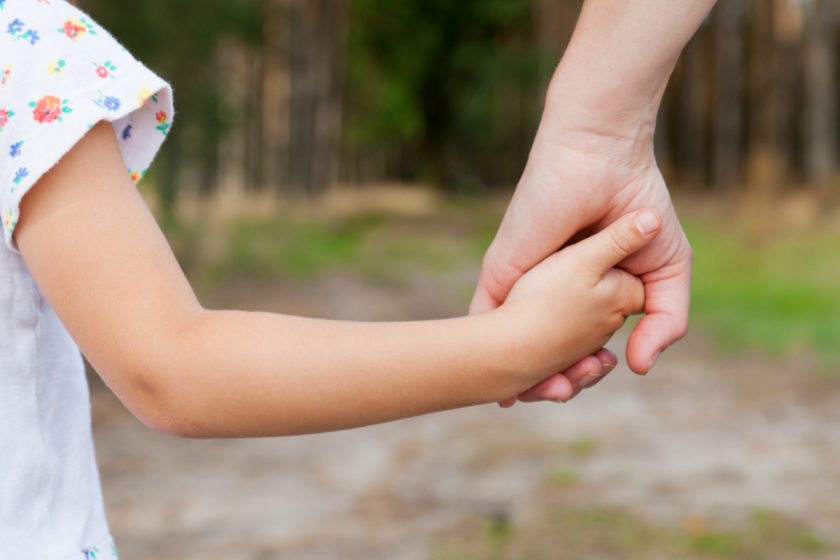 3. If we were going to participate, everyone in our family would need to be enthusiastic participants. (And I've already clarified I'm not.)
Note: This reason assumes that at least a few parents are participating in the challenge with less than enthusiastic kids, with more than a little coercion involved. If your kiddos are enthusiastic co-participants, awesome!
It's pretty clear by now that I've accepted myself as someone who moderately enjoys being outside, but not for 1000 hours.
We have chosen as parents to collaborate with our kids. We rarely force or coerce, choosing to honor our children's autonomy.
We believe in modeling the things we want to see in them, and in giving them the freedom to learn to listen to their own natural intuition. Watching them learn and grow in this context has been incredible.
Do they make not so great choices sometimes? Yes. But so do adults.
Do they learn from those choices? Absolutely yes.
When they were small, we obviously took them along wherever we went, plus young children typically do beg to go outside or to the park. And maybe if I had kids only three and under, I would make a different choice regarding the challenge.
But now that they are older, we honor their autonomy. We rarely force them to go outside, unless it's unavoidable (we are going for a walk and some kids aren't old enough to stay home).
Unless it's my super sacred alone time runs, when I'm going outside, I invite them to come along. I talk about what I love about being outside, and about the health benefits of being outside.
But I won't force them to participate in a challenge if I'm not going to do it right along with them, and if they aren't enthusiastic co-participants, it's also a no go for me.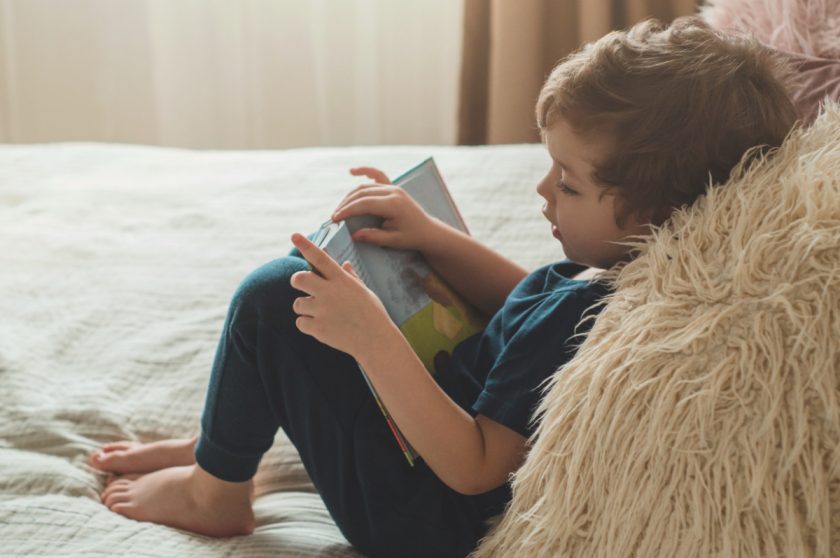 4. I want to foster a love of the outdoors, and I'm not convinced a challenge is the way to do it.
I know a lot of homeschool parents that require their kids to read. I'm not one of them.
Why not? Because I have this suspicion that the second I force my child to read, I'll suck the joy right out of it. Many adults who were forced to read growing up – and now hate it – support my theory.
Something they may have truly loved and enjoyed if they had decided to do it on their own, for as long as they wanted to do it, now is an activity they associate with force and must do's and should's.
It just doesn't seem like a recipe for raising a child who loves to read.
And even when you remove force from it, you might end up having a child who doesn't love to read. Some people don't like reading. They aren't inherently flawed or hate to learn; they just have another preferred method for learning and interacting with the world.
I've always suspected the same thing is true with being outside.
So even in years past, when in a moment of weakness I've "forced" my kids to go outside because: sanity, I've never felt good about it.
The second it becomes a "you need to do this because we're doing this challenge, and we need to clock 1000 hours", well, you run the risk of taking the joy out of it. And I don't want to risk them developing a negative association with being outside, like it's a chore, instead of something to be enjoyed.
Related: The Number That Completely Changed How I Choose Read-Aloud's In Our Homeschool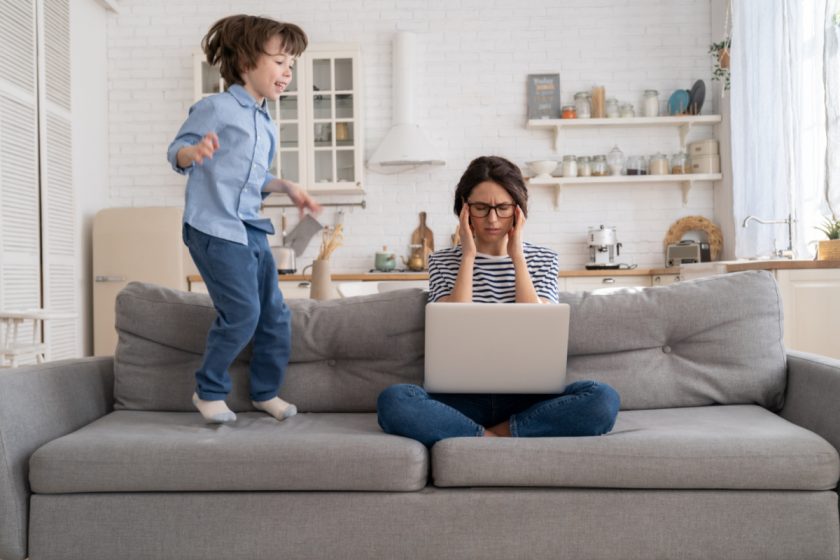 5. I don't need one more expectation as the primary caregiver.
Let's face it: most of this challenge is being driven by moms. And as a homeschooling, work-at-home mom of five, I don't need more "should's" in my life.
Society has so many expectations for us moms.
We're supposed to:
The list goes on. We're bombarded with it on social media, at the pediatrician's office, in books and online.
And sure, your partner is supposed to share the burden with all of these things. But if you're the primary caregiver, especially the primary homeschooling caregiver, you know that most of these expectations fall on us.
Adding "get your kids outside and magically make them love it, even if they're disinclined to do so" feels like just one more unrealistic societal expectation.
Add it to the list of things I've opted out of over the years.
Related: 10 Things I've Stopped Doing That Have Made Me a Happier Mom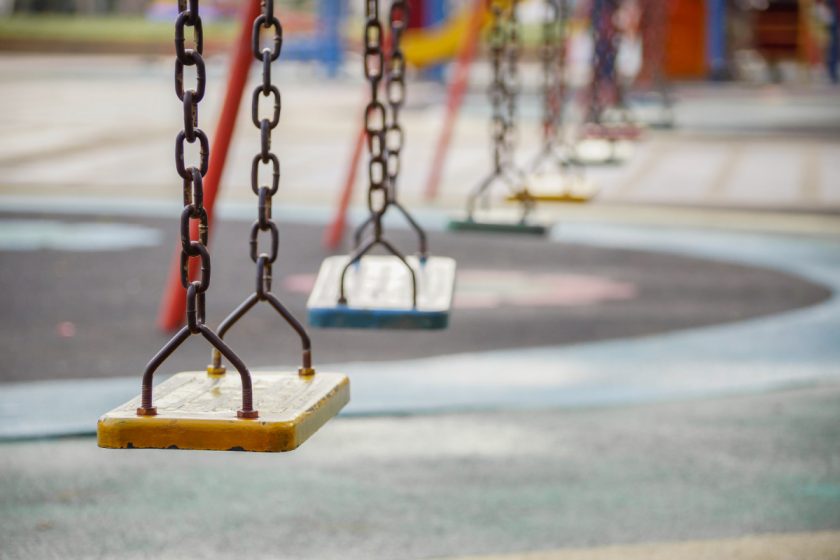 The Real Reason Kids Don't Want to Play Outside (And No, It's Not Screens)
Screens and nature don't need to be pitted against each other. You can appreciate both, learn from both, love both.
But as much as we want to make screens the bad guy, technology isn't the real reason kids have stopped playing outside. If you dig a little deeper, adults are the ones who shoulder most of the blame.
Adults are the ones who don't let their kids roam the neighborhood way they used to, despite the fact that kids are far safer today than ever before (I'm just as guilty of giving into fear). And when there aren't other kids outside to play with, well, it's a whole lot less appealing to go outside.
Fixing a big cultural problem like that one feels heavy and nearly impossible.
But then there's the way adults interact with kids who do choose to go outside, which is a problem that IS fixable. To illustrate, I'll leave you with a few of my own stories.
Story #1…
A few months ago, I was at a homeschool park meet-up with my kids. The boys were messing around, playing with a tree limb that was already bending low to the ground.
They weren't being malicious – they were just playing.
This park just so happens to be immediately next to the local police department. A police officer saw the boys playing with the tree and came out to reprimand them.
The police officer didn't just ask them to stop playing with the branch. Nope. He zeroed in on one boy (who wasn't even among the culprits) and told him in a very stern voice that if he EVER caught him playing that way with the trees again he would NEVER be allowed to come back to the park.
The 10-year-old boy was in tears.
Story #2…
Going back four or five years ago, my kids and their neighbor friends were riding scooters in our cul-de-sac, going up and down various driveways for speed. They were having a blast until…
The neighbor came out and strongly told me (the supervising adult) not to allow them to do that because YOU'LL SUE US if our child gets hurt on their driveway.
Suing someone never even occurred to me – maybe it's insurance companies doing the suing? Either way, it didn't make my kids want to play outside more.
Story #3…
Another day, we went to the tree-free playground, a place where surely kids should be able to be kids. But an adult (probably a parent) was there "policing" the play, wanting to dictate it and organize it.
You could tell by their faces that they weren't thrilled to have an adult telling them out to play. It sucked the fun right out of it.
Later on, I watched my kids play in ways that other parents clearly didn't like. Climbing up the slide? On top of the tunnel? A few glanced at me, waiting for me to reprimand them (of course, I didn't).
So why don't kids play outside? Why are they more drawn to the adventures in video games? Maybe because video games don't have adults constantly reprimanding them and controlling the way they play. Maybe they can climb and adventure and explore without being told, "Don't".
Sadly, that's what they've come to expect from adults when they do choose to venture outside.
Kids not going outside is a symptom of a much bigger cultural problem – how adults relate to children and what they believe about children. And that's something a challenge won't fix.
Just something to think about.
Related: The Case for Unlimited Screen Time for Kids (from a recovering control freak)
Have you specifically chosen not to do 1000 hours outside? I'd love to hear your reasons for opting out! Share in the comments.