Inside: Is assigning chores really worth it? And should kids even do chores at all? Here's why I ditched complicated chore charts completely, and what I've found to be a much simpler and healthier approach to chores for our family of seven.
We moved long-distance a month ago. This is our second long-distance move, this time with five kids instead of four.
The move itself and the first two weeks were crazy. Moving long-distance with kids makes you ask yourself over and over again (under your breath or sometimes yelling), "Why did we do this to ourselves? Again?!"
But now that the move itself is over and things are getting more settled, I'm appreciating the best part of moving – a fresh start.
Nothing hits the reset button on your life like moving. Reset as an individual, as a parent, as a family.
It's a chance to look at everything you're doing (and everything you own) with fresh eyes – you can wipe the slate clean and add back in only what you truly love and value.
In life, in homeschooling, in parenting, I've found the same thing to be true over and over again: simple is always better.
Why make things complicated that don't need to be?
Why do multiple things when you can achieve the same outcome with a single action, instead?
And if there's one thing parents love to complicate, it's chores.
You Might Also Like: Conventional Parenting Advice You Don't Need to Follow (unless you want to)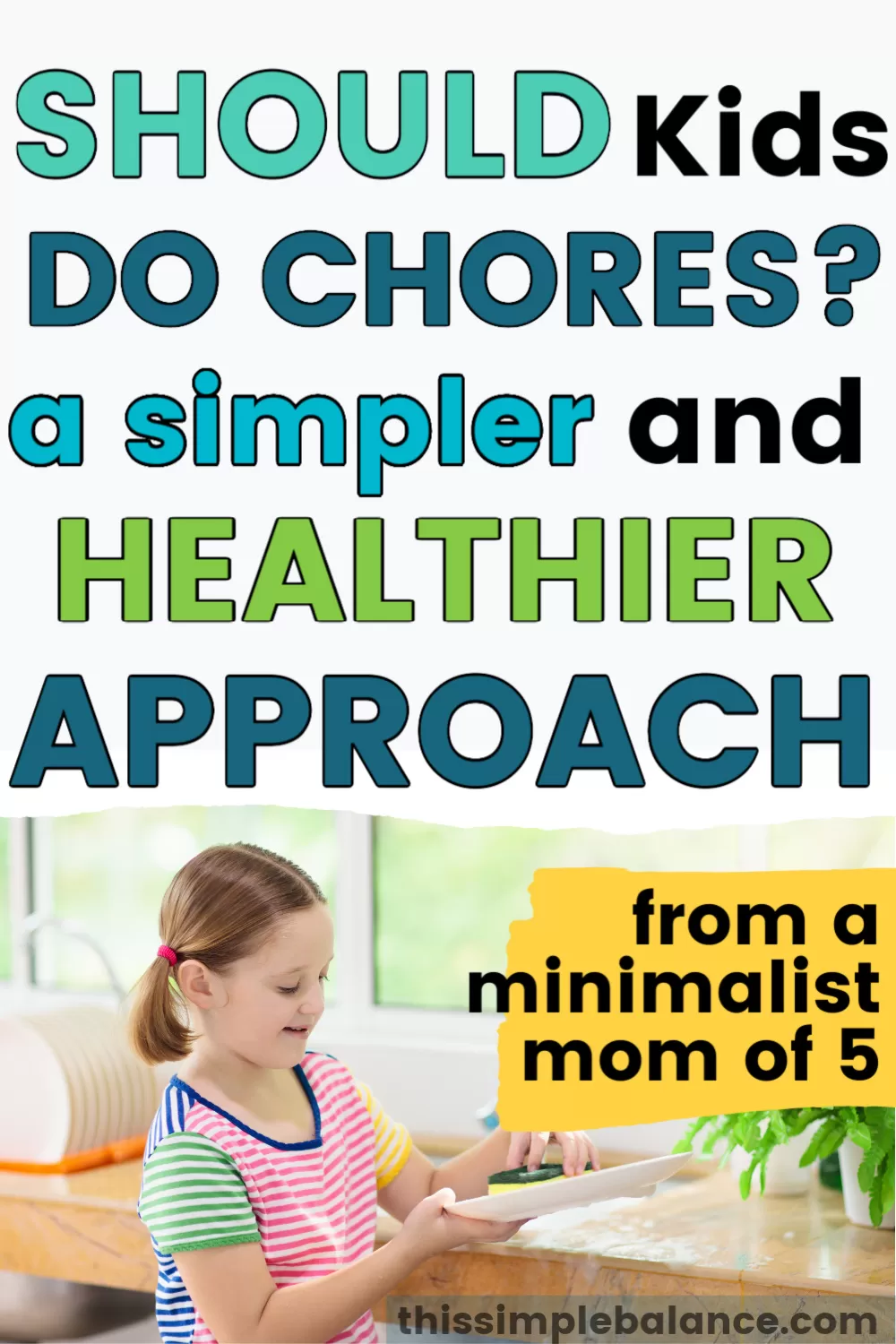 Chores: One of the Most Debated Parenting Topics Today
THIS POST PROBABLY CONTAINS AFFILIATE LINKS. AS AN AMAZON ASSOCIATE, I EARN FROM QUALIFYING PURCHASES. YOU CAN READ OUR FULL DISCLOSURE POLICY HERE.
Chores, chores, chores. It's right up there with potty training as possibly the most discussed parenting topics ever.
How do I know? A simple Google search for "chores" auto-populates question after question after question.
And from a blogging perspective, the demand for free printable chore charts seems to be sky high (too bad I hate chore charts).
Most of the questions in Google or on social media don't revolve around whether or not you should give kids chores.
The majority opinion seems to be that yes, kids should do chores.
The debate really heats up when you get to questions like:
How many chores should I give my child?
What are age-appropriate chores?
Should I pay my kids for chores? How many? Which ones?
And how the heck do I get my kids to actually do said chores?
If you want some late night entertainment, take to any parenting group on Facebook and search "chores". Grab some popcorn and settle in for mile long Facebook threads.
You Might Also Like: What Is Respectful Parenting? A Refreshingly Radical Philosophy
So, Should Kids Do Chores? Most Experts Agree
I've never been a huge fan of assigning a dozen chores or using complicated chore charts. I only attempted to do so because I knew it was something I "should" do.
Who said I should? Well the experts, of course.
Chores instill responsibility, the experts say. They give kids a sense of being "part of the team" because they're contributing to the family.
The experts say that kids actually want to do chores – they want to be useful.
Kids who do chores are more likely to go to college and succeed in life, they say. The supposed benefits of giving chores is a mile long, according to the "experts".
Sometimes I wonder how many of these experts have kids, and how many chores they give their own kids.
The Truth About Giving Chores (that any parent knows)
What's not talked about very often is actually giving kids chores and getting them to do said chores.
All parents who attempt it know that chores are actually a lot of work for YOU, the parent. And it's far from a "set it and forget it" task.
Today's chore assignments often require chore charts and inspecting the finished chore and – again, honesty here – possibly lots and lots of nagging until the chores actually get done.
Even if your kids are the most compliant and obedient children on the planet, the more chores you add, the more YOU THE PARENT have to remember to execute and have the energy to manage.
But if you do have the non-compliant, strong-willed children, it's even more exhausting. You know – the kids who want to know "why" they have to do something.
One of my kids in particular questions everything. He really struggles with doing things he doesn't want to do and things that don't interest him.
And really, can you blame him? Adults struggle with the same thing.
What do we do when we don't want to do those things? We find a way to:
reward ourselves for doing chores
outsource the chores we really hate, or
simply decide some chores aren't worth doing at all.
A Minimalist Parent's Approach to Chores
I only have so much energy as a mom of 5. I also homeschool and work from home.
Chore battles aside, assigning and managing chores requires A LOT of energy. Switching them up to keep it "fair" requires more time and energy. Finding a decent chore chart, keeping track of rewards. The list goes on.
Managing chores and battling over chores isn't how I want to spend my limited energy.
Also, conflict severely drains me, and I want to save my "conflict" parenting energy for things that matter more to me than chores – things like instilling kindness and helping siblings work through conflict.
Assigning and managing chores was EXHAUSTING. I was wearing myself out simply because I thought my kids SHOULD be doing more.
I thought I was failing because I'd a million times over rather just do the job myself, instead of having them do it. I thought I was failing their future selves by considering giving fewer chores, expecting less of them.
But did you catch that one little word? Should.
I thought I SHOULD give more chores. Any time you're doing something because of a "should", it's time to step back and reconsider.
The move was the perfect time.
I decided to stop worrying about chores completely for a couple of weeks.
Then I added back in the most basic things, deciding that requiring a couple things as part of our daily rhythms was enough for me, enough for my kids.
My negotiator child still might complain about his "super hard job" half the time, but he knows he doesn't have much excuse when it's literally one morning job that takes about five minutes to complete.
I've seen again and again through living a minimalist lifestyle that less is better.
I just forgot to apply it to parenting.
I decided I could probably achieve the same outcomes the experts touted with FEWER chores. Is it true? I guess I'll find out ten years from now.
As with most non-mainstream lifestyle choices, you have to trust that you're doing the right thing for YOU and for YOUR family. Nothing else matters.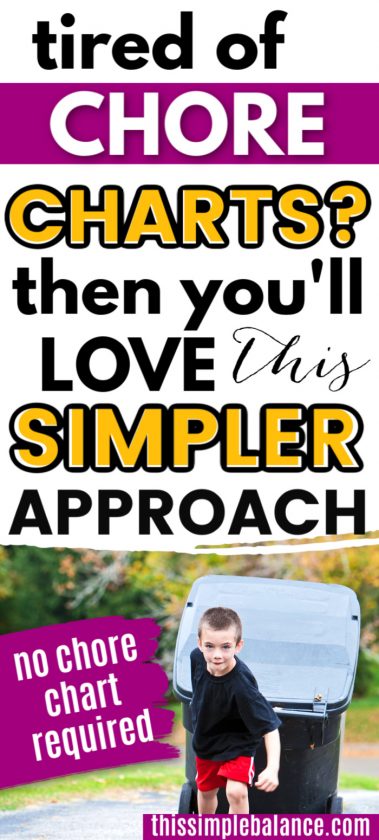 What Basic Daily Chores I Decided to Keep
Each child has a morning job and an evening job that is part of their daily routine. Those jobs center mainly around two things: dishes and trash/recycling.
1. Dishes
There is one thing I definitely expect help with: dishes. As a work at home (my husband also works from home full-time) and homeschooling family, we are home all day every day. We produce a TON of dishes.
Each child has one job a day related to dishes. It's pretty easy to explain this one to kids.
Do you eat here? Yes. Do you like clean dishes when you eat? Yes.
"You still don't want to help? Well, you're welcome to have one plate, one bowl, one cup that's yours and wash it every time you use it. OR you give ten minutes a day to helping with the dishes."
That ends all arguments pretty quickly.
One child (the negotiator) is more cheerful in the morning, so he empties the top and bottom rack of the dishwasher. One child empties the silverware.
At night, another child gathers all the dishes throughout the house and brings them to be washed. The fourth child (my oldest) helps load the dishwasher and dry and put away dishes.
The negotiator also helps out with dishes indirectly by reading to the crazy 4-year-old, so the rest of us can get dishes done without interruption.
2. Trash and Recyling
The kids who don't have morning dish duties take out trash and recycling every day, when there is something that needs to be taken out.
3. Laundry (Ages 9+)
I decided to put them in charge of their own laundry once they turn nine. There's something about an age that's impartial and matter of fact for me.
So far, that's only one kid. I'm counting down the days.
When my oldest turned nine, I taught her how to do laundry. She knows when she's running out of clothes and is pretty good at doing her laundry on time, although it did take a few instances of running out of clothes to make it a habit.
It's amazing how clear the natural consequences are: if you don't do your laundry, you don't have any clean clothes. Beautifully simple, right?
She also folds and hangs her laundry neatly, although I don't require it. In fact, I stopped folding kids' laundry myself or requiring them to fold it a couple of years ago. I simply dump clean laundry in their drawers.
Related: 6 Good Reasons to Stop Folding Laundry (guilt-free)
What Chores I Ditched
I used to assign paid chores once a week, mostly vacuuming various rooms, completely cleaning bedrooms, etc. Even though they were paid, they weren't optional.
Weekly chores are no longer required.
We do still offer paid jobs: things like mowing the lawn, vacuuming, cleaning out the car, etc. If they are interested in earning money, they'll take us up on them about half the time.
Side Note: If you pay your kids for chores at all – either regular chores or odd jobs – you might LOVE the Greenlight Debit Card for Kids.

Four of my kids have them, and I love that it eliminates the need to have cash around all the time. I can simply add money to their cards to pay them for odd jobs.

They can use the cards to buy their own things online (with supervision of course) or in person at the store, with no help from me. They can also transfer money to savings and giving tabs on their cards, all in the app.

Try the Greenlight for free HERE.
Otherwise, we do those jobs ourselves or hire them out. (Or do them less frequently.)
I plan on hiring someone to clean bathrooms and the kitchen every other week. Those are the rooms that matter to me.
Yes, Household Chores Will Still Be Taught
Lest you think I'm completely shirking my parenting duties and not teaching my kids how to vacuum or clean a bathroom, I plan on doing that in the early teen years. I do homeschool after all.
Life skills class in middle school seems like a great idea to me.
At that age, they are capable of learning how to do a decent job in less time than it would take to teach them at a younger age. I'd rather invest the energy to teach at that point.
Finally, I do expect cheerful help the few times I do ask for a job to be done just because you live here (like picking up toys or clearing the kitchen table). For the most part, I get it.
Related: The Case for Unlimited Screen Time for Kids (from a recovering control freak)
Like Any Other Parenting Issue, Be Intentional About Chores
You may feel differently than I do. You may have less on your plate and more energy to manage additional chores.
Maybe you honestly need the help – you can't let tasks go, do them yourself or afford to outsource them. I get that.
But I give you permission to stop giving chores for a while. To take a step back and reevaluate. To stop getting side-tracked by every blogger and friend and parenting expert who tells you THIS is what you need to do to raise responsible, not-messed up kids.
Parenting decisions made out of fear are rarely good ones, and whether or not to give chores is no exception.
Don't give dozens of chores just because that's what every other parent is doing. Do it only if you believe it will actually make a positive difference in your child's life and in your own life.
And don't be afraid to simplify the chores.
I think you'll find like I did that you'll get the same benefits with less stress, less work and better relationships with your kids.
And what parent doesn't want that?
Read Next: Why I Don't Make My Bed (and scientists support me)