Inside: Are you spending all your time folding your kids' laundry? Here are six good reasons to stop folding laundry and exactly how to do it to get your time back.
Neat and tidy drawers with nicely folded clothes make me happy. I am intent on raising kids who not only appreciate a clean home, but also know how to keep it that way.
And want to know something else? I'm one of those weird people who actually enjoys folding laundry.
I really do! Really.
In fact, I wrote an entire blog post about how the Konmari method of folding clothes changed my mom life (and if after you read this, you still want to fold your kids' clothes, use the Konmari method).
Messy drawers? Gone for good with all those clothes filed neatly away, so you could see every single piece.
My husband's drawers were no longer a complete disaster just one day after I put away clothes. Even the kids could keep their drawers straight (mostly).
I do still fold the adult clothes that require folding (and I still use and love the Konmari method for those clothes). About half of our clothes hang in closets, so that just leaves things like t-shirts, shorts, and pajamas.
Deeply wrinkled clothes aren't really kosher for adults, so I don't think I could ever stop folding our clothes. Although I did stop folding underwear – I mean, really, what's the point?
But back to why I stopped folding the kids' laundry….
So why on earth did a mom who loves neat and tidy drawers and folding clothes quit folding her kids' clothes?
There are six, really good reasons.
Related Posts: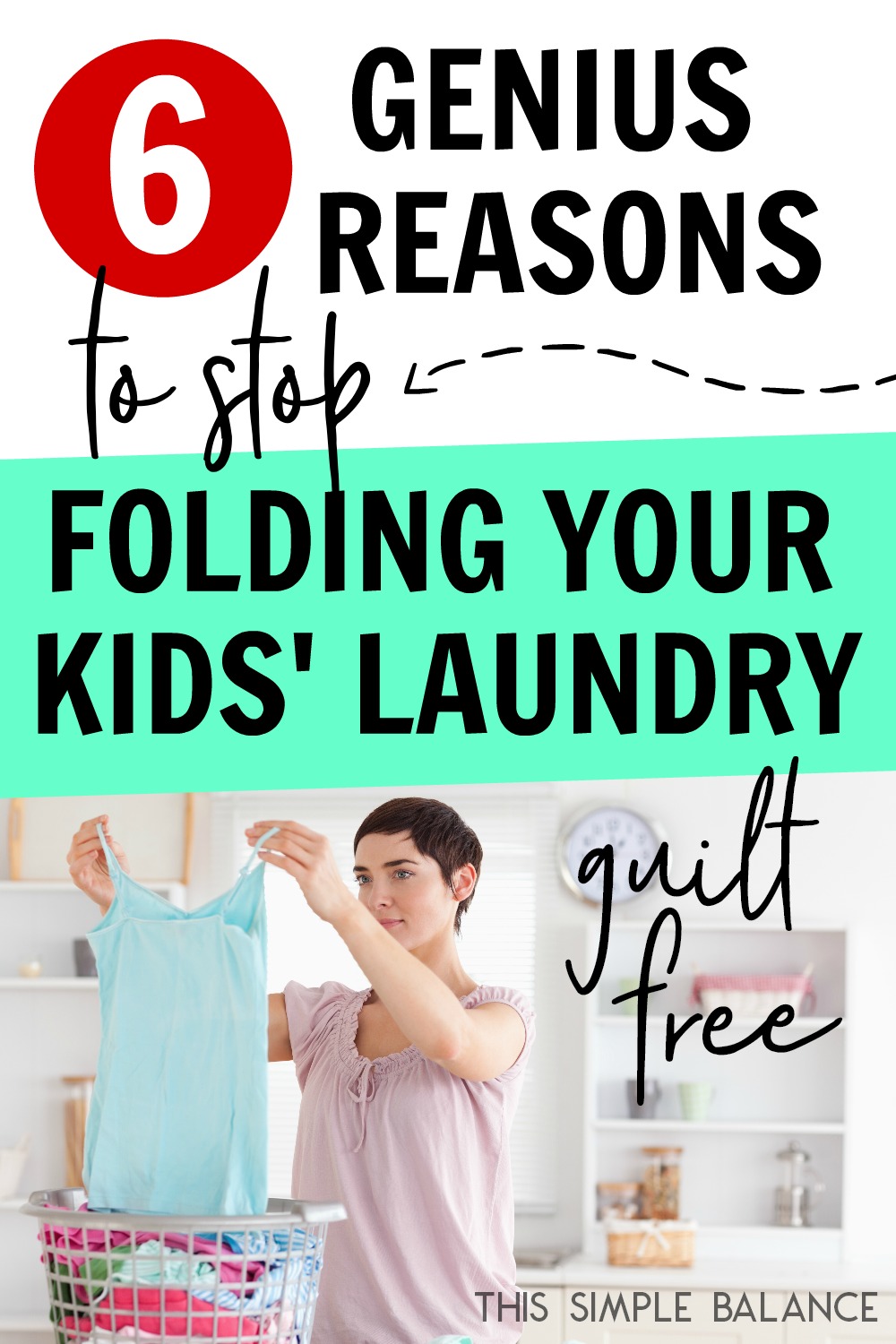 Why You Should Stop Folding Laundry (the Kids'…And Maybe Yours, Too)
THIS POST PROBABLY CONTAINS AFFILIATE LINKS. AS AN AMAZON ASSOCIATE, I EARN FROM QUALIFYING PURCHASES. YOU CAN READ OUR FULL DISCLOSURE POLICY HERE.
1. You can't do it all.
There is just one me, and I can't do it all. Especially since I started working from home, I have far less time than I used to.
I used to fold laundry while watching TV, but now that TV time is often used to schedule pins to Pinterest or some other easy blogging task.
Then I decided to start a second blog. Oh, and did I mention that I'm now pregnant with our fifth baby?
Yeah, my time is precious. If I want any down time to myself at all (and I recently admitted that doing a necessary task, like laundry, doesn't count as down time, even if it's while watching a show), I needed to cut things from my list of tasks.
2. Your kids have, for the most part, capsule wardrobes that can fit in one or two drawers easily.
We live in a small home and my three boys share a single 5-drawer dresser.
If my kids had more clothes, this system wouldn't work.
Because I have intentionally simplified their wardrobes, their clothes can easily fit into one or two drawers. My daughter hangs her shirts and dresses; the rest are stored in bins.
Need help simplifying your child's wardrobe? Check out this post on how to easily create your child's capsule wardrobe.
And if you're building that capsule wardrobe from scratch with no access to hand-me-downs, I highly recommend Primary.com. The clothes have held up well over time, and they are all primary colors: no graphics or designs. So easy to mix and match into a kid's capsule wardrobe!
3. You value your time.
I've touched on this already, but your time as a mom is valuable. I homeschool and work from home: there isn't a ton of me to go around.
I'm sure that even if you don't do either of these things (being a stay-at-home mom is a full-time job in and of itself), there are other things you'd rather spend your time on than folding clothes.
Spending one-on-one time with your kids? More valuable than folding clothes.
Taking the toddler outside for some desperately needed exercise? More valuable than folding clothes.
A clean kitchen that you use all day, every day? More valuable than folding clothes.
Not folding my kids' clothes saves me one to two hours every week. That might not sound like a lot, but when you homeschool and work from home, every hour counts.
Minimalists are conscientious of not only the stuff they bring into their homes, but also of the things they add to their schedules.
Related: 10 Compelling Reasons to Become a Minimalist Mom
4. Folding my kids' clothes isn't a top priority in this season of life.
Priorities are extremely difficult to set. Everything feels "most" important.
But really, it's not. And the only person who can decide your priorities is you.
Folding my kids' clothes was at the very bottom of my list of most important things when it came to keeping a clean house.
If it's at the bottom and your time is limited, it needs to go.
You just need to find the courage to cut it, the courage to say "no" to mom guilt or whatever deep-rooted ideas (often false or skewed) are preventing you from cutting it.
5. You shouldn't feel guilty cutting something from your cleaning list.
For whatever reason, it was ingrained in me that there are cleaning tasks you "must" do – always. Folding laundry was one of them.
I also feel a strong responsibility to teach my kids how to live in a clean house. Folding clothes was lumped into my clean house concept.
I didn't think I could drop folding their clothes our of fear that they wouldn't grow up to be responsible, clean house keeping adults. (It sounds crazy when you say it out loud.)
Then I read about another organized, neat and tidy mom who stopped folding her kids' clothes. Sometimes, all it takes is knowing that another mom faced the same choice and chose to cut the task from the list.
My kids have seen me fold their clothes before. A couple of them even know how to fold clothes using the Konmari method, too. They can earn an extra .50 if they decide to fold their clothes before putting them away.
I think they'll be o.k.
Related: How to Keep a Clean House While Homeschooling – 5 Essential Tips
6. Cleaning systems should be personalized: always.
Have you ever tried using someone else's cleaning system? How'd that go for you?
If you're anything like me, you tried to follow it to the letter, and it lasted all of about 5 days before you gave up.
The problem with using someone else's system is that person doesn't know your circumstances.
Maybe their kids go to school all day. Yours don't.
Maybe their husband helps out around the house. Yours doesn't.
Maybe their kids are older and do chores. Yours are little and can't make meaningful contributions to household work just yet.
Maybe a clean, perfectly smelling bathroom brings you immense joy, but dirty dishes left til the morning don't bother you one bit.
The cleaning experts have you wiping down baseboards once a week, and you are perfectly o.k. with leaving it to once a month (or longer).
I don't know about you, but I don't have time to do what most cleaning experts say you must do, on the schedule they recommend.
I have to pick and choose what matters to me: what's a priority and what's not.
You need to make those choices, too, and feel absolutely free to make them.
Throw off the "should's" and decide what matters to you and to your family.
I'm not saying is to live in filth. But if you're reading this and are thanking me for permission to do less, you probably already want a clean house and for the most part, you know how to keep it that way.
You just need permission to do less, depending on the season of life that you're in.
Consider this your permission.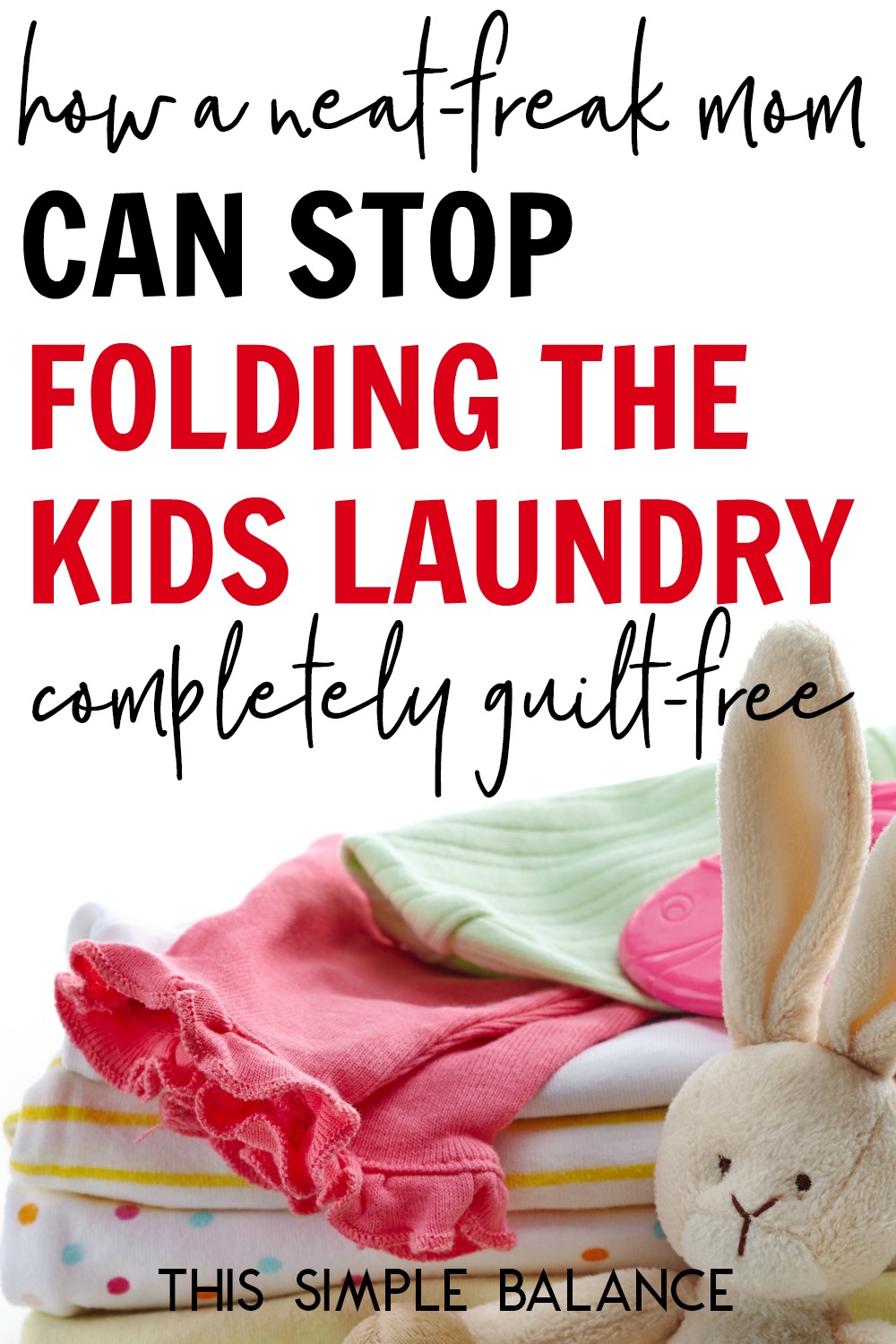 How to Stop Folding Laundry
Now that you have a good reason why to do it, here's what I did to stop folding the kids' laundry:
1. Simplify the wardrobes.
I'm going to go out on a limb here and make a strong statement: most American kids have too many clothes. If one child's wardrobe requires an entire dresser and closet space? Unless you're storing their winter and summer wardrobes and together, they have too many clothes (and even then, I don't think I could fill an entire 5-drawer dresser with both wardrobes for one child).
Simplify their wardrobe with the tips from this post. If you're afraid they'll need the clothes, just put them in a bin in a storage space for a while. I think you'll find they don't need them.
2. Do the laundry.
Easy, right? Wash, dry, etc.
If you need tips to simplify your laundry system, this post is for you. I used to do laundry three days a week, but now I do a load or two a day.
When I do at least a load a day, the laundry never becomes overwhelming.
Related: 4 Simple Steps to Fighting Laundry Overwhelm
2. Sort the laundry into separate laundry baskets for each child.
Whenever possible, I try to involve the kids in this step, but sometimes, the timing doesn't work out. Each child gets a separate laundry basket (this set of 6 baskets works great!).
3. Each child puts away his/her or own laundry.
Everyone except the toddler puts away their own laundry. This is a paid job in our house.
They get paid $.50 to put it away within a day of the laundry being completed (literally dump it into the appropriate drawer), and if they want to earn another $.50, they can fold the laundry, too.
They all know how to fold laundry, but they don't need to fold it. But I thought it would be nice to reward any effort to fold their clothes.
Related: Why I Stopped Giving My Kids' Chores (and what we do instead)
Should You Stop Folding Your Kids' Clothes? Maybe it's time.
Do you multiple little kids at home right now?
Maybe this is for you.
Do you have a new baby and are learning the ropes of new motherhood, while living in a permanently sleep deprived state?
Maybe this is for you (I seriously can't believe I wasted time folding baby clothes – all four kids! I get a do-over with this next one).
Are you struggling to start an online business, while managing kids and home responsibilities?
Maybe this is for you.
Sometimes, we just need someone to come along and suggest that we do things differently.
I never even considered that I could stop folding my kids' clothes. And that I could do it without guilt, and my kids would not be messed up because of it.
I'm so thankful that another wise mom suggested the possibility. I needed someone to suggest it to me.
I hope this post is that suggestion for you, another mom struggling to get stuff done, and who just needs someone to tell her it's o.k. not to do this one thing.
It's o.k. not to fold your kids' clothes. Promise.
And who knows? You might figure out that it's ok not to fold your own laundry, too.
After I stopped folding the kids' laundry, I stopped folding underwear and workout clothes, my husband's athletic shorts. I hang almost everything else except t-shirts.
P.S. Guess what? I don't make my bed either (and I haven't for years). Here's 7 good reasons why I don't (and why it's made me a better mom, too).
Read Next: A No Fold Laundry System (for Adults Who Are Tired of Folding)