Inside: Get simple tips for creating a capsule wardrobe for kids that doesn't cost a fortune. In fact, you don't need to buy anything at all – you can use the clothes your kids already have.
There's a huge misconception about capsule wardrobes that they need to cost a fortune. This is NOT true! I created capsule wardrobes for my kids, even on a tight budget.
Frugal living and minimalism can go together.
That being said, I know that building a capsule wardrobe for kids can be challenging, especially if you don't have regular access to hand-me-downs or a wealthy grandparent who loves to shower your children with new clothes.
If you need to purchase clothing on your own and money is tight, creating capsule wardrobes for your kids can actually help.
It will save your sanity and your pocketbook!
THIS POST PROBABLY CONTAINS AFFILIATE LINKS. AS AN AMAZON ASSOCIATE, I EARN FROM QUALIFYING PURCHASES. YOU CAN READ OUR FULL DISCLOSURE POLICY HERE.
Kids don't need overstuffed drawers and closets: in fact, too many choices can increase stress in your child's life. They can actually get by just fine (and thrive even!) on far fewer clothes than you think.
Use these tips to start building a capsule wardrobe for kids.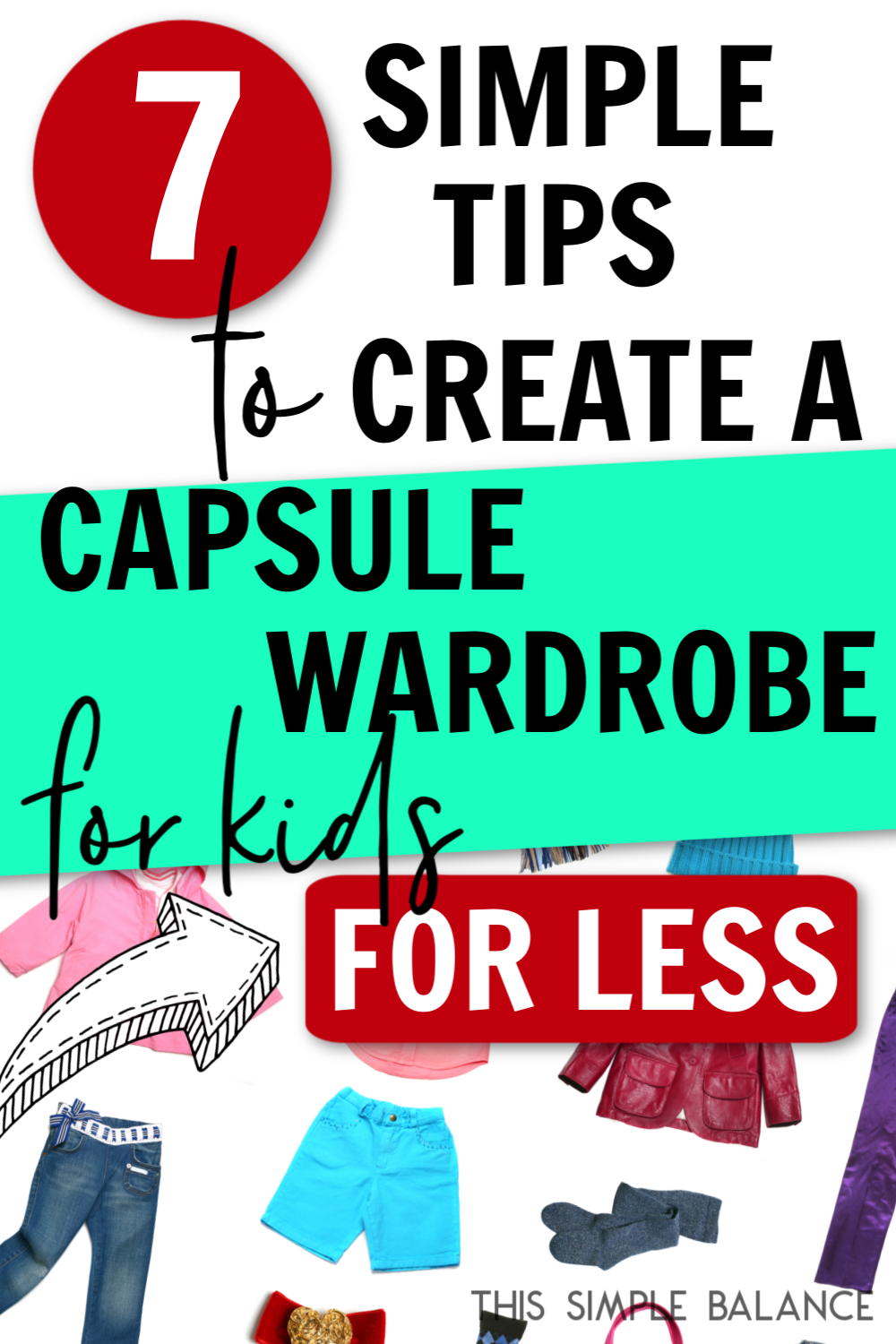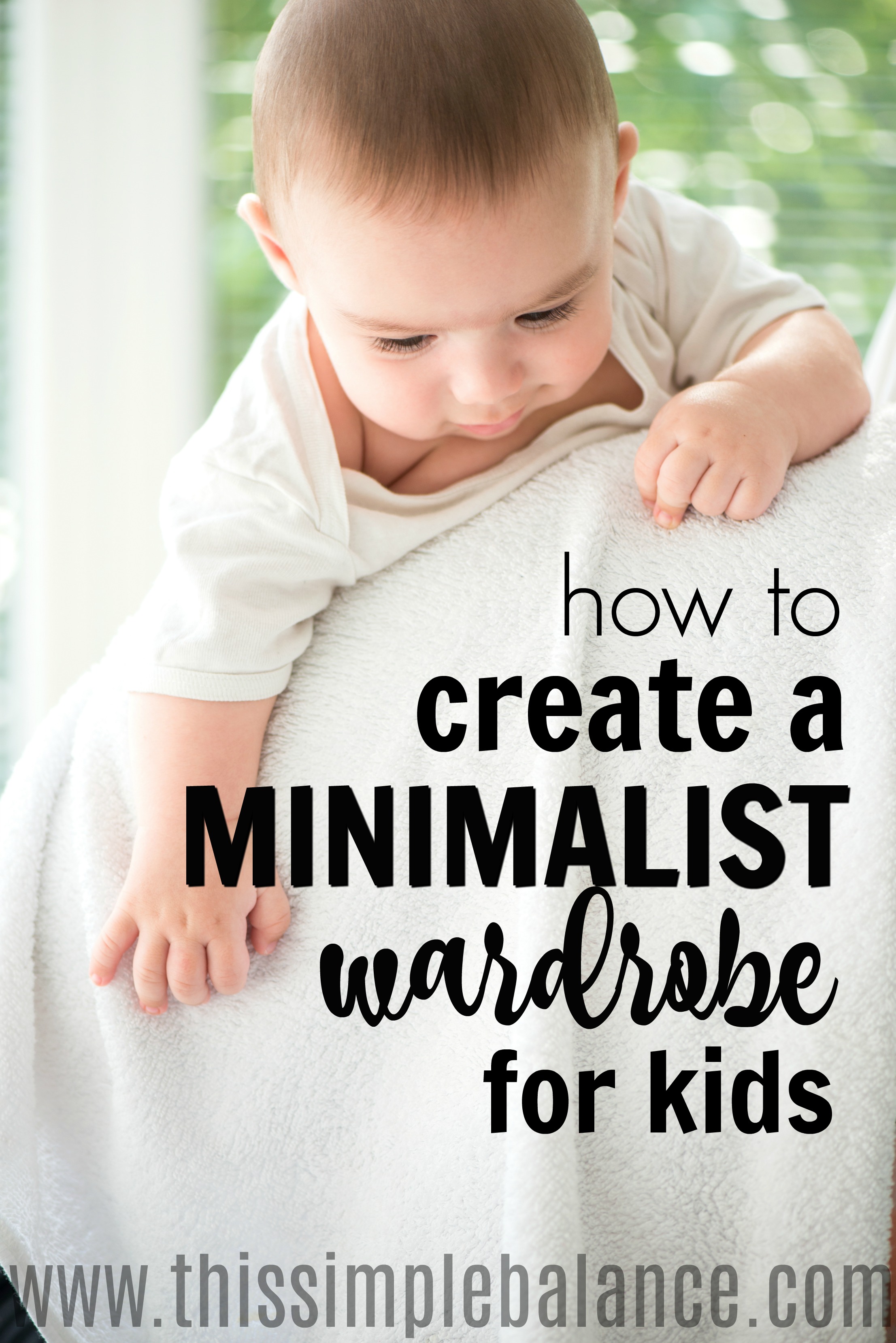 7 Tips for a Minimalist Wardrobe for Kids
1) Determine how many clothes they need.
This is the big debate, isn't it? How many clothes does a child really need? That answer is going to vary widely, depending on your lifestyle, the weather where you live, and how hard your kids are on their clothes.
If you homeschool, your child may not need as many clothes as another child who goes to public school.
If you rarely attend formal events, your child may not need dress clothes either.
I have one child who maybe dirties his clothes once a week; another stains hers every single day.
As a rule of thumb, once you begin a weekly laundry routine, for young children who are not attending school, you should need the following:
7-9 bottoms (some of these can be reworn)
10-12 tops (can include dresses)
10-14 pairs of underwear
2 sweatshirts (1 can be a sweater if you want something that looks nicer)
7-10 pairs of socks if your child wears them
For shoes, see #6
If you require your children to dress up for church or something else weekly, they need two outfits, three at most.
Related: 4 Tips To Winning with Laundry
2) Only buy pieces that coordinate.
Clothing should be one area you can relinquish control to your child as soon as she can dress herself.
Does your four year old (who has no idea what matches, by the way) buy the clothes? Nope.
So whose fault is it when that same four year old walks downstairs with a polka-dotted shirt and striped pants?
You guessed it: yours.
Getting dressed should be a good experience for everyone: make sure any combination she chooses is a good choice. Just like in your own capsule wardrobe, every item in your child's wardrobe should be able to mix and match.
Related: The Capsule Wardrobe: How to Get Started & Why You Need To
3) Do not keep clothes you don't want your child to wear (ever).
It sounds simple, but just today, I sorted through a bin of hand-me-downs, and found myself tempted to keep items I knew I would never choose myself for my child to wear. Especially if you are still in the season where you pick out your child's clothing daily, do not hang onto clothes you will never take out of the drawer. If you're constantly reaching over it to grab something else, it has to go.
It's the same principle as the capsule wardrobe, though the enthusiasm can be toned down slightly. If you don't like it, don't keep it. It will just sit there taking up space, and you will waste your time managing it.
Pass it on to someone who will use it.
4) Stop buying clothes your child will never wear.
For a long time, I purchased vests for each child. I love vests, and find them to be a perfect way to layer and keep warm as seasons change. My children, however, really don't see the point.
Eventually, I realized that no matter how practical I found them to be or how often I offered them as a wardrobe option, they just didn't wear them (or they did for two seconds, and cast it off as soon as possible).
I was foolishly wasting money on something they refuse to wear, so I stopped.
5) Buy comfortable clothing.
While I love my jeans, even I tire of them by the end of the day and just want my sweats or pajama pants.
Kids are moving constantly, playing, jumping, crawling. Jeans and khakis are just uncomfortable for all the bending and moving kids do. Stop buying jeans: you'll save a ton! The downside to this is the material of comfortable kids' clothing is less durable, so holes in the knees are much more common, but the trade off in comfort (and their desire to wear it) is worth it.
Most of our boys' pants are similar to these ones from Amazon. For our daughter, finding "comfy" pants that are not leggings has become more and more of a challenge (along with shorts that are not too short). I recently tried Primary.com (check out my full review).
Their yoga pants and shorts are exactly what I was looking for, and I will continue purchasing her pants, shorts, and bathing suits from Primary.com. If you've been looking for simple, affordable basics free of texts and graphics, you will LOVE Primary. First-time customers get 20% off their entire order with free shipping (no minimums!) with this coupon.
Related: Primary Clothing Review: Simple Kid's Clothing You'll LOVE
6) Only invest in one pair of shoes they wear daily.
Personally, we love Crocs. Our kids ditch their shoes constantly, no matter where they are. Crocs are sturdy, durable, and wash up easily with a rinse in the sink. Think mud, sand, and yes…pee. You name it, you can easily clean it off of Crocs.
Each child gets a pair, and sometimes that pair is a hand-me-down from an older sibling. Yes, they can wear them daily for more than a year, and still have plenty of wear left for the next kid! Crocs are amazing (which is why I traded my TOMS for a pair of Crocs myself).
We recently moved to North Carolina, so thankfully we will only need to invest in rain boots from now on. If my daughter wants dress shoes, they come from hand-me-downs, thrift stores, or yard sales.
The same generally goes for sneakers, unless I can find a great sale at Target or BJ's. They just don't wear them frequently enough to spend tons of money on them at this point.
Crocs has sales regularly, and Ebates frequently offers high percentages of cash back (I've seen up to 10%).
If you haven't tried Ebates, it's the simplest way to save money shopping online. You just start your shopping through Ebates to get cash back from your purchase.
Sign up here to get a special cash back offer for first-time Ebates users.
7) Store extra clothing separately.
Once upon a time, I only had one child, and that child's clothing filled all five drawers of her dresser to bursting. That same dresser now holds the wardrobes of my three sons…every piece of clothing they wear regularly except sweatshirts, and it's not stuffed.
As a growing family, we receive bags of hand-me-downs fairly regularly. When they come, I sort through them, and after setting aside items I don't want, I do not automatically put the clothes in their dressers.
First, I see how many clothes they currently have. If they have enough based on the numbers I gave above, I store it in a bin in the laundry room.
This way, if something gets stained or ripped, I have back-ups. If you have a big family, it's also likely some clothes will not making it through more than two children, and you will need those back-ups eventually.
Frugal Capsule Wardrobes for Kids
I doubt my kid's clothing will ever look like the capsule wardrobes you see on Pinterest. We simply can't afford to purchase entire wardrobes that coordinate perfectly.
But you can create a capsule wardrobe for kids, even on a tight budget.
Read Next: My Secret to Getting Brand New Clothes for FREE