Inside: Have you heard that moms can make money blogging, but you have no idea where to begin? Get step by step instructions for exactly how to start a mom blog that actually makes money (many blogs don't), along with information about blogging that I wish I had before I started.
Updated November 27, 2020: I DO still believe it is possible to start a mom blog that makes money, BUT it does take A LOT of perseverance and hard work. It may take you longer to make your blog profitable than it took other moms starting 2-3 years ago, but you CAN do start a blog and work from home if you truly want to make it work. ❤️ I highly recommend niching down your blog topic/audience for faster success – that is what I am doing for the two additional niche sites I have added to my original blog and I am seeing more success in both Google and Pinterest traffic.
Three years ago, I learned that you could actually make money blogging. One of my favorite mom bloggers mentioned in a random e-mail that she had finally learned how to earn a part-time income from home through her blog.
She started her mom blog as a hobby, having no clue it could pay her bills. Five years later, she consistently earns $2,000 a month.
Without her telling me it was possible, I wouldn't be earning money blogging today. How I wish I'd known sooner!
Even still, blogging is what makes our homeschool lifestyle possible.
It's not too late to start a mom blog and make money from home.
Related: How to Make Money from Home Teaching English with VIPKID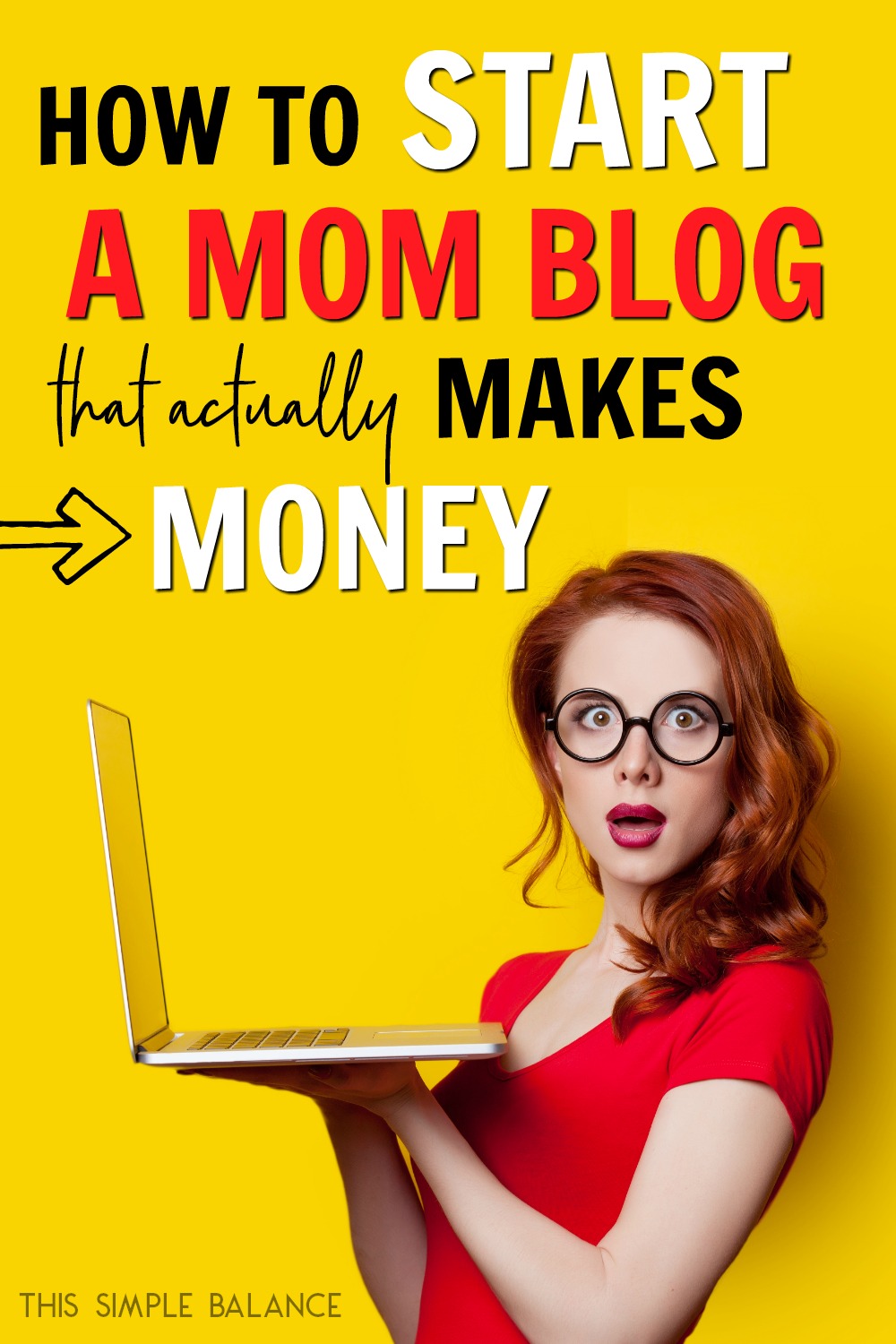 How to Start a Mom Blog and Make Money in 2022
I don't remember exactly why I didn't start a blog right then and there, but I'm pretty sure it had something to do with the fact that I didn't know two main things:
1) How to start the blog in the first place (I had only heard of "blogger" blogs at that point), and
2) How bloggers actually made money blogging with their blogs
Maybe that's you, too.
You've heard that you can make money blogging, and you think you might be good at it. But you're stuck on those two points, and trying something new is just too intimidating without the answers to those two questions.
Enter: this post. I'm going to answer both of them! (and a few more you might be asking).
But first: what did it take for me to overcome my fear and actually start a mom blog?
A year after I first learned that you could make money blogging, I came across another mom blogger who was making serious money blogging. $2,000 a month was cool, but her numbers really caught my eye.
What do I mean by serious money? $20,000 a month kind of serious.
As soon as I saw that number, my curiosity shot through the roof. I read everything I could find about how bloggers actually made money. After all that reading, my basic understanding was that mom bloggers earned money by recommending products they loved and sharing helpful tips with other moms.
I already did that all.the.time.
In the rest of post, I am going to cover:
If you want to skip ahead at any point, feel free to click one of the links above to the topic that interests you most!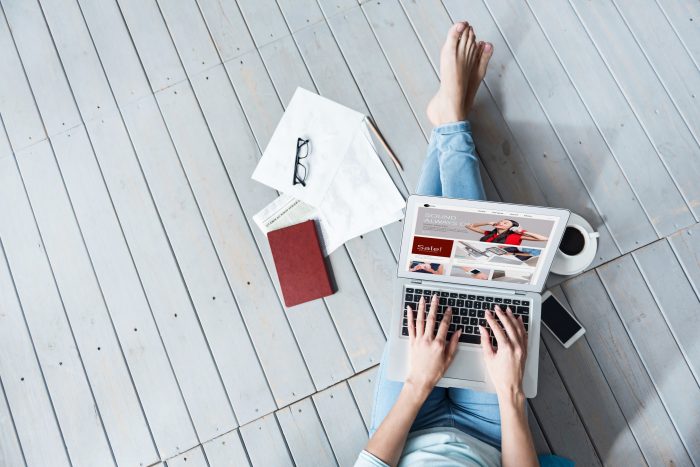 Is Blogging a Good Fit for You?
Before you read any further, take a second to think about whether blogging is a good option for your personality. Because blogging requires perseverance, you do need to enjoy blogging at its most basic level in order to keep going.
Ask yourself the following questions:
Are you constantly telling your friends about the products you love? Do they often take your recommendations?
Do you love telling other moms tips and tricks that have made your life easier?
Do you enjoy solving problems? Giving people tangible, actionable solutions to their problems?
Do you like to write? Or at least, not hate writing? (I didn't think I loved writing at first, but I answered yes to all the other questions. Now, I truly enjoy writing.)
Do you enjoy helping people?
Would you enjoy doing all those things, even if you weren't paid to do them?
If you answered yes to all of those questions, then like me, starting a blog could be an ideal way for you to earn a legitimate income from home.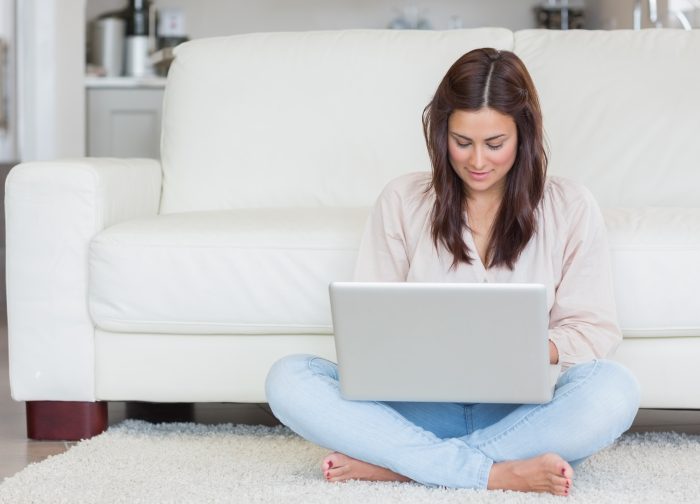 Why Start a Mom Blog?
I can't tell you how thankful I am for blogging!
Blogging allows me to:
Stay home with my kids and homeschool them
Help other moms by sharing with them what I've learned about minimalism and homeschooling
Work on my own schedule
Earn a part-time income from home, sitting comfortably on my couch or at my kitchen table
When you blog, you don't report to any boss but yourself.
You can work as much or as little as you want depending on your family's needs and schedule.
You earn money while you're at the park with your kids from posts you wrote six months ago.
What kind of job allows you to earn money, even when you're not actually working?!
It's unreal, and I honestly don't think you could ask for a better part-time job (which could eventually become full-time earnings for part-time hours).

It takes serious work to get your blog to that point, but once you get there, there's really nothing like it.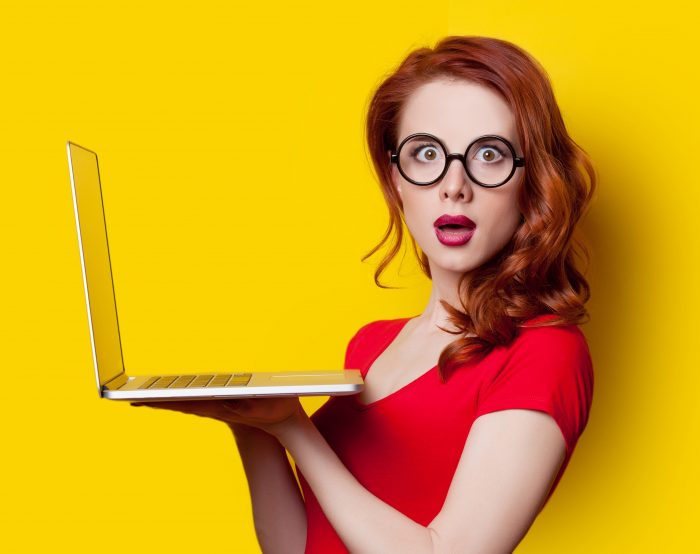 How Much Money Can You Earn as a Mom Blogger?
I started with pie-in-the-sky income goals (based on the $20,000 a month mom blogger).
I was going to pay off the rest of our student loans in a year. I had plans to retire my husband in two.
Ha!
I didn't realize at the time that the percentage of bloggers earning that type of income was miniscule. In fact, somewhere between 90-99% of bloggers quit within a year of starting (often within six months), often because they make next to nothing.
With a LOT of blood, sweat and tears (yep, there were a lot of tears last year), I readjusted my earning expectations. After changing my expectations, I finally reached my new 2018 income goal of $1,000 a month less than a year and a half after starting my blog.
I believe that with perseverance, creativity, and a solid blogging education, most mom bloggers can achieve this level of income.
Some mom bloggers can and will go beyond this level.
I plan on doing so, but I now recognize my limitations. With my family size and responsibilities (I have soon-to-be five young children, and I homeschool), in addition to the income levels of my target audience, I know that growth will take time, and my growth might be slower than others.
I'm *finally* o.k. with that.
As far as earning potential, the best thing about blogging is that the sky really is the limit. I know mom bloggers earning anywhere from a steady $2,000 a month to the $10,000 a month. Beyond $10,000 a month is not the norm, but it's definitely possible.
How much money you can earn blogging depends on:
What skills you bring into blogging (writing, marketing, copywriting, etc.)
The amount of time you have to dedicate to it
Prioritization: blogging has a LOT of rabbit trails that will get you nowhere
The amount of money/time you spend on blogging education
Your niche (blog topic(s)): all niches have earning potential, but some are higher than others
Your ability to persevere through the first 6-12 months when you might earn very little
Whether or not you decide to start a freelance business alongside your blog
A little bit of luck
The most successful bloggers I know never stop learning.
Learning the ins and out of the blogging world was like taking a semester worth of college courses. And unlike other fields, the blogging industry changes quickly.

You need to commit to persevere and learn through all of the changes if you're going to succeed.
Personally, my income growth went something like this:
Year One: $800 (spent it all on the blog)
Year Two: $10,000
Year Three: $20,000
The first year's income all went back into the blog. My income years one and two is reflective of my earnings after deducting my costs.
My income continues to increase year after year, especially since I started a second more tightly niched blog. But my expenses have also gone up, since I am outsourcing the writing and pin design for my second blog.
So I worked 35 hours a week my first 6-8 months, and basically made…nothing. Then again, I was never so proud as to earn my first $10 blogging.
Like I said, blogging is only something to do if you have perseverance, grit and really want to make it work.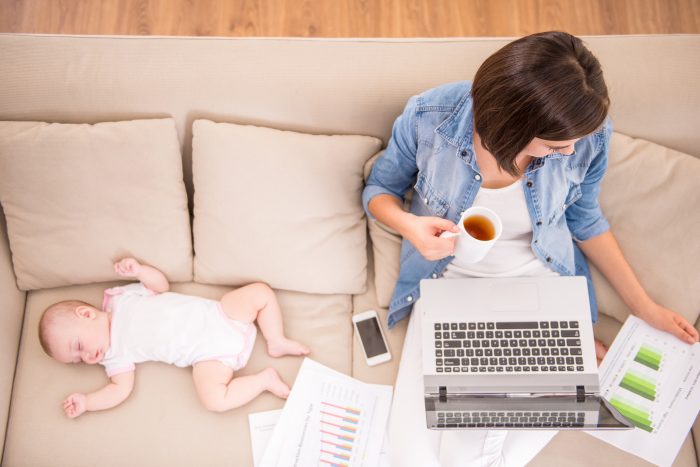 How Do Bloggers Earn Money, Anyway?
Bloggers earn money in a variety of ways, and the longer I blog, the more I learn about different ways to make money through your blog. However, these income streams are the five main ways bloggers make money.
Advertising
Advertising is probably the easiest way to make money blogging. However, it does take a significant number of people reading your blog to make good money with ads.
Many bloggers start by using Google adsense – I did. However, I made pennies per day with adsense.
Once I hit a certain number of monthly sessions (times a single person visited my blog), I applied for Mediavine, an ad network that takes care of all of my ads and pays significantly more than Google adsense.
For context, when I had Google adsense, I earned $100 for approximately a 38,000 session month. With Mediavine, I earn anywhere from $550-750 for the same number of sessions.
Affiliate Marketing
Affiliate marketing is simply selling other people's products.
You have probably clicked on product links while reading your favorite blogs. If you buy something after clicking that link, the blogger will usually earn some kind of commission.
The amount you earn per purchase will depend on the affiliate program, and when the person who clicks the link actually buys the product.
Amazon affiliates, for example, pays less than 10% per purchase. Fellow bloggers who create physical and digital products themselves often have more generous affiliate programs, offering anywhere from 20-50% of the purchase price.
Earning money through affiliate marketing will depend on the trust you build with your readers, your enthusiasm for the products you promote, and whether or not the products you write about solve problems for your readers.
Sponsored Content
Companies are relying more and more on influencers (i.e. bloggers and social media marketers) to raise awareness about their products.
Think about it: how much more likely are you to try a new product based on a friend or favorite blogger's recommendation than if you saw a random ad on a website once or twice?
Much more likely.
For that reason, companies are willing to pay a lot of money for you to recommend a product through an Instagram post or naturally within the context of a helpful blog post. The amount you can earn per sponsored post will depend on the size of your audience (monthly visitors, e-mail list size, Instagram followers, etc.) and your ability to develop a strong relationship with the company/brand.
Some bloggers develop ongoing relationships with specific brands who reach out to them directly.
Other bloggers find random sponsored post opportunities through third-party networks that facilitate an application process for each post opportunity.
Still other bloggers approach companies directly because they already use and love their products. They share their follower numbers and make a specific pitch to the company itself.
Services
Because it can take a while to make money blogging, many mom bloggers supplement their blog income by offering a variety of freelance services. The more you learn about blogging, the more services you will be able to offer.
Types of Services Mom Bloggers Offer:
Freelance Writing – Writing Blog Posts for other Blogs
Keyword Research – What Are People Searching for Online that other Bloggers Can Write About
Social Media Scheduling – Scheduling Bloggers' Pinterest Pins or Facebook Posts
Editing – Editing E-books, Online Courses and Blog Posts
Graphic Design – Designing Logos, Pinterest Pins, or E-book Covers
Manage E-mail Inboxes – Responding to Customer E-mails and Filtering Spam E-mai
Technical Services – Editing HTML and Fixing Websites on the Backend
The services you are able to offer will depend on your current skills and those you acquire as you learn the blogging business. Many bloggers outsource necessary blogging tasks that are time-consuming with low ROI in order to focus on the tasks that will earn them more money faster.
Networking and quality work can help build your service-based business faster. Some mom bloggers end up loving freelance work as much as, or more than, building their own blog, and they decide to focus the majority of time on services.
Physical & Digital Products
Many bloggers swear by creating and selling your own products. Products come in all shapes and sizes, although digital products seem to be the most popular because you don't need to worry about shipping and handling.
Product Ideas:
Online Courses
E-books
Templates
Printables
Physical Books
T-shirts
Bags
Coffee Mugs
Planners
Really, the sky is the limit. The trick is figuring out what your audience needs and wants in order to not waste time creating products nobody will buy.
Many bloggers repurpose posts they have already written on their blogs. They edit, reformat, and add to it and turn it into an e-book or course.

If you decide to sell physical products, you will need to either outsource the shipping and handling, or learn the best way to quickly package and ship products to customers.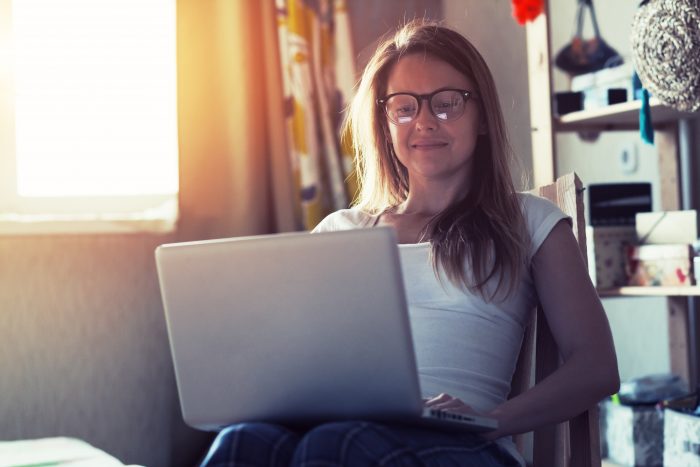 What Types of Blogs Make Money?
Years ago, blogs were more like online diaries. They existed to keep in touch with loved ones or to share interesting thoughts and ideas with family and friends.
Very few bloggers can earn income from sharing this type of content.
What kinds of blogs make money? Blogs that solve legitimate problems.
The clearer you are about the problem you are trying to solve in each and every post, and the better the solution you offer, the more you more likely you are to make money from people reading your content (viewing your ads, joining your e-mail list so you can promote your favorite products to them) and buying the things you recommend (affiliate marketing or your own products).
In order to earn money blogging, you need to be writing content that solves a problem for your readers. Solving problems can look very different from blog to blog, however.
You might provide a round-up of helpful posts from other bloggers who offer different advice for the same problem.
You might teach your readers how to declutter their bathrooms.
You might answer a question that many people are asking, but no one has given a clear answer to.
You might create a list of Christmas gifts for kids that will actually last for more than a few months.
You might help moms stop feeling guilty for letting their kids watch too much t.v.
Whatever you write about, your blog needs to solve problems for people. Unless you're a celebrity, people want to read your blog because it helps THEM.
You can and will still share parts of your life and experiences throughout your posts. That's part of what will set you apart from the crowd of mom bloggers competing for readers time and attention. But ultimately, you need to write posts with your reader in mind.

You can earn money blogging about pretty much any topic, as long as you are solving problems for people related to that topic.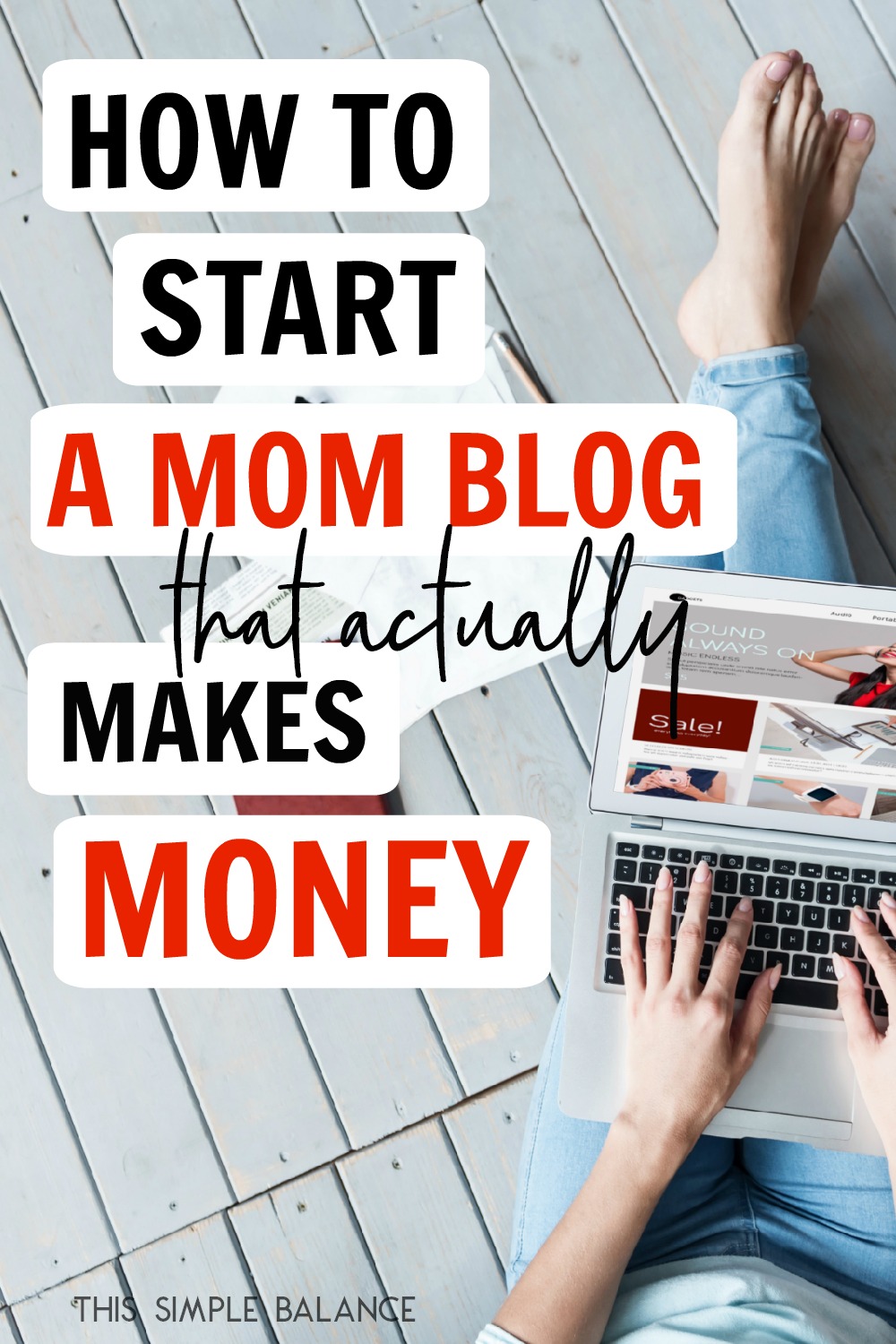 How to Start a Mom Blog
We finally made it to the good part: tell me how to start the blog already!
So, you've decided you actually want to do this thing. You're going to overcome your fear of failure, you are going to take the leap.
You'll actually be surprised at how easy and fun it is to start your blog. The hard work comes later.
Step One: Decide What to Write About
You can always add topics to your blog later on. But at the very beginning, take some time to think about:
What you love to talk about
What you know how to do, and
What you're really good at
Get out a piece of paper and jot dot everything that comes to mind in those three areas. If you are tempted to write something down, but think it's too insignificant, write it down anyway!
We often undervalue the things we know how to do or what we're really good at simply because it's second nature to us. In reality, all you need to be is a step ahead of the person who wants to learn how to do what you already know how to do.
One step ahead of someone else in your area of passion or expertise. That's it.
Once you've written down everything that comes to mind, brainstorm a few different post ideas under 2-3 topics that interest you the most. If you feel like you could never run out of blog post ideas, you've probably hit on at least one of your blog's topics.
Here are a few different topic ideas to get you started:
Budgeting
Saving Money
Crafts
Organization/Cleaning
Cooking
Parenting
Pregnancy/Babies
Photography
Homeschooling
Step Two: Decide on a Blog Name
This might be the most difficult part of the entire process. When brainstorming blog names, keep in mind that you want it to be:
Easy to spell
Easy to remember (not too long)
Related to your topic and/or target audience
You also want to be sure to run by any strong options by another person before you go for it.
A blog name could sound great to you…until you run it by a friend who asks what on earth you're going to write about with a blog name like THAT.
Sometimes when you're first starting, you aren't sure what your strongest topics are going to be. In that case, you will need to gear your name toward your target audience, instead of the actual topics.
If I could go back, I probably would have included the word "minimalist" or "minimalism" in my blog name (you'll learn later how this can help people find your posts through Google). However, when I first started, all I knew was that I wanted to help moms simplify their lives and find that ever elusive balance.
I had no idea how much over time I would identify as a minimalist. I chose to use the word "simple" in my blog name instead, and for now, it will have to do.
Step Three: Choose Hosting, Platform and a Domain
These can be complicated to understand at first if you don't speak tech. I certainly had trouble understanding it all when I started my blog.
Hosting is where all your blog data will be stored: your posts, your images, your links. They help determine how fast all that data loads for your readers.
That's why hosting is SO important.
Had I realized how important hosting is, I would have researched different hosts before choosing Bluehost.
There's a long, wretched story I won't go into now, but the long and short of it is that Bluehost broke my blog. Even before they broke it, it was running incredibly slow.
If you've ever clicked on a blog post through Pinterest or Google and gotten nothing but a loading sign for more than a few seconds, you know how important site speed is.
Because what did you, as a reader, do? You clicked away, am I right? You found another post on a different blog that could actually load in a few second as opposed to 10-12 seconds.
While there are other things that can affect your site speed, hosting plays a big role in how quickly your site loads for your readers. You want fast.
I switched to Siteground, and not only did they fix my site for FREE in a matter of seconds (Bluehost said I would need to pay someone), but my blog loaded so quickly, I couldn't believe it. It was night and day different, which is why I highly recommend Siteground.
Their customer service and site speed are excellent. As you grow, you may eventually need to move to a new host that can handle higher pageviews, but for a new blogger just starting out, Siteground is the way to go.
The platform you choose is the software you will use to write your posts, upload your images, and change how your site looks stylistically.
WordPress is the most recommended platform by bloggers because it's the easiest to customize. Because WordPress is the industry standard, it will be the easiest platform to learn because free information, tutorials, and paid guides on how to use it are plentiful and easy to find.
WordPress.com v. WordPress.org
You might be a little confused, however, because you've probably seen blog URLs that look like this one:
blogname.wordpress.com
You DON'T want to start a blog using wordpress.com. If you start a blog there, you won't actually own your site. It will be free, yes, but they can shut down your blog at any time, for any reason: mistake or no mistake. All your hard work can be gone in an instant.
WordPress.org is what bloggers refer to as "Wordpress", the platform you will use to actually write and publish your posts.
Once you actually sign up for hosting with Siteground, you will be able to go into your account and download the WordPress software. WordPress.org will be the only available option (and the correct one!).
How to Set Up Hosting with Siteground
Update: In November 2021, there was an incident where Siteground's hosting was not compatible with Google, and websites who were with Siteground and getting excellent traffic – their sites dropped out of existence from Google (Google deindexed their posts). Siteground originally denied it was their problem, but then owned it and fixed it. However this created a huge mess for anyone with Siteground and resulted in lost revenue. You can still sign up with Siteground, it's definitely cheap for beginners, but BigScoots is another great, but more expensive option (I am with this host currently).
After you click this link, you should see a screen like the photo below.
Click "Sign Up".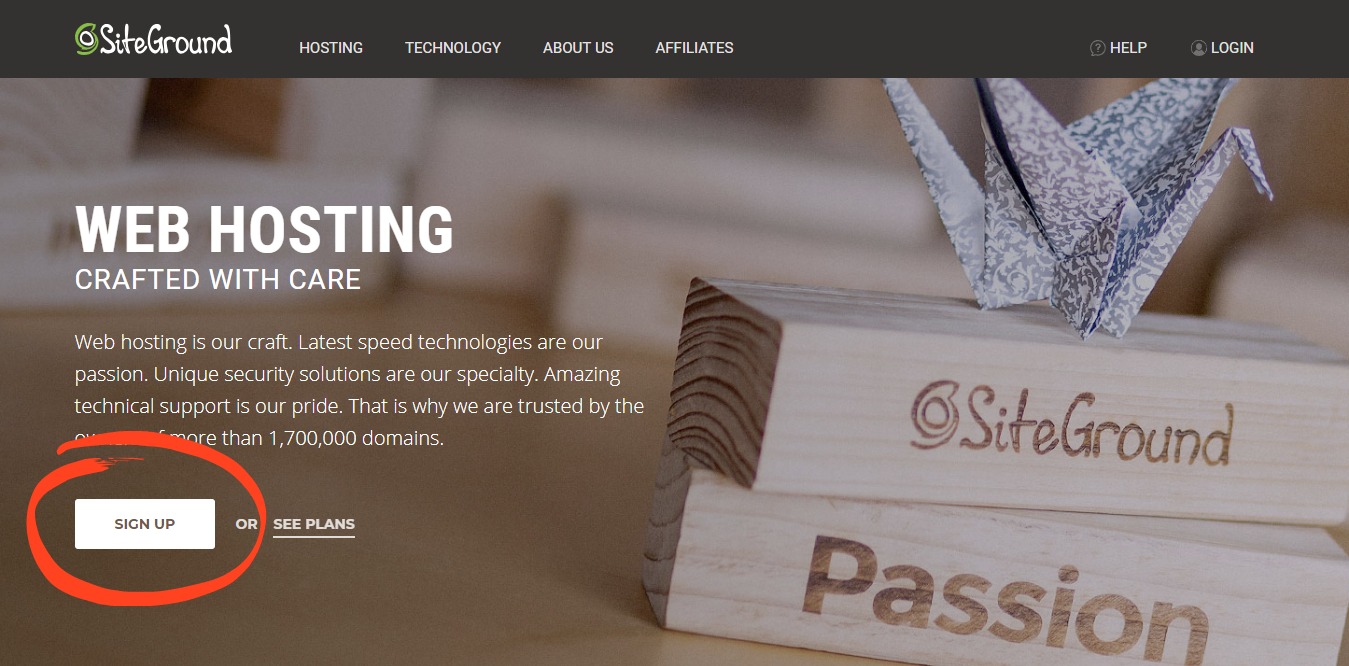 Next, you need to choose a hosting package, which vary in size based on the number of visitors your site can handle on a monthly basis.
Choose a Siteground Hosting Package
The main difference between each package is the amount of data you can store and the number of visitors your blog can receive without slowing down your site.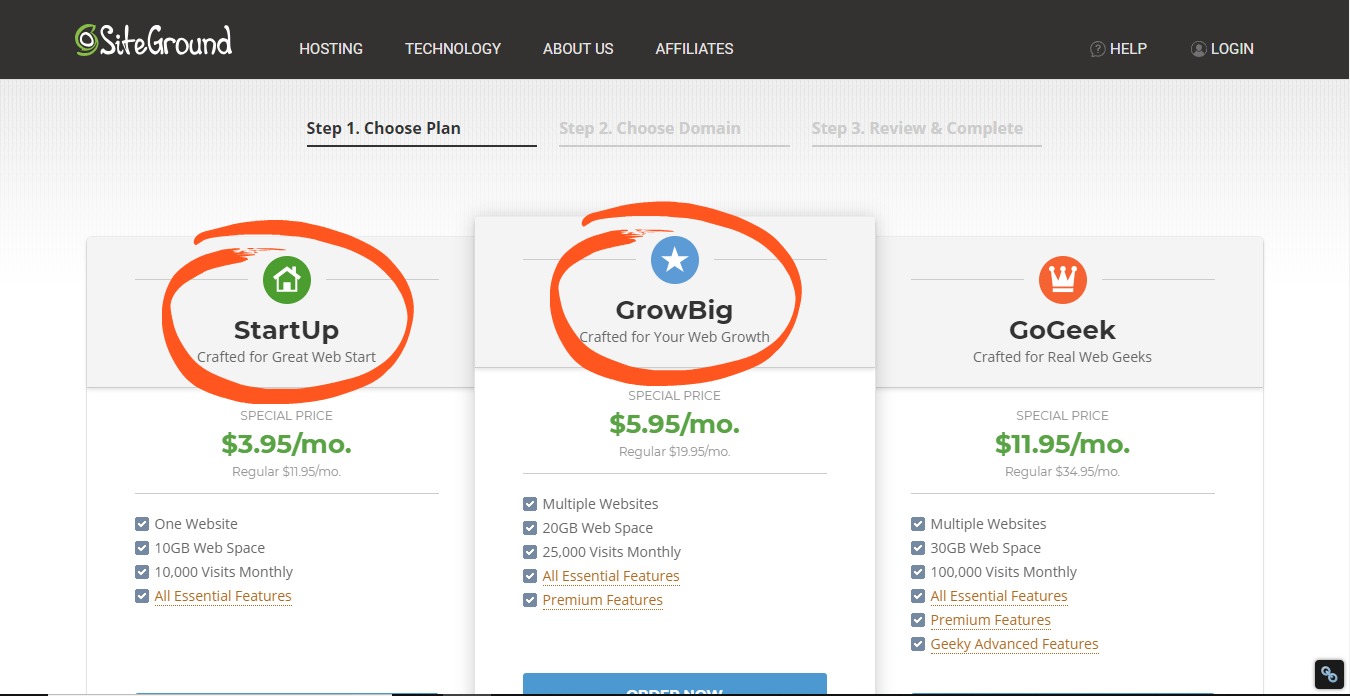 The first two packages – "Startup" and "Grow Big" – are generally the best options for new bloggers, as it will take you a while to increase traffic (the number of visitors) to your website. To give you an idea, it took me five months to outgrow my initial plan -comparable to the StartUp Plan – that could handle about 10,000 monthly visitors.
Keep in mind when you choose that you will have the option to purchase 12 months, 24 months, or 36 months of hosting.
If you are truly serious about blogging, I recommend choosing the Grow Big Plan and purchasing 24 or 36 months of hosting.
One year is just not enough time in my opinion to see steady, significant income (at least not enough to make you confident in purchasing another full year of hosting at full price). Buying 2-3 years up front is a great deal and will give you time to increase your income to cover your expenses.
If you're balking at the number on your calculator after doing the math, let me ask you this: what other business can you start for less than $200-$300?
If money is *really* tight (been there!), go with the StartUp plan and 12 months.
Register Your Domain Name
Once you select your plan, it's time to choose your domain name. Go back to the blog name you chose in step two, and see if it is available using the ".com" version.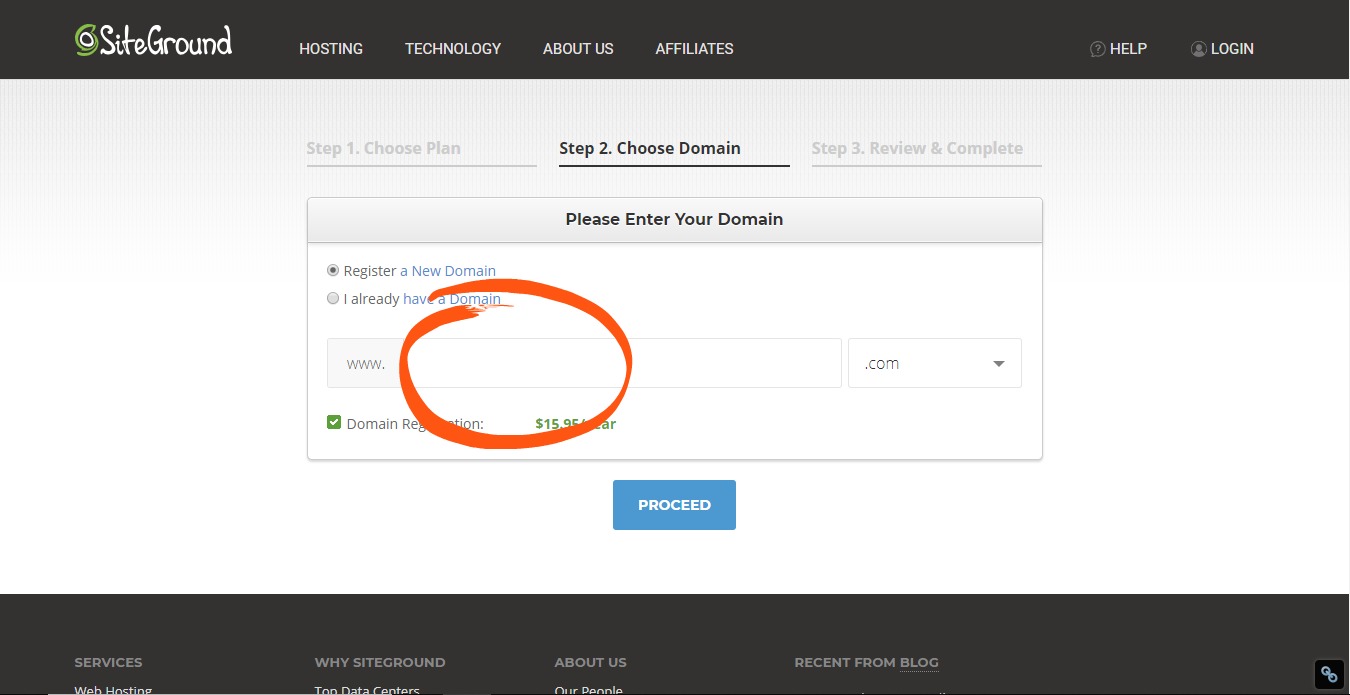 If the name you chose isn't available (boo!), you will need to rework your original idea.
You might be tempted to choose a different extension: .net, .me, .org. However, readers typically assume the ".com" extension, and you don't want any more obstacles for them to overcome to get to your blog.
Try shifting words around, adding "this" or "the" to the beginning or "blog" to the end. Try not to add punctuation, as it makes it more difficult to remember.
Choose your domain name wisely, but don't obsess over it. At the end of the day, starting is better than stalling over a name.
Complete Your Account Information and Review Your Package
Scroll down the page and fill out your personal information.
Under "Hosting Services", I recommend choosing 24 or 36 months. As I said before, if you are serious about blogging, you need to give yourself 2-3 years to see a significant part-time income.
If I had chosen one year, I very well might have quit, instead of renewing hosting to the tune of $240. At that point, I was only earning around $200 a month.
A few months later, my income quickly shot up, and I reached a consistent $1,000 a month, five months later. Give yourself enough time to make this blogging thing work.
You are also going to want to check the box next to "Domain Privacy". This will protect your name and personal information from solicitors and spammers.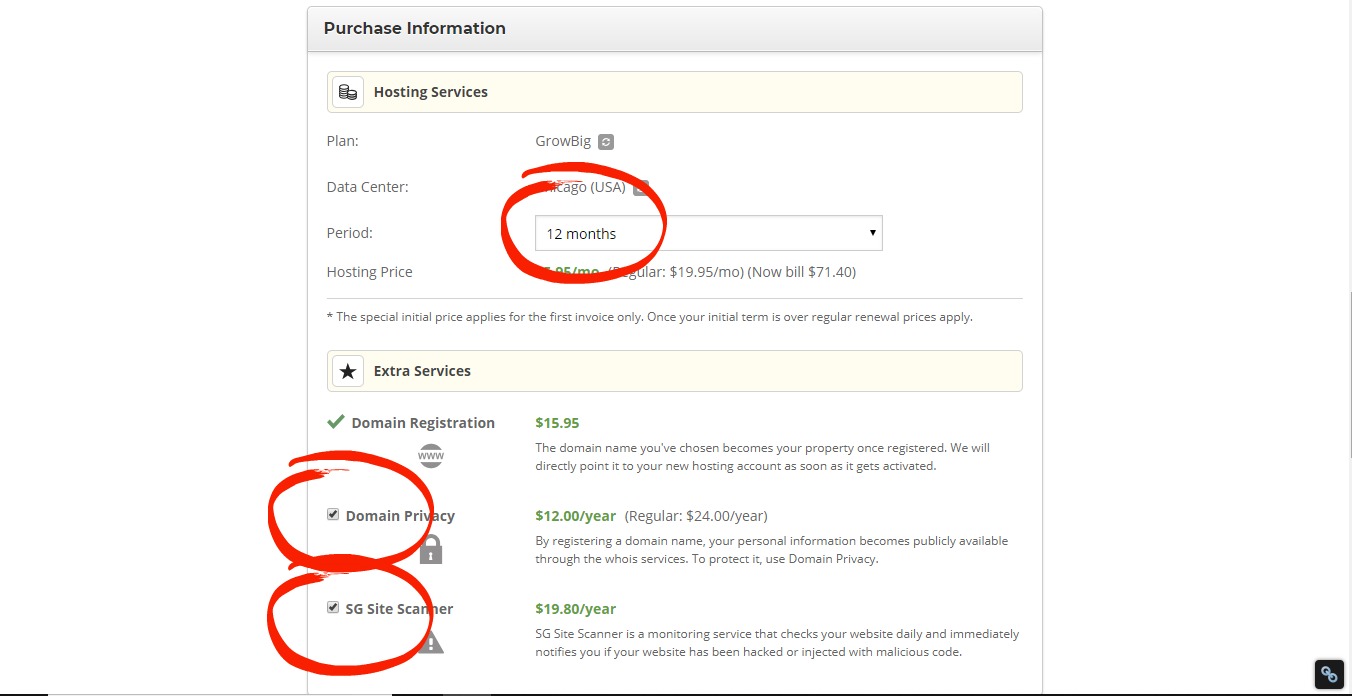 The SG Site Scanner is optional, but I also recommend it because it scans your site for malware. Take advice from someone whose blog broke – and all my hard word flashed before my eyes – the extra peace of mind is worth the relatively small additional cost.
Once you've selected all the options and filled out all the required information, finish checking out.
Set Up WordPress
After you've finished the check-out process, you will receive an e-mail from Siteground with your account log-in information and instructions for how to install WordPress.
Once you log in to your Siteground hosting account, you should see the option to "Start a New Website". Click that link, and choose WordPress as your platform. The Siteground Wizard will walk you through how to download and install WordPress.
Choose a Mobile-Optimized Theme
After WordPress is installed, you will need to choose a theme. The theme is what determines how your website looks to readers when they arrive.
To get to themes, highlight "Appearance" in the left-hand sidebar of WordPress, and click on "Themes".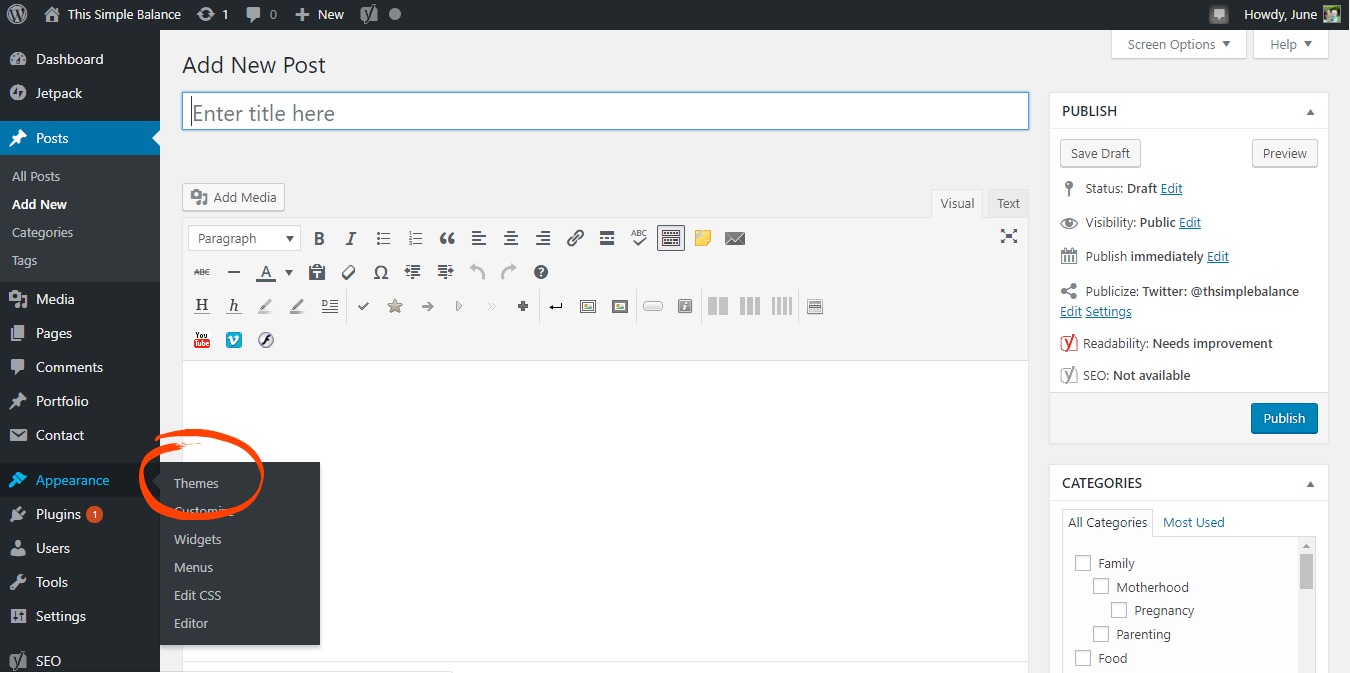 You can pay for a theme if you want, but a free theme is a great place to start. It will take a few months of blogging to know what your long-term wants and needs are as far as design goes.
Whatever you do, make sure to choose a mobile-optimized theme: one that will conform to the size of a mobile phone or tablet. Astra or Kadence are great beginner options that are also fast, which is important these days!

I made the mistake of buying a non-mobile-optimized theme when I started, and as a result, my site doesn't look as professional on mobile phones, which is how most of my readers view my blog.
What's Next After I Start a Mom Blog?
Congratulations! You've started your blog.
Your immediate next step is to familiarize yourself with WordPress. There is a setup wizard which can walk you through the basics.
After that? You'll need to learn all about things like plugins and headers and pages.
Do those terms sound scary to you? Yeah, they certainly scared me.
You can go the DIY method for learning how to do all those things, which is possible. You can find a lot of free information online. I learned WordPress and many other blogging basics by myself with A LOT of googling.
But I wouldn't recommend it.
I cannot stress enough that you need to invest in your blogging education. Almost all of my earnings my first year went back into my blog, and I don't regret it.
Top 3 Affordable Blogging Courses for Beginners
I would have saved so much time if I had purchased an inexpensive blogging course or two. I understand blogging on a tight budget – believe me!
That's why I recommend the following three blogging courses that can cut your learning time in half.
1. Blog By Numbers
Blog by Numbers takes you step by step through the very early steps of starting a blog. The course is comprised of both text and video instruction.
If this post left you feeling like you need more help, this is the best and most affordable option (it's often on sale – search coupon codes!):
Blog by Numbers will help you:
Decide on a blog niche
Choose the perfect blog name
Actually start your blog.
Add plugins to your blog to help it load faster.
Install a free theme (what makes your blog pretty and user-friendly).
Learn how to navigate WordPress (where you write your posts).
Learn the basics of writing posts, including headlines and post ideas.
The course creator and instructor – Suzi Whitford – is one of the most down-to-earth moms and business owners I have encountered online.
When you read her course and watch her videos, you immediately connect not only with Suzi's contagious enthusiasm for blogging, but also with her realism as a mom of three little ones.
She breaks everything down for you in manageable steps.
Even as a blogger with ten months under my belt, I've picked up new tips and tricks from this course that I wish I had known early on in my blogging journey.
One Note: Suzi may still recommend Bluehost for beginner blog hosting, and I do NOT. I had a horrible experience with Bluehost and recommend Siteground, instead.
2. Pinteresting Strategies
Pinteresting Strategies was hands down the best investment I made in my blog (and the cheapest!).
At $47, the value of this course is hard to beat. I go back to it again and again, and when I've deviated from these strategies, my traffic has suffered.
Trust me, you want to understand Pinterest.
I consistently get over 20,000 sessions a month from Pinterest, sometimes up to 60,000. It can be a great source of traffic for new bloggers, if you know how to use it.
For help designing Pinterest images, try THIS now free blogging course.
3. Affiliate Marketing: Everything You're Missing
This course was also created by Carly, author of Pinteresting Strategies. She gives relevant, actionable advice that will help you to increase your affiliate income.
While she now earns income from blogging about blogging, she still writes regularly in the mom niche, and most of the information in the course is based on mom niche posts.
Packed with videos from actual blog posts and copies of actual e-mails sent during bundle sales, this course will help you understand what makes people actually buy what you recommend (instead of just clicking and NOT buying, or worse yet, not clicking at all).
After taking this course, people are actually starting to buy what I recommend.
I can see the products they are buying in my Amazon monthly reports, and a lot of them are things I recommended, as opposed to just random things purchased within 24 hours of clicking my affiliate link. I'm cool with that, too, but it's nice to know what I'm saying about products I love is actually producing sales.
Find out more about this course HERE.
Final Advice When You're New to Blogging
The two blogging Facebook group I find the most helpful is once again created by Carly Campbell:
Join as soon as you can, and don't be afraid to sound stupid with your questions! If you don't ask, you won't learn.
Be sure to reach out with any questions using this contact form, and I will try to respond as soon as possible.
I'm rooting for your blogging success!
Read Next: 9 Flexible Work at Home Jobs for Homeschool Moms