Inside: Learn why creating capsule wardrobes for your kids can majorly simplify your life (and theirs). Get 7 simple tips for how to actually create a kid's capsule wardrobe. It's not hard – promise!
The decision to create capsule wardrobes for my kids (and myself) was one of the best mom decisions I've made yet.
No more fighting pver outfit choices. No more overwhelming loads of laundry.
No more stressful decision-making about which clothes to buy and where to shop.
No more endless, exhausting shopping trips. Can I get an amen?!
Creating capsule wardrobes seems elusive and complicated and expensive, but it doesn't have to be.
These straightforward tips takes the complicated right out of kid's capsule wardrobes. And you can start with what you already have!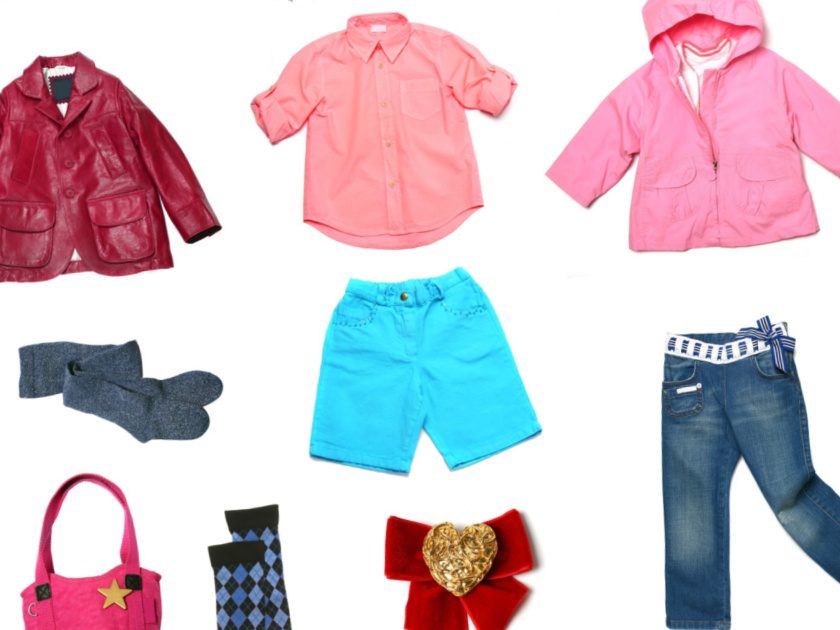 The Benefits of Creating a Kid's Capsule Wardrobe
THIS POST PROBABLY CONTAINS AFFILIATE LINKS. AS AN AMAZON ASSOCIATE, I EARN FROM QUALIFYING PURCHASES. YOU CAN READ OUR FULL DISCLOSURE POLICY HERE.
So you're interested in capsule wardrobes…but how do they actually help you and your kids?
1. Kids' capsule wardrobes equal fewer choices.
Kids don't need overstuffed drawers and closets: in fact, too many choices can increase stress in your child's life.
We think that more choices make us happier, but the opposite is true.
According to some researchers, adults make close to 30,000 decisions a day, and children make 3,000 a day.
Three thousand! That's a lot of decisions for a child.
And all of those choices aren't making us any happier.
So why not eliminate some choices and save some of that decision-making power for something more important than clothing?
2. Capsule wardrobes decrease stress for you AND your child.
With fewer pieces of clothing, you spend much less time shopping.
You'll finally know what types of clothes your child likes to wear and what's left in the drawer come laundry day – week after week after week. You can simply replace the things that they outgrow with similar staple items.
You can decide up front which brands (or brand) to buy from, and never decide again. One and done.
And your child will be better able to choose outfits for the day without your help (outfits that won't get vetoed on the way out the door in the morning).
Fewer fights. Fewer decisions. Faster shopping.
3. Kid's capsule wardrobes mean less laundry for you. Yay!
My kids have enough clothes to last a little more than a week, just in case laundry day gets pushed back.
When you have 2-3 weeks worth of clothes, you can theoretically keep pushing laundry day back again and again until it becomes overwhelming.
Creating a capsule wardrobes (for everyone, not just the kids) cut down laundry stress by reducing the amount of laundry you need to do in the first place.
4. You'll spend less money on clothes. Yes, really.
When you take the time to create a capsule wardrobe, you stop spending money on things your kids will never wear, whether that's because:
they don't like that piece of clothing
they have too many clothes to begin with OR
a particular piece doesn't easily coordinate with everything else.
You also learn which brands and clothing your kids reach for over and over again. This helps you make better – and fewer – clothing purchases from now on.
Use these tips to start building a kid's capsule wardrobe today. It's not hard – promise!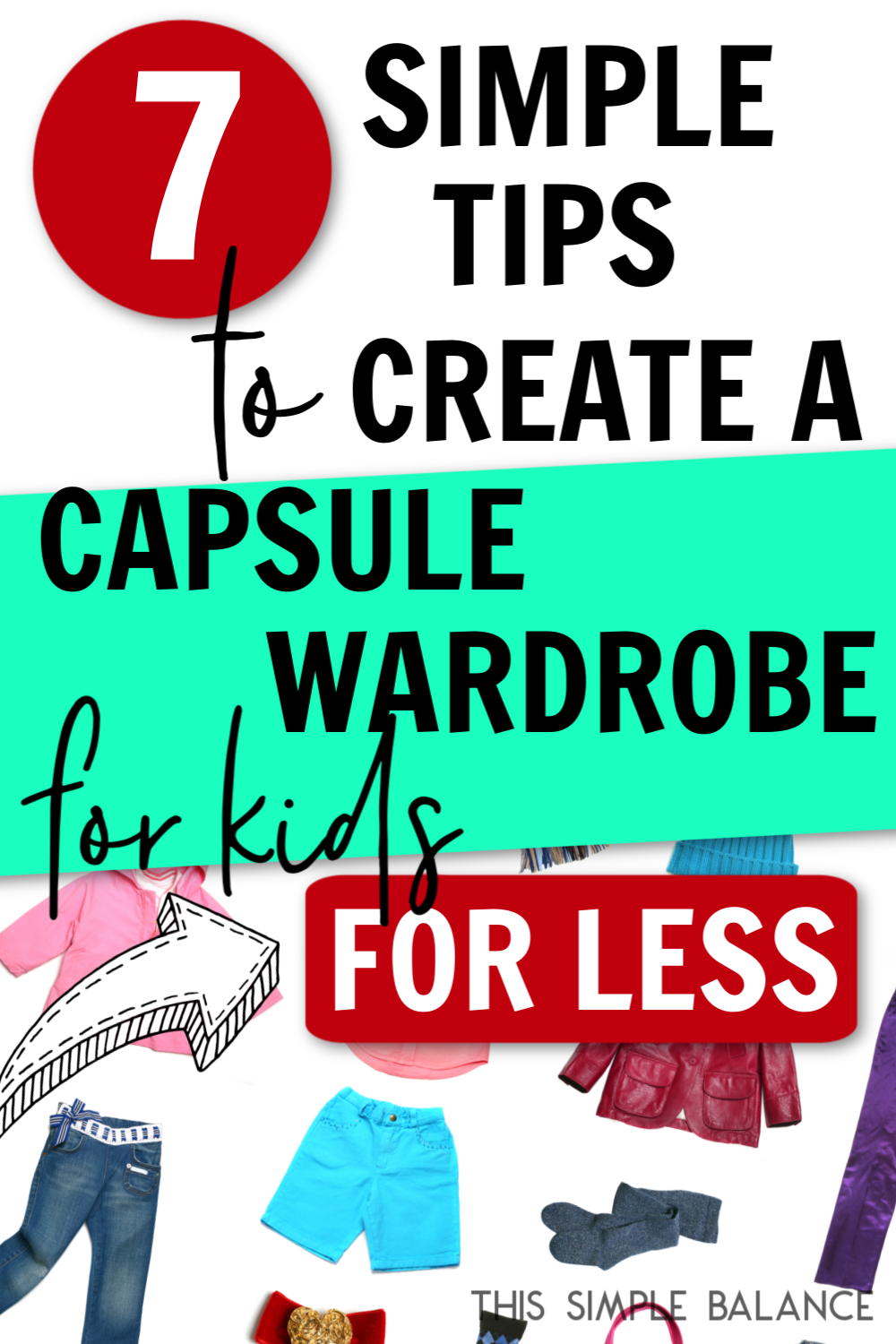 7 Tips to Create a Kid's Capsule Wardrobe
1. Determine how many clothes they actually need.
This is the big debate, isn't it? How many clothes does a child really need?
That answer is going to vary widely, depending on your lifestyle, the weather where you live, and how hard your kids are on their clothes.
If you homeschool, your child may not need as many clothes as another child who goes to public school.
If you rarely attend formal events, your child may not need dress clothes either.
I have one child who maybe dirties his clothes once a week. Another stains hers every.single.day.
As a rule of thumb, once you begin a weekly laundry routine, for young children who are not attending school, you should need somewhere close to the following:
7-9 bottoms (some of these can be reworn)
10-12 tops (can include dresses)
10-14 pairs of underwear
2 sweatshirts (1 can be a sweater if you want something that looks nicer)
7-10 pairs of socks if your child wears them
For shoes, see #6
If you require your children to dress up for church or something else weekly, they need two nicer outfits, three at the most.
2. Only keep (and buy in the future) clothing pieces that coordinate with each other.
Clothing should be one area you can relinquish control to your child as soon as she can dress herself.
Does your four year old (who has no idea what matches, by the way) buy the clothes? Nope.
So whose fault is it when that same four-year-old walks downstairs with a polka-dotted shirt and striped pants?
You guessed it: yours.
Getting dressed should be a good experience for everyone. When you only buy things that coordinate with each other, you make sure any combination she chooses is a good choice.
Related: The Capsule Wardrobe: How to Get Started & Why You Need To
3. Do not keep clothes you don't want your child to wear (ever).
It sounds simple, but just today, I sorted through a bin of hand-me-downs, and found myself tempted to keep items I knew I would never choose myself for my child to wear.
Especially if you are still in the season where you pick out your child's clothing daily, do not hang onto clothes you will never take out of the drawer. If you're constantly reaching over it to grab something else, it has to go.
It's the same principle as the capsule wardrobe, though the enthusiasm can be toned down slightly.
If you don't like it, don't keep it. It will just sit there taking up space, and you will waste your time managing it.
Pass it on to someone who will use it. Or if it's in really bad shape, just throw it away.
Donation centers receive more than enough items – they don't need to be inundated with clothing no one wants.
Related: The Right Way to Deal with Decluttering Guilt
4. Stop buying clothes your child will never wear.
For a long time, I purchased vests for each child. I love vests, and find them to be a perfect way to layer and keep warm as seasons change.
My children, however, didn't agree. They really don't see the point of vests.
Eventually, I realized that no matter how practical I found them to be or how often I offered them as an option in their capsule wardrobes, they just didn't wear them (or they did for two seconds, and cast it off as soon as possible).
I was foolishly wasting money on something my kids never wear, so I stopped.
5. Buy comfortable clothing.
While I love my jeans, even I tire of them by the end of the day and just want my sweats or pajama pants.
Kids are moving constantly, playing, jumping, crawling. Jeans and khakis are just uncomfortable for all the bending and moving kids do.
Stop buying jeans: you'll save a ton!
The downside to this is the material of comfortable kids' clothing is less durable, so holes in the knees are much more common, but the trade off in comfort (and their desire to wear it) is worth it.
Most of our boys' pants are similar to these ones from Amazon. For our daughter, finding "comfy" pants that are not leggings has become more and more of a challenge (along with shorts that are not too short).
Primary.com is working for now, but eventually she will size out of that brand, so I'm hunting for another option for her capsule wardrobe.
Related: Primary Clothing Review: Simple Kid's Clothing You'll LOVE
6. Only invest in one pair of shoes they wear daily.
Personally, we love Crocs. Our kids ditch their shoes constantly, no matter where they are.
Crocs are sturdy, durable, and wash up easily with a rinse in the sink. Think mud, sand, and yes…pee. You name it, you can easily clean it off of Crocs.
Each child gets a pair, and sometimes that pair is a hand-me-down from an older sibling. Yes, they can wear them daily for more than a year, and still have plenty of wear left for the next kid!
Crocs are amazing (which is why I recently traded in my TOMS for a pair of Crocs myself).
When we lived in North Carolina, I invested in Crocs and Crocs rainboots for each child – that's it. Now that we've moved back north, each child has a pair of sneakers, crocs, rainboots and winter boots.
We've found these four staples to be sufficient, and the Crocs get the most wear by far.
Another plug for Crocs rainboots: they have no cloth lining and are super easy to clean. No more soggy, moldy rainboots from kids who love to splash in puddles.
Crocs has sales regularly, and Ebates frequently offers high percentages of cash back (I've seen up to 10%).
If you haven't tried Ebates, it's the simplest way to save money shopping online. You just start your shopping through Ebates to get cash back from your purchase.
Sign up here to get a special cash back offer for first-time Ebates users.
7. Store extra clothing separately from the main capsule wardrobe.
Once upon a time, I only had one child, and that child's clothing filled all five drawers of her dresser to bursting.
Five. Drawers.
That same dresser now holds capsule wardrobes for my three sons…every piece of clothing they wear regularly except for sweatshirts. And it's not stuffed.
As a growing family, we receive bags of hand-me-downs fairly regularly. When they come, I sort through them, and after setting aside items I don't want, I do not automatically put the clothes in their dressers.
First, I see how many clothes they currently have. If they have enough based on the numbers I gave above, I store it in a bin in the laundry room.
This way, if something gets stained or ripped, I have back-ups.
If you have a big family, it's also likely some clothes will not making it through more than two children, and you will need those back-ups eventually.
Related: Decluttering Clothes – A Realistic, Step by Step Guide
Bonus Tip: Decide once where you're going to buy clothing for your kids' capsule wardrobes, and stick to that brand/store.
I got this tip from THIS book.
One of the key principles of the Lazy Genius Way is to decide once – for just about everything.
Decide once what grocery store you're going to shop at: stopping at multiple stores wastes more time and energy than the money you save.
Decide once how you're going to clean the kitchen at night. It takes so much less energy – you can do it on autopilot.
In the same light, decide ONCE where you're going to buy clothing. Or perhaps you might have one brand for pants, one brand for shoes, one brand for tops.
Decide once, and don't deviate until you need to. Until a child grows out of that brand, or until that brand shuts down.
It will save you a ton of decision-making energy.
Your Kids' Capsule Wardrobes Don't Have to Be Perfect
I doubt my kids' capsule wardrobes will ever look like some of the capsule wardrobes you see on Pinterest.
We simply can't afford to purchase entire wardrobes that coordinate that perfectly.
Nor do I care to spend money on top brands for a lot of the clothes my kids wear daily (for the boys I'm slightly more choosy because those clothes will be handed down twice and need to last).
I'm also super simple and kinda lazy (lazy can be genius). For my boys, I literally choose 10-12 different graphic tees in the same size from Gap and call it a day.
But it is MORE than possible to create a capsule wardrobe for kids, even on a tight budget.
With a little effort and forethought, you can make kids' clothing stress a thing of the past. And that makes it absolutely worth the effort.
Read Next: My Secret to Getting Brand New Clothes for FREE