Inside: Looking for the best Christmas puzzles for your holiday break or annual Christmas puzzle tradition? Choose from these best-rated puzzles and enjoy "puzzling" all December long.
I'm not sure whether or not I am making this up or not, but for whatever reason, I've always associated Christmastime with puzzles.
Maybe there wasn't a new puzzle every Christmas, and it probably wasn't Christmas-themed, but I know that we did spend many a Christmas break as a family at the table, slowly working on a puzzle that took days to complete.
Puzzles are also one of my fondest memories of time spent with my father, who passed away unexpectedly last year.
We both loved a good challenge, and we often spent the most time at the puzzle table. There's nothing quite like the satisfaction of a puzzle piece finally finding it's proper place.
A Christmas puzzle is a wonderful tradition to add to your family's Christmas traditions!
A tradition that doesn't involve sweets or screens – just good old-fashioned fun.
Related: 6 Tips for Simplifying Your Christmas (when you have kids)
Starting a New Christmas Puzzle Tradition
The past several years, we've had toddlers in the house (a.k.a. puzzle wreckers).
Have you ever been halfway through a puzzle only to have little hands sneak in and sweep hours or hard work onto the floor? Maddening.
Because of the puzzler wreckers, I've avoided instituting a Christmas puzzle tradition until now. We also never had the space to keep a puzzle out for multiple days.
The combination of a bigger house plus the little puzzle-wreckers getting a little bit older meant it was time to start a Christmas tradition I've been wanting to start for years!
Every year, we are going to choose a new Christmas puzzle to start on December 1. We'll set it up and work on it all December long.
The nice thing about puzzles, too, is you can pass them along to another family when you're finished.
I suspect I may have trouble with a certain sentimental child wanting to collect Christmas puzzles…but ideally, this is a clutter-free, minimalist Christmas tradition.
What If I Don't Have Space for a Christmas Puzzle?
I vaguely remember hearing of one other family that set up their Christmas puzzle on a card table in a main living room.
Over the course of December, family, friends, and Christmas guests all helped put together the puzzle. It was a group effort!
This was never an option for us until now because we've always lived in smaller homes.
Since we moved, we technically could set up a card table, but I decided instead to invest in this 1000-piece puzzle board.
It can easily be moved to a different room and stored away from the puzzle-wreckers when we need the kitchen table.
The puzzle board also has four separate drawers for sorting pieces, that way you can work on one section at a time and get the other pieces out of the way.
It's every puzzler's dream.
If you decide to get the puzzle board, just make sure to pay attention to the finished puzzle dimensions of the Christmas puzzle you select. You don't want to end up with a puzzle too big for your puzzle board!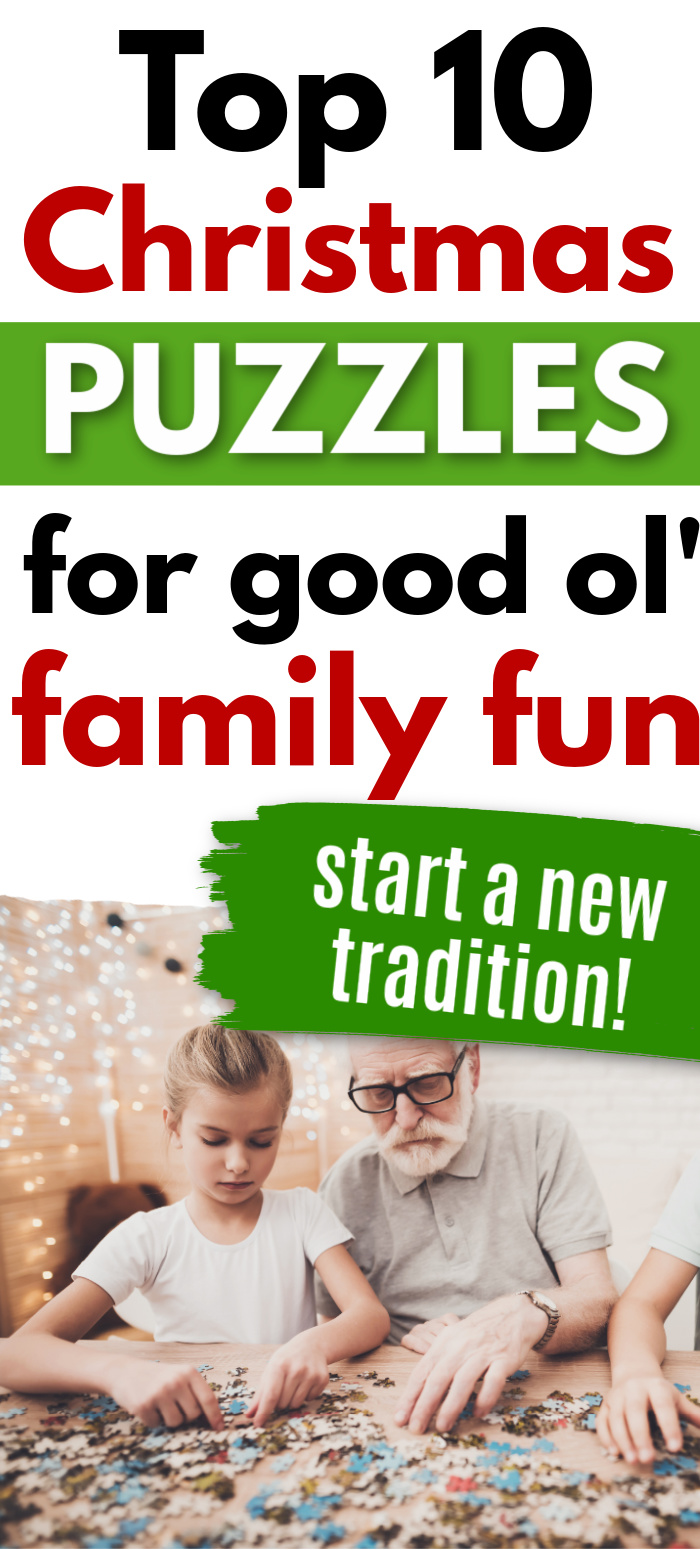 10 Best Puzzles for Christmas
These are a few top puzzle brands to keep in mind:
Ravensburger
White Mountain
Bits and Pieces
That doesn't mean you can't buy a puzzle from an off-brand, but if you plan on keeping a puzzle collection, those puzzle brands may hold up better over time.
Be sure to check the reviews, especially for reports of missing puzzle pieces. There's nothing worse than finishing a brand new puzzle, only to realize there are pieces missing!
Here are the top 10 Christmas puzzles we are considering getting this year to kick off our new Christmas tradition.
1. Christmas Village Jigsaw Puzzle
This puzzle is a fun scene of a bustling little town full of Christmas shoppers. There is a big town Christmas tree at the center, and a car in the center bringing home their Christmas tree.
If you're looking for a Santa-free puzzle with subtle Christmas themes, this could be a good choice.
Brand: White Mountain; Size: 1000 Pieces
2. Holiday Doors
This puzzle features twenty holiday doors side by side, which would probably make it an easier puzzle to complete by sorting the pieces by door.
This looks like a great larger puzzle for novice puzzlers to tackle with confidence.
Brand: White Mountain; Size: 1000 Pieces
3. Santa's Night Before Christmas
If you're a Santa-loving family, this might be the perfect puzzle for you!
Santa is sitting next to the fireplace after delivering presents. He's studying his gift list to figure out which house is up next.
A picturesque scene of Santa's House on the night before Christmas, it's complete with Christmas lights, Mrs. Clause and elves loading up Santa's sleigh.
It also has that classic Thomas Kinkade glow (my mother-in-law is a fan!).
Brand: Thomas Kinkade; Size: 2000 Pieces
4. Christmas House
A doll-house-like, cut-out view of a house at Christmas time. Family, Christmas tree, mom making Christmas Eve dinner in the kitchen, Santa and his sleigh on the roof.
This puzzle might be my favorite so far…
Brand: Thomas Kinkade; Size: 2000 Pieces
5. Village Christmas Tree
Is there anything more quintessential Christmas than a huge Christmas tree?
If you've ever attended a tree-lighting in your city, you'll love this Village Christmas Tree puzzle.
Brand: White Mountain; Size: 1000 Pieces
6. Lazy Creek Country Store
If you want a not-so-obvious Christmas Themed Puzzle, this Christmas puzzle is perfect. A snowman, twinkle lights, and Christmas trees – it says Christmas without Santa or presents.
While it doesn't come with free Prime shipping, they claim it's an "heir-loom quality puzzle", so there's that.
Brand: MasterPieces; Pieces: 1000 Puzzles
7. Small Town Christmas
This Christmas puzzle from Buffalo Games if a fun, small-town American (features a prominent American flag) Christmas scene. A fun red banner with Christmas messaging and a sleigh ride with candles made this one stand out to me.
And apparently Buffalo Games are quality puzzles for less?
Brand: Buffalo Games; Count: 1000 Pieces.
8. Snow Area Castle
Update: This original puzzle is no longer available, but THIS one is very similar and just as beautiful and Christmasy in a subtle way.
I love that this puzzle is mostly winter-themed. When you first look at it, the snowy buildings and roads with subtly lit windows strike you first.
Then you notice the bows on the lamp posts, the Christmas tree through the window and a small snowman.
If you want more wintry than Christmasy, this one's for you!
Brand: Newtion; Pieces: 1000.
9. Christmas Toy Stamps
This puzzle is a fun compilation of classic Christmas icons on stamps – reindeer, wreaths, Frosty the Snowman, Father Christmas, a gingerbread house and more.
Another fun puzzle that's easy to divide up the work! Give each person a few different stamp to work on.
Brand: White Mountain Puzzles; Count: 1000 Pieces.
10. Snowman Celebration
Update: The original puzzle is no longer available, but the scene in THIS puzzle is absolutely stunning. I love it!
This Christmas puzzle is full of sleighs on the ground, Santa's sleigh in the air and overall snowy Christmasyness (not a word, but still).
I love the individual houses which can give each puzzler a place to focus their efforts.
Brand: Becko; Count: 1000 Pieces
11. Camping for Christmas
We chose this beautiful puzzle in 2022 and really enjoyed it! It was more challenging than our 2021 toy stamp puzzle choice and took several days of work to complete (compared to the one day stamp puzzle, which was too easy).
I chose it because of the variety of colors, and just the whole outdoor, snowy, Christmasy atmosphere made me smile. The only irony is that we hate camping!
Which puzzle should we get for Christmas this year? Share in the comments!
Last year we bought the Toy Stamp puzzle. It was a hit! Very doable for kids and adults, alike.
Read Next: How to Transition to a Minimalist Christmas with Kids