Inside: Celebrating the entire season with special activities can take the focus and pressure off the gifts and Christmas morning. Choose from fifteen simple Christmas traditions to start this year that are super easy for tired parents to implement!
We have five kids, whose ages currently range from twelve down to two. We homeschool, and I work from home part-time. It probably goes without saying that we're tired, y'all, and if you're a parent reading this, I bet you are, too.
My mom was supposed to make Christmas cookies with the kids the day after Thanksgiving. It started to snow, so she left in a hurry without being able to make the cookies.
I absolutely understand needing to get home safe, but you guys, the anxiety kicked in something fierce at the thought of doing it all by myself. There's something about the sugars and the flour and the dough and the kids under five.
Now, I did manage to suck it up and persevere through supervising cutting out and decorating five batches of cookies. And it wasn't as bad as it could have been in years past with a baby on one hip and two other kids under five as well.
But still, I've realized that I just don't do complicated traditions.
I don't do time-consuming crafts or daily advent readings or activities. I just don't.
Maybe one day, but for now, nope. And and I'm finally o.k. with that – and you can be, too.
I'm all for Christmas activities and traditions because when you celebrate the entire season with fun activities and traditions, it takes the pressure off gift-giving and Christmas morning itself. As a minimalist mom, that's a win.
But what tired parents need is not more guilt about all the Christmas traditions they aren't doing with their kids. They need suggestions for ridiculously simple Christmas traditions to start that kids will think are magical, and are easy as heck to actually do.
So for tired parents everywhere, if you're looking to start new minimalist Christmas traditions, but you just can't handle difficult or complex (or expensive), here's a list of easy Christmas traditions you can start this year.
Related: How to Transition to a Minimalist Christmas with Kids (& not feel like the Grinch)
15 Simple Christmas Traditions to Start This Year
THIS POST PROBABLY CONTAINS AFFILIATE LINKS. AS AN AMAZON ASSOCIATE, I EARN FROM QUALIFYING PURCHASES. YOU CAN READ OUR FULL DISCLOSURE POLICY HERE.
These are in no particular order. Do one or all: just remember it's your family and your life.
Choose the traditions that make you smile, or make your kids smile, or both – you can always add in more over time when your kids are older and you have more energy.
P.S. I heartily endorse "outsourcing" one or two of these if you can, to grandparents or anyone with more energy than you. Save the ones you particularly love for you and your spouse to do with the kids.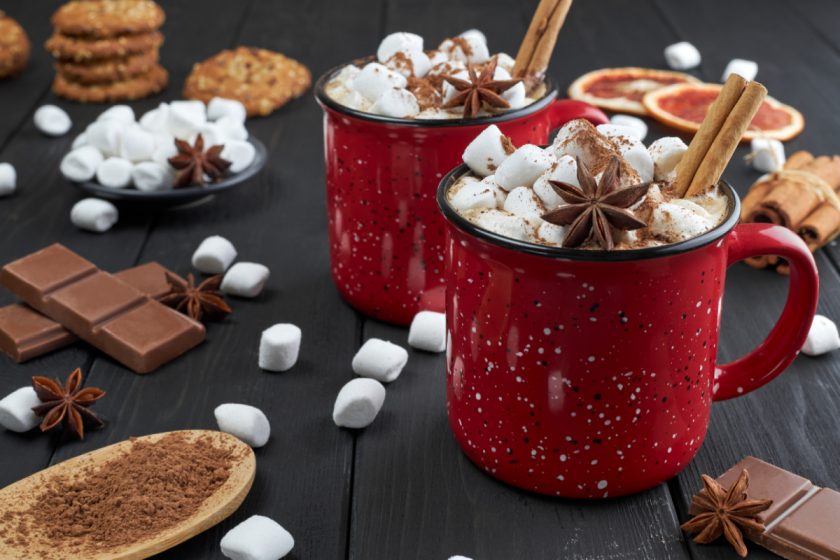 1. Hot Chocolate Tray
Grab some or all of the following at the store:
some fancy hot chocolate(s),
mini marshmallows,
yummy Pirouette cookies,
Peppermint Oreo Cookies,
caramel drizzle,
whipped cream, and
candy canes or peppermint mocha creamer.
Heat milk on medium low in a pot. Put all the goodies out on a tray, and let your kids (or help them) doctor up their hot cocoa.
We usually do this at our weekly poetry teatime.
You could read The Grinch Who Stole Christmas or another Christmasy book…or you could all watch a Christmas movie together. Or you could just drink fancy hot chocolate and call it a day.
Any of these is great – no guilt for choosing the movie over here!
Speaking of…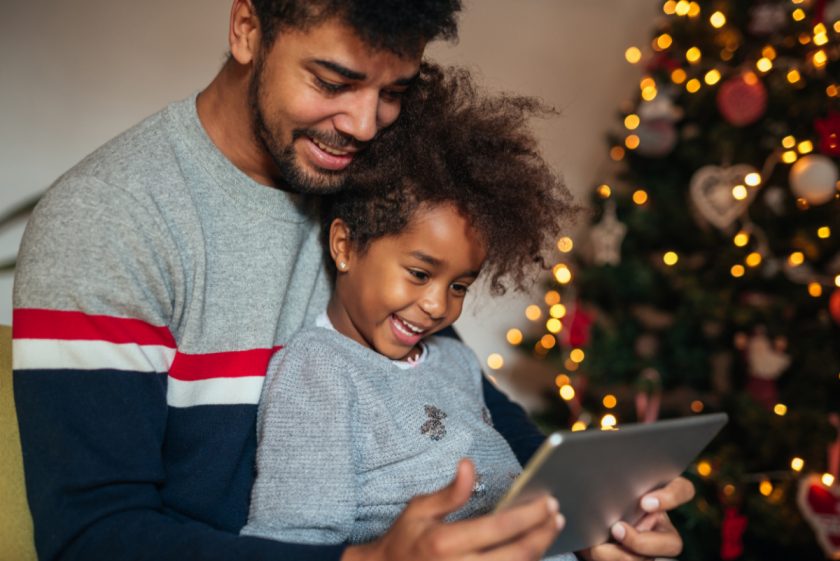 2. Watch Christmas Movies
This tradition is ridiculously easy, and I am here for it every year.
You can go crazy and schedule a movie a day, or you can have a top 10 list and watch one a day leading up to Christmas.
Here are the movies we watch every year:
The Home Alone Trilogy
Charlie Brown Christmas
The Grinch (the new version)
It's a Wonderful Life
A Christmas Carol
Watch your favorites, or one you've never seen before.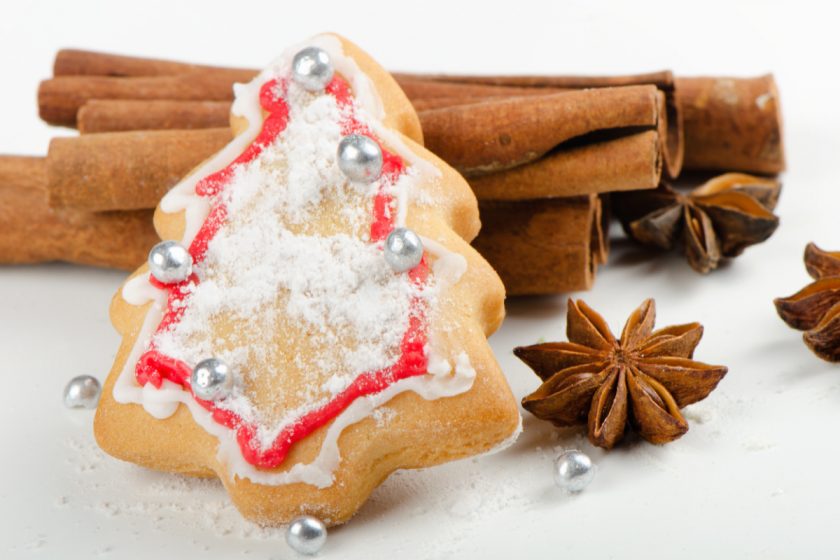 3. Decorate Christmas Cookies – The No Fuss Way
You could do these at any point in the Christmas season, or the week of Christmas, if you want to set out cookies for Santa.
Here's the secret: you don't need to make cookie dough from scratch or even cut them out to have it be fun and magical for kids.
Grab a Pillsbury sugar cookie roll from the refrigerated section. Slice and bake. Done.
Next, grab – you guessed it – jarred frosting.
After the cookies cool (don't forget this part, or you'll have a nasty melted frosting mess), slather some on those cookies and place on cookie sheets lined with parchment paper. Easy clean up is our goal.
And if you know what's good for you, use the sugar shakers, not open containers of colored sugars. We happened to have some this year, and they are SO much easier for little people under five to use.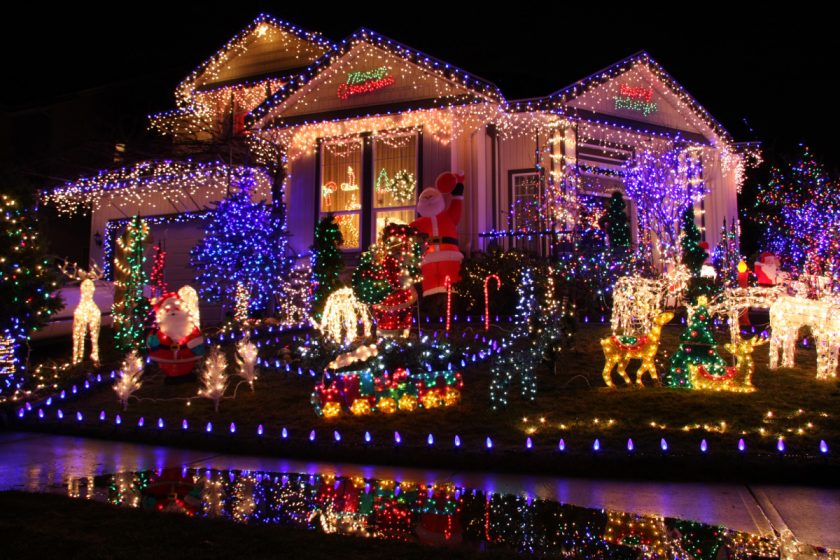 4. Drive to See Christmas Lights
See if there are any light shows in your area. The best ones are those where the kids stay in the car, buckled the entire time.
If you can't find one, just drive through neighborhoods in your area, and hunt for lights.
If you can manage to make hot chocolate for the kids to have in the car, awesome. If not, that's what drive-thru's are for. Or skip the hot chocolate altogether – your call.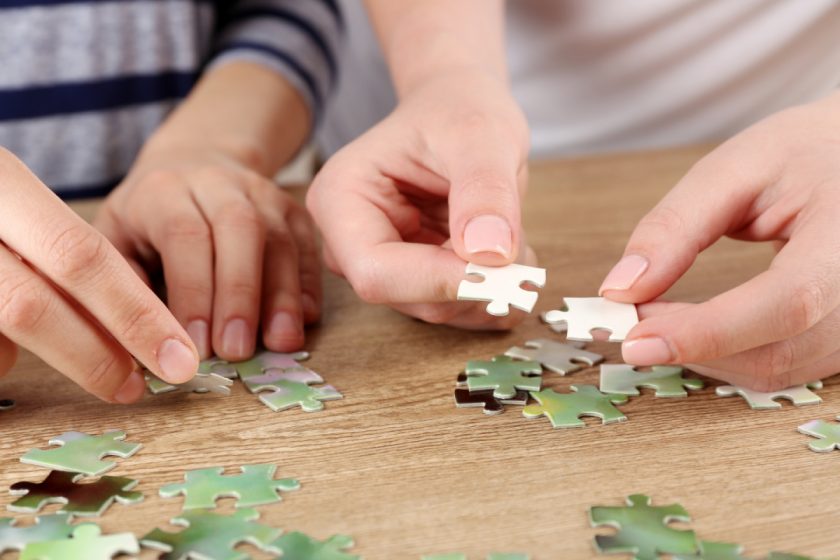 5. Do a Christmas Puzzle
This is a new to us tradition that we started last year. I love it because I personally love doing puzzles.
If you're not a puzzle person, skip this one.
You can purchase a new puzzle, Christmas-themed or not, or head to your local thrift store and pick one up for less than $1. If you choose the latter, just make sure to count the pieces – it's never fun to not be able to finish the puzzle.
Need a Christmas puzzle? Choose one from this list of top 10 best Christmas puzzles on Amazon.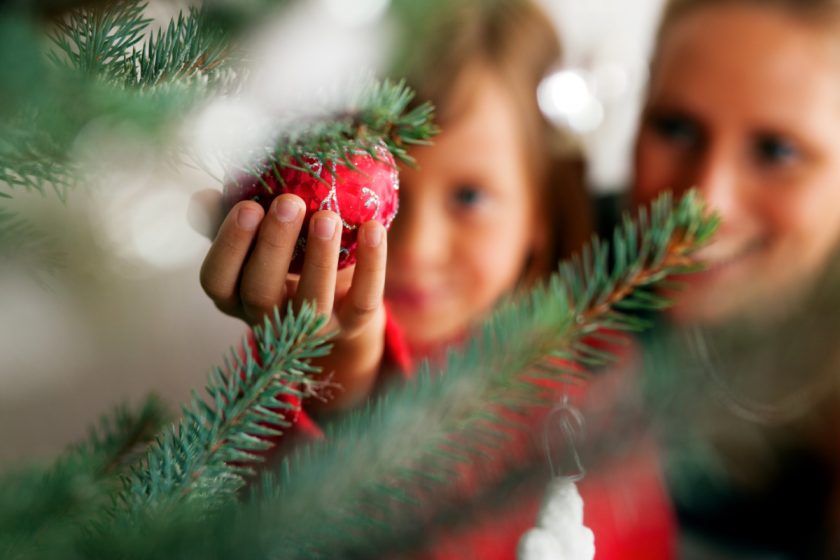 6. Set Up the Christmas Tree
Yes, this counts as a tradition! You're going to do it anyway, so make it an event and give yourself a pat on the back for already having a tradition.
Let everyone eat a candy cane while you set up. Blast the Christmas music.
And FYI, Tiktok told me this year that if you string your lights on the tree vertically, instead of around and around, it's easier. Listen to Tiktok – it is.
Related: 3 Simple Steps to Decorate for a Minimalist Christmas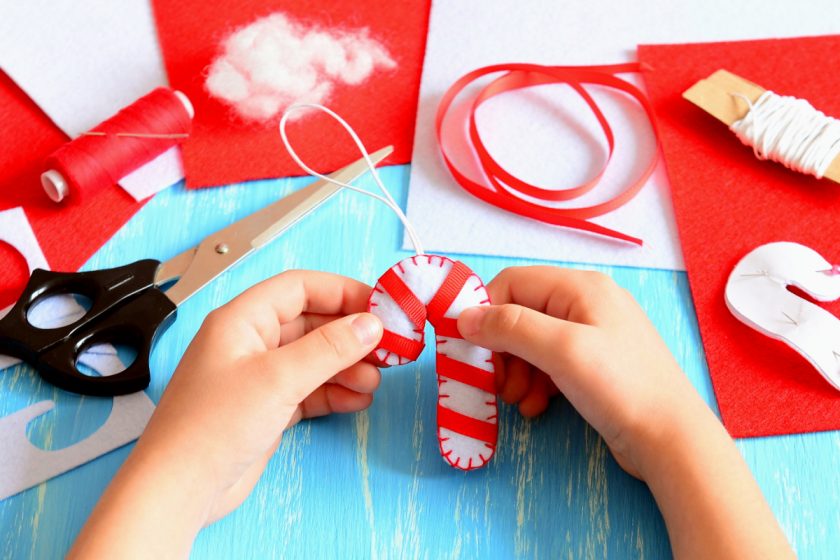 7. Make Super Easy Christmas Ornaments
Making ornaments can be complicated and frustration-inducing (like in the photo above – no thanls)…over it can be easy.
The easiest ornaments I've ever come across involve taking pom poms and putting them in clear ornament balls.
Even the littlest kids can choose the colors they love. No cutting, pasting, or hot gluing required.
Find full directions for these easy Pom Pom Christmas Balls HERE.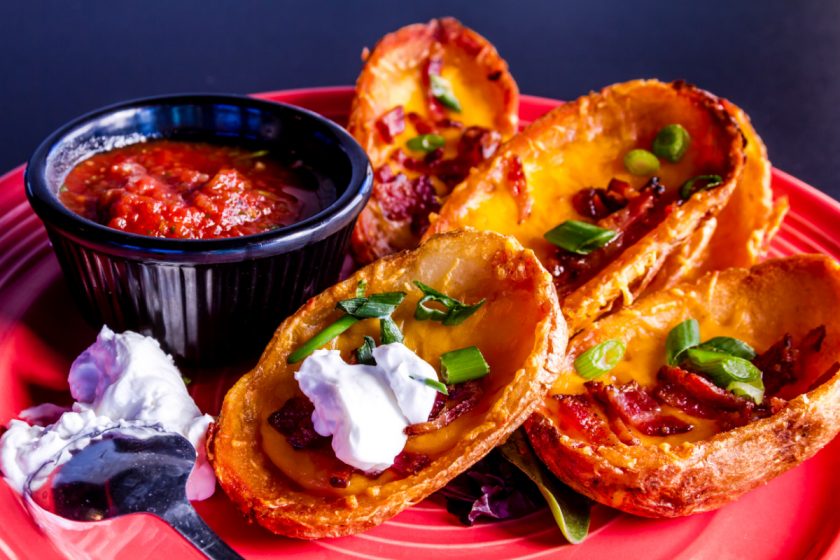 8. Rock the Christmas Eve Appetizers (Again, The Easy Way)
My husband's family introduced this Christmas tradition, and I love it. Every Christmas Eve, we have delicious appetizers for dinner.
And by delicious, I mean easy and delicious. There are no fancy charcuterie boards over here.
Here are some ideas…
Pre-Made Shrimp Ring
TGIF Frozen Potato Skins
Mozzarella Sticks
Doritos/Chips
Fancy Pickles
Anything in the Costco Prepared Section
Pub Cheese and Crackers
Chips and Dip
Food doesn't need to be difficult or create a lot of dirty dishes to be yummy.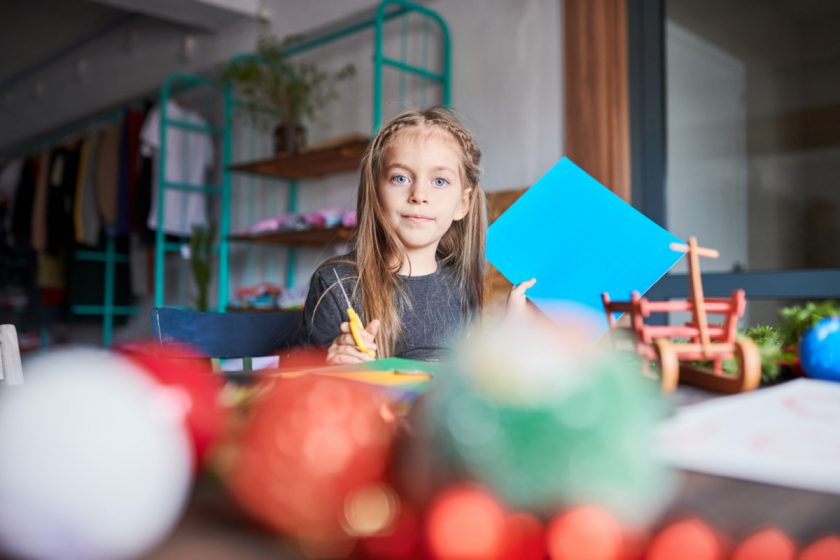 9. Make Paper Chains
A couple nights ago we watched Elf, and my daughter was struck by the simple white paper chains Buddy made and put up just about everywhere. So last night, she started making them to hang on the mantle and over the window.
It's a simple, fun and cheap decoration that even young kids can help make.
10. Light Candles & Sing Carols
Growing up, we always attended a Christmas Eve service. Usually my dad was singing O Holy Night.
I'm sure the pastor came up with new and fresh ways to talk about the birth of Jesus, but what I remember most was singing carols with lit candles at the end of the service. It was special.
You can do this at any time in December – on Christmas Eve or any other day – no matter your faith tradition. For littles, these fake tea lights are wonderful.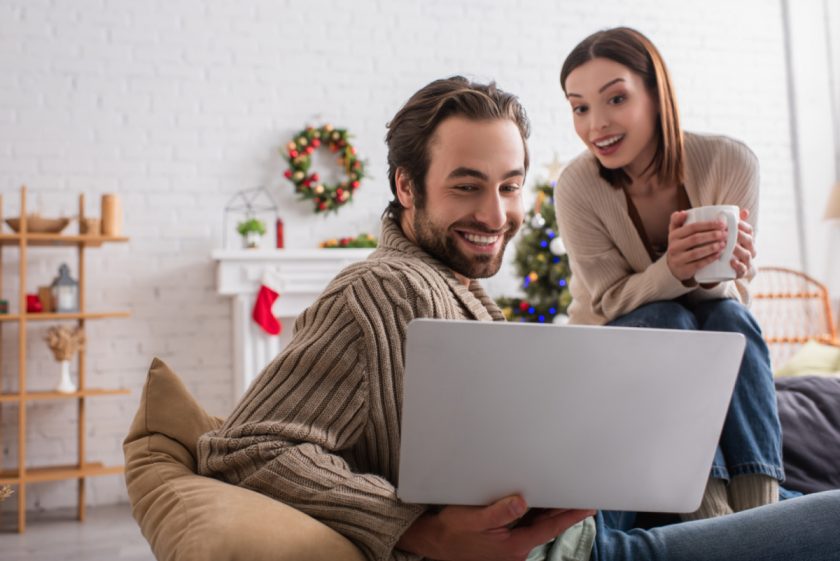 11. Look at the Year's Photos & Choose Ones to Print
This is a tradition we've done two years now. We skipped last year, sadly, but maybe we will catch up?
Basically we take time to look over the photos from the year and choose the thirty best ones and have them printed at Snapfish or Shutterly, whichever your prefer.
If even this seems too hard, you can always print photos directly from Instagram into photo books. You connect directly to your feed and then select the ones you want to print. Easy peasy.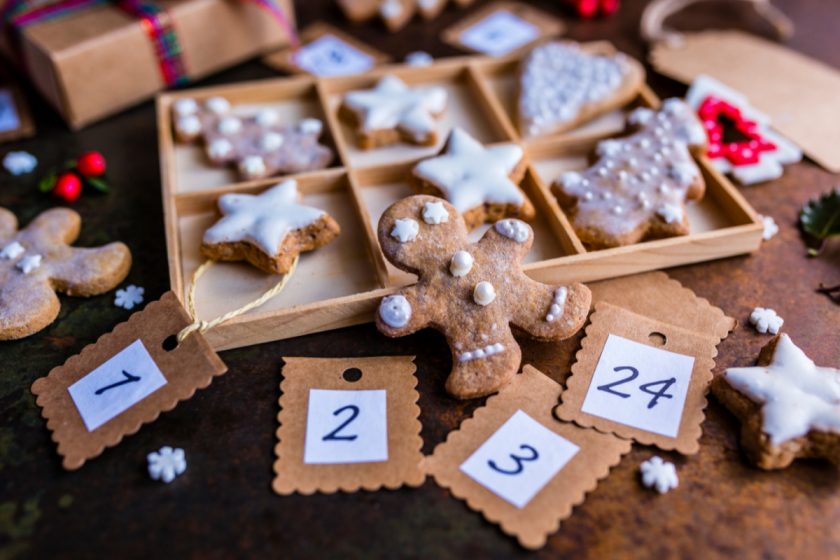 12. Countdown to Christmas
I never could manage to read from an advent book every day. I tried…and would quit on day three every time.
But letting kids move something like an angel or a Santa or a star down a timeline to Christmas day seems manageable. We would probably buy an advent calendar, but the minimalist in me just can't handle it. We don't need more LEGOs, and my kids get plenty of candy.
Once you get the calendar, you'll have it forever.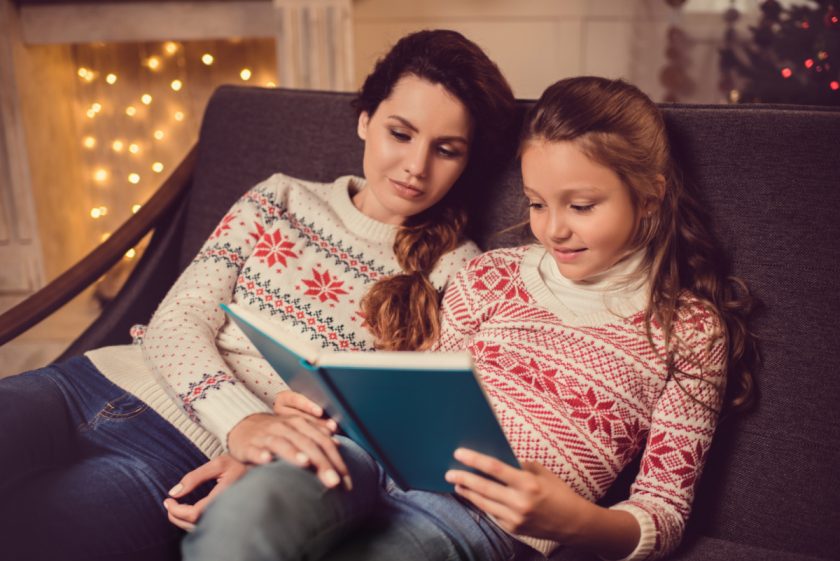 13. Give Books & Spend Christmas Eve Reading
This one is trendy, I know, but if you've ever heard of the Icelandic tradition Jolabokaflod, you know that they exchange books Christmas Eve and spend it reading and eating yummy treats and drinking warm beverages.
You could choose your own books for your kids, get a stack from the library, or order a Literati crate where they choose the books for you.
You could even wrap the books or the crate, and let them open it Christmas Eve.
Find a way to make it your own: always get the same special treat, do a special drink you don't normally have, or pair it with the Christmas Eve appetizer tradition, instead.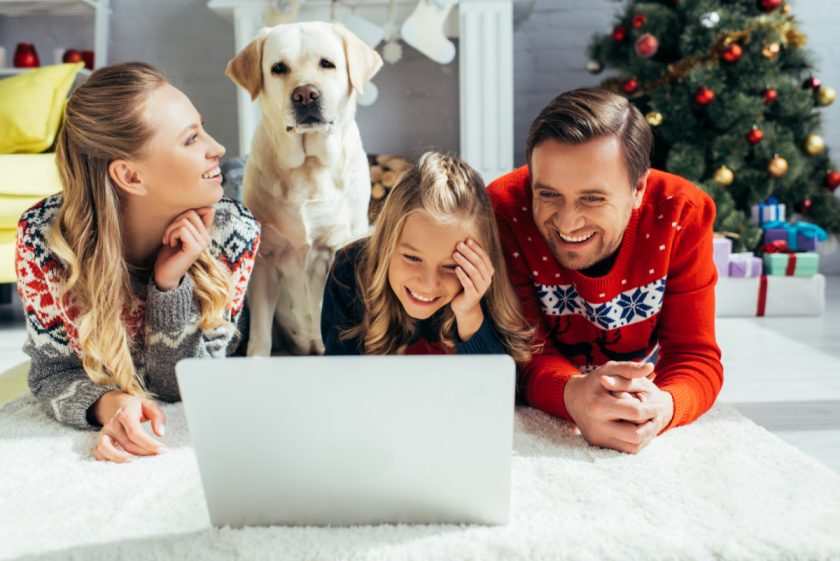 14. See a New Movie Christmas Day
The afternoon of Christmas can be spent playing board games or playing with gifts. But for some families, heading to see whatever blockbuster released on Christmas Day is a pretty fun tradition.
This has potential to be easy…or it could be hard because as every parent knows, leaving the house with kids can be a serious challenge.
If that's the case, just rent a new-to-you movie, and watch it at home that afternoon.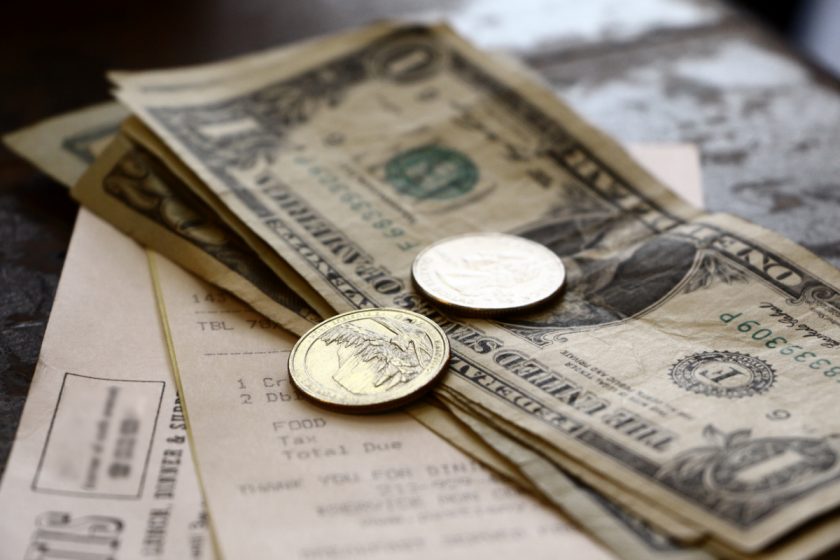 15. Give
I've heard so many different traditions around this simple idea.
Some families go out to eat Christmas Eve or sometime during December and tip 100% of the bill.
Others love participating in toy drives for kids. Still others love adopting a nursing home resident or senior and giving gifts.
You could also donate to a local food shelter. If you choose to do this, money is often the best option because they can get better deals on food in bulk than you can, and they know what the shelter actually needs.
Whatever you choose to do, remember it doesn't need to be complicated to be meaningful or to make a difference.
Christmas Is Magical, No Matter How Many Traditions You Have
Give yourself grace during what can be an incredibly busy season. Decide what you can handle this year, and what you can't.
It's o.k. to be tired at Christmas and not have energy to do what everyone else is doing. So turn off your social media feeds and focus on your own family; we were never meant to keep up with everyone we've ever met.
Christmas traditions aren't a competition or a race. They should bring joy, not frustration.
Ultimately, Christmas will be magical for your kids, no matter how many of these things you do or don't do. You probably don't need to try as hard as you think – they most of all want to be with you, so let that be enough.
Have a very merry Christmas!
Read Next: 60 Practical Gifts for Minimalists, Organized by Interests