This site contains affiliate links to products. We may receive a commission for purchases made through these links. Please read my disclosure for more info.
Inside: Laundry builds up so fast when you have a family of little kids! Get 4 simple steps for fighting laundry overwhelm in a way that fits your personality.
Nothing builds up faster in a family with small children than laundry (except perhaps dishes). Developing a laundry routine is essential to saving money on clothes.
When I had my first baby, laundry was overwhelming. It probably didn't help that I did not have a washer and dryer in the house. Lugging laundry to the laundromat each weekend (we were a one-car family back then too) quickly got old, but I have to admit, the whole process went much quicker having several washers at my disposal and no choice but to focus on a single task (multi-tasking is a myth, in my opinion).
Four kids later, I've finally found a laundry routine that works for me, and it looks completely different than when I started this parenting journey.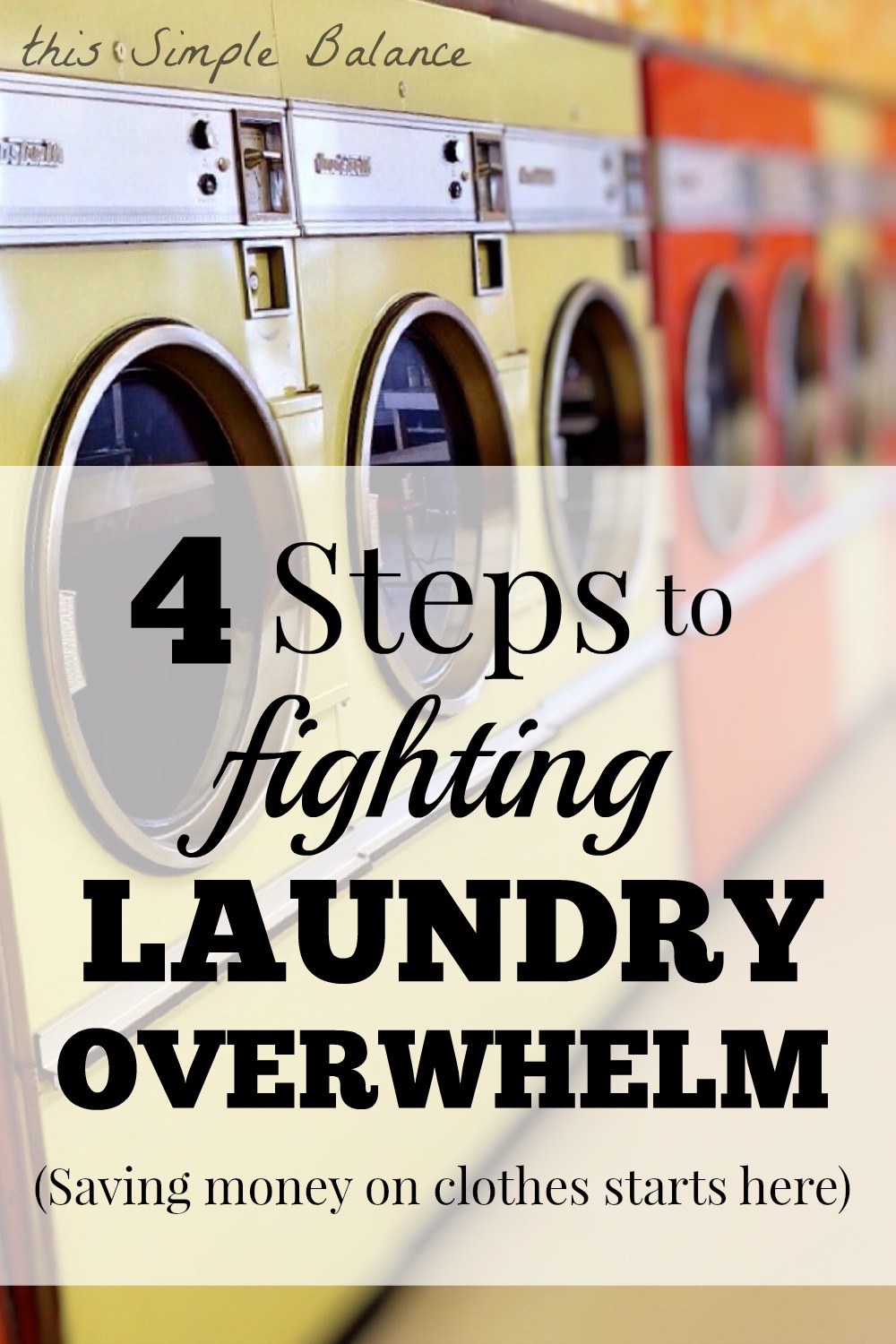 How regularly you do laundry will determine how many clothes you need.
Before I had a laundry routine, I usually waited until a laundry crisis hit (you know the ones – the "oh my goodness, we're all out of underwear, must do laundry right NOW!").
Back then, a minimalist wardrobe would never have worked for us. Our closets were overflowing, so my "routine", if you could even call it that, worked just fine.
I had so many clothes that it took about 3 weeks to get desperate enough to do it. After discovering minimalism and applying it to our wardrobes, however, I realized the laundry crisis became shockingly frequent.
My routines needed to adapt to our lifestyle choices.
The way you do laundry (temperature, setting, stain treatment) will drastically affect the life of your clothes.
When you need clothes to last (because you only have clothes you love and because you need the hand me downs), you quickly learn how to make them last as long as possible.
Laundry is a major part of that equation.
4 Steps to Winning with Laundry
1) Find a laundry routine that works for you.
What's your "laundry personality"?
Did you catch that? It has to fit your personality, not your mom's, not your sister's or your best friends', YOURS. Otherwise, you may hate doing laundry…like forever, and that would just be sad (I mean, I don't love doing laundry, but I don't hate it either).
There are typically two camps when it comes to laundry: the "do it all in a day" camp and the "one load a day" camp. Each one has its merits,but to be honest, it all comes down to personality.
"Do It All in One Day, Once a Week" Laundry Routine
​Are you an achiever?
Do you like to tackle a huge task all at once and feel like its done?
If that's you, the "do it all in a day" may be your best bet. You can focus on one thing, feel like you've actually accomplished something (so rare in this thing called motherhood), and are done…for a week at least.
​"A Load a Day" Laundry Routine
​Do large household tasks overwhelm you?
Do you prefer to incorporate mini, "bite-sized" tasks into your daily routine instead of tackling bigger projects all at once?
Do you have a short attention span and prefer a little variety in your day?
If that's you, you may do better with the "load a day" approach, especially if it can fit well in your morning routine. I transitioned to the "load a day" routine after we had our fourth child. There was just too much to keep up!
(Is your morning routine seriously lacking? Take this course for smoother mornings that will allow you to get more done with less stress.)
You may have a few minutes to throw the load in while your coffee is brewing, for example, and another few minutes after your shower to transfer it to the dryer.
If you can't decide which routine sounds like you, try them all on for size! Experiment, and figure out what fits your personality, family size, and season of life best.
2) Wash and dry clothes on the gentlest, coolest settings possible.
Frustrated with my clothes were wearing out far too soon, I started paying careful attention to clothing labels and sorting clothes accordingly (every time I did laundry – mountains of it before I switched to a weekly routine).
But that system was ridiculously inefficient and time-consuming, resulting in massive laundry overwhelm.
I searched for a new system and initially considered washing everything in cool water in order to save time and the clothes. After reading this article however (I'll spare you here, but ewww!), I decided I absolutely could not wash underwear and socks on a lower temperature.
Ultimately, I decided to keep two laundry baskets in our closet for my husband and I's clothes: one for underwear and socks and one for everything else.
Underwear and socks are washed with hot water and extra detergent and dried on high heat.
Everything else is separated by darks and lights on laundry day (I haven't been brave enough to try not sorting yet) and washed in cold water on the gentle setting, no matter what the label says, and dried on the "low knits" dryer setting.
Each child has a laundry basket of his/her own.
3) Treat clothes with heavy stains immediately.
There are some things that can wait when you have small children – vacuuming, for example. Mud, blood, or tomato sauce stains are NOT one of them.
When a bloody nose leaks onto a shirt, I strip it immediately and rinse it with cold water. After treating the bloody nose, I treat it with stain remover and get it into the washer to soak ASAP.
Having just switched back to a regular top-loading, not high-efficiency washer, I'm loving the ability to soak the clothes right in the washer!
For stains: cold water ONLY
The water temperature you use to treat stains is counter-intuitive. For years, I thought hot water was the way to go and was constantly frustrated by seemingly unbeatable stains. If I saw a spaghetti stain, I immediately knew that piece of clothing was done for.
Then, by some miracle, I picked up on the fact that hot water actually sets stains, not loosens them.
Finally!
From that point on, I've had remarkable success getting out even tough kid stains like mud and blood.
4) Buy more laundry baskets.
Lots and lots of laundry baskets.
I used to try to get by with a just couple of laundry baskets, but when you have a family of 6, a couple just doesn't cut it.
Lack of baskets contributed majorly to laundry overwhelm. Everyone's laundry mixed together, and again, I wasted a lot of time sorting.
When we moved, I found medium-sized ones on Amazon (a set of 6), and they are both sturdy and perfectly sized. I finally got smart and gave each person a laundry basket of his own, and I will be getting as soon as I get the chance.
When the kids sometimes take a couple days to put away their folded laundry (it's a paid job in our house), the dirty clothes pile up on the floor. More baskets equals enough to store folded laundry, and extras for the dirty clothes and linens, which again keeps laundry overwhelm at bay.
That's it. Now go conquer that laundry!
Read Next: Why Every Mom Needs to Try a Paperless Kitchen
What's your laundry personality? Share in the comments!