Inside: If you're looking for ways to save money raising a family, this is a good way to save BIG. Learn how I get clothes for free every single month.
After our second child turned a year old, my husband and I realized we both wanted a big family. We loved seeing the personalities of each child blossom, seeing the fun and unique people they are becoming.
But with that realization came the money doldrums.
Have you been there? When all you can see is one [small] income for years and years as far as you can imagine? I was committed to staying home with my kids, but stretch that out for years with multiple kids, and you start to wonder how the numbers are going to work out.
Our sources for hand-me-downs were drying up (why oh why did my daughter need to outgrow not one, but two kids a year older than her?!), and I knew I needed a sustainable way to get the majority of our clothes for less…much less.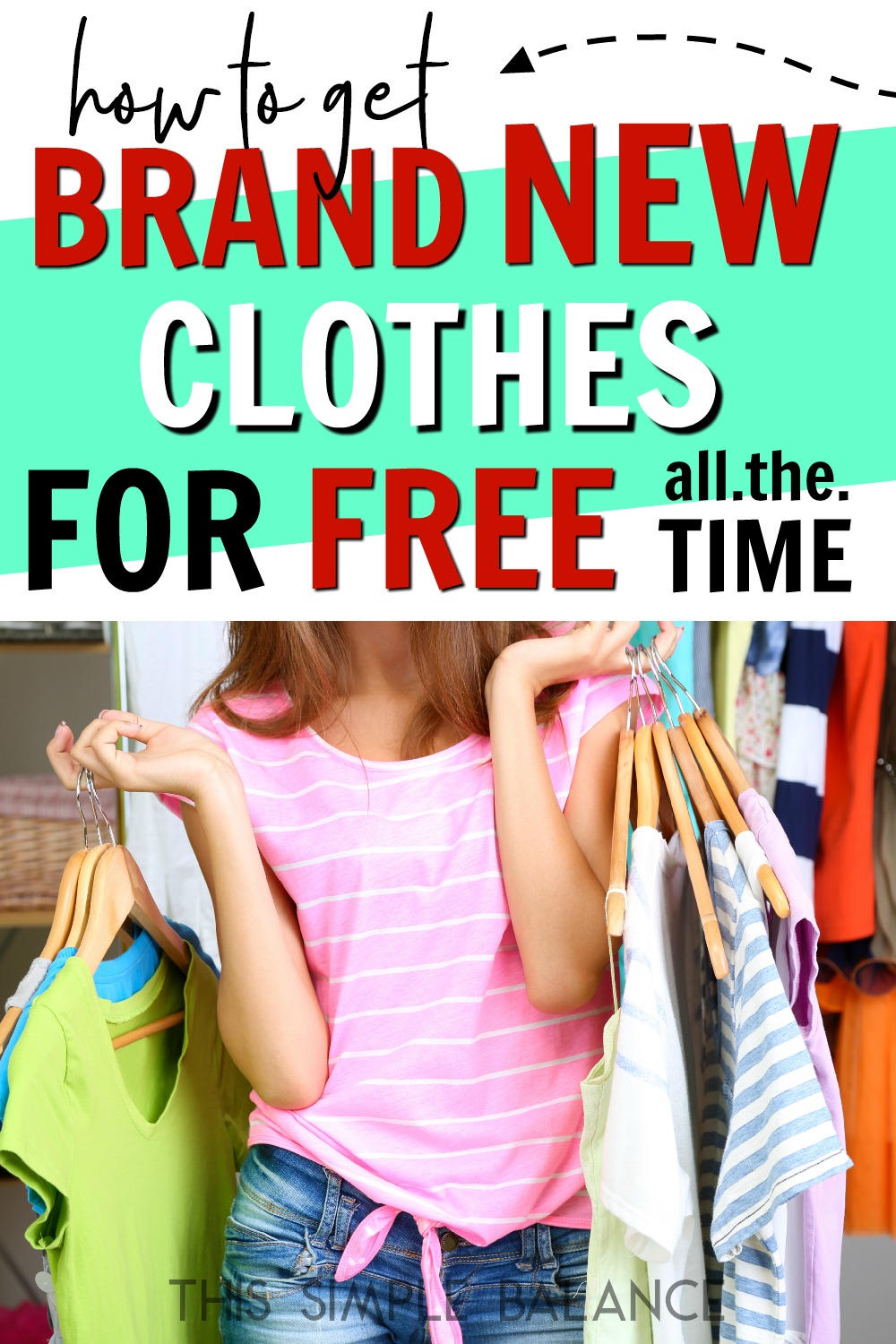 THIS POST PROBABLY CONTAINS AFFILIATE LINKS. AS AN AMAZON ASSOCIATE, I EARN FROM QUALIFYING PURCHASES. YOU CAN READ OUR FULL DISCLOSURE POLICY HERE.
I wanted cute, durable clothes that would last through potentially multiple kids. I also didn't want to hunt for my husband's and my clothes – I loathe shopping.
I wanted a reliable source for stylish clothes that consistently fit us well, and I could grab and go, get in and get out.
Related: The Way Your Fold Your Clothes Could Change Your Life
Seems like a tall order, right? Quality, attractive clothing for pennies? I thought so too, until I read How to Shop for Free: Shopping Secrets for Smart Women Who Love to Get Something for Nothing, and I learned how to consistently bring home brand new clothes for FREE.
First thing, I need to warn you. My method of getting clothes for free is not for everybody.
Are you self-disciplined?
Do you have a good grasp of your finances?
Are you at least working towards these things?
Then keep reading! My strategy could be a game changer for your clothing budget.
How I Get over $1,000 in Brand New Clothes a Year
Ok, here it is….I get more than $1,000 a year in free clothes through regular use of a Gap Store Credit Card.
Yes, I said credit card.
It's a dirty word in the finance community, particularly the Dave Ramsey crowd. Thankfully, I read this article over at Our Freaking Budget, which encouraged me that I am not the only one. You can enjoy Dave Ramsey, follow most of his advice, and have a credit card, too.
The Dangers of Using Credit Cards to Get "Free" Stuff
Now most of the personal finance bloggers I follow are anti-credit card, and for good reason.
All those statistics? The ones that tell you credit cards make you overspend (without even noticing)? Well, they aren't called statistics for nothing – they are based on data, actual facts.
The numbers don't lie, and if you're not careful, you can very easily become that statistic.
I've fallen victim to the "I'm not the statistic, I'm super frugal, I would never go over budget" prideful thinking myself. The next month (after neglecting to do a "money minute" pretty much every day – I have four kids, ok?), I open my credit card statement, and my jaw drops. How on earth did we spend that much money on groceries? We went to the store how many times?
I share later on how I now manage to successfully keep track of our daily spending, so I know exactly how much is left in each budget category each month. Finding a daily tracking that works for you is key to keeping the "oops! end of the month" moments to a minimum.
Before you open a store credit card, learn how to make a budget and to keep your spending in check. I recommend hopping over to a favorite blog www.jessiefearon.com.
NOTE: She will tell you to ditch the credit cards, but she has fantastic budgeting advice and products, if you need help getting started.
3 Ways to Maximize Clothing Store Credit Cards
This method can work for any clothing brand really, just make sure to pick one to maximize your earnings. That's why I like GAP because it works for GAP, Old Navy, and Banana Republic.
I use all three stores and have gotten clothes and shoes and bags and umbrellas and all other manner of things using our reward points.
1. Shop the outlets.
Rewards can be used both at regular stores and outlet store locations. Keep in mind that outlets will occasionally receive defective clothing.
For instance, I try to steer clear of women's t-shirts at GAP outlet because after one or two washings, small holes develop in the exact same place. In general, however, all the kids' clothing is high quality: our boy clothes have been handed down three times so far and are still going strong.
2. Put all your spending besides bills on one card.
I use our GAP card for groceries, gas, eating out, and clothing. The first three budget categories together total about $1,100 a month in spending, depending on the month.
This year, we received $750 in credit card rewards so far. This is more than double what we earned last year. The increase can be partially attributed to the fact that as long-term customers, they continue to upgrade the rewards for our card, which means more points per dollar we spend.
But wait, you're thinking, you said over $1,000 in free clothes. How do you figure?

3. Stack rewards with coupons.
I never use my rewards without an accompanying store coupon.
General Coupons
GAP outlet frequently gives coupons like $20 off a $75 purchase or 40% off your entire purchase. Stacking simply means I use my rewards with those coupons.
TIP: Sign up for store e-mails or texts. This is how I receive ALL my coupons, no printing required.
So if I bring $100 worth of clothes to the register with a 40% off your entire purchase coupon (GAP offers this at least once a year on their "friends & family" weekend), my total comes to $60. I then use my $60 rewards, getting $100 worth of clothes for free: $60 from rewards, and $40 from the coupon.
Style Cash
Even better, about four times a year, they give out "style cash". If you spend $50, you receive a coupon for $25 off a $50 purchase; if you spend $100, you receive a coupon for $50 off a $100 purchase. These coupons can be used during a period of 4-5 days that are written on the coupon (usually 3-4 weeks ahead). They are counting on you forgetting or losing it. DON'T.
Even better, I generally receive the coupons based on my total BEFORE rewards. That means, after the cashier rings up my items which total over $100, she gives me my style cash coupon. Then, I give her my rewards barcode, bringing my purchase to around a dollar, and I "get back" $50 to use next time.
Shop Clearance
Most of the coupons I mentioned can be used with clearance items. Outlets frequently offer huge discounts in addition to clearance sections. When you shop clearance plus coupons plus rewards, you can get even more for free!
How I Avoid Overspending
In the past, I used mint.com to track all of our expenses fairly effortlessly. However, Synchrony bank, who owns the GAP Card, will not allow MINT to pull individual expenses for daily tracking. You then need to sort every transaction, which completely defeats the purpose.
I switched over the Every Dollar app. You create a new budget every month, looking at your calendar to preview upcoming expenses for accurate amounts, especially in discretionary spending categories.
Once you set up the budget categories, it is fairly simple to use. If I am disciplined to add an expense from my receipt immediately, the app works brilliantly. I can easily see in a second how much we've spent and how much remains in each budget category and overall.
Final Thoughts
If you struggle with overspending and do not have a method for tracking your daily expenses, I do NOT recommend opening a credit card. It is far too easy to slip into debt, eliminating any savings you gain from rewards, which is of course what the credit card companies hope for.
One other thing to keep in mind is for this method to pay off big, you need to pick a credit card and stick with it.
We have been consistently using this credit card for several years now, and they keep giving us higher and higher rewards. We get anywhere from $60 to $100 per month in rewards, sometimes more.
Kathy Spencer shares how to get free clothes from other stores like the Children's Place and Victoria's Secret in her book How to Shop for Free. GAP simply fits our family best.
As for saving money on clothes, a store credit card offers potentially huge savings on new clothing for big families living on single, average incomes.
New clothes (especially when you can get them for free!) offer huge savings as they are handed down again and again…and again.
Read Next: 52 Ways to Save Money so You Can Afford to Stay Home