Inside: Wondering how to save money on groceries without coupons AND without feeling super deprived? Kick inflation's butt with these 9 strategies I use to keep our grocery bill to less than $200 per person, per month. And rest easy – you don't need to shop at Aldi.
"The prices on milk, eggs and produce? You just can't beat them!"
My mother-in-law was gushing about Aldi. Again. Aldi does attract diehard fans, I'll give them that.
But all I could think about were my bad experiences with Aldi produce several years ago. I would buy cheap fruits and veggies only to have them rot a day later.
Chalk it up to timing or one random store's problem, but it left a bad taste in my mouth. Literally.
Pleeeease don't let Aldi be the answer to saving money on groceries.
Still…inflation. Even my 10-year-old's jaw was dropping at the uptick in prices week after week.
And with seven people home every day all day (homeschooling and working from home), the cost of groceries adds up.
I wavered: should I give Aldi another chance?
But I would still need to go to Giant for things Aldi didn't carry, and my crew REALLY wasn't down for those off-brand snacks.
I decided to stick to my plan.
Several months later, we still come in under budget for our family size every single month. And a quick Aldi drop-by confirmed the prices aren't all that amazing on the things we usually buy.
So here's how I save money on groceries without coupons or shopping at Aldi AND without feeling deprived all the time.
You Might Also Like: 11 Money Lessons Kids Need That Schools Don't Teach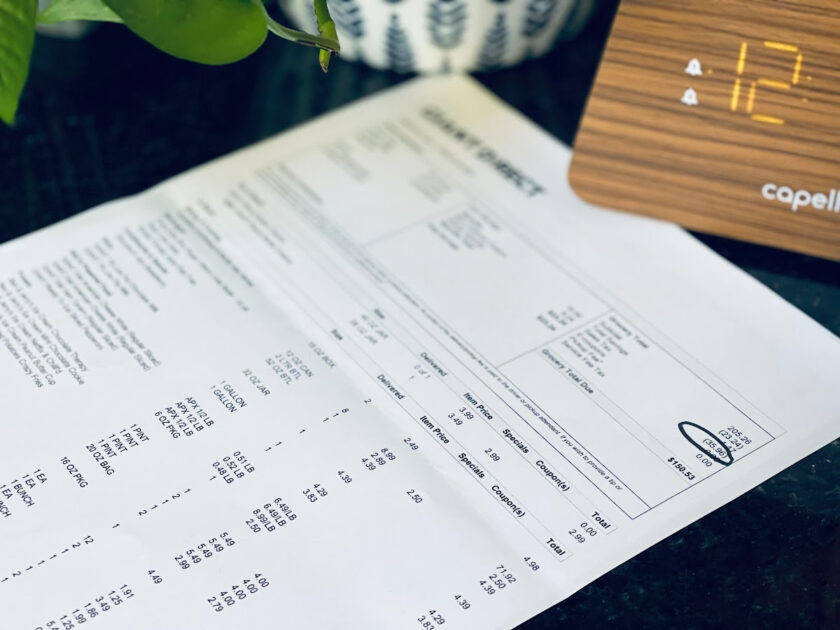 How to Save Money on Groceries Without Coupons (Or Deprivation or Inconvenience)
This post probably contains affiliate links, which means I may earn a commission if you make a purchase through those links. As an Amazon Associate, I earn from qualifying purchases. You can find our full disclosure HERE.
We spend between $1200 and $1300 a month for two adults and five children who eat like adults. That includes things like soap, paper towels and other toiletries.
And no, I don't plan meals around the weekly specials OR skip convenient frozen foods like steamed vegetables and nuggets. I homeschool 5 kids and work from home, people – NOPE and nope.
And no more clipping – or printing – pesky coupons.
Unless you count applying digital coupon codes to my weekly online grocery order. That's easy-peasy.
I honestly don't have the time or brain space for complicated grocery savings strategies. And you probably don't either.
So if you want to save money AND still eat the foods you love (sorry – Aldi ain't got 'em), read on.
You Might Also Like: 52 Ways to Save Money So You Can Be a Stay at Home Mom
1. Rethink traditional dinner.
This one might get you all up in arms, but we rarely do traditional dinners.
The only dinner everyone will eat consistently is spaghetti and chicken meatballs, so once a week I make a "big family dinner".
So what do we do the rest of the time?
I still cook 5-6 dinners a week primarily with my husband and I in mind. At least one out of five kids eat what I make, but there's often enough for leftovers for adult lunches the next day.
Everyone else pieces together their own meal staples: simple things like sandwiches, leftovers, nuggets, frozen pizza, etc.
I'm absolutely not making double recipes, which is what I would need to feed seven people with leftovers.
I can't say for sure, but I have a hunch that this saves us SO much money on groceries. We always suggest our kids try dinner, but we never force them to eat what I cook.
(Honestly, I don't look forward to the day they start liking what I cook.)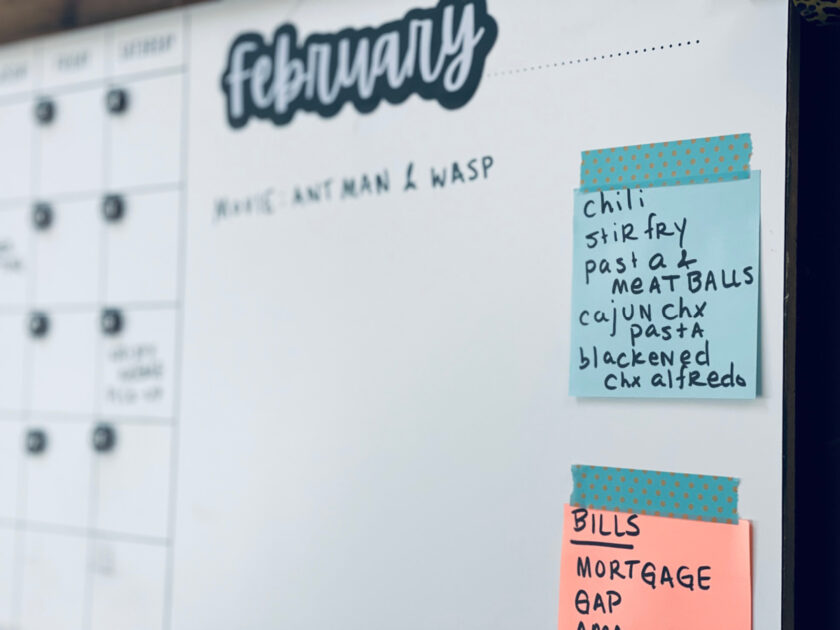 2. Minimalist meal plan.
I limit the number of dinners I cook to 7-9 main recipes. I also choose dinners with overlapping ingredients and the same pantry staples.
Variety comes from the occasional easy Costco dinner and eating out once weekly.
All of my meals use very similar spices and base ingredients. They also have a lot of shelf-stable and frozen ingredients, so we usually have everything on hand.
When you can easily mix and match ingredients AND toss leftovers into another meal, you eliminate waste, which saves you money.
Learn More: The Easiest Way to Create a Minimalist Meal Plan (& Save Your Sanity)
3. Watch your snacks.
Nothing kills a grocery budget faster than snacks! Those chip prices make me shudder.
We stick to a few staple snacks around here:
fruit
smoothies
popcorn
pretzel thins
granola bars
You can still splurge on your favorites – just be mindful of sales and bulk buy savings.
I will still buy Late July jalapeno lime chips and Pringles semi-regularly, when they are on sale or at Costco. I grab multi-grain chips from Costco as well.
I'll splurge on Doritos monthly, but again only on sale.
Other than that, we stick to cheaper snacks, and I limit how much we buy each week. Limiting is key: you can still have your favorites, just in moderation.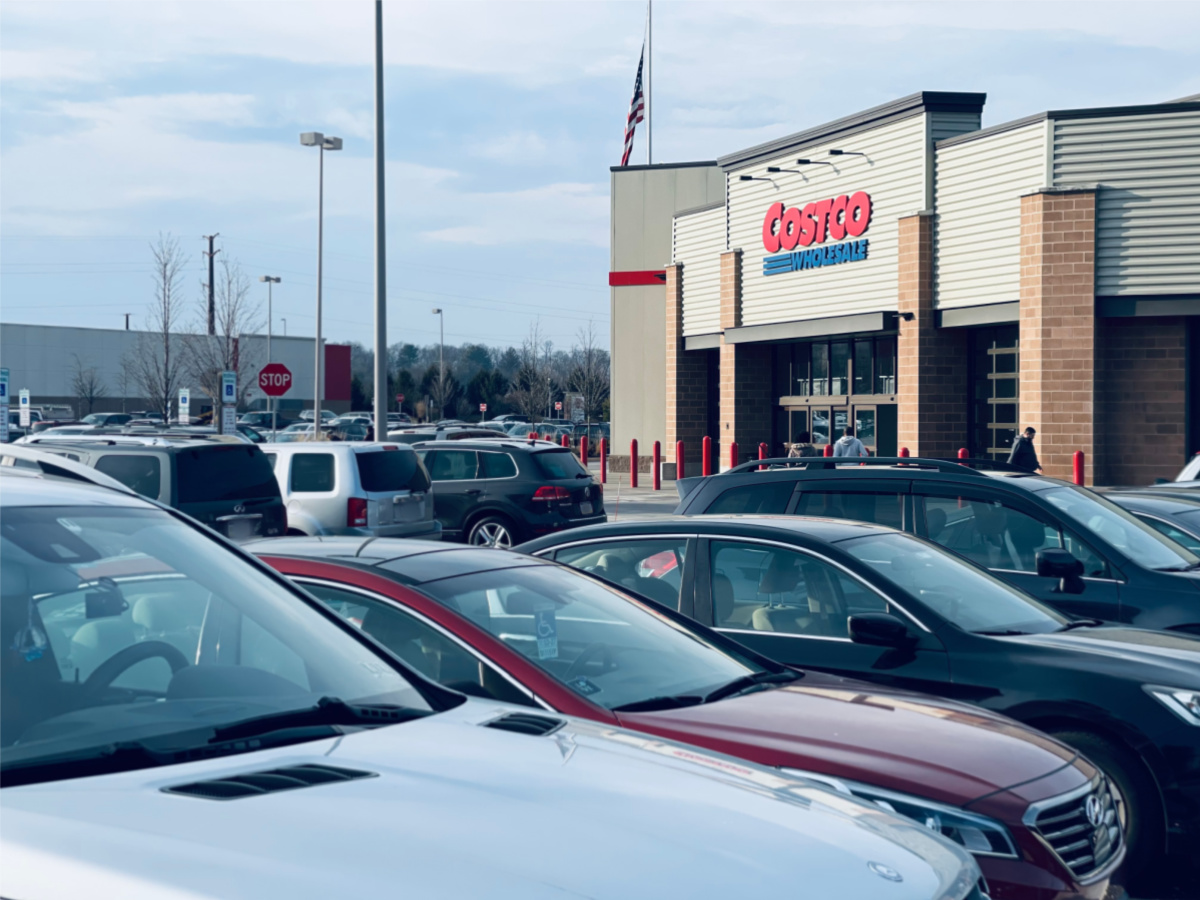 4. Consider big box stores for certain items.
I admit I was a reluctant Costco member, mostly because of the distance. My husband pushed me into it.
Now I can't imagine not having a Costco membership!
We had a BJs membership in the past, and we did use it quite a bit. But we prefer the frozen foods and snack selection at Costco.
We also regularly buy staples like:
King Arthur Unbleached Flour
Heavy Cream
Eggs (the gold of 2023!)
Butter
Rotisserie Chicken
Organic Ground Beef
Chicken Tenders
Frozen Berries
Peppers
Paper Towels
All of these offer significant grocery savings compared to the average grocery store prices.
Also, we upgraded to the executive membership because the cash back pays for the membership. If you spend $400-500 a month there, it could be worth it for your family.
Related: 25 Easy Dinner Ideas from Costco (Quick & Easy!)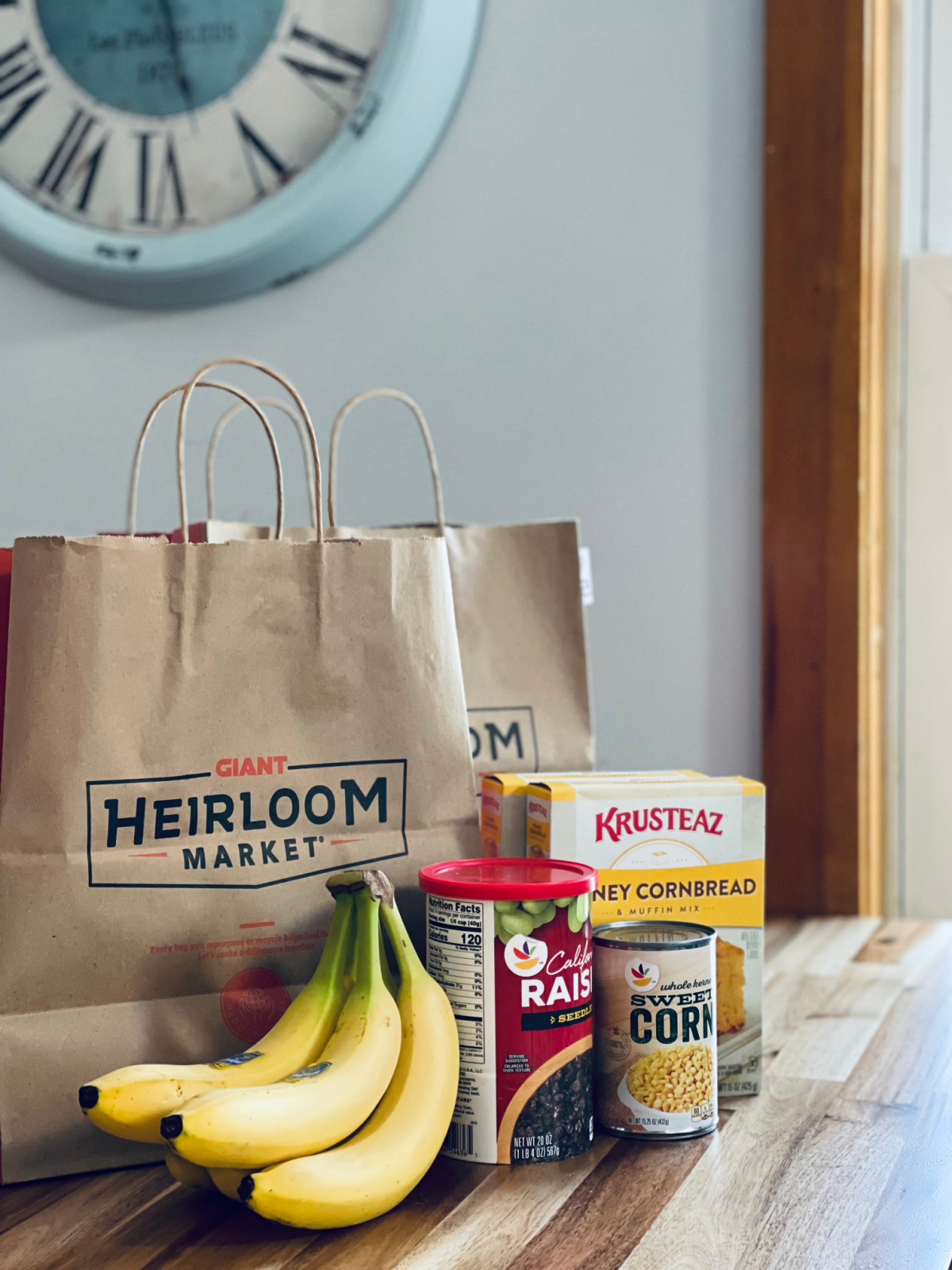 5. Shop primarily at one store.
I know, I know, I just mentioned Costco, but you probably can't get all of your groceries at Costco.
We shop primarily at our local Giant once a week. We supplement with 1-2 Costco visits a month.
I stop by Dollar General once a week for bread (it's $3 a loaf instead of $4.29 a loaf), milk, half & half and bananas when we run out.
But overall, shopping at one primary store helps you maximize your grocery savings.
Why? You can often get gas discounts AND more coupon code offers, such as $10-20 off online orders.
You also get really familiar with that store. You recognize the prices and know how often you're going to get bigger "$20 off your order" digital coupons.
Plus, you get to know their store brand versions of staples – which ones are identical to the real deal, and which most definitely are NOT. There can be big savings in store brands!
Finally, the fewer times you actually set foot in the store, the fewer impulse buys you're likely to make.
6. Only shop once a week.
Shopping once a week is essential to saving money on groceries without feeling deprived.
Why? Everyone knows what day is "grocery day", which is when fresh snacks and treats will come into the house.
So everyone knows I get a couple of treats in every grocery order. They know their snack of choice will get replenished on grocery day, too.
Even if their snack runs out on day two of the grocery cycle, they know it's coming back.
It keeps my people pretty content with my chosen limits on our grocery budget.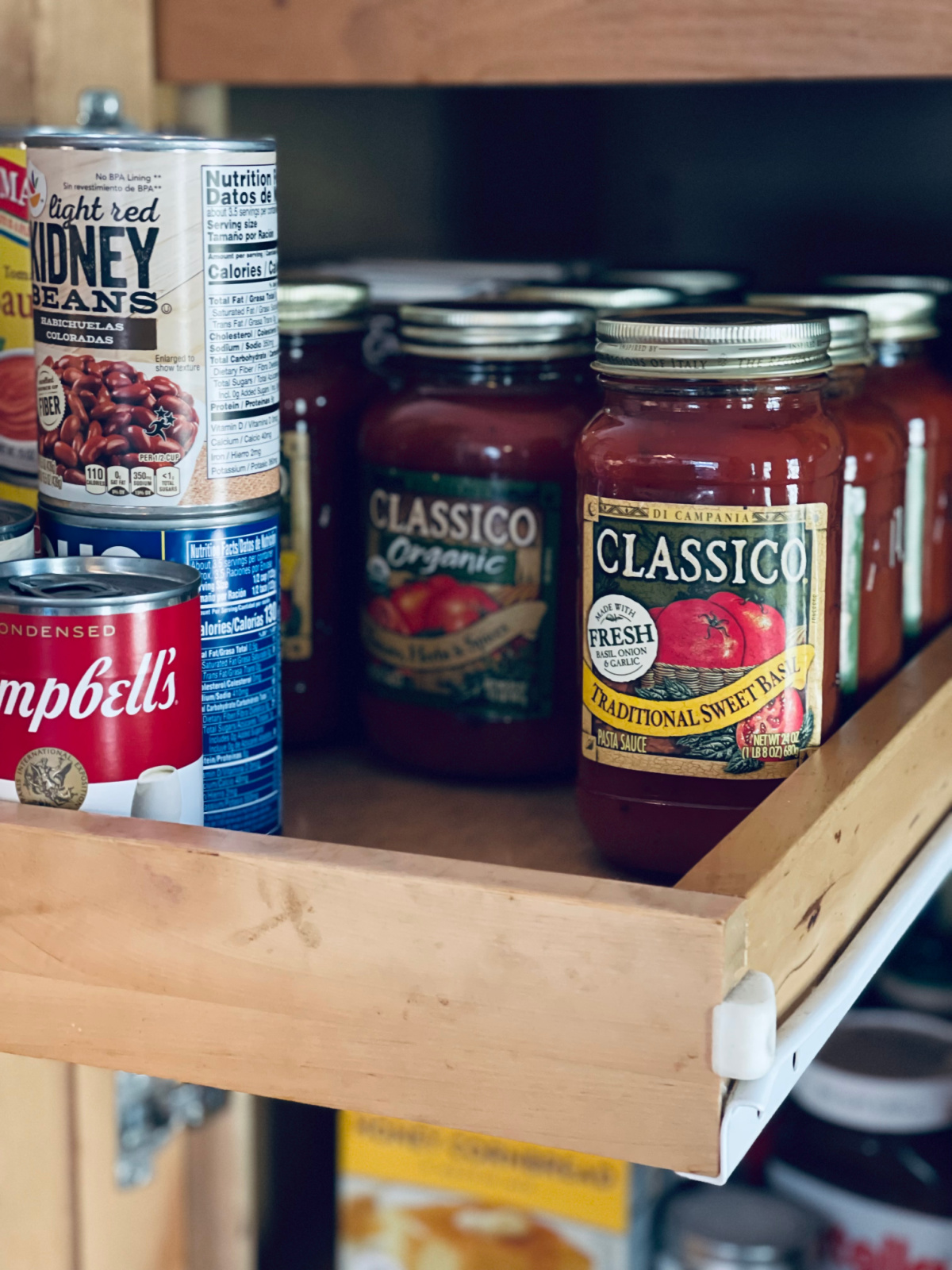 7. Stock up on on-sale staples.
Whenever things we use regularly are on sale, I stock up!
Frozen, steam-in-the-bag veggies were $10 off $20 worth AND discounted to $2.50 a bag. Stock up!
My favorite ice cream was part of a $5 off $15 purchase AND discounted to $3.50 a pint. Stock up!
When coke is only sale buy two get two free because it's the Super Bowl, STOP UP.
These are digital store coupons that involve no work on your part other than noticing the tags and buying the appropriate number of products to trigger the discount.
Normally, I'd say, "Figure out your store's sale cycle and buy enough to last until the next one," but quite honestly, there doesn't seem to be a predictable cycle these days.
So just buy what you can store and you will actually use before it goes bad.
Essential to this whole scheme – and my ability to shop at Costco only 1-2 times a month – is my deep freezer. I highly recommend buying one!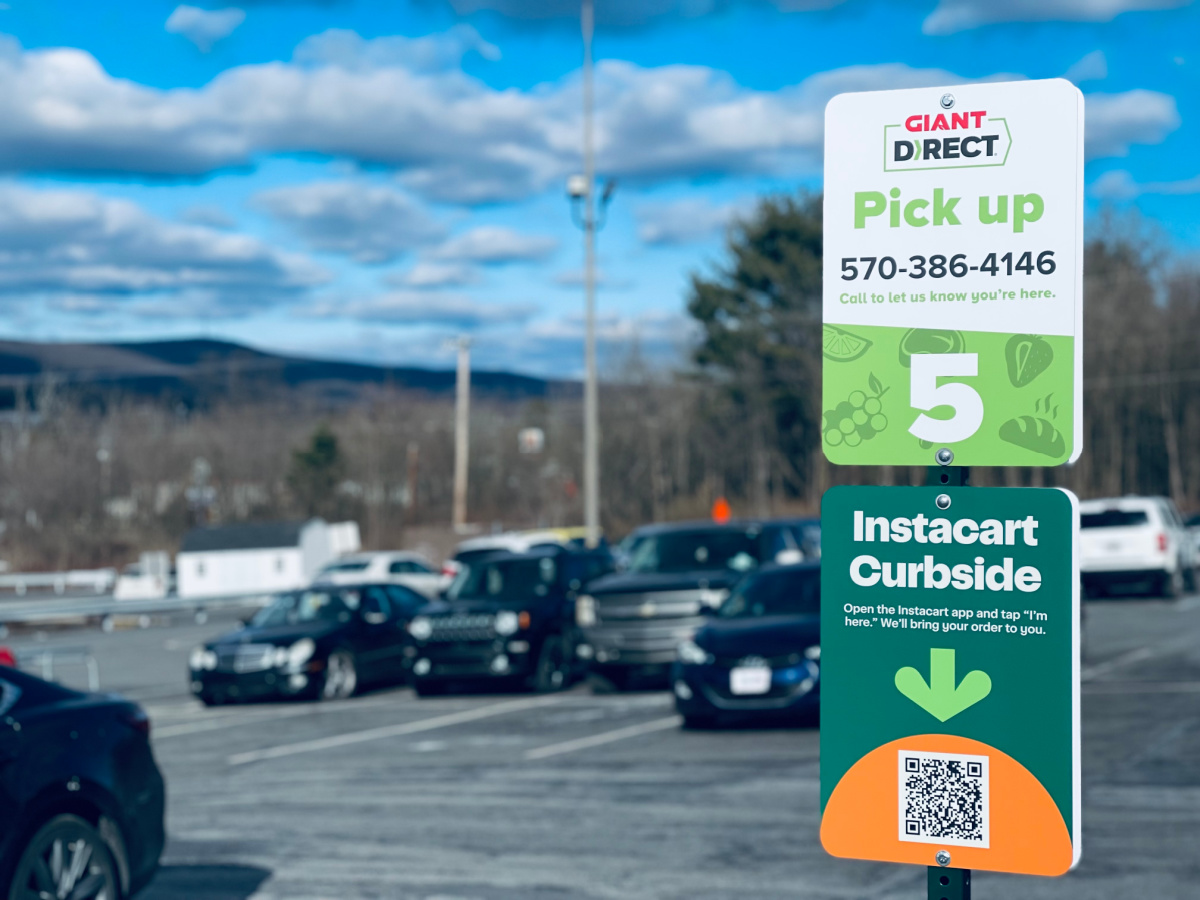 8. Use online grocery pick-up.
Online pick-up has been my best friend for over a year now.
When I ended up having a panic attack in the grocery store while shopping with 3/5 of my kids – I sat down ON THE FLOOR in the bakery section, y'all – I knew something had to give.
At the time, the fee was a measly $3 for someone to shop for you and load everything into the car. Now it's FREE.
I add items to my cart over the course of the week that I need, so no more pesky grocery lists that easily get lost either (or you forget at home: IYKYK).
Because I limit snacks and stick to staples with some store brand items, the pricing is often the same.
Best thing: you mostly avoid impulse or "kid" buys (the ones you make because you're exhausted from walking the aisles with your kids begging for every other thing).
I go into the store to buy produce I wanted to choose myself – bananas and berries – and anything I forgot. I also keep an eye out for in-store sales I might have missed out on.
Related: 7 Effective Ways to Relieve Stay at Home Mom Stress
9. Buy for your real family.
Have you ever heard of decluttering your fantasy self? For example, you still think of yourself as a crafter and buy new craft supplies regularly, even though you rarely craft anymore.
The same thing happens with groceries.
You buy a variety of fruits and vegetables even single week, even though everyone treats peppers or broccoli like nasty medicine (but, but you even get dip to make them more appealing!).
But you never get around to serving it or they never reach for it. At the end of the week, they end up in the trash or the composter, which equals your hard-earned dollars wasted.
Or other things sit in your pantry for months on end.
No matter how much you want your family to eat this or that, you probably know deep down they prefer a handful of core staples. As long as there's healthy variety in there, shop for your real family for bigger savings.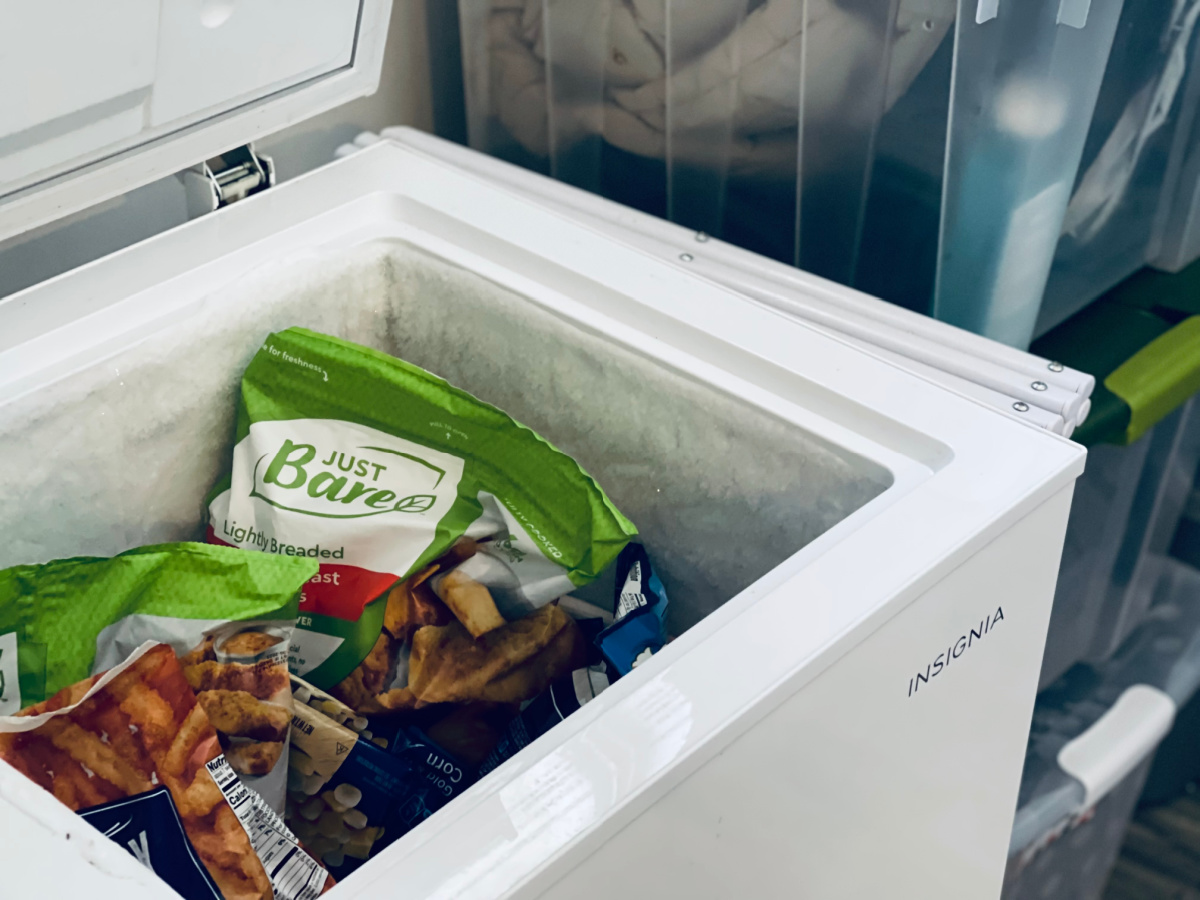 Grocery Inflation Is The Worst: But We Can Survive This
Last week, I opened my grocery store app and went to add milk to the cart.
I rubbed my eyes. Had the price gone DOWN 10 cents? DOWN?!
Cue: angels singing in the background.
It was the first time in over a year that the prices hadn't gone up every other week. A brief burst of hope!
Hang in there, friends. If people survived the inflation of the '70's, we can survive this round, too.
And we don't need coupons or Aldi to do it.
I mean, if you want to clip coupons and switch to Aldi, please do. But as my Gen Z kids like to say, I'ma keep on doin' what I'm doin' because it's good enough for me.
Read Next: My Secret to Getting Brand New Clothes for FREE (Over $1,500 a Year!)