Inside: Unnecessary stress can steal your joy and make being a stay-at-home mom completely miserable. Get stay-at-home mom stress under control with these 7 must-have tips!
Who knew that being a stay-at-home mom could be so stressful? When I left my job to stay home with my first baby, I never imagined the stress caring for a single, tiny little human would cause.
Combine a screaming, clingy baby with a huge life change (a.k.a. motherhood), plus general household responsibilities, and you have a recipe for extremely high levels of stress.
A few years (and a few babies) later, I finally learned how to manage stay-at-home mom stress and keep it at a manageable level. You can find stress relief as a stay-at-home mom: I promise!
You just need to know where to start.
Related: 10 Things I Stopped Doing That Made Me a Happier Mom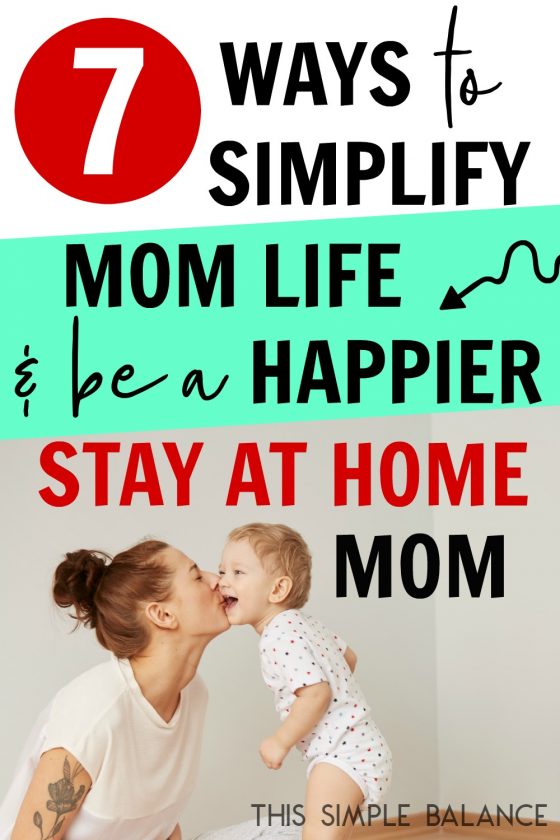 Stay-at-Home Mom Stress: 7 Ways to Find Relief
1. Know your personality.
I've always been a bit of a personality test junkie, and I've taken several different personality test over the years. But never has understanding my personality type been more important than after I became a stay-at-home mom.
While I knew my Myer's Briggs type before I had kids, motherhood threw me into complete confusion. I didn't know how to make my personality work as a stay-at-home mom. The systems that helped me manage stress before having kids were basically useless.
Thankfully, I discovered this book. It explained my strengths and weaknesses as a mom, according to my type. I finally understood why certain things drove me crazy and why others were so difficult for me. I learned how to parent from my strengths and not my weaknesses.
This book can help you determine:
The best self-care for your type
Whether you need more time outside the home or inside the home
Sources of stress for your type
Strengths of your type
Weaknesses and how to compensate
You can grab a copy of MotherStyles HERE.
2. Find a planner that works for you.
So much of stay-at-home mom stress comes from keeping everything in your head. From doctor's appointments to schedule to bills that need to be paid to what we need to get done around the house that day, allowing all that stay in your head will drive you crazy (I've been there).
You need a way to get all of that on paper in a way that makes sense, and there are a few different ways to accomplish that.
You can do a general brain dump on a blank piece of paper, and then sort them all out into a planner. When I used a bullet journal, I loved that I could brain dump straight into my planner.
While the bullet journal worked for me for a season, I've recently returned to a more traditional planner, and I couldn't me more excited about the one I chose. The Living Well Planner was a little pricey for me, but the idea of having everything in one place made me give it a try.
I love it! Meal planning, calendar, budgeting (plus, inspirational quotes): I can keep track of all of that in the same planner. Having everything spread between various apps added to my stress as a stay-at-home mom.
And I wanted a physical planner because I'm on my computer enough as a blogger that I didn't need one more digital thing. There is something about writing things down on physical paper that is stress-relieving all on its own.
I know there are other planners out there that provide similar functions, but what sold me on the Living Well Planner was the blank dates. Pretty much every other planner was date January 1 – December 31 of the current year. The other planners I looked at were priced similarly to the Living Well Planner, so I would definitely not get my money's worth.
3. Shop online as much as possible.
I don't know about your kids, but even when mine are at their very best, juggling shopping and kids leads to forgotten items, unnecessary purchases, and overall mom frazzle. You can eliminate as much of that stress as possible by shopping online.
Amazon Prime is absolutely worth the annual fee. Being able to order something I need and having it show up at my door step in a day or two is priceless.
I also have the following delivered every month via Amazon Subscribe & Save:
You can automatically apply for Amazon Family when you have Amazon Prime, which gives you 20% off any diaper subscription. When you add 5 or more items a month to your subscribe and save list, you save 15% off everything else on your list.
We also use Amazon Prime as our streaming service to have everything in one place.
Two other delivery services I use are:
Dollar Shave Club
My husband and I both have razors from Dollar Shave Club, and I love their mid-line option. We both get great shaves, and I never need to worry about running out of razors.
If you don't need razors delivered monthly, you can select the "every other month" delivery option for the same price.
LOLA
Have you ever thought about what's in the feminine products you put in your body every month? I didn't, until a friend and fellow bogger mentioned it.
When she told me about Lola, a subscription service for organic feminine products, I knew I had to try it.
I love not needing to worry about running to the store because I forgot tampons or pads, and I love not worrying about what chemicals are going into my bloodstream just to make that time of the month more manageable.
4. Declutter, and get organized.
Multiple studies have shown that lots of clutter equals more stress, especially for women. Unless you are entirely unaffected by chaos, the more stuff you have to manage as a stay at home mom, the more stress you will feel.
After decluttering, our small home felt so much bigger! I didn't think we had much to get rid of, but we donated bags and bags of stuff I didn't even realize was clutter.
These posts can help you get started:
5. Reduce the number of decisions you need to make.
One of the biggest sources of stress for stay at home moms is decision fatigue. Deciding what to do and when to do a million different tasks every day is overwhelming and exhausting.
While some decisions are novel and can't be avoided, there are SO many decisions we make every single day that we simply do not need to make.
Two Ways to Reduce Decision Fatigue:
Habits and routines can be used to automate just about anything: cleaning, health, fitness, bills. Write down everything you need to do on a regular basis. Then slowly work on including different tasks in either your morning routine or your evening routine.
Your routines need to become as natural as breathing; it feels like something is missing when you don't do them.
For a while, you may need to keep your routines visible, somewhere you will see them regularly. But after a few weeks, they should become a natural part of your life that you do without thinking about it.
For example, my morning routine currently includes the following tasks:
Drink a glass of water.
Drink a cup of coffee.
Put away dishes from the dish rack.
Put in a load of laundry.
Eat breakfast.
Straighten bedroom.
Quick bathroom clean (2 minutes).
These don't need to go in a particular order, though most days, the coffee comes first. And because in this season of life, my morning routine does NOT involve getting up early before my kids, these tasks are often interrupted by filling various needs for one child or another. I try to complete them all before noon.
If creating routines is a completely foreign concept for you, check out these two complimentary courses by Crystal Paine, successful businesswoman and mom of 3: Make Over Your Mornings and Make Over Your Evenings.
Both courses focus on helping you build a successful routine to help your days go more smoothly.
Related: I Stopped Setting Goals. Here's What I Do Instead.
I remember the days when it took me FOREVER to decide what to wear every day. Partially, I had too many articles of clothing that just looked bad on me. I didn't love them, or they didn't fit me properly.
After reading The Life-Changing Magic of Tidying Up, I sorted through all of my clothes and created my first capsule wardrobe. I donated about half the clothes in my closet.
It took me about 3-4 months to figure out what colors and types of clothing looked best of me. Now, choosing what to wear in the morning takes two seconds or less. I love everything in my closet, and most items can be mixed and matched easily.
Related: The Capsule Wardrobe: How to Get Started & Why You Need One
6. Get alone time.
Most of the stay at home moms I know don't have a lot of extra room in their budgets for babysitting, especially with rising babysitting rates. However, time to yourself is critical to reducing stress as a stay at home mom.
Here are some creative ways to get time to yourself when you can't afford babysitting:
Join a local gym that includes childcare in the membership cost. Our local gym is $10 a month, which includes two hours of childcare a day. You can't beat that!
Swap childcare hours with a friend.
Have "sanity nights", where you and your husband take turns getting alone time while the other one watches the kids.
Institute rest time every single day where your kids do quiet activities in their rooms and you get a break. While this doesn't always guarantee alone time, especially during the little years, your kids will get used to it as they get older.
Use the T.V. Yep, I said it. When you can't afford babysitting, stop feeling guilty, and put on an educational show once or twice a day (or more). They will learn a ton from screens, and you will get a break.
Remember the book I mentioned before? It can help figure out what will refresh you the most, so you don't waste that precious alone time and come back worse than before.
And while I'm here, I can't recommend exercise enough. It is the number one way that I reduce stress as a stay at home mom – I joke that it's my medication (it kind of is). Don't find time for it: make time for it.
Related: The Case For Unlimited Screen Time for Kids (from a recovering control freak)
7. Meal plan – the smart way.
If you hate meal planning, join the club! But even though I hate, hate, hate it, I know that when I take the time to do it, it not only saves us money, but it reduces stress.
There's nothing more torturous than being asked every day, "What's for dinner?" and having absolutely no plan or even a general idea of the answer.
Forcing myself to make a meal plan that worked for our family reduced my stress around food SO much. I highly recommend sucking it up and making a meal plan.
Two Meal Planning Methods to Try
At different times, I've used minimalist meal planning to simplify our food. We used to eat the same meals every single week, until my husband couldn't take it anymore. Now I rotate meals monthly for variety.
Find out more about the benefits of minimalist meal planning for busy moms HERE.
Plan to Eat Online Meal Planner
In between our weekly minimalist meal plan and our monthly minimalist meal plan, I used Plan to Eat, an online meal planner that stores your recipes, allows you to plan your meals, and creates a grocery list from your meal plan.
While I don't use it consistently at the moment, I still renew my subscription every year on Black Friday (when it is 50% off) because it stores all of my recipes for me. I no longer own any cookbooks.
You can try Plan to Eat FREE for 30-Days through this referral link.
Related: FREE Monthly Meal Planning Printable + Example Meal Plan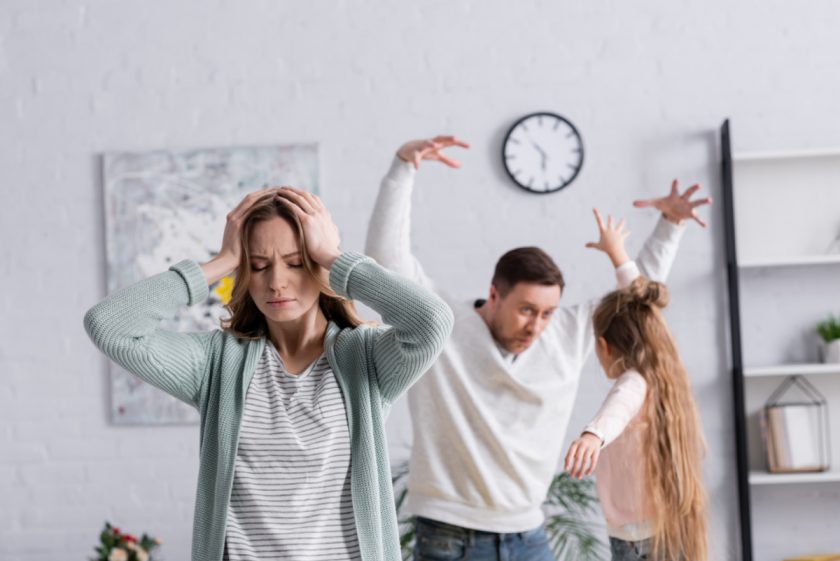 Final Thoughts on Stay-at-Home Mom Stress
This post could only touch the surface of how to reduce stress as a stay-at-home mom. Stress comes from so many different places that I couldn't address every stressor we face as moms.
For further reading on topics I didn't address here, see these articles:
Being a stay at home mom is stressful at first, especially your first year or so. You are learning a TON of new things, and your whole life has changed.
Give yourself grace.
Keep in mind that eliminating stress completely is unrealistic because kids are unpredictable, and their needs are constantly changing. However, it IS possible to drastically reduce stay at home mom stress.
Your goal should be to keep that stress down to a reasonable level, not the extremely high stress levels that cause mommy burnout or stay-at-home mom depression.
You CAN enjoy being a stay-at-home mom. After I started implementing all of the things listed in this post, I could finally enjoy motherhood.
May they help you as much as they have me.
Read Next: 8 Simple Phrases Every Parent Should Know