Inside: Use this simple method to create your own minimalist meal plan, something that will save you precious time, energy, and sanity! As busy moms, we have better things to do with our time (can I get an "amen"?!).
If you hate meal planning as much as I do, you are probably constantly on the hunt for a miraculous meal planning hacks. You scour Pinterest and Google searching for the meal planning magic bullet.
You want something – anything – that will make meal planning less of the massive time suck and hair-pulling experience that it is.
I'm pretty sure prior to discovering minimalist meal planning, I tried every meal planning system known to man. And no matter what the system, I still hated meal planning. I dreaded having to come up with 6-7 meals my husband and I would actually enjoy eating – he is the picky eater, not me.
And after an hour or two of frustration, I would come up a meal plan.
Finally.
Only to have to repeat the same awful process all over again a week later.
Ugh.
You Might Also Like: Easy Dinner Ideas from Costco (Delicious & Almost No Prep)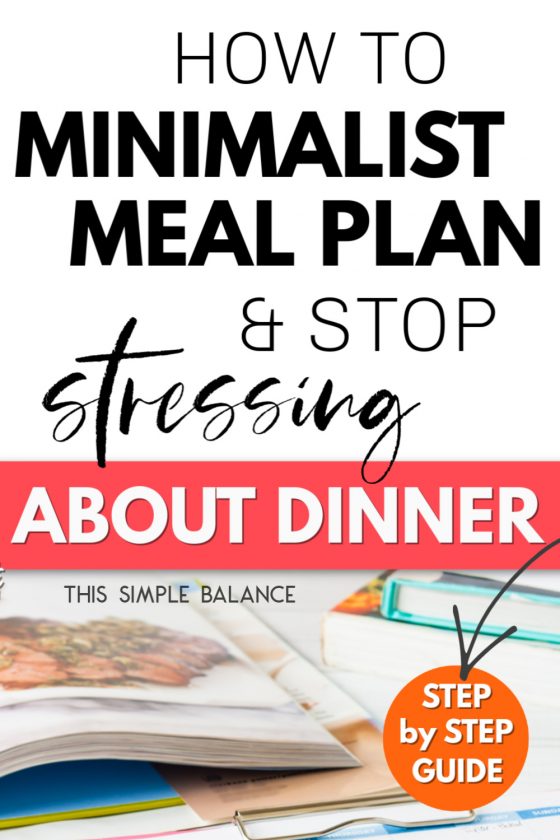 Meal Planning: How We Loathe Thee
What's even more maddening about meal planning is the absolute necessity of it. Unless you have thousands of dollars, and hundreds of extra minutes for that matter, at the disposal of your every craving to spend randomly walking the grocery store aisles or trying the newest restaurant in town, you need to meal plan.
Without a meal plan, you grocery bill goes through the roof, and even though you're spending money like crazy, there never seems to be any real food in your house.
Even if the cost of not meal planning doesn't get to you, the decision fatigue probably does.
Especially by the time dinner rolls around, you have most likely used up all of your best decision-making energy. What we put in our bodies should get some of our best decision-making energy, not the leftovers.
So, as with anything that is essential, minimalists try to determine ways to simplify and declutter what cannot be eliminated.
Thankfully, minimalist meal planning does just that: it declutters your pantry and your fridge. It streamlines the entire meal planning process.
When I discovered how to apply minimalism to our food, not only did we start saving money, but my stress level around preparing food and grocery shopping also dropped dramatically.
What mom doesn't want less stress?!
Related: Stay at Home Mom Stress – 7 Ways to Find Relief
7 Benefits of Minimalist Meal Planning
THIS POST PROBABLY CONTAINS AFFILIATE LINKS. AS AN AMAZON ASSOCIATE, I EARN FROM QUALIFYING PURCHASES. YOU CAN READ OUR FULL DISCLOSURE POLICY HERE.
1. Decision-making energy is redirected to higher priorities.
As parents of little ones, we suffer from major decision fatigue. By dinner time, our brains are usually fried, and making dinner needs to be something we can do on autopilot.
We need it to be habit, to use as little brain power as possible
"Habits, scientists say, emerge because the brain is constantly looking for ways to save effort." (Charles Duhigg, The Power of Habit)
With minimalist meal planning, I know exactly which meals I'm choosing from.
We have the same ingredients waiting in the refrigerator every week. I picked meals can easily be shuffled depending on how the day has gone and how much time I have. I pick the one I have time for, and start cooking.
Because I make the same meals each week, each recipe is now habit: I could make them in my sleep.
Related: 5 Reasons I Stopped Setting Goals, And What I Do Instead
2. Writing your grocery list takes five minutes or less.
When you cook the same meals each week, you need the same ingredients. I know the ingredients by heart. I quickly look in the fridge to see which core ingredients need replacing.
Most of our snacks (3-4 staples) come via Amazon Subscribe and Save. The rest is simple: bread, milk, eggs, the same cereal my kids eat every day, fruit and vegetables.
3. You save money (and cabinet space) on expensive ingredients for one-time recipes.
Have you ever gotten the urge to try out a new dish? Do you end up buying spices and sauces you use only once? They sit in the back of the fridge or cabinet until you decide to check expiration dates and have to throw them out. Expensive ingredients take up space and also make it difficult to find other regularly used items.
Unless you are an amazing chef or cooking is your hobby, save fancy dishes with expensive ingredients for take out.
4. You waste less.
Most of the ingredients we purchase are used regularly. Because I've chosen meals with overlapping ingredients or ones that have a long shelf life, we throw away far less moldy or spoiled food than our pre-minimalist-meal-plan days.
For example, one of our weekly meals is chicken tortilla soup, which is perfect for tossing in leftover pico de gallo from taco night, half a red pepper, leftover taco meat, and a lime about to go bad. We clean out the fridge, and the soup takes on a slightly different flavor each week.
5. You have fewer dinner complaints.
What parent couldn't use fewer dinner complaints?!
The kids (again, minus picky eater) know what to expect each week for dinners. They are slowly trying new things within the context of a familiar meal.
With tacos for instance, my daughter started out eating just the meat, cheese, and corn. After watching me use tortillas each week, she now asks to try one.
She tried cheese on her tortilla soup this week as well.
Trying new foods is easier when meals are routine and familiar.
6. Your overall grocery budget can possibly be lower than average.
According to the Official USDA Food Plans, a Family of 6 with young children should budget anywhere from $756 (the low cost plan)- $1476 (liberal plan). (source) My jaw dropped when I read that last number!
We currently spend around $850 per month on food groceries for a family of seven.
This is a rough estimate because I simplified my budget by making my grocery category fairly broad. It now includes diapers and household items such as paper towels and cleaning supplies because it's easier to track. Budgeting is hard enough without splitting up a store receipt into different categories in a budgeting app.
While I'd love to spend less on food each month, the time I save for the slightly higher budget is worth it for our family. Also, the more we enjoy the food we keep at home, the less tempted we are to eat out.
7. Exceptions to the meal plan for special occasions are just that: special.
Our culture offers so many choices. Eating out and having access to so many different kinds of food have robbed the word "special" of its meaning. "Special" is defined by Webster's dictionary as "better, greater, or otherwise different from what is usual".
Intentionally limiting our food choices can make "special" truly special again.
You Might Also Like: 10 Things I Stopped Doing That Made Me Happier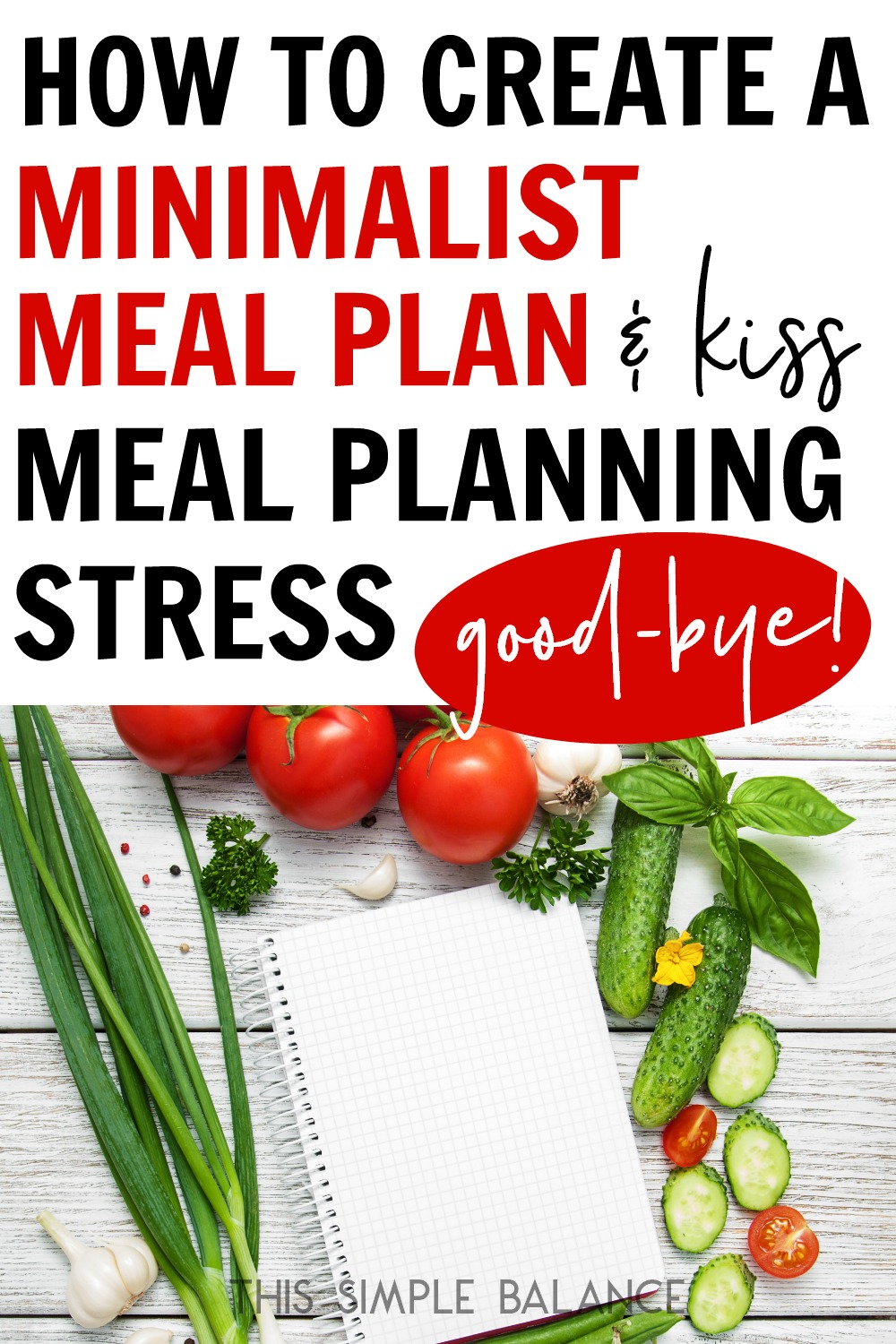 How to Create Your Own Minimalist Meal Plan
Keep in mind that even my minimalist meal plan is still open to change.
I'm learning, tweaking, adding more kids to our family and the occasional new recipe to our list of favorites. A few years ago, we literally ate the same seven meals every single week.
Eventually, we couldn't handle that anymore. Now we eat a couple meals every week and rotate through several others (I use and love this online meal planning tool to keep everything straight!).
Especially if variety is a priority to you (and the rest of the people you're feeding), be sure to check out this course by my friend Elisa from Meal Planning Blueprints.
Learn how to create a seasonal "capsule" meal plan every three months and only meal plan four times a year. Her tips for cleaning out your pantry, choosing meals that work together and creating a master monthly grocery list are pure genius.
Her helpful videos and beautiful worksheets walk you through everything step by step, making creating your minimalist meal plan ridiculously easy and fast.
If you love having someone lay everything out for you in an easy to understand, systematic way, you'll love Capsule Pantry!
This process will give you what you need to get started with the basics though: it's how I got started two years ago. Work your way through these simple steps to create your first minimalist meal plan.
You Might Also Like: Minimalist Habits That Will Keep Your Home Clutter-Free for Good
1. Make a list of the recipes you make on a regular basis.
Pull out your recipes books, recipe folder in your internet browser, and any other meal or recipe lists (many of my recipes are stored digitally on Plan to Eat, which I just signed back up again for ).
Look through your recipes and make a list of all the meals your family will eat regularly, semi-regularly, and any time you feel like making it. Favorites are great if you have enough of them, but you may need to round out your meal plan with a few meals you love and they tolerate once a month.
This is your giant brain dump. Brainstorm away and get all those meals on one piece of paper, in one giant list!
2. Group meals by similar ingredients, especially fresh ingredients.
Part of the beauty of minimalist meal planning is reducing waste and shortening your grocery list. By cooking meals with a handful of similar ingredients in the same week, you will be able to use up fresh ingredients and avoid buying them every week.
I'm not saying you need to eat the same type of meal every day for a week, but mostly look for one or two similar ingredients that you'd love to avoid wasting.
For example, we love Cajun Chicken Pasta, a meal that calls for fresh parsley (substituting dried isn't worth doing – you're better off skipping the parsley altogether). Another family favorite is a modified version of this risotto, which also requires fresh parsley.
These meals are very different, so my family wouldn't mind eating them back to back. I would schedule both of these meals in the same week in order to use up the parsley.
Be sure to list any prepared or convenience foods you rely on regularly.
For instance, I buy a rotisserie chicken every other week or so, and the occasional Stouffer's lasagna from BJ's (it's so dang good!). Those count as meals, too!
Once you have your meals grouped, you can move on to step 3.
3. Determine how many weeks to include in your minimalist meal plan.
How many weeks in your basic meal plan will depend primarily on two factors:
How many different recipes/meals you have.
How often you want/can eat the same meals over and over again.
As a fair warning, I would be extremely cautious about using only 7-9 meals.
I lost a couple of our favorite meals because I overused them and my husband was severely burned out after eating the same things for weeks on end. He literally can't even stand to see them on the calendar anymore.
I don't know about you, but once I find a favorite, I like to keep it a favorite! Less work for me in the long run.
Know yourself, and know the family you're feeding.
Know what they can and cannot tolerate.
If you need more recipes, start with Pinterest, reach out to friends, dig through your favorite food blogs. Elisa, creator of Capsule Pantry, the course I mentioned earlier, also offers a service where she will listen to what your family eats and loves and then give you two weeks of recipes.
Coming up with stuff your family will eat can be the worst part of this process, am I right? Capsule Pantry also offers multiple ways to make coming up with those recipes easier.
4. Schedule your meals.
Once you've grouped your meals by common ingredients, add them to a 2-4 weeks template, depending on how many weeks you decided to use (you can print out a blank month template or draw one up on paper).
Each group should be together in a series of days or an entire week if you have that many meals in the group. I generally group by week because I grocery shop once a week and no more if I can help it.
Once you have them written in, you're done.
Congrats! You've created your first minimalist meal plan!
This is the meal planning template that you will use over and over again, every "X" number of weeks that are on your plan.
Welcome to not needing to think about what's for dinner for several weeks – until you decide to reevaluate your meal plan (i.e. you get tired of the meals or you find new recipes you want to incorporate) or some big life change forces you to rework it.
Related: FREE Monthly Meal Planning Printable + Example Meal Plan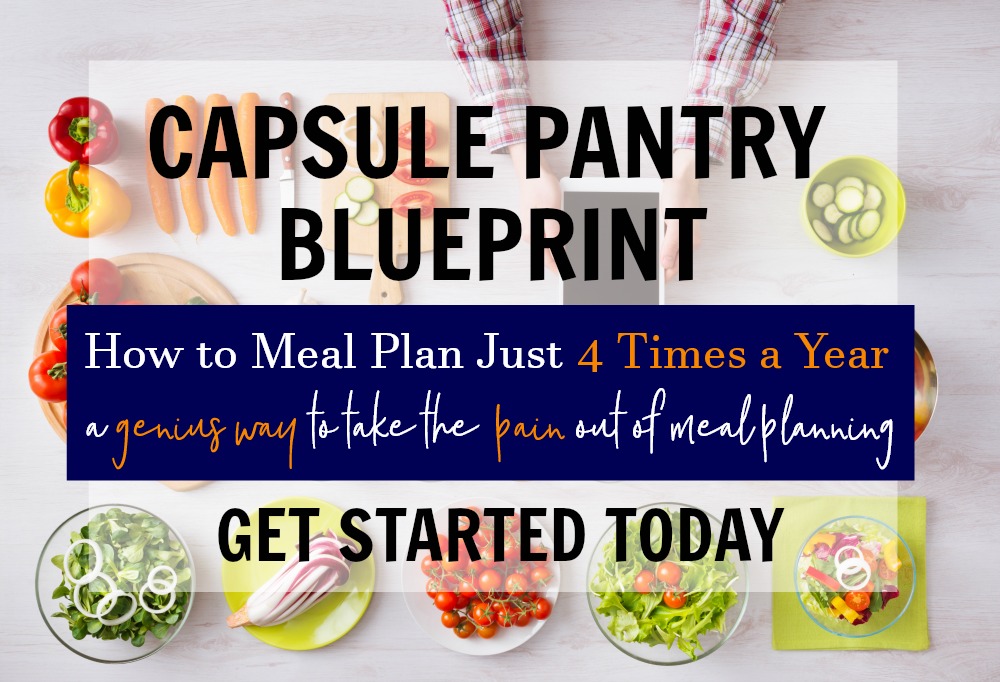 Creating a Minimalist Meal Plan: How Capsule Pantry Can Make It Even Easier (yes, it's possible!)
Before Elisa showed me her Capsule Pantry course, I thought I was doing pretty well in the meal planning department. I created my plan using the method I shared with you.
Meal planning and grocery shopping were much less stressful compared to life before minimalist meal planning.
But then I started working my way through her course, and I saw potential for both meal planning and grocery shopping to become even easier and even less stressful!
Elisa not only walks you through creating your own minimalist meal plan, but she also teaches you how to:
Declutter your fridge and pantry
Keep your now decluttered fridge and pantry organized
Offers several ideas to make coming up with meal ideas so much easier
Decide which meals to cut from your plan
Make a master monthly grocery list
Bonus: How to save money on food WITHOUT using coupons
The accompanying workbook will help you get everything down on paper and make this process as fast as possible.
I will be working my way through this course over the next month to see how much more time I can save (I've watched the videos but haven't actually done the work yet)! I'm excited to see meal planning and grocery shopping become even more efficient.
I've got baby number five coming, I homeschool, and I work from home. I need to save time wherever I can! Even if this course saves me just a couple of hours a month, it's totally worth it.
A minute saved is a minute earned? Or something like that…
Click HERE to check out Capsule Pantry today, and get on the waitlist to be notified on when the course opens.
More Ways & Reasons to Simplify Your Life: