Inside: You know your Costco membership could be saving you more time and energy, but how? That's why I'm sharing over 25 easy dinner ideas from Costco that are delicious, no fuss, and very little prep.
Last year, my husband insisted that we give a Costco membership a try. I was extremely skeptical, especially since Costco was over thirty minutes and a turnpike fee away.
Six months later? I'm not sure how I ever lived without Costco.
As a work at home, homeschooling mom of five, something has to give. I don't have a babysitter, and I don't have a house cleaner. I don't love to cook, and take-out in our rural area is, well, spotty at best. Most fast food is over 20 minutes away, making it not worth the trip unless we are already out for something else.
So Costco is my compromise. We spend a little more on groceries to have easy meal options constantly at my fingertips.
I'm willing to sacrifice in other areas of our budget in order to not go back to skimping on groceries. Man, how far I've come from my extreme couponing days.
I'm honestly not exaggerating when I say that right now, Costco is one thing (of many) that's standing between me and insanity.
It's a lifeline, people. We all need at least one, although I highly recommend you have more.
Related: The Easiest Way to Create a Minimalist Meal Plan (& Save Your Sanity)
Is a Costco Membership Worth It?
So much depends on what you buy, and how close Costco is to you.
Even though our Costco is far, our family size makes it well worth the savings on things we eat all the time, like naan, sweet rolls, certain snacks and all the prepared foods listed below.
There's also the trial and error that comes with trying different Costco products, and unfortunately, you're often trying bigger sized items and risking not liking them. Been there, done that.
Then my frugal self usually ends up suffering through an entire box of something just barely edible. From one friend to another, steer clear of the frozen chicken and bean burritos, Mediterranean flatbreads and ramen bowls.
Is the executive membership worth it? For us, it is.
We spend at least $500 a month at Costco. We get 2% back on all our purchases, so that covers the cost of the $120 executive membership.
How often do we shop at Costco? We've fallen into a rhythm of going every two weeks. I also do grocery pick-up weekly at Giant.
P.S. This post was not in any way sponsored by Costco. We just genuinely love shopping there!
You Might Also Like: The Best Homeschool Lunch Ideas – Quick, Easy, Kid-Friendly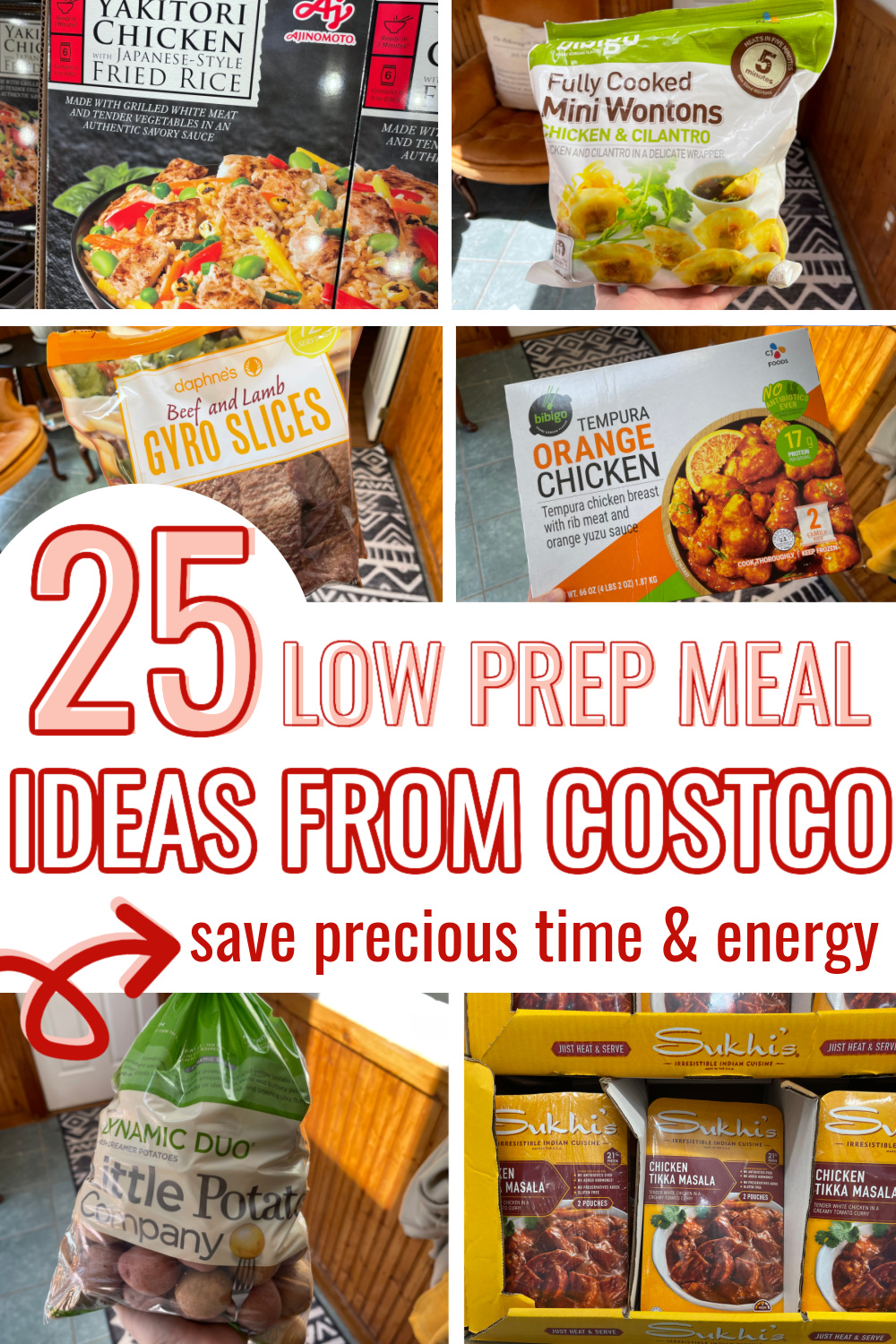 Easy Dinner Ideas from Costco to Save Time & Energy
This post probably contains affiliate links, which means I may earn a commission if you make a purchase through those links. As an Amazon Associate, I earn from qualifying purchases. You can find our full disclosure HERE.
The foundation of many of these options are from Costco's ready-to-eat meals and prepared meals section, with some very low prep ideas thrown in.
I'll share a list at the end of the other items we get regularly, but for now, onto the easy dinner ideas!
Note: Costco sometimes has regional products that are not available everywhere. They also stop carrying things from time to time (seriously, Costco?!). I hope you find all of these options – or comparable ones – at your local Costco.
1. Tomato Soup
My 3-year-old begs for this soup! It's the perfect, creamy tomato soup, at least to me.
Pair with Coscto bread, baguettes or classic grilled cheese.
2. BLTs
I grew up having bacon, lettuce and tomato sandwiches for dinner at least every other week. It's still my go-to sub choice when we eat out.
Kirkland bacon is pretty tasty and was decently priced (it went up last time I went), but just as a fair warning, Costco bacon tends to be on the saltier side. Personally, I'd rather have a little bit too salty than under-salted (I'm lookin' at you, Smithfield).
For the easiest possible, perfect bacon, put in the oven on parchment paper at 350 for 20 minutes. Cut your tomatoes and lettuce while the bacon is cooking and set up a "sandwich assembly line" with bread for toast and mayo.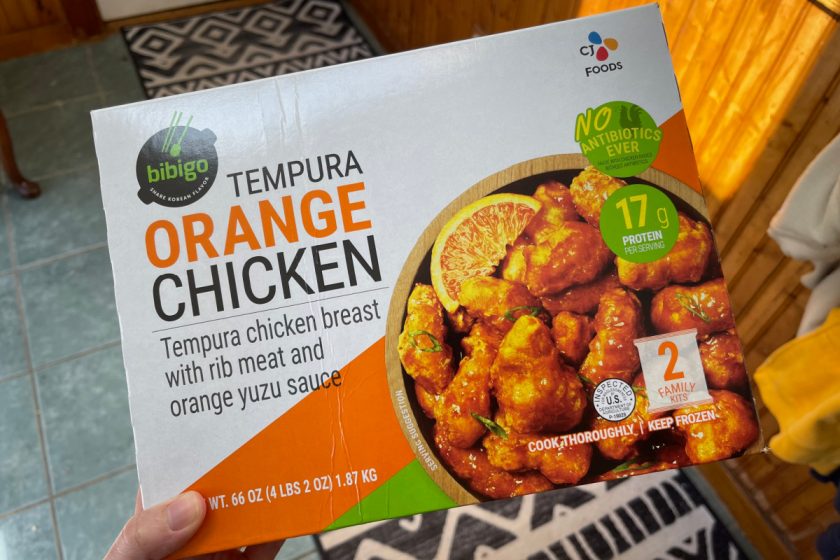 3. Orange Chicken
Update: They stopped carrying this for the time being at our local Costco. Let's ask them to bring it back everywhere! This was a dearly loved staple in our house, and we did not enjoy the Korean soy garlic chicken option at all.
Coscto's Orange Chicken isn't Trader Joe's, but since the closest TJ's is now over an hour away, it will have to do.
Pair with plain white rice and green beans, which we get at Costco, too.
4. Perdue Panko Chicken Nuggets
What mom doesn't have a favorite chicken nugget ready to go in the freezer?!
These are a family favorite and can be paired with fresh cut veggies, fruit or fries, depending on your preference.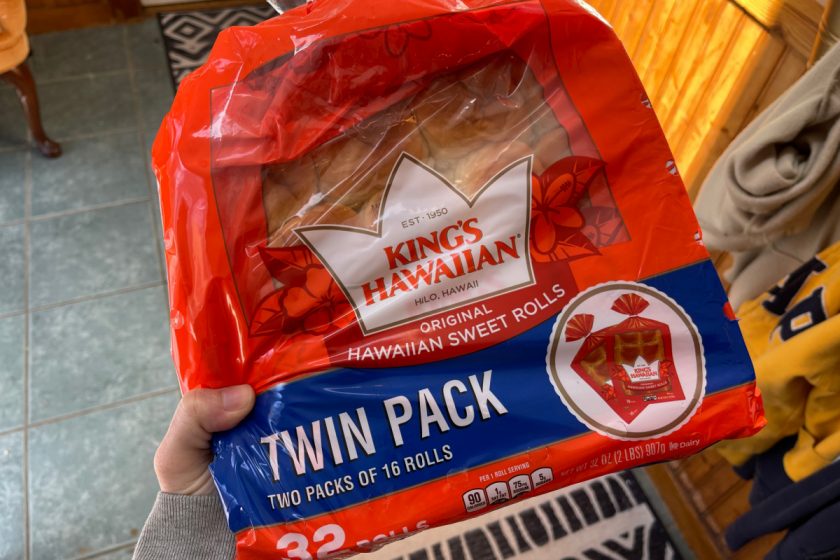 5. Ham & Cheese Sliders
Hawaiin sweet rolls were a family favorite, but they are always soooo expensive from the grocery store, especially for our large family.
Enter: Costco twin pack, which is half the grocery store price for the same amount.
We love making simple ham and cheese sliders. They're so easy, my 10-year-old can make them himself.
Recipe:
Pre-heat oven to 350°. Cut sweet rolls in half.
Layer with half a slice of ham and cheese of your choice (we use American).
Add sauce, if desired. We mix and match based on preference.
Place assembled sliders in parchment lined square pan.
Melt butter and brush on tops. Then sprinkle with garlic powder.
Bake 10-12 minutes.
6. Green Chile Potato Skins
Some might consider these an appetizer, but pair it with a salad and you've got a meal.
Don't forget the sour cream!
7. Birria Tacos
My husband dreams of going to Mexico for "real tacos", but for now, these birria tacos will have to do.
We typically follow the recipe on the inside of the package. If you choose to do the same, you'll need mozzarella cheese (or queso con fresco) and corn tortillas.
Optional toppings include chopped white onions, cilantro and lime wedges. It also goes great with grilled pineapple. We use the leftover meat in quesadillas the next day, mixing it up with flour tortillas, colby jack cheese and pico de gallo.
8. Marinaded Chicken Tenders
I've purchased enough crappy chicken breasts in my lifetime that I avoid buying them whenever possible. My go-to fresh chicken option are Costco's chicken tenders, which come in packs of six (1-ish pounds per pack).
Use your go-to chicken marinade and bake in the oven for extra tenderness and amazing sauce. Pair with your rice of choice and cooked veggies.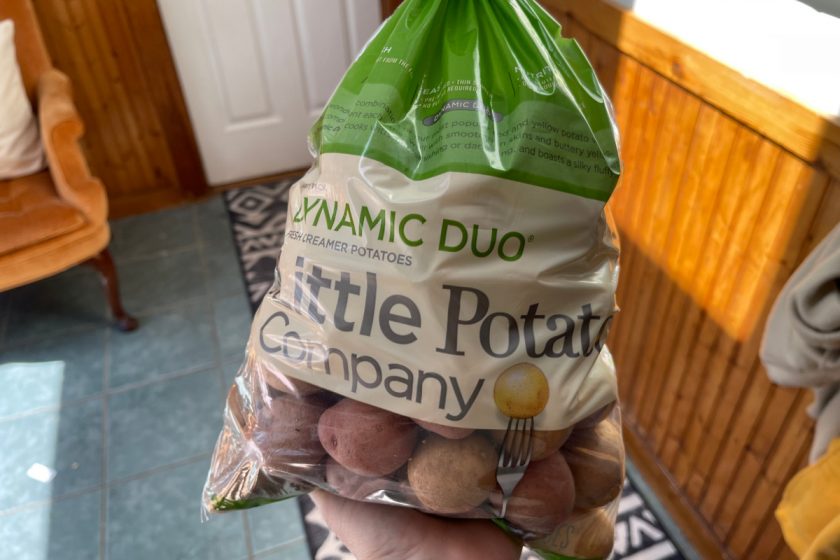 9. Roasted Baby Potatoes
These may or may not be considered a full meal in your household, but we have these once a week (they come in 5 pound bags). On my ideal night, they are paired with steamed veggies. On the not-so-ideal nights, it's just roasted potatoes.
Why do I love these potatoes so much? They are pre-washed and tiny. So all I need to do is halve the entire bag, toss with olive oil and melted butter and season with garlic powder, onion powder, thyme, kosher salt and pepper.
I roast them on two roasting pans in a 400-425° oven for 45-50 minutes, rotating the pans halfway through baking. Eat as is, or dip in ketchup.
10. Rotisserie Chicken, Gravy & Mashed Potatoes
For whatever reason, I hate making mashed potatoes. It's not ideal, I know, but sometimes, you gotta do what you gotta do.
Pick up a rotisserie chicken, poultry gravy mix, a fresh loaf of bread, Idahoan mashed potatoes and frozen green beans, and you've got a complete meal.
11. Chicken Taco Bowls
Grab a second rotisserie chicken while you're at it, and shred it up for chicken taco bowls. Bowls are great if you have picky eaters because everyone is free to add what they want to their bowl.
I love pairing taco seasoned chicken with yellow Goya rice, pico de gallo and sour cream. Occasionally, I will also cook some seasoned veggies, too, usually bell pepper and red onion. You could also heat up a can of corn or black beans.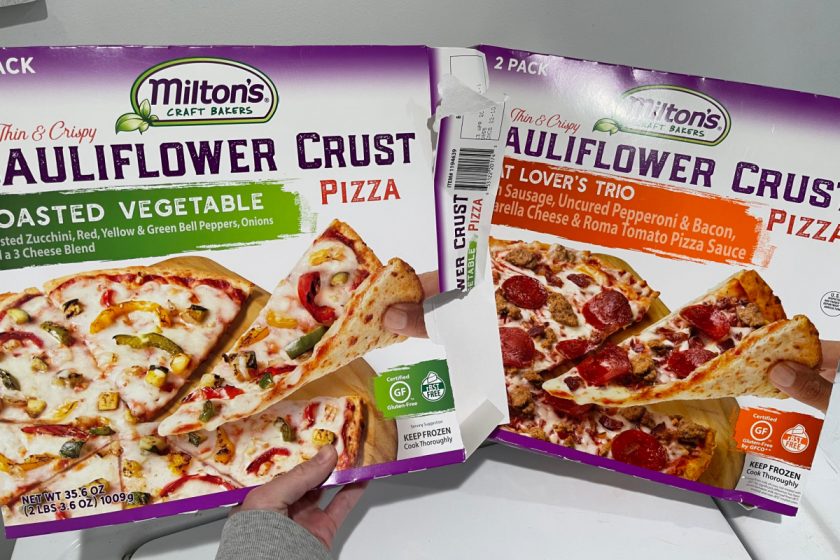 12. Frozen Pizza
I used to turn up my nose at frozen pizza. I love that my kids love Red Baron pizzas because they're less than $5 each, but me? Yuck.
That was until my husband recently gave sausage and pepperoni cauliflower crust pizza a try. It's the best frozen pizza I've ever had! Especially as prices for eating out continue to rise, having a delicious (to adults) frozen pizza option is a must.
13. Philly Cheese Steaks
If you've never made Philly cheese steaks at home, you're missing out. I craved these frequently during my last pregnancy, so we had them a lot.
Pick up a box of shredded frozen steak cook with onions and/or sliced peppers. Toast your rolls with the cheese already inside. Add mayonnaise if desired, then top with your cooked steak and veggies.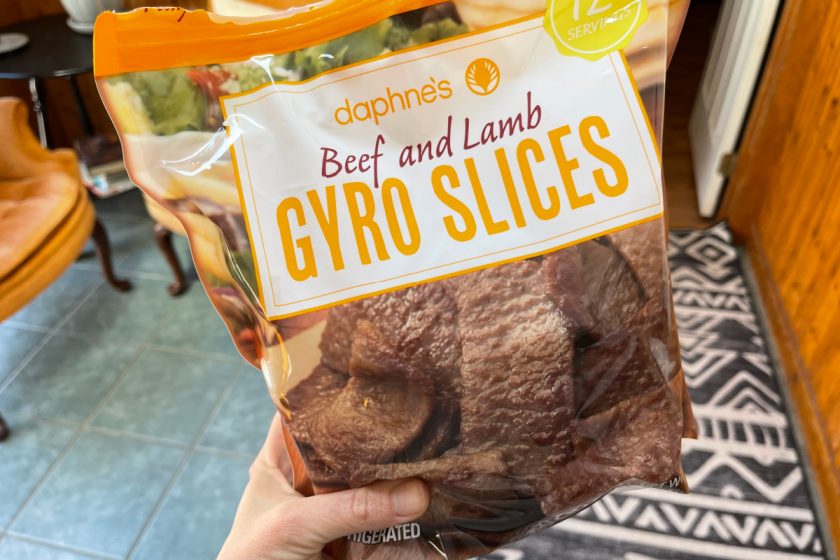 14. Beef & Lamb Gyros
These are also ridiculously easy to cook: you literally add a package to the pan and heat 4-5 minutes. Pair with naan, sliced cucumber, tomatoes and tzatziki.
15. Easy Stovetop Turkey Chili
Costco frequently sells ground turkey by the pack. Pick up some peppers, onions, chicken broth and organic Classico tomato sauce, too. Don't forget shredded cheese and sour cream for toppings.
Pair with the remaining pantry staples from your local grocery store, and make THIS super easy turkey chili. It's my absolute favorite! We make it weekly.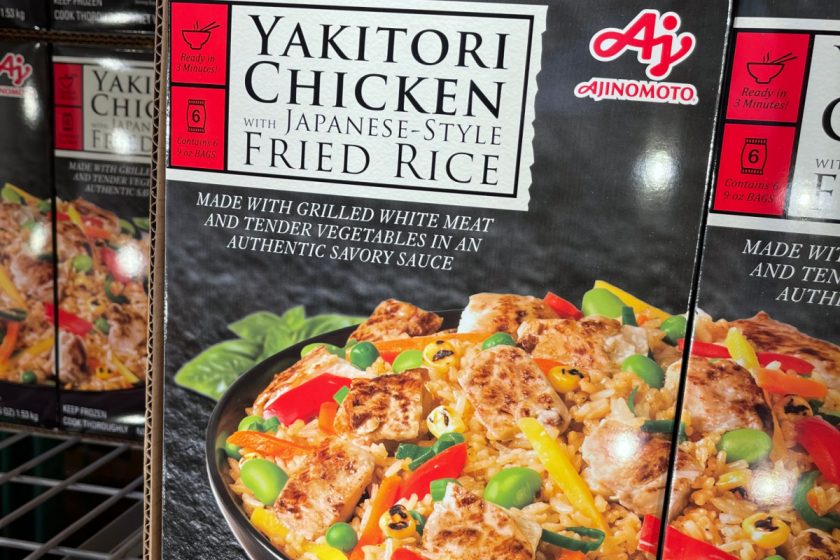 16. Japanese Fried Rice with Egg Rolls
My son adored this fried rice for a while. It's an easy lunch or dinner, but you could definitely use it as an easy dinner idea from Costco!
Each box comes with six packs. It includes big chunks of chicken, and one pack is very filling. You could pair it with Costco egg rolls.
17. Chicken Noodle Soup
We haven't tried Costco's chicken noodle soup yet, but I'm sure it's only a matter of time. This is probably a seasonal prepared food item. Pair with fresh baguette or baked bread loaf from the bakery section.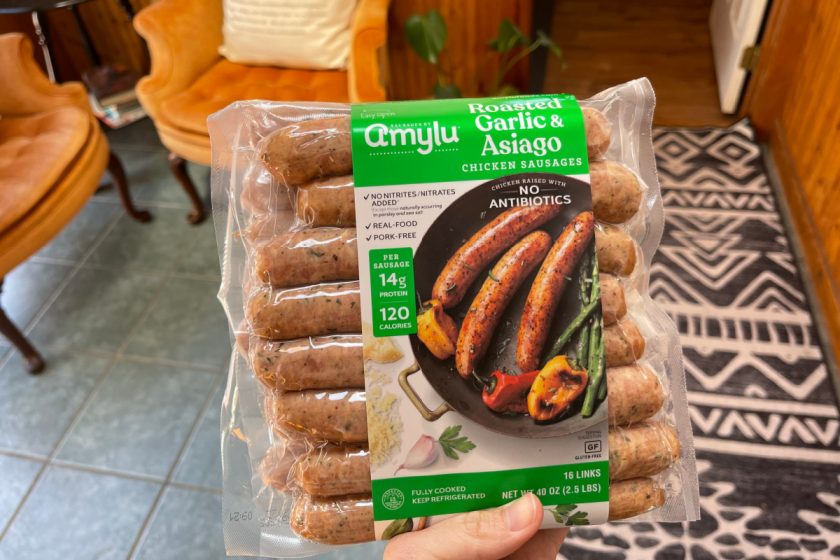 18. Chicken Sausage with Rice Pilaf
We recently discovered this yummy chicken sausage that has asiago cheese in the middle.
We like to slice it up and pan fry it. The cheese then coats the entire sausage and goes really well with yummy rice pilaf and steamed veggies. You could also try grilling them or cooking whole.
19. Irish Beef Stew
Another likely seasonal dish, but this is a must-try when fall/winter comes around again! Delicious chunks of beef, potatoes and carrots in a savory sauce/broth, we love eating this with naan or baguette.
The main downside to this dinner idea is the price per serving. Each pack has around three servings, and ranges in price from $14-$16 per pack. Maybe wait for this one to go on sale.
20. Taquitos
These street taquitos are delicious and, again, easy. Heat them up in a toast oven or regular oven.
Dip in salsa and sour cream; serve with rice.
21. Chicken Shawarma
This ready-to-go dish is incredibly tender chicken with mediterranean spices. Note: if you don't like curry, you won't care for this dish.
I slice the chicken into bite-sized pieces, heat and crisp it up on a skillet with a little oil. The chicken goes into – you guessed it – naan with veggies of your choice (we used cucumbers, lettuce, and tomato with a cilantro ranch dressing.
Note: They usually have some kind of chicken shawarma available, but the brand varies. Some brands involve more prep work than others.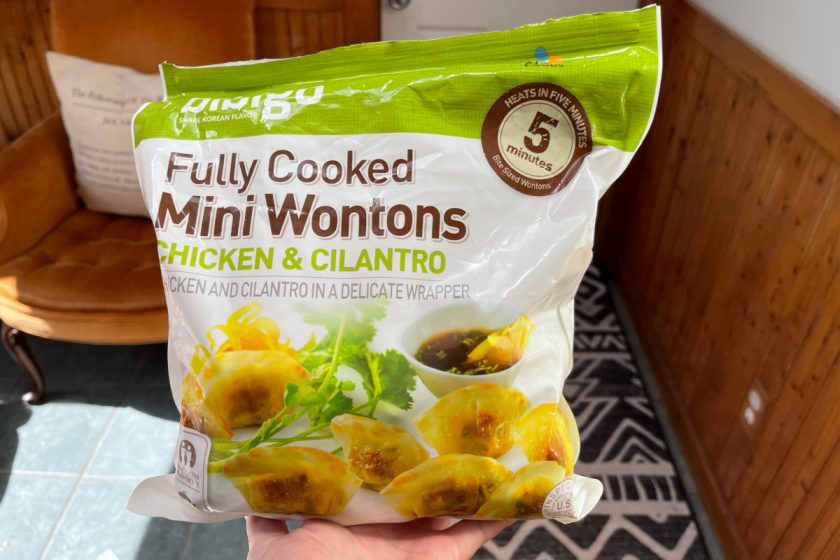 22. Veggie Lo Mein with Cilantro Wontons
Veggie lo mein caught my eye the last time we were at Costco, but I haven't tried it yet, mostly because it has mushrooms, which my husband won't eat. While I can't vouch for it's taste just yet, it looks delish.
I can vouch for the cilantro wontons, which we have a few days a week for lunches. Two of my kids love them, and I think they're pretty yummy, too.
23. Meatball Subs
I can make homemade meatballs, and I have, but…did I mention I don't love to cook?
Plus, with soccer season in full swing, it's so much easier to dump frozen meatballs and sauce in a pot or crockpot and have subs (or pasta and meatballs) ready to go with zero effort. Pair with toasted rolls, your favorite sauce and mozzarella, plus whatever side you want.
You can get shredded mozzarella from Costco, too, but only if you think you can use their gigantic portions before it starts to mold. We tend to get our cheeses from the local grocery store – in blocks, if possible – because we can't consume Costco cheese quickly enough.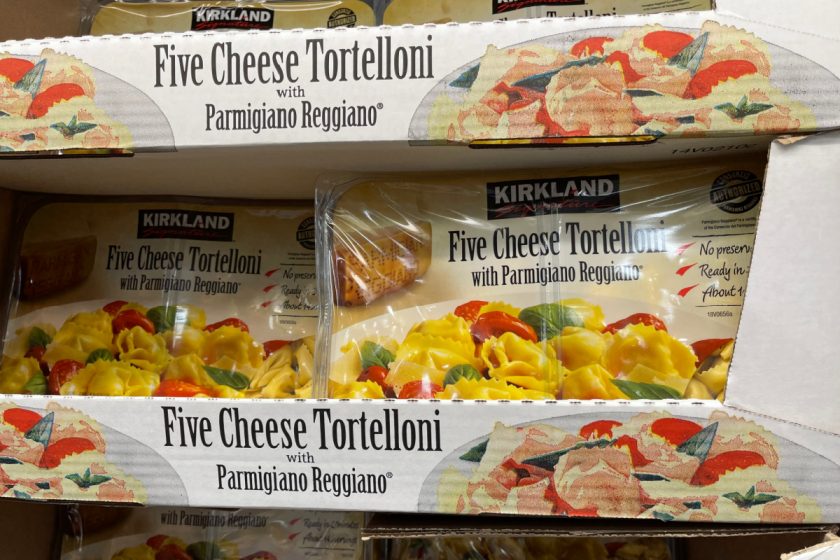 24. Tortellini Spinach Alfredo
What is easier than tortellini? Pick up a pack of Costco's five cheese tortellini, and make according to package directions.
Next make this simple alfredo sauce, adding spinach towards the end to wilt it. Combine and serve while hot.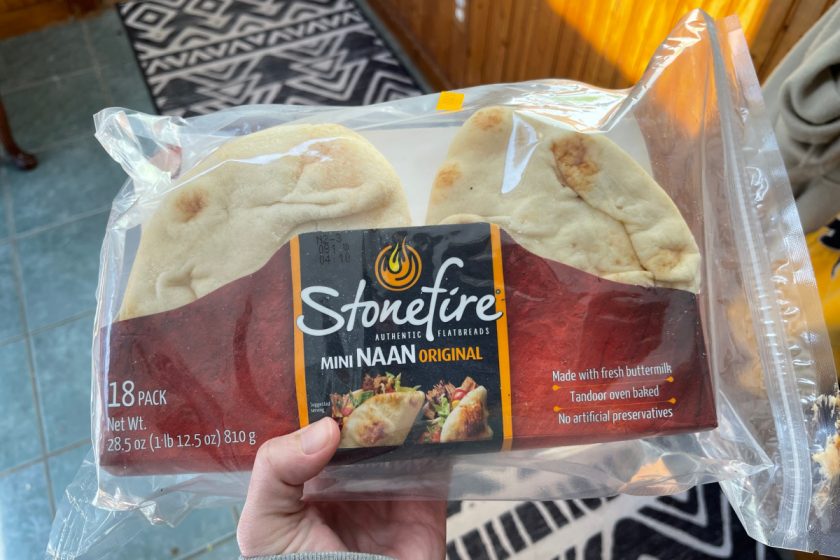 25. Naan Pizzas
Have I mentioned that the naan at Costco is super cheap and delicious? Yes, I will go on and on about it because we love it. My kids even eat it warmed in the toaster plain for breakfast -it's that good.
We grab a pack every time we go! So if you don't want frozen pizza's, this is another great pizza alternative.
Check out these 20+ naan pizza ideas for inspiration!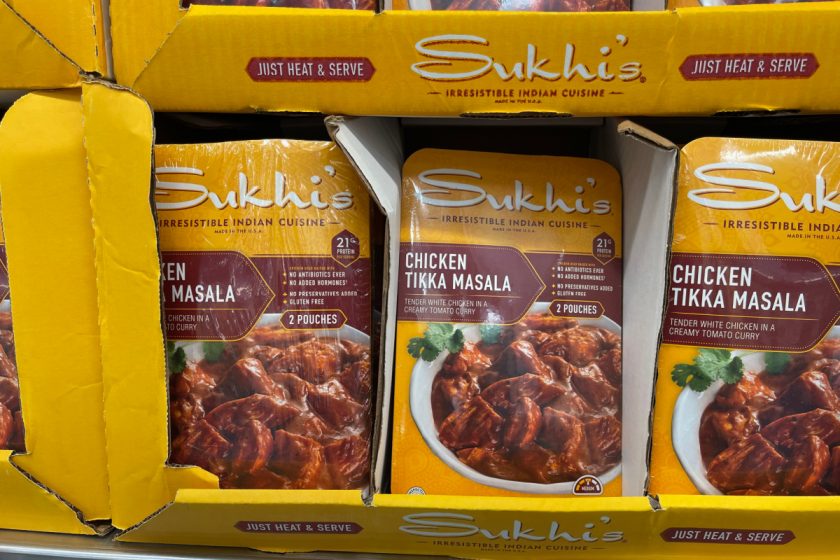 26. Chicken Tikka Masala
My family isn't a fan of Indian food, so we've only had this once. I loved it!
If you like Indian food, this is ridiculously easy to prepare. Just cook some rice in a rice cooker or instant pot, along with a veggie. Dump this into a pot to heat up while the rice cooks.
You could also serve with…you guessed it: naan.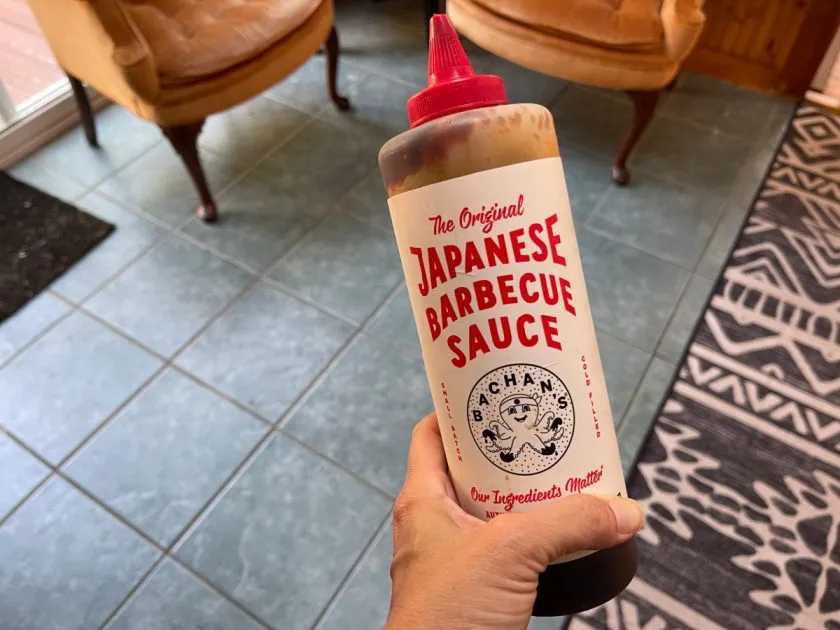 27. Easy Stir Fry
For years, I tried to find a stir fry recipe we loved, but the sauce was never quite right. Then my husband picked up this random sauce from Costco one day, and we finally have a weekly healthy stir fry option!
Meet: The Original Japanese Barbecue Sauce. And if Costco ever stops carrying it, you can buy it online.
Maybe this doesn't fully fall under the "almost no prep" because it does require cutting up some stuff. But I think it's super easy. Throw rice in the rice cooker, and cook everything else up quickly.
I'm sure there are a lot of ways to use it, but here's what I do:
Cut veggies into bite-sized pieces (we use fresh broccoli, onions and peppers).
Cut boneless chicken thighs into bite-sized pieces.
Heat a tablespoon vegetable oil in a large pan over medium high heat.
Cook veggies for 3-4 minutes; remove from pan.
Add more vegetable oil; cook chicken until cooked through.
Add 2-3 cloves garlic (we use Costco pre-chopped garlic) and cook 30 seconds until fragrant.
Return vegetables to the pan; add good amount of barbecue sauce.
Heat sauce. Then, add cornstarch slurry (2-3 tsp. cornstarch to 1 tbsp. water) to thicken.
Simmer on medium or medium low until sauce has thickened a bit. Serve with fresh rice.
P.S. I also use it for super simple peanut butter noodles: simply add peanut butter and hot water to the sauce to taste. Add cooked noodles of choice, and serve with sesame seeds and chopped green onion if desired.
Additional Items We Buy Regularly From Costco
Here is a list of other food items we buy regularly from Costco, in no particular order:
Kirkland Chocolate Chip Granola Bars
Chocolate Croissants
Organic Baby Carrots
Dried Fruit
Late July Jalapeno Chips
Starbucks Hot Cocoa (when availabe)
Swiss Miss Hot Cocoa
Frozen Strawberries
King Arthur Unbleached Flour
Heavy Cream
Jimmy Dean Croissant Breakfast Sandwiches
Mozzarella Sticks
I hope this helps you decide whether or not Costco is worth it for your family, or to make the most of your Costco membership!
And remember, you are worthy of making choices that make your life easier, that save you time and energy.
(P.S. If you see Kevin's meals and think they're a good idea, put them down and RUN. It's the only thing I've had from Costco that is an absolute "never again" thing for us.)
Do you have other easy meals from Costco you love? Share in the comments!
Read Next: FREE Monthly Meal Planning Printable (& Sample Meal Plan)