Inside: These 30 homeschool lunch ideas are easy enough that kids 7 and up can make them on their own, saving your precious time for everything else – like, ya know, homeschooling. Plus, get a printable with all 30 lunch ideas!
It's no secret that homeschool moms feel like they are in the kitchen all. day. long. Those "homeschool kids are like hobbits" memes circle 'round and round the homeschool social media channels for a reason.
Because it's the God-honest truth. Elevensies is a thing, y'all.
(And second breakfast, and afternoon tea, and dinner and…)
Don't get me wrong: I love that my kids are listening to their bodies, learning what natural hunger feels like, and responding accordingly.
It's one of the benefits of homeschooling – being able to follow your natural rhythms for sleep and eating throughout childhood.
And let's be real. I love love LOVE that I don't have to pack school lunches five days a week. Can I get an "amen"?
That doesn't mean I don't get a little annoyed – o.k., more than a little – when my kids ask me for food…AGAIN.
You mean it's seriously lunch time. But we just had breakfast…and snack?!
Right about then, your mind goes blank, and you forget about all the amazing lunch options out there. Because while I could eat the same thing every day, my kids like a little variety.
I figured if lunch ideas are a problem for this homeschool mom, it's most likely a problem for homeschool moms everywhere.
So I came up with this gigantic list of lunch ideas for homeschool moms everywhere, complete with a printable to keep on your fridge. To remind you when you're making your shopping list for the week and your mind goes blank – again.
Related: 20+ Brilliant Homeschooling Tips I Wish I'd Known Earlier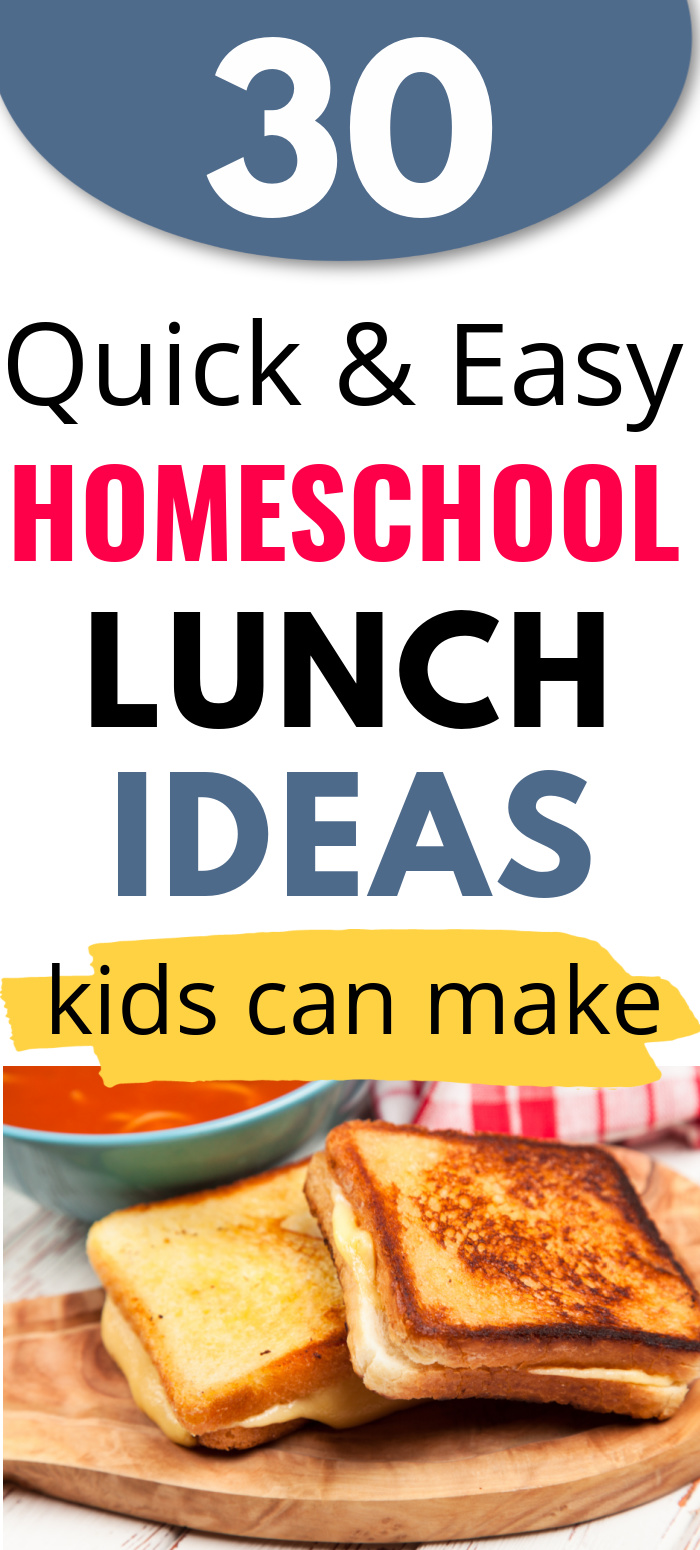 30 Quick & Easy Homeschool Lunch Ideas
All of these lunch options are designed to be paired with a fruit of a veggie.
You can make this even easier by prepping fruit and vegetables on the weekends, grabbing no-prep option like baby carrots or bananas, or springing for those veggie and fruit trays. They're expensive, but could be worth it if you're not able to invest in babysitting or other options to make your life easier.
Also THIS air fryer/toaster oven has been a gamechanger for homeschool lunches.
My husband raved about toaster ovens for forever. I had my doubts, but now I'm a believer!
Consider investing in the exact one I mentioned. Why? Because when the function knob broke five months into owning it, Cuisinart replaced it for FREE.
Finally, this list contains a mix of healthy and not-so-healthy homeschool lunch options.
Sometimes, it's not-as-healthy lunch options versus mom's sanity. As long as I mix it up and my kids are eating a fruit and veggie every day, I don't stress too much about it.
1. Soup with Naan
Move over canned soup: make room for carton soup. So.much.better.
If you have a Trader Joe's nearby and your kids will eat soup, stock up on their delicious cartons of soup! You can put the cap back on a store in the refrigerator to consume over the next few days.
We love pairing it with mini naans that you can easily heat up in the toaster. But you could also pair with pieces of Italian bread or grilled cheese (a little more time intensive).
2. Tuna with Crackers
Did you ever have those adorable tuna and cracker packets in your lunch growing up? I loved them.
In the homeschool lunch world, you could easily make a batch of tuna on Sunday. Pair with some kind of cracker (we prefer Ritz), and you're good to go!
3. Couscous
Near East garlic and olive oil couscous is a new favorite for one of our kids.
Couscous take about 10 minutes to prepare. Any kid over age 8 or 9 could be taught to do it without supervision.
4. Mac & Cheese
A classic, you decide which type you want to go for. We are still suckers for the blue box Kraft Mac & Cheese, but Annie's organic has some great options.
Want to skip the prep altogether? The frozen aisle is filled with microwaveable mac and cheese options.
There's no shame in making your life easier, mama. No shame at all.
5. Grilled Cheese
A classic standby any kid can learn how to make. Keep butter at room temperature for easy spreading on bread, and keep that heat low for a perfectly golden brown – not burnt – sandwich.
6. Bagel/English Muffin Pizzas
The key to either a bagel or english muffin pizza turning out well is to toast the bread you're using BEFORE you put on the sauce and mozzerella.
After that, bake in the toaster oven or regular oven for about five minutes on 400 degrees.
7. Celery, Raisins & Peanut Butter (a.k.a Ants on a Log)
This was a staple in our house growing up and makes a great homeschool lunch!
Cut, wash and dry the celery on the weekends to make this super easy for your kids to handle during the homeschool day.
8. Cheese & Crackers
It costs a bit more, but we buy the pre-cut cheese to make this kid-friendly. You can also pair with salami slices or pepperoni.
9. Mini Meatballs
We've never tried this as a lunch option because not enough of my kids will eat it.
But have you ever seen mini meatballs in a crockpot at a party? They look soooo easy! And I know from experience they are delish.
THIS recipe looks simple and easy. Pair with Italian bread or just fruit and veggies for a low-carb lunch.
10. Mozzarella Sticks
I know, I know. This isn't the healthiest lunch option, but hey, homeschool moms gotta do what homeschool moms gotta do.
If they aren't eating it every day, I say have this in your easy homeschool lunches arsenal! Get a yummy marinara for dipping.
11. Tortellini with Pesto Sauce
Another easy one for kids to make (notice a theme here), tortellini is great because it cooks extremely quickly, usually 3-5 minutes after adding to boiling water.
Use pesto sauce for something different, or stick to regular pasta sauce.
(You could also totally just use simple pasta like rotini, but the tortellini will keep them fuller, longer!)
12. Chicken Nuggets
Good old chicken nuggets never hurt anyone. We prefer the Tyson fun nuggets shaped like dinosaurs, but feel free to try different ones to find the perfect nugget.
That's another reason why having THIS air fryer/toaster oven has been SO amazing. Any frozen food is better in this thing, pretty darn close to going out to eat.
All the sauces for nuggets never hurt, either: ketchup, honey mustard, BBQ sauce.
13. Quesadilla
If you have leftover shredded rotisserie chicken, throw some in with quesadillas for a more filling lunch.
When I started using butter in the pan instead of oil (you could also use the two together), quesadillas got a serious upgrade in our house. Serve with salsa and/or sour cream.
14. Hot Ham & Cheese Sliders
Start with deli ham and sliced cheese of any variety. Pile onto Hawaiian sweet rolls, brush with butter and sprinkle with garlic powder.
Bake for 10 minutes at 400 degrees.
15. Peanut Butter & Jelly Sandwich
This is pretty self-explanatory. Use whole wheat bread and organic peanut butter to make it healthier.
16. Scrambled Eggs with Cheese
Every child needs to learn how to make quality scrambled eggs. The earlier the better!
Top with shredded cheese to make it filling for longer.
17. Greek Yogurt with Honey Pretzel Sticks
You can't get easier than this. Grab individual greek yogurts and honey pretzels for dipping. Yum!
18. Oatmeal Packets
I know. Oatmeal packets have a lot of sugar, but I'm sure there are some healthier options out here?
These can easily be combined with milk and microwaved.
19. Taquitos
We love Ole Jose's chicken taquitos! They cook quickly and are so delicious. For some reason, this is one option I actually prefer baking in the regular oven in bulk.
Just like quesadillas, have salsa and sour cream available for dipping.
20. Banana, Peanut Butter & Honey Sandwich
I vaguely remember eating banana and peanut butter sandwiches growing up, but peanut butter and jelly was never my go-to easy lunch.
I do, however, have mom friends who rely on this for an easy (and healthy) lunch option.
Adding the honey is genius and definitely balances out the richness of the peanut butter.
21. Individual Chicken Pot Pies
We recently discovered Marie Callendar's individual pot pies, and my oldest loves them. Microwave for five minutes, and done.
These can be a bit pricey, but they make an easy and hearty lunch option.
22. Turkey & Provolone Roll-ups
Roll these up in advance or let your kids do it themselves – whichever is easier!
23. Pita Chips & Baby Carrots with Hummus
You could go with fresh pita, instead to avoid the oil in the chips.
24. Pasta with Butter & Parmesan
If you use a small pot and use rotini or shells, kids can easily transfer the pot and be taught how to pour it into the colander in the sink. Some of my kids like the on the shelf parmesan, while others grate the real stuff over their pasta.
25. Leftovers
This is a no brainer lunch idea for homeschool families.
That being said, I find that we rarely have leftovers available for the kids. My husband (who works from home) and I tend to monopolize the leftovers in our house.
But if you tend to make meals with lots of leftovers, this is hands down the easiest homeschool lunch option out there!
26. Egg, Sausage & Cheese Sandwich
This is another breakfast option that can easily be transitioned to a lunch, especially if you rarely make hot breakfast for your kids.
I say sausage instead of bacon because grocery stores typically have decent microwaveable options available.
But you could also make bacon on the weekends and reheat during the week, or skip the meat in this sandwich altogether. It's pretty yummy without the meat!
27. Frozen Pizza
For those days when you just can't even and the fixings for bagel pizzas are gone, make sure to have a few frozen pizzas in reserve.
We prefer Freschetta and California Pizza Kitchen frozen pizzas. As I'm sure you know, these are best served hot! The deliciousness factor wears off the cooler they get (right about when you question why you feed your family this stuff).
28. Hard-Boiled Eggs & Toast
Again, to make this option easier, make a big batch of hard-boiled eggs on the weekend. I've heard that instant pot also does a great job, but I've never tried it myself.
Ensuring that the eggs are easy to peel is key to making this a kid-friendly, low-frustration lunch option.
29. Granola Bar with Mini Cheese
Try a few different granola bars to find the ones your kids love. We used to get the nature valley crunchy ones regularly, but my favorite are these chewy nut bars.
Buy in bulk to save significantly on these!
Mini cheeses come in different varieties, but Laughing Cow and Babybel are probably the most popular. You could also stick with cheese sticks – the Sargento Colby Jack Cheese Sticks are my favorite.
30. Bagel and Cream Cheese
Typically a breakfast option, bagel and cream cheese can make an excellent lunch, too.
Spring for the yummier bagels every so often as a special treat – Panera or Einstein Bros bagels and spreads are amazing.
Related: 9 Flexible Work-at-Home Homeschool Mom Jobs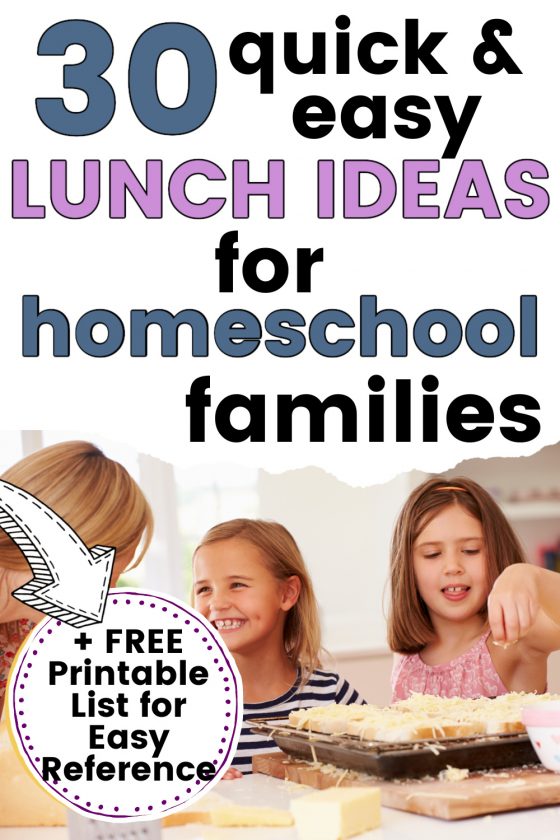 Homeschool Mama: Make Lunch Easy
I don't know about you, but I've got enough on my plate just planning and cooking dinner 5-6 days a week. I really can't be stressing over lunch – or breakfast for that matter.
There's the odd day that I make a fresh, hot lunch – usually baked mac and cheese, but it's rare and therefore, special.
Your kids don't need hot breakfast, lunch and dinner (well they can have hot lunch if it means putting stuff in the microwave or toaster oven). Let yourself off the hook.
You're not superwoman, and you definitely can't do it all.
Something's gotta give: let it be lunch.
Read Next: Easy Dinner Ideas from Costco (Delicious & Almost No Prep)
What are your favorite easy lunch ideas homeschool kids can make? Share in the comments!