Inside: Looking for a sweet and healthy easy stovetop chili recipe? This is my favorite healthy dinner because it tastes delicious, and it comes together in no time at all! Plus, it's super easy to change things up to suit your family's tastes (possible substitutions included).
Chili in the winter. It's classic.
But want to know a secret? It's just as good in the fall and spring.
This chili recipe is SO easy and SO scrumptious, I make it every single week almost year round!
(Except during the peak of summer. We don't have central AC anymore, and I just.can't.do it. I'm sweating just thinking about it.)
Beef chili recipes feel way too heavy to me – definitely not something I want to have every week. So I would always substitute ground turkey in various chili recipes.
Eventually though, I realized I'd substituted and adjusted those recipes until they were barely recognizable. I'd created my own chili recipe without even realizing it.
This week, I decided it was time: this super healthy, easy stovetop chili recipe deserved it's own blog post.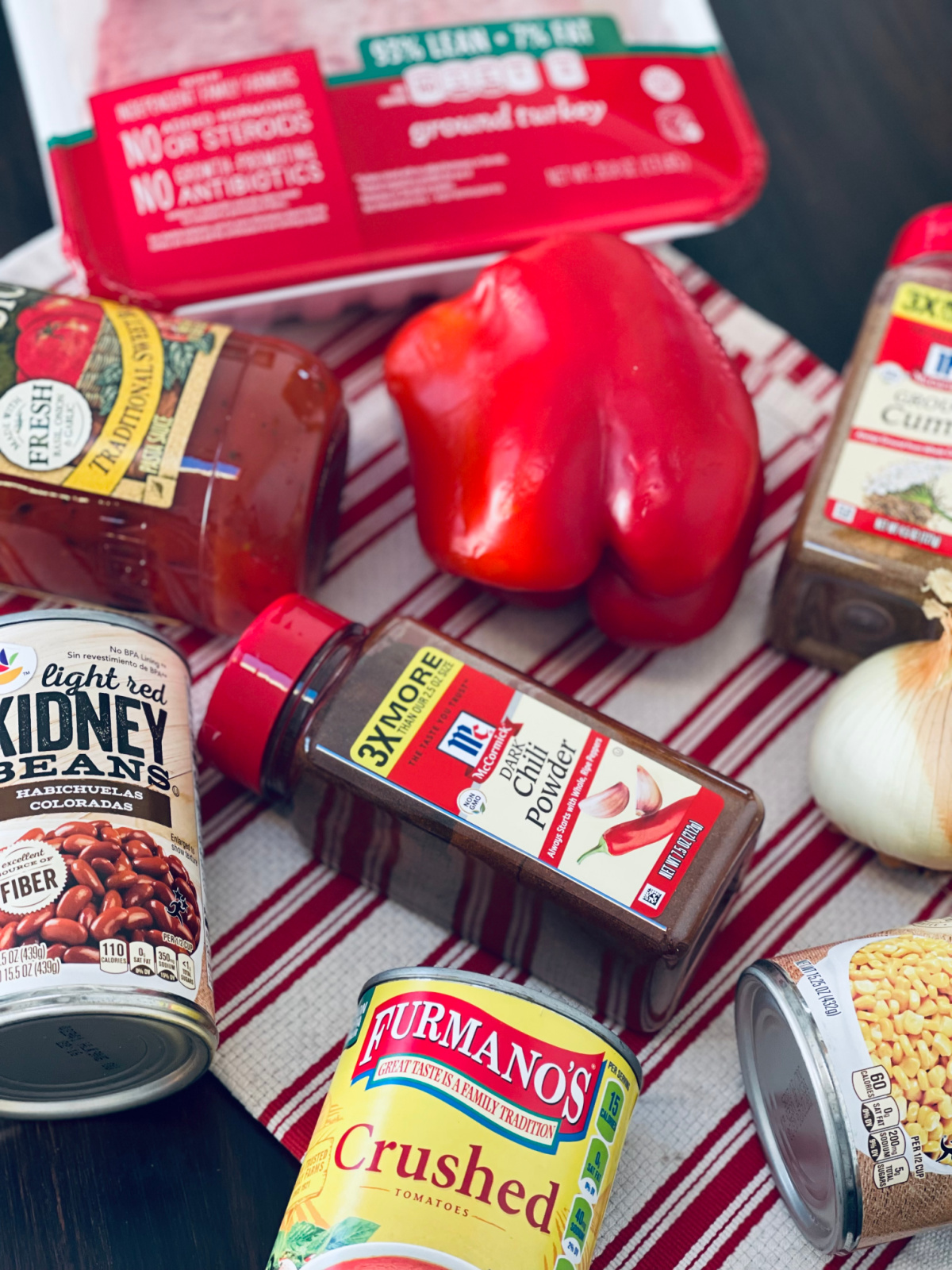 Ingredients for Easy Stovetop Chili Recipe
This post probably contains affiliate links, which means I may earn a commission if you make a purchase through those links. As an Amazon Associate, I earn from qualifying purchases. You can find our full disclosure HERE.
I use ground turkey for this chili recipe. The recipe is so flexible, you could use a 20 OR 16 oz. package.
Last week, I accidentally put in a package of 16 oz. ground chicken (originally intended for meatballs), and it was still delicious! It's very forgiving.
If you go with a 16 oz. package of meat, the chili will be slightly thinner, but you could always up the peppers or onions to compensate.
Use any color pepper you like. I usually use red pepper for added sweetness.
With the onions, again, I use sweet onions (can you tell I have a major sweet tooth?), but you could definitely use yellow, instead.
You can dice the onions and peppers in advance, and garlic if you're using fresh. I adore Costco's massive jar of minced garlic – I'll never go back to mincing garlic myself!
Make sure to rinse the kidney beans and corn before adding to the chili.
Everything else can get thrown right in after the ground turkey is cooked.
You Might Also Like: Easy Dinner Ideas from Costco – Delicious & Almost No Prep
Substitution Options Galore! Just Don't Skip the Brown Sugar
This recipe is super easy to modify – another reason why I love it so much!
Possible substitutions…
Love diced tomatoes? Throw in a can or swap with the crushed tomatoes.
Can't stand corn? Swap it out for black beans.
Prefer a thinner chili with more broth? Up the chicken broth.
Like your chili on the thicker side? Decrease the broth.
Want more spice? Throw in some red pepper flakes or cayenne pepper.
Hate beans? Swap the kidney beans for sweet potato.
(Note: If you do decide to go with the sweet potato, make sure to throw it in with the rest of the veggies in Step #2 or it won't soften.)
You can substitute plain canned tomato sauce for the pasta sauce, but it will affect the flavor of the dish.
Just promise me one thing: don't touch the brown sugar. It gives this healthy chili its sweet kick that complements the chili powder and cumin so nicely.
Other than that, the sky's the limit! If you make a substitution and love it, let me know in the comments!
You Might Also Like: How to Create a Minimalist Meal Plan (& Save Your Sanity)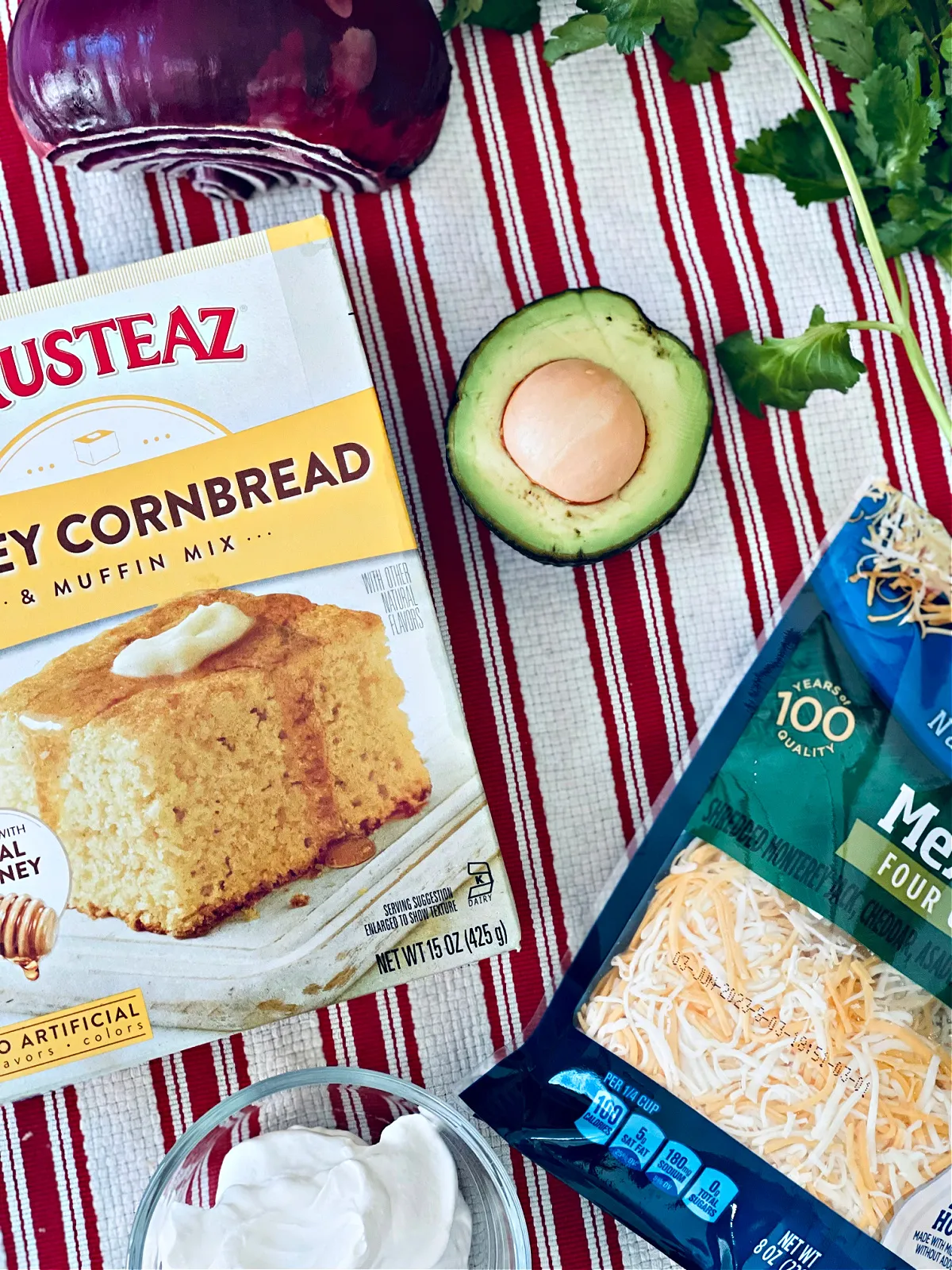 The Sides & Toppings MAKE This Healthy Stovetop Chili
Promise me that you won't forget the toppings?!
We love to eat this turkey chili with Krusteaz cornbread (made with oil, not butter): put it on the bottom and pile the chili on top. But you could also serve with tortilla chips for to balance this sweet chili with a dose of salty.
Sour cream. Shredded Cheese. Avocado. Red Pepper. Cilantro.
You could even top with your favorite salsa or pico de gallo and a squeeze of lime!
If you really want to live on the wild side – and maybe decrease the healthy just a bit – add crumbled bacon bits, too.
Go crazy with the toppings, so everyone can have their turkey chili their way.
(Warning: You might need to double the cornbread!)
Easy Stovetop Chili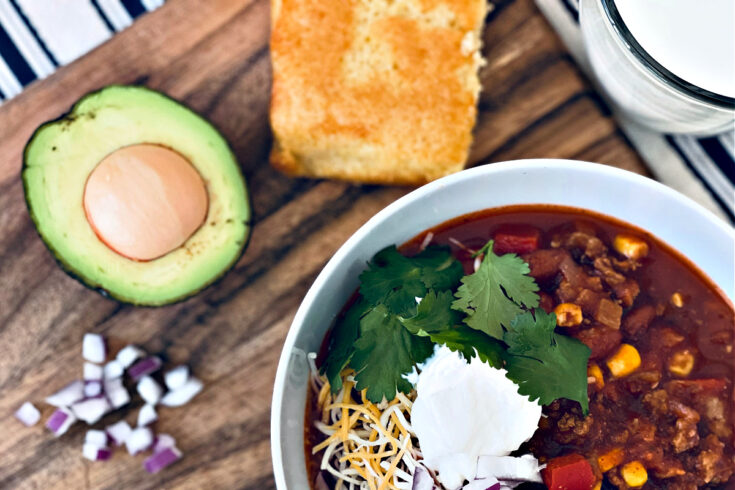 A healthy, easy stovetop chili on the slightly sweeter side. Pairs perfectly with cornbread, cheese, sour cream and avocado!
Ingredients
1 Tbsp Vegetable Oil
1 Pepper, Any Color, Diced
1 Onion, Diced
Ground Turkey OR Ground Chicken (16 or 20 oz)
3 Tbsp. Ground Chili, Divided
4 Cloves of Garlic
1 15 oz. Can Corn, Drained & Rinsed
1 15 oz. Can Kidney Beans, Drained & Rinsed
1 15 oz. Can Crushed Tomatoes
1 Cup Pasta Sauce (I Prefer Classico)
1 15 oz. Can Chicken Broth
2 Tbsp. Brown Sugar
1 Tsp. Cumin
Salt & Pepper to Taste
Toppings: sour cream, shredded cheese, avocado, diced red onion, cilantro, lime, and/or bacon crumbles
Sides: Cornbread or Chips
Instructions
Dice onion and pepper. Prepare cornbread according to box directions, and put in oven if using.
Add the vegetable oil to large stockpot on medium-high heat.
Add onions, peppers, ground turkey and 1.5 tablespoons of the chili powder.
Stirring constantly, cook until ground turkey is cooked through.
Add the remaining ingredients, including the remaining 1.5 tablespoons of chili powder.
Stir well. Reduce heat to low and simmer 15 minutes.
Serve with toppings of your choice and cornbread or chips. Enjoy!
Notes
- You can substitute diced tomatoes for the crushed tomatoes if desired.
- Add more or less chicken broth for a thicker or thinner chili.
- You can substitute a cup of canned tomato sauce, but the flavor will be noticeably different. Use jarred pasta sauce of your choice for the best flavor.
What are your favorite chili toppings? And cornbread or chips? Let me know in the comments!
Read Next: 9 Secrets to Saving Money on Groceries Without Coupons (or Aldi)