Inside: Get a free 4-week monthly meal planner printable! Plus, our actual minimalist monthly meal plan – what a family of 7 eats for dinner every single month.
I've talked a LOT about the absolutely beautiful thing that is minimalist planning, both here on the blog and to my subscribers via e-mail.
But I've never shared OUR family's actual minimalist meal plan, what we eat month in and month out. Time to remedy that!
If you're new here, we're a family of 7, with kids ages 10 all the way down to one year.
I don't make our kids eat everything I make, but as they've gotten older, they are more and more willing to try new things. I'm just buckling up for when they start eating me out of house and home in a few years.
And when they DO start eating everything I make? I'll have to start doubling all of these meals, too! Yikes!
But back to minimalist meal planning.
Discovering how to apply minimalism to my meal planning has been SUCH a relief for me. It helped me get off the meal planning hamster wheel that sucked the life out of my weekends, between the actual meal planning and then the grocery shopping itself.
Sound familiar? I promise you, meal planning doesn't have to be that hard.
An hour of work up front has the power to take meal planning completely off your plate for months at a time. Your meal planning can operate completely on auto-pilot.
Make the time to fill out this free monthly meal planner printable, and get off the meal planning hamster wheel for GOOD. You won't regret it!
You Might Also Like: Easy Dinner Ideas from Costco (Delicious & Almost No Prep)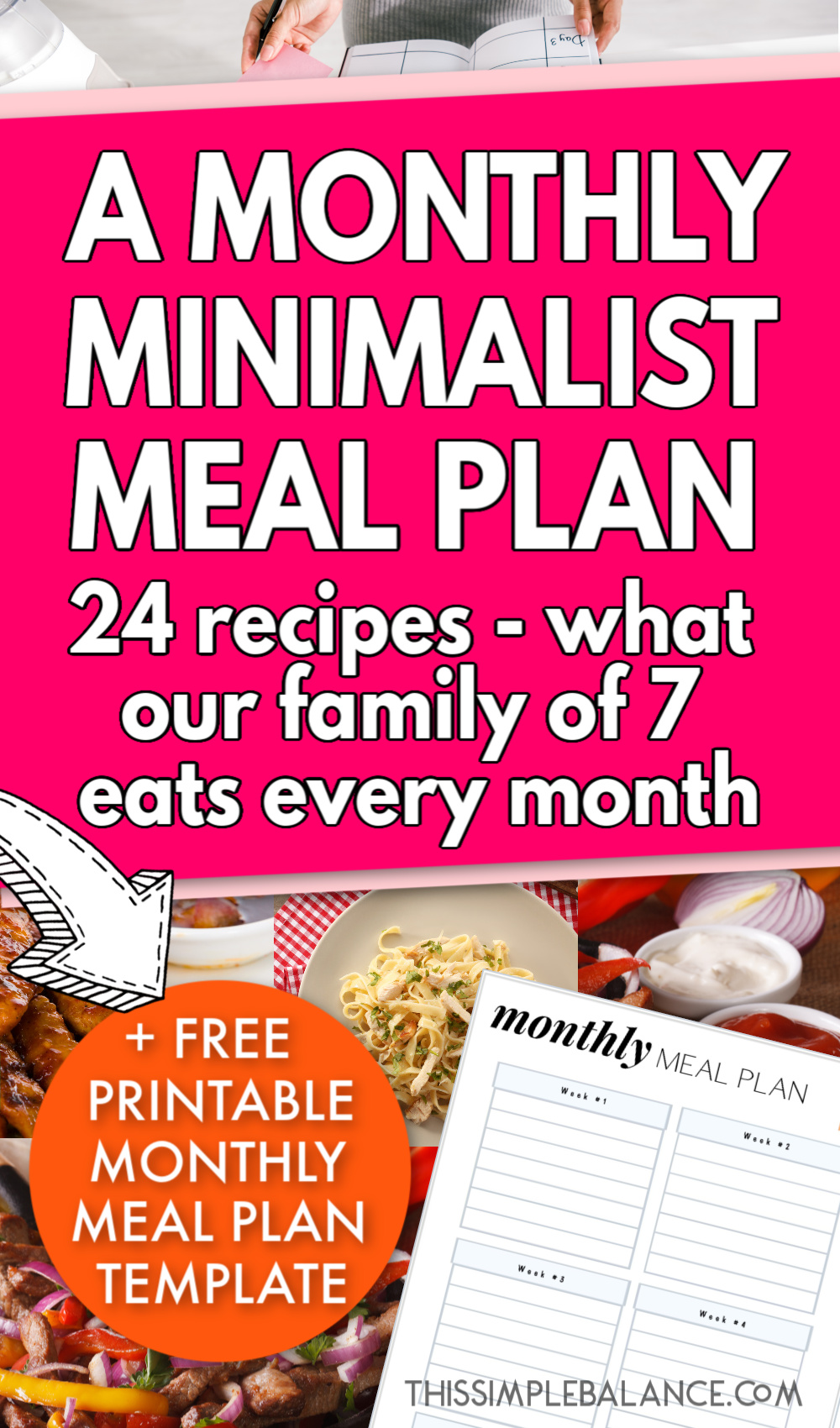 Monthly Meal Planner Printable (4 Weeks)
THIS POST PROBABLY CONTAINS AFFILIATE LINKS. AS AN AMAZON ASSOCIATE, I EARN FROM QUALIFYING PURCHASES. YOU CAN READ OUR FULL DISCLOSURE POLICY HERE.
Click the image below to download your free monthly meal planner printable to get started.
For more information about minimalist meal planning, start with this blog post: The Easiest Way to Create a Minimalist Meal Plan (& save your sanity!)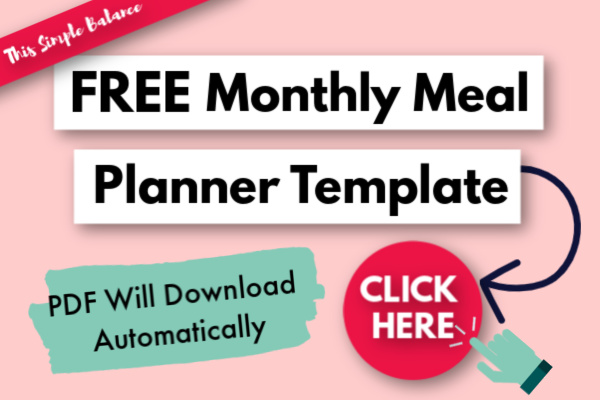 Unlike your typical monthly meal planner, this printable only has space to plan four weeks at a time, as opposed to an entire 30-31 days.
I purposely made it a four week template because it's much easier to use this planner on repeat. Plan once, and use the same meal plan over and over again until the seasons change or you get tired of the recipes.
I've included space for dinners every day of the week for four weeks, plus a section for breakfast and lunch ideas.
Our Minimalist Monthly Meal Plan
This is our winter/fall monthly meal plan. In the spring and summer, I plan on swapping out some of the heavier dishes for grilled meats and veggies.
I don't hold hard and fast to the order of the meals listed each week. Within each week, I stay pretty flexible and pick the meal that matches the amount of time I have to make dinner that night.
So here's what we eat for dinner. I hope you find new recipes to try for your own meal plan – or just straight up borrow ours!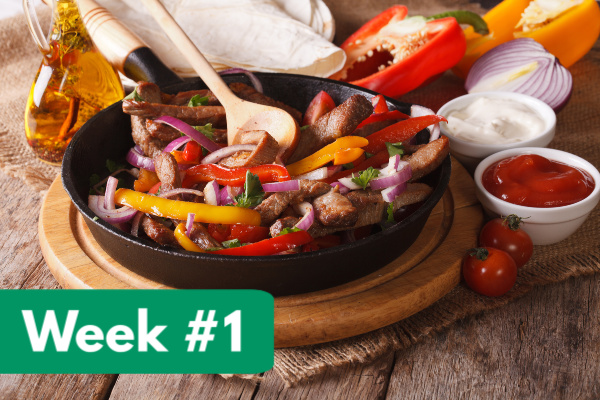 When you click through to the recipe, you'll notice I modified this recipe a bit.
I swap chicken for the beef and cut the worcestershire sauce. Because we don't have a grill, I usually broil the chicken on high for 7-8 minutes a side, middle rack.
Toppings? Corn, tortillas, fresh salsa or pico de gallo, mexican cheese and sour cream.
2. Whole Roasted Chicken
I use the cooking method from THIS recipe because it yields such a delicious crispy skin, but I use the rub from THIS recipe.
Sides? Trader Joe's Mashed Potatoes OR Stovetop Mac and Cheese, plus steamed vegetables.
For the mac and cheese, I use the sauce from THIS mac and cheese recipe and add to cooked medium shells (minus the baking) and top with toasted breadcrumbs:
Melt 2 tablespoons of butter in a skillet on medium heat.
Add one cup panko breadcrumbs and whisk to blend with the butter.
Toast in the skillet until lightly browned. Add dried parsley to taste.
I use the leftover shredded chicken from My husband detests mushrooms, so I substitute chopped zuccini for the mushrooms in this recipe.
Sides? Sliced Asiago cheese bread brushed with butter and sprinkled with garlic powder. Put in the oven at 400° for 10 minutes. Broil on low if you like your bread crispier.
I wish my family was a salad family….but we just aren't. If your family will eat salad, I highly recommend serving with salad as well!
This is the best recipe we discovered earlier this year! Everyone loves it.
Well, except my picky selective eater, but he eats about ten foods sooo….
The recipe calls for the chicken meatballs to be made from half chicken sausage and half ground chicken, but I can never find chicken sausage that's easy to combine with the latter, so I just use a whole pound of ground chicken, instead.
I also can't seem to find the tiny ball-shaped pasta recommended, so I substitute THIS kind of pasta.
Sides? Asiago cheese garlic bread.
We really love the recipes from Damn Delicious! My husband can also take the chicken on rice for work the next day.
Sides? Jasmine rice in the rice cooker, plus Trader Joe's Egg Rolls.
For this one, I up the garlic and Italian seasoning for the sauce, add an entire 8 oz block of cheddar (as opposed to the recommended 6 oz.), and use an entire box of medium shells.
I do NOT double the sauce, but if you want it to be saucier, stick to the 8 oz. of pasta or double the recipe.
Sides? Again, garlic bread, but I try to change it up with fresh veggies like carrots and cucumbers.
7. Eat Out, Leftovers or Easy Dinners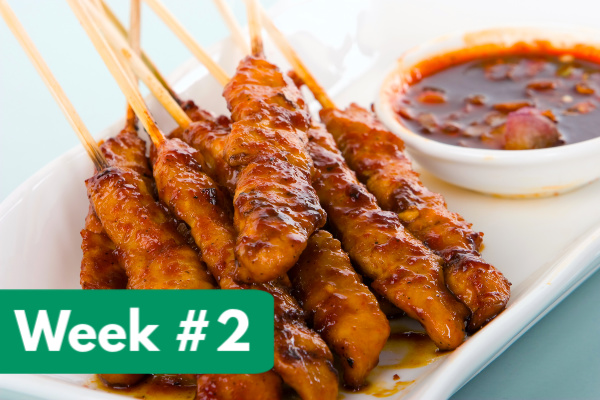 Almost everyone eats this tasty chicken cooked on skewers in the oven.
My only complaint is the recipe calls for so little coconut milk. It feels like a waste to buy an entire can, especially because I've tried freezing the leftover coconut milk, and it doesn't freeze well.
Sides? I skip the sauce from the recipe and serve the chicken by itself with rice and steamed broccoli.
9. Pot Pie
I use a recipe from an old America's Test Kitchen cookbook. Since I hate making pie crust, I usually use Trader Joe's frozen pie crusts.
Sides? None.
10. Chicken & Pesto Pasta
No formal recipe for this one. I cut chicken breast into cubes, season with salt and pepper, and cook on medium high heat in a combination of 1 tbsp. butter and 1 tbsp. olive oil. Stir as little as possible initially, allowing the chicken to develop a nice light brown color on one side before flipping.
While the chicken is cooking, cook a box of linguine or fettucine according to package directions. Drain.
Combine the chicken, pasta, one jar of pesto and if you have it on hand, a couple of plum tomatoes, diced. Serve warm
Sides? None.
11. Ham & Cheese Sliders
Similar to THIS recipe, I use Hawaiian Sweet Rolls, sliced deli ham and cheddar or American cheese.
Assemble mini sandwiches in a 9×13 pan. Brush tops with melted butter and dust with garlic powder.
Bake 10 minutes in the oven, or until cheese is melted and the rolls are lightly browned.
You can add honey mustard dressing to these sliders before baking if desired.
Sides? Serve with fresh or steamed veggies and roasted potatoes or fries.
This is one of our favorites! But I try not to overuse favorites because I've totally "lost" meals before by making them so many times, the whole family is sick of them.
Be careful making the sauce at the end, and make sure to find a good Cajun seasoning. We love THIS one.
Sides? We don't serve with sides, but you could serve with bread and salad.
13. Spaghetti & Meatballs
This one is awesome because everyone actually eats it. Well, our vegetarian selective eater eats just the pasta with Parmesan, but still, I'll take it!
Any meatball recipe will do. I use my mother-in-law's very intuitive recipe and bake in the oven before adding a pan of warmed spaghetti sauce.
14. Eat Out, Leftovers or Easy Dinner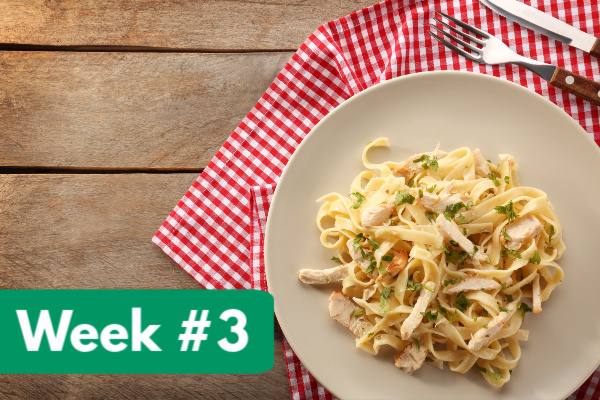 Another fajita recipe, this one is a sheet pan version for a quick meal with easy clean-up.
Sides? Tortillas, mexican cheese, fresh salsa and sour cream. Throw in an avocado if you like them!
I tried this recipe as written, but the green beans and potatoes weren't enough for our big family, so I decided to keep making the chicken only.
I pair the chicken with alternative sides, instead.
Sides? Trader Joe's mashed potatoes and green beans.
This recipe is a relatively new discovery. Damn Delicious shares three different ways to meal prep boneless chicken thighs in this recipe, and we love 2/3 recipes.
Note: Make sure to use the freshly ground pepper. If you substitute pre-packaged ground pepper, cut the recipe called for amount in half.
Sides? Jasmine rice and stir fry vegetables.
18. Easy Lo Mein with Trader Joe's Orange Chicken
Before finding this recipe, it never occurred to me to try making lo mein at home. The key to it being delicious (and not soggy and gross) is the right noodles.
I use Twin Marquis Lo Mein Noodles from the frozen section of the grocery store. I've tried noodles from the shelf, and it was a disaster. I recommend either buying fresh Lo Mein noodles from the produce section of the grocery store or a frozen version.
Sides? Egg rolls or potstickers.
We love this soup so much, we eat it twice a month!
Sides? Garlic Bread.
20. Fettuccine Alfredo
I admittedly haven't found the perfect fettuccine alfredo recipe. We've tried THIS one, but it was way too thick.
I'm going to attempt to thin it next time, but am thinking of trying THIS lite version.
Do you have a favorite alfredo recipe? Share it with me in the comments!
Sides? Steamed broccoli.
21. Eat Out, Leftovers, or Easy Dinners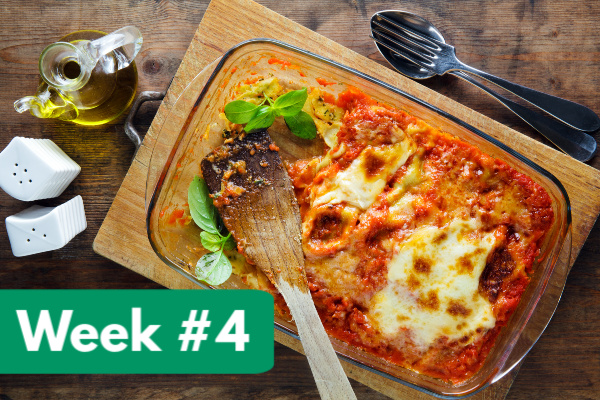 22. Pot Pie
This is another dish we eat twice a month. This time around, I try to make time to make it with cream biscuits as my husband prefers it to the pie crust.
Sides? None.
This recipe for fried rice from Gimme Some Oven is the best fried rice recipe I've ever tried. Everyone gobbles it up!
Sides? Trader Joe's Potstickers are delish!
These delicious chicken thighs are another of Damn Delicious's marinades for easy chicken meal prep.
Sides? Mexican-style rice and corn.
This one is pretty straightforward, and I follow the recipe pretty closely.
Sides? Salad or bread.
26. Stouffer's Lasagna
A girl's gotta get a break! Call me crazy, but I really enjoy Stouffer's lasagna.
I get the party size, and it makes a lot of leftovers.
Sides? Serve with, you guessed it! Bread and fresh veggies or salad.
27. Breakfast for Dinner
French toast, bacon, egg & cheese sandwiches, or pancakes (THIS recipe makes the best pancakes!).
Sides? Served with fresh fruit, typically strawberries.
28. Eat Out, Leftovers, or Easy Dinner
That's it for our monthly minimalist meal plan. I hope it gives you fresh recipes to try and add to your own monthly meal plan.
Do you have a favorite recipe? Share it in the comments to add to this list.
And don't forget to grab the free monthly meal planning printable!
Related: 20 Ways to Simplify Your Life And Make Time for What Matters Most