Inside: Craving a simpler, less stressful life? Here are 20+ ways to declutter, streamline and simplify your life, so you can reduce stress and make time for what matters most.
At the end of 2019, Joshua Becker released a new book called The Minimalist Home: A Room by Room Guide to a Decluttered, Refocused Life.
It sold out in five hours.
I think it's safe to say that more people than ever before want to know how to live a decluttered, simplified life.
Since I first started my minimalist journey over three years ago, I've realized that while minimalism starts with decluttering your physical space and belongings, there is SO much more you can do to simplify life than just get rid of stuff (and stop buying more of it).
Once you start pursuing a simpler life, minimalism and simple living naturally extend to every part of your life: your food, your schedule, your money, your relationships. Simplifying and streamlining all of those areas has the potential to reduce stress in so many ways.
And once all of that unnecessary stress is gone? You have more time and energy for what matters.
For me, that's my family and my work. What is it for you?
Whatever your answer, here are more than twenty ways to simplify life this year, so you can spend more time and energy on what matters most.
Related: 10 Unique Minimalist Lifestyle Tips from a 5-Year Minimalist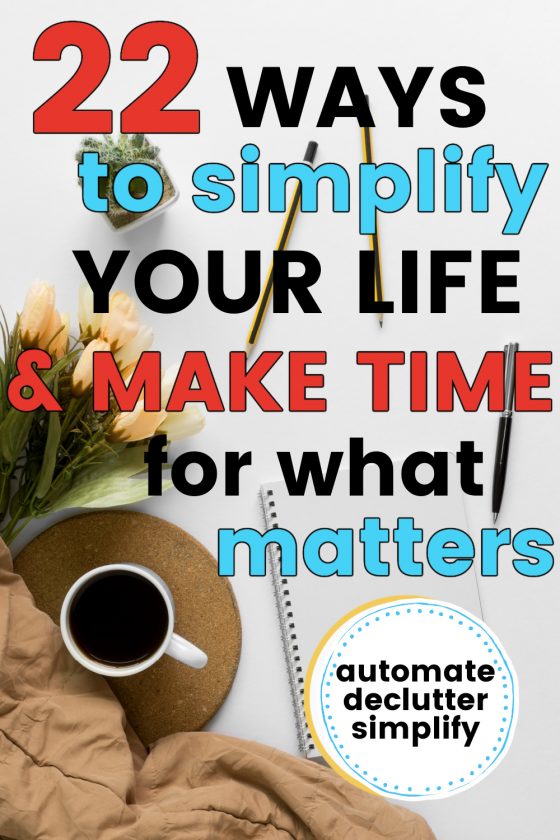 20+ Ways to Simplify Life This Year
THIS POST PROBABLY CONTAINS AFFILIATE LINKS. AS AN AMAZON ASSOCIATE, I EARN FROM QUALIFYING PURCHASES. YOU CAN READ OUR FULL DISCLOSURE POLICY HERE.
1. Know yourself.
Simplifying can look drastically different from someone in a different life stage with a different family size and different life circumstances.
What simplifies life for me may very well complicate life for someone else. What refreshes me is probably draining to someone else.
So before you make any effort to simplify your life, you need to know yourself, at least a little bit.
Try taking a personality test or reading a book on personality typing as a step in the right direction. The tests that I've found the most helpful are:
For moms, the book Mother Styles helped me immensely in applying what I knew my Myer's Briggs type to be to my actual every day life. Sometimes, knowing your type will only get you so far though. A book or a coach or a counselor can help you develop practical strategies to apply that knowledge to your life in ways that actually make your life better.
Some of the strategies in that book seriously changed how I do motherhood, and for the better. Now I rest and work better because I rest and work in ways that best suit my personality type IN motherhood.
If you don't already know your type, the book will help you figure that out.
2. Take an annual personal retreat.
A personal retreat doesn't need to be a spectacular affair. It doesn't even need to be overnight. Two to three hours by yourself at a coffee shop works just as well!
Use that time to reflect on the previous year:
What did you love?
What went well?
What didn't work very well?
Use your answers and reflections to look ahead to the new year. You can set goals, if you're in a season where goals are helpful and effective for you. (In certain seasons of motherhood, the only goal that feels relevant are keeping all the tiny humans alive.)
Otherwise, choose a few relevant, intentional changes you want to make to focus on in the year ahead. Some people do this by choosing a word. Others set resolutions. Still others make the personal retreat monthly instead and only choose one or two things to focus on per month.
Whatever you decide, a personal retreat is an excellent way to start a new year with purpose and intentionality.
Related: Why I Don't Set Goals Anymore (& What I Do Instead)
3. Create and follow a minimalist meal plan.
Food is such a major part of our everyday life. Oh, how I wish sometimes that we didn't need it (or love it) as much as we do!
And when you're the one in charge of buying and preparing it for multiple people? Food has the potential to be a major source of frustration and complication in your life. It's easy to reinvent the wheel every single week, and allow meal planning to suck up multiple precious hours.
But food doesn't need to be such a time and energy drain.
After trying pretty much every meal planning strategy under the sun, I've found that the easiest way to simplify food is by creating and following a minimalist meal plan.
Fewer meals eaten more often. Simple.
Read More: The Easiest Way to Create & Follow a Minimalist Meal Plan
4. Make "no" your default response.
If you're in the habit of responding with a "Yes" to every request of your time, you are making your life so much more complicated that it needs to be.
You will either be overcommitted and drained or constantly wasting energy backpedaling on your commitments.
Make a gracious "no" your default response (some version of "I'll have to think about that" can be a stepping stone to a the gracious "no"). Then actually take time to think about it, and don't second guess your decision.
A cluttered schedule can increase your stress levels as much as, or more than, a cluttered home.
5. Establish a morning routine.
Routines are built on the foundation of habits. You probably already know that once something becomes habit, it takes so much less effort to complete than your random every day to-do list.
When you create a morning routine, you proactively choose how to start your day. Anything that will help you start your day on the right foot and make your life easier to maintain can be in your morning routine.
For example, I include a few basic cleaning tasks in my morning routine. They take minutes to complete, but if I didn't do them, I would certainly pay for it with hours of cleaning once a week.
Related: A Morning Routine for Moms Who Can't Wake Up Early
6. Establish an evening routine.
While morning routines get most of the glory, your morning routine is only as good as your evening routine. Without an evening routine, it can all break down in a heartbeat.
Are you constantly staying up late? Dragging yourself out of bed in the morning?
Then it's unlikely any kind of morning routine you fashion will actually stick.
Especially if you have morning commitments that require getting out the door on time (thankfully, I homeschool, so I'm not getting five kids out the door in the morning), your evening routine will make your morning routine SO much easier.
Creating my morning routine was fairly easy. Creating an evening routine, however, was much more difficult.
Knowing what to include in your evening routine – what you want or even need to consider adding to it – is for whatever reason not as intuitive as it is for a morning routine.
That's why I highly recommend this course by Crystal Paine, highly successful mom blogger at Money Saving Mom and Your Blogging Mentor, to walk you through creating an effective evening routine. It will save you a lot of time, headaches, and trial and error. Plus, it's ridiculously low-priced for all that an effective evening routine can do for you!
Check out Make Over Your Evenings HERE.
7. Ruthlessly declutter your home.
Organization will only get you so far. Although if you love organization like I do, you know it can definitely give the illusion of peace and order.
But what I've learned after years of trying to organize is that you can organize all you want, but at the end of the day, unless you get rid of all.the.extra.stuff. you will still spend hours of your life maintaining that organization. You'll constantly feel like your systems aren't working and need to create new ones.
There is absolutely a place for organization, but decluttering always has to come first if you truly want to reap the benefits of more time and energy for everything else in your life.
Don't know where to start?
Get this free decluttering checklist with over 100 items you can get rid of right now.
8. Minimize shopping (of every variety).
Unless shopping brings you incredible joy and you can do it without bringing a ton of unnecessary clutter into your home, minimizing shopping is a key way to simplify life.
With soon-to-be five kids, I am more and more frequently utilizing automatic online delivery services like Amazon and Grove Collaborative for things like diapers, bulk snacks, and cleaning supplies, grocery curbside pick-up, and ordering online for just about everything else.
I've been a minimalist more than three years now, but when I step foot in Target for a gallon of milk? I honestly start believing that yes, yes, I do need the entire Magnolia Home's home décor section.
Even if you forget the potential clutter traps you can (and often will) fall into, shopping steals your time, your money, and your energy.
For example, extra trips to the store mid-week because you didn't meal plan or write your grocery list effectively means you are wasting time that could be spent on whatever you actually want/need to spend that time on: rest, recreation, hobbies, family. Not to mention the extra gas and car wear and tear.
January is the perfect time to try a "No-Spend Month" to curb your shopping habit. It can work wonders on cutting back your impulses to spend and to go whenever the urge strikes you.
Trust me.
Reduce shopping whenever you can.
Get 5 FREE items when you try Grove Collaborative (plus a 60-day free trial of their VIP membership).
9. Declutter your e-mail inbox.
During the month of December I attempted to declutter my inbox.
Oh. My. Goodness.
I think decluttering your e-mail inbox is far more difficult than decluttering physical stuff!
Every retailer and e-mail service provider seems to have invented a different way to unsubscribe, making it more difficult and time-consuming to complete the task. Plus, it often takes 7-10 business days for you to stop receiving e-mails. Therefore, you're never quite sure if you actually unsubscribed at all.
(Side Note: if you no longer want to receive my e-mails, please oh please, just hit the unsubscribe button at the bottom? My e-mail provider makes it so easy, thankfully.)
But the results are worth it. Opening my e-mail app is so much less distracting now in every way.
The other positive about how difficult it is to declutter your inbox is that you are extremely wary about signing up for e-mail lists in the future!
Is that 10% off coupon really worth the inbox clutter? From someone who just spent hours decluttering her e-mail inbox, it's really not.
10. Establish systems for dealing with paper clutter.
Oh, paper. You can't live with it; you can't live without it.
Paper can seriously complicate your life. From junk mail, credit card offers, random receipts, library calendars, and your daughter's enormous stack of papers from school last week, we are literally inundated with paper clutter.
It's no wonder that even the thought of dealing with our paper piles causes stress. It's so much easier just to chuck in all in a bin to deal with later…
But the paper won't declutter itself.
You need to establish a system for dealing with paper clutter, so that the second any given piece of paper enters your house, you know exactly where it's going. You know what you need to keep, and what you can let go of what's left without fear or worry.
The simpler the system you choose, the easier it will be.
Related: 8 Ways to Stop Paper Clutter Before It Comes Into Your Home
11. Choose the best planner for you & use it.
Last year, I switched planners mid-year. For a few years, I used the bullet journal and loved the simplicity of it (mine was not the artsy, time-intensive sort).
But then, this summer, several bloggers I know swore by the Living Well Spending Less Planner. I decided to try it as I felt like the effectiveness of the bullet journal was decreasing for me.
Initially, the LWSL planner was awesome. It offered me a few key features that were missing from my bullet journaling routine at the time.
However, I was underutilizing the planner in so many ways.
I'm in a season of life where time-blocking is not very effective, and while I do have a few goals, they are fairly simple and don't change much from month to month (they mostly involve keeping my family clean, fed, and clothed, and this blog running in the most basic sense).
So, I ended up creating a simple command center and returning to the bullet journal. Those two things together are meeting all of my planning and organizational needs at the moment.
Start with what you need/want as far as planning goes:
Do you just need a basic way to keep track of appointments?
Do you need space for meal planning and grocery lists?
Are lines with every hour helpful or stressful?
Then, armed with your answers, do your research, and just pick one.
Finally, remember that you're not married to your planner (although the price tag on some of them could make you feel that way). You can always change in a few months if the planner you have stops working for you.
The "mistakes" are worth it to find one that works really well for YOU – not your friend or your co-worker. You.
12. Be aware of your screen-time habits.
I love a good Netflix binge as much as the next person, and I am getting better at listening to my body on when that would be a good choice for me.
Everyone is different. What is wasteful or harmful for one person is quality enjoyment and relaxation for another.
Instead of always trying to find ways to restrict my screen-time, I am trying to become more aware of my habits and more intentional about when I used screens, especially about cutting back on social media. Over the past few years I've realized that social media is far, far worse for us that video games or t.v. shows.
Unfortunately, not many of us were taught to listen to ourselves – what is truly restful or not. Everything was controlled FOR us, so we never learned how to manage ourselves.
When you start listening to yourself and experiencing how different choices make you feel, you can use screens as a tool for good in your life.
Related: The Case for Unlimited Screen Time for Kids (from a recovering control freak mom)
13. Create a capsule wardrobe.
Not all minimalists have a strict capsule wardrobe because they love variety. For them, getting dressed in the morning and choosing an outfit brings them immense joy.
If that's you, feel free to disregard this advice.
For many others, limiting your wardrobe to a smaller number of pieces that mix and match easily and make you feel amazing can simplify your life in a huge way. You can save SO much time getting dressed in the morning when you know that everything you own fits and flatters you AND coordinates effortlessly.
Getting dressed is one of the first things we do in the mornings. Start your day off on the right foot, and save your decision-making energy for more important things.
You can find more advice on how to get started with a capsule wardrobe HERE.
14. Establish and stick to a simple laundry routine.
Decluttering your wardrobe goes a long way to making a simple laundry routine a reality. If you let the laundry pile up, the task is so much more daunting.
The easiest way I've found to stay on top of the laundry is a load a day. It's part of my daily morning routine. I usually end up folding later that day or sometimes the next.
Keeping clothes in separate bins according to laundry temperature also helps make it easier to toss a load in quickly.
If a daily laundry routine doesn't sound necessary for your family size, check out this post for more ideas on how to make your own unique, simple laundry routine.
15. Make a clean kitchen before bed a non-negotiable habit.
If there is one thing that has completely changed my life in 2018, it was reinstating a "clean kitchen before bed" rule – no matter what.
After all, what are the two things that most trip up moms (and everyone else) on a daily basis?
Laundry and dishes.
I knew theoretically that waking up to a clean kitchen in the mornings had a positive effect on my mood and overall positive outlook on life.
But after a difficult 2017 getting a business off the ground, I let several cleaning habits slide. A clean kitchen before bed was one of them.
As a result, I often spent mornings preparing breakfast for the kids and taking care of last night's mess. If it was a particularly complicated dinner the day before, those dishes sometimes got put off for more than one morning. Then I was dealing with it on the weekends.
That is no fun, plus it makes me far less likely to want to cook the next night or the night after that, making it a budget issue as well when take-out is the knee-jerk reaction to a lack of desire to cook what I planned that night.
Do yourself a favor and make it a non-negotiable. Unless you are deathly ill, the kitchen will be clean before you go to bed.
As it becomes a habit, it will be far easier to actually do, AND your life will be so much better as a result in more ways than one.
16. Clear your surfaces.
This is a classic minimalist suggestion that makes a huge difference. This summer, at the advice of another minimalist blogger, I decided to try to declutter my kitchen countertops.
I really didn't think it was possible because our kitchen is so small, and I was skeptical that it would make much of a difference.
I was so wrong.
Clear surfaces invite you to use them, and they make it easy to do so.
I no longer feel overwhelmed when it's time to cook. I know I have the space to do it now: no prep required.
I carried the clear surfaces principle as much as possible into every other room in our house (although we don't have many other pieces of furniture with large, open surfaces apart from end tables), and it's had a similar effect in those rooms.
Cluttered surfaces add stress to your life because those surfaces cannot be used the way they were intended to be used. Find other places to store what used to occupy those surfaces, and enjoy the benefits of a surface you can actually use!
Related: Declutter Your Kitchen Countertops in 3 Simple Steps (& Why It Matters)
17. Become a one-car family if at all possible.
Unless having two cars is absolutely simplifying your life, as in there are too many conflicting commitments between you and your spouse (and kids) to make one car work, one car can make life so much simpler.
Owning and maintaining one car is, quite simply, half the work on owning and maintaining two. And that doesn't even factor in the cost of one versus two vehicles.
We don't have a car payment, our car insurance is ridiculously cheap, and we only have the stress of one car's repairs and maintenance.
All of those benefits are worth the occasional inconvenience.
18. Pay bills as soon as you receive them, and automate whenever possible.
Paying bills as soon as you receive them is a great way to reduce stress and simplify life.
While it may work for some people to sit down and pay bills all on one day, I've found that with different due dates, it wasn't possible with our income and budget to pay them all at once.
We use one main credit card for almost every expense (except for Amazon purchases, then we use this car to get 5% back on all our Amazon purchases). This allows us to get most of the clothes for our family of soon-to-be 7 for free with reward points.
Other people make this work by staying one month ahead of their expenses. All of this month's expenses are paid with last month's income.
However you choose to go about it, paying bills as soon as you receive them is a great way to simplify your life and avoid late payments and additional late fees.
19. Make savings automatic.
Most of us have heard the saying, "Pay yourself first," but how many of us actually follow that advice?
Last year, we made the decision to prioritize having an emergency savings account, and it was one of the best decisions of 2018! Granted, we did have an emergency that required using the money we set aside, so we are in the process of building our emergency savings back up.
However, the peace of mind that comes from knowing you can pay for an emergency in cash is awesome. Make saving oh so simple by asking your workplace to automatically set a portion of your check into a separate savings account or set up an automatic withdraw from your bank account once a month.
We use Capital One for our savings accounts (emergency, Christmas, car insurance, etc.) because it keeps them separate from our regular checking account. I literally sometimes forget we have it sometimes, which is how savings should be, right?
20. Consider homeschooling.
While I do sometimes fantasize about sending my kids to school (I'm an introvert with a big family after all), the thought of becoming a slave to someone else's agenda and requirements stops that fantasy in its tracks every time.
You think school is making your life easier. It's actually complicating it in more ways than you know.
Because I don't send my kids to school, I don't deal with:
Homework
PTA Meetings
School Fundraisers
Kid to Kid Advertising
Crazed Mornings
Forms and Paperwork
Strict Bedtimes/Wake-ups
Plus a host of other things that aren't coming to mind right now.
I just want to put the idea out there that homeschooling can actually the simpler life choice.
I know that idea seems crazy and impossible if you don't homeschool, but depending on your homeschool style and lifestyle choices, homeschooling can simplify life in so many ways – seriously!
For more reasons to homeschool, click HERE.
21. Break your phone addiction.
I spent the month of December intentionally attempting to break my addiction to looking at my phone. E-mail, Pinterest, Facebook (even when I removed the app it was tempting!), Instagram.
Scrolling mindlessly through social media or checking e-mail multiple times a day can either give us an incredible endorphin boost (25 people liked my post!) OR have the opposite effect, sending us searching for another way to get that boost.
I'm pretty sure no one needs to check their e-mail fifteen times a day – really, what's so important?
And unless social media is your job (it's a small part of mine), being on it for hours at a time is not only unproductive, but it reduces the time you have to devote to anything else.
One step in the right direction is turning off notifications for e-mail and social media. Schedule times during the day to be online and stick to whatever time restraints you set.
Another idea is to move all your social media apps to the last page of your phone. If they aren't immediately in your face
22. Set boundaries with toxic people.
We all have toxic relationships, but how we interact with those people is a choice. I'm going to say it again because sometimes, when dealing with toxic people, we feel like we are helpless, like we need to subject ourselves to constant pain and frustration.
You don't. You have a choice.
You can set clear boundaries with those people, and those boundaries might need to be extreme. You might even need to eliminate contact with them completely.
Toxic people do the opposite of simplifying life: they complicate it. If those people are family, I realize that setting boundaries can be even more difficult to do.
Personally, I found this book extremely helpful in learning how to set healthy boundaries in all relationships, not just toxic ones.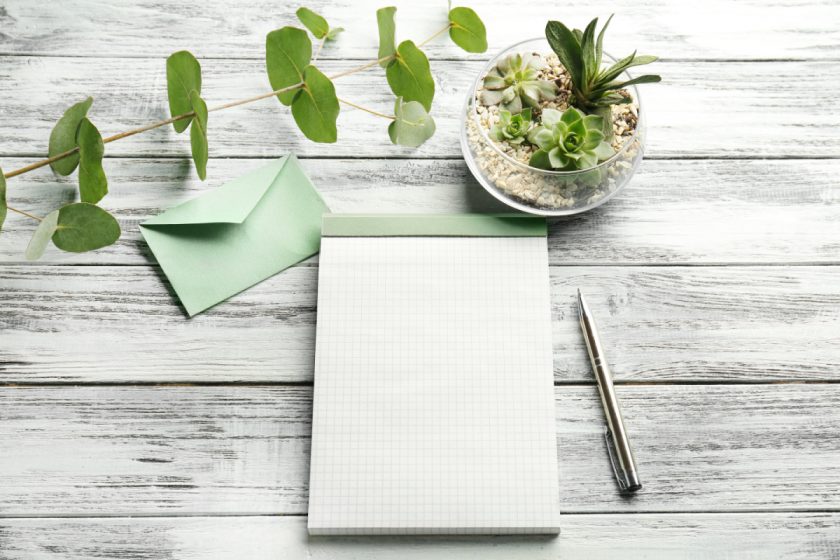 How to Simplify Life When It Feels Overwhelming
If you're new to simple living and minimalism, you probably read this list and feel overwhelmed. It's a lot to take in, I know, and it will obviously take time and effort to implement each of these steps.
But doing just a few of these things can make a world of difference.
I started with decluttering my home.
Next, I moved on to creating a morning routine.
Then, I created a minimalist meal plan.
Those tasks took the most effort, but they gave me the momentum I needed to work my way through the rest of this list.
If you read the entire post, then you also know that it was only last month I started making a clean kitchen before bed a non-negotiable habit, decluttering my e-mail inbox, and breaking my phone addiction.
Simplifying life is a process, one that will become more natural as you go along.
Choose a few from this list that you think will make the most impact (what I started with might work for you, too). Do those first. Then come back to this post and choose a few more.
But whatever you do, don't put it off.
Don't wait.
Start simplifying your life today. Right now.
Make this the year that you choose to put in the effort to simplify your life.
It's hard work, yes. But it'll be worth it: promise.
Read Next: Please Don't Declutter Your Home In a Weekend. Here's Why.