Inside: Looking for the best picture book read alouds for a wide range of ages? These 27 books are our absolute favorites – worth buying and re-reading again and again and again. Even my fifth grader will listen in when these are in the book stack!
I read the final page, closed the book and tried to stifle a yawn.
It was another mediocre picture book that I cannot for the life of me understand how it got published.
I guess the cover art saved the day? Along with a charitable librarian who decided to put it on top of the shelves for display to boost the book's check-out numbers?
The cover must have been what drew my 4-year-old's eyes to the book that shall not be named, which led to her putting it in our library book stack, which led to the unfortunate occurrence of me needing to read it aloud.
If you've been parenting for more than a few years, you probably know the pain of lackluster picture books. They're torture, even if you normally adore reading aloud to your kids.
Maybe you've even tried lists of classic picture books, only to be disappointed with those, too.
Well I'm here to save the day (or night, depending on when you read aloud to your kids) with this list of our 27 favorite picture books to read aloud, the ones we keep coming back to, five kids later.
I love reading them over and over again. The kids love hearing them over and over again. Win-win.
You Might Also Like: 17 Unexpectedly Awesome Books for Little Boys (Hilarious and Engaging)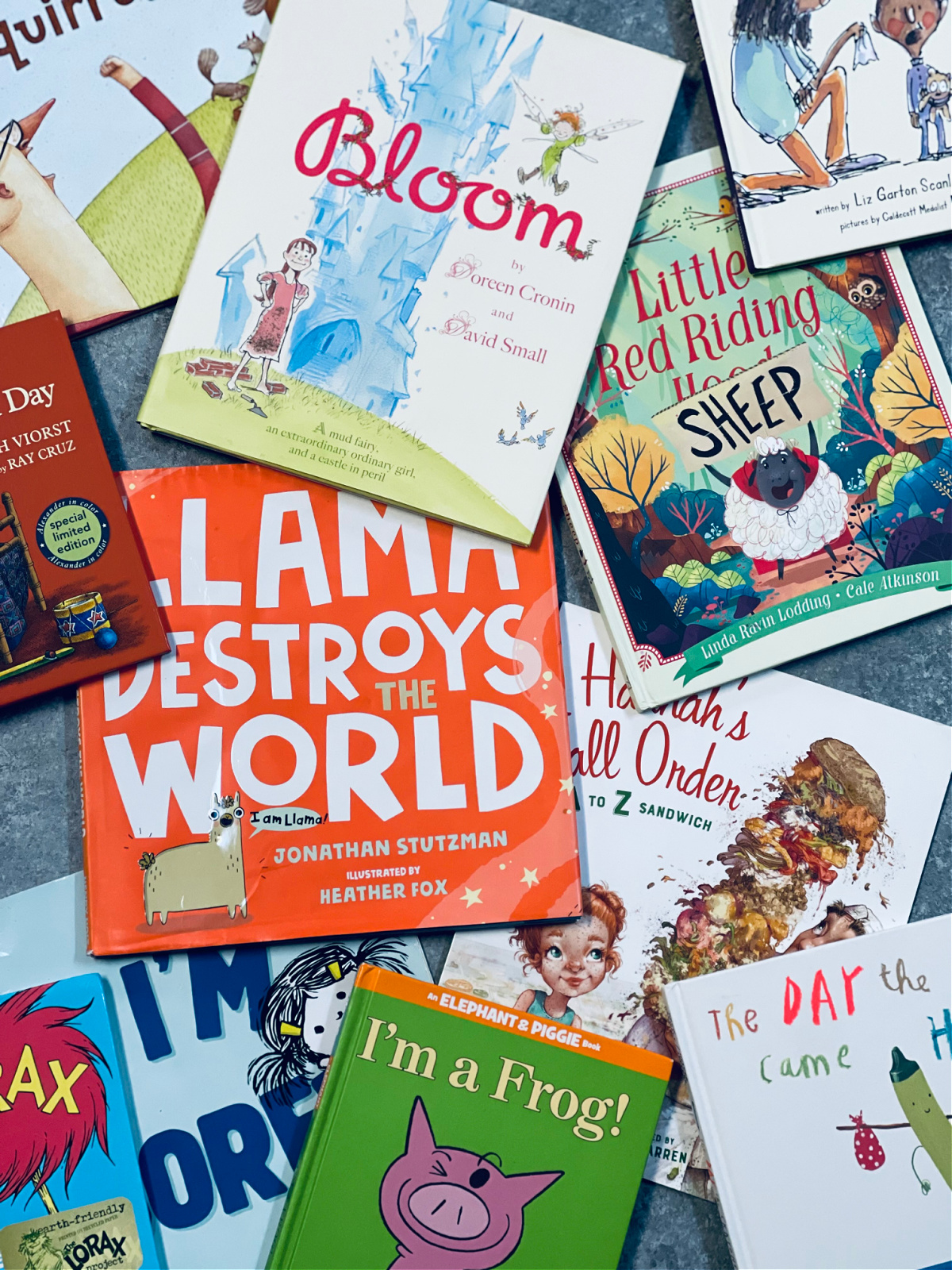 27 Best Picture Book Read Alouds We Keep Coming Back To
This post probably contains affiliate links, which means I may earn a commission if you make a purchase through those links. As an Amazon Associate, I earn from qualifying purchases. You can find our full disclosure HERE.
We own most of these books. And I'm a minimalist who tries to keep our children's book collection pared down to only our favorites.
A good number of these selections are laugh-out-loud funny picture books, with a few serious/tear-jerker choices, too.
With the possible exception of Pinkalicious (some parents don't love the underlying themes), I think you'll love reading aloud every picture book on this list.
You Might Also Like: 70 Picture Book Biographies Kids Will Love
1. Muncha, Muncha, Muncha
All Mr. McGreely wants is to tend his garden in peace and enjoy the harvest of all those yummy vegetables.
Three little rabbits? They have other plans (like muncha, muncha, muncha).
Kids love to watch Mr. McGreely build higher and higher fences trying to keep the rabbits out, only to have them find their way into his fortress in the most obvious way.
2. I'm Bored
We were given I'm Bored at a summer literacy program years ago, and my kids have found it hilarious ever since.
A little girl is bored. She discovers a potato, but also finds it boring…until the potato declares his feelings of boredom with her, too (he's only interested in flamingos).
The little girl tries to convince the potato that kids couldn't possibly be boring because they can do so many cool things. Spoiler alert: she fails.
3. The Lorax
This one, I get all choked up at the end every single time. It's one of two Dr. Seuss books (How The Grinch Stole Christmas! is the other) we own, and I love reading it again and again and again.
"Now that you're here, the word of the Lorax seems perfectly clear. UNLESS someone like you care a whole awful lot, nothing is going to get better. It's not."

Dr. Seuss, The Lorax
I will note that it may be difficult for a child younger than five-years-old to sit through the whole story. But it was my six-year-old's favorite book for weeks and weeks. I must have read it more than thirty times.
If you're not familiar with the book, the theme is definitely environmental protection. The Once-ler comes in to profit off of the Truffala trees, and the Lorax is trying to protect them.
Related: 25 Picture Books on Immigration and Refugees (to develop empathy)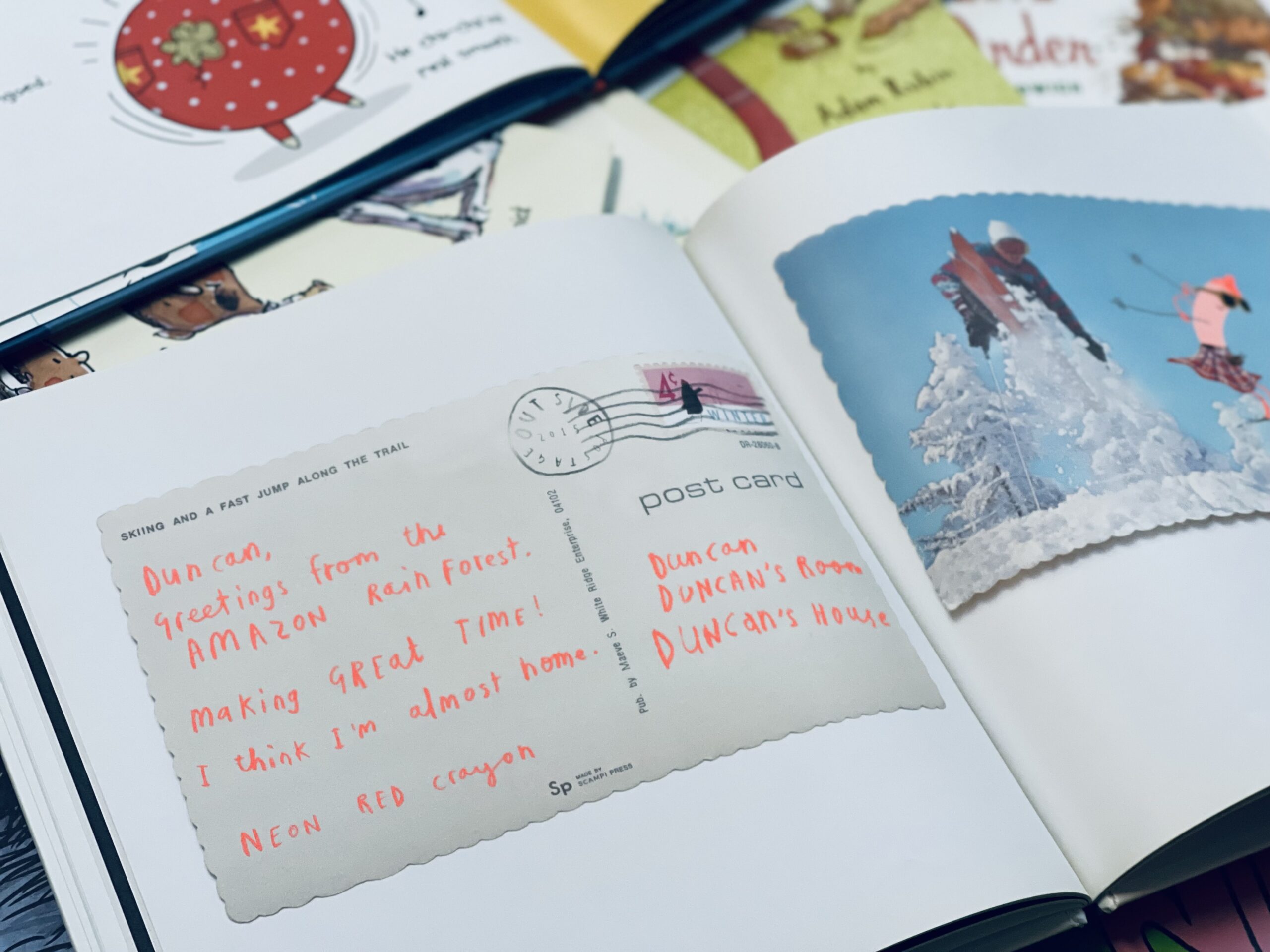 4. The Day the Crayons Came Home
The Day the Crayons Came Home is actually the second book in the crayons series, and we prefer it to the first book.
Duncan has forgotten about some of his crayons. They are scattered throughout the house, and in some cases, across the globe.
Our favorite storyline is hot pink crayon, who keeps sending postcards from her various pitstops coming home from an old family vacation spot. But she's always mislabeling the location (pyramids in New Jersey? Nope!).
5. Too Many Toys
If you've been around for a while, you know that I'm a minimalist with five kids (yes, five). That's probably why I adore this book so much.
In Too Many Toys, Mom is on a decluttering rampage because Spencer has too many toys. They negotiate for pages and pages and fill an entire cardboard box with cast-offs.
Mom is victorious! But then she finds the toys dumped out in the hallway, with Spencer declaring the only toy he will NOT give up is the box (ha!).
6. I Love You Already
I Love You Already! is a tale of two friends with very different personalities. Duck is the most extroverted extrovert there is, and Bear is a serious introvert.
Duck coaxes (or pushes) a reluctant Bear out of the house for a walk only to have Bear go off by himself for a few minutes alone. Duck thinks Bear doesn't like him because he doesn't want to spend every minute with him.
But as Bear explains, "I love you, already." You can be good friends without being together all the time – really.
If you talk at all about the differences between extroverts and introverts at your house, you will love this book!
7. Bob, Not Bob
Little Louie has a cold. Getting his needs met turns out to be super difficult because he can't explain what he wants.
Every time he calls for his mom, it comes out "Bob!", which just so happens to be the name of his dog. Of course, the dog comes running first. Mom only follows after Louie repeatedly yells, "Not Bob, BOB!"
Bob, Not Bob! is so fun to read aloud, and in the summer, we are always making references to being "hod and smeddy" (hot and sweaty). Make sure to use your best "I have a bad cold" voice.
8. Llama Destroys the World
Llama Destroys the World just might be the most ridiculous picture book you've ever read, which is probably why kids and adults love it so much! The entire series is hilarious.
Llama eats too much cake. He tries to dance afterwards, but his pants are NOT having it. Not after all that cake.
The inevitable rip in his pants leads to the creation of a black hole, and the ultimate destruction of the universe. But it all turns out ok in the end.
9. Click, Clack, Moo
Ok, this one is kind of a classic. Doreen Cronin's book Click, Clack, Moo is the hilarious tale of farm animals on strike.
The cows found an old typewriter in the barn. They have demands for Farmer Brown: electric blankets or no more milk for you.
As the rest of the animals follow suit, Farmer Brown doesn't know what to do. Give in to their demands? And who is really behind the animals striking?
10. The Legend of Rock, Paper, Scissors
Most kids know the game rock, paper, scissors. They haven't heard this fun origin story, brought to you by the author of The Day The Crayons Came Home!
In The Legend of Rock, Paper, Scissors, Rock is looking for someone to fight. But every opponent turns out to be inferior, so he sets out across the yard in search of a worthy foe.
Scissors and paper are on similar quests. They're fighting Dino nuggets and staplers, of all things, with no success.
Rock, paper and scissors find each other and discover they're the perfect fighting trio.
11. If You Ever Want to Bring a Piano to the Beach, Don't
Could you really bring a piano to the beach? Nope. But is it hilarious to think about what might happen if your mom said, "Sure"? Absolutely.
Shocker: it doesn't go well. And kids will laugh at every crazy thing that happens when you do try to bring a piano to the beach.
Only warning – you might get tired of having to read it aloud over and over again because kids will love it just that much.
12. Dragons Love Tacos
According to Adam Rubin, dragons love tacos. Just make sure they don't eat spicy salsa because that's bad news for dragons apparently.
Follow the kid who tries to throw a taco party for all the dragons but forgets to check the "mild" salsa ingredients. Whoops.
Any book that can get my picky eater to ask to try tacos, a new-to-him food? It's a winner.
13. Alexander and the Terrible, Horrible, No Good, Very Bad Day
Alexander and the Terrible, Horrible, No Good, Very Bad Day will never go out of style! Alexander has a horrible day from the minute he gets up, to the minute he crawls into bed at night.
From not getting the prize in the cereal box to lima beans for dinner, Alexander just wants the day to end. Or to move to Australia.
Everyone – from kids to adults – needs a good reminder that bad days happen to everyone, and tomorrow is a new day.
(Grumpy Monkey is a close second to this one!)
14. Leave Me Alone!
In Leave Me Alone!, A grandmother is trying to knit sweaters for all thirty grandkids, but those grandkids won't stop playing with her yarn. She just needs a little bit of alone time, already!
She sets off with her yarn to find that alone time, but no one seems to want to let her be. From bears to aliens, she keeps having to tell everyone to, "Leave. Me. Alone!"
But once she finds her precious alone time, and all thirty sweaters are knitted, she makes a surprising discovery about what she really wants.
15. Mother Bruce
If you aren't familiar with The Bruce series by Ryan Higgins, Mother Bruce is the place to start!
Bruce is a bear who loves to cook. In an effort to procure some goose eggs for one of his recipes, he accidentally becomes a foster parent to three baby geese.
Grumpy Bruce tries everything he can think of to ditch the geese. But eventually, he gives up and reluctantly becomes their parent permanently.
16. The Wall In The Middle of The Book
This is such a fun story all about perspective! A knight finds himself on one side of a wall, the side he insists is the safe one.
But the more you turn the pages, the more you realize the knight's perspective is perhaps a little bit biased. Maybe the other side of the book is the safe place to be.
The Wall in The Middle of the Book is simple, but delightful. Another book we've checked out multiple times over the past year.
17. The Pigeon Finds a Hot Dog!
If you already love Mo Willems' books, then you probably adore the pigeon books. The Pigeon Finds a Hot Dog! is our favorite one.
Pigeon is walking along and discovers a hot dog. Yum! But then The Duckling comes into the picture wanting to know exactly what a hot dog tastes like.
Pigeon tries SO hard to resist The Duckling's subtle hints at wanting to share that juicy hot dog, but he finally caves (and Duckling's response is super suspicious).
Related: The 10 Best Mo Willems Books
18. Those Darn Squirrels!
Another awesome Adam Rubin book, Those Darn Squirrels tells the story of Old Man Fookwire, who is a total grump. He loves painting, birds and cottage cheese, and not much else.
When the birds start to fly south for the winter, he decides to coax them to stick around with bird feeders. But you know who else loves bird feeders don't you? Squirrels.
The squirrels decide it's game ON, and they set out to sabotage every single bird feeder (straight out of a Mark Rober video). Will the squirrels and Old Man Fookwire ever get along?
Grab Those Darn Squirrels! and start reading. The other two books in the series are worth reading, too.
19. We Don't Eat Our Classmates
When dinosaur Penelope Rex goes to school, she expects to make friends and enjoy her class. The only problem? She can't stop eating her classmates (who happen to be children).
She coughs them back up, of course, when the teacher encourages her to do so. But it definitely makes making friends complicated.
Kids love We Don't Eat Out Classmates, especially how Penelope eventually overcomes her impulse to devour her classmates. An innocent little goldfish (star of the soon-to-be released third book in this series) might have something to do with it.
20. Blueberries for Sal
I don't usually put a whole lot of stock in classics, but Blueberries for Sal stands the test of time (at least for me).
Kids today still love how little Sal and baby bear get completely mixed up. They still love how they follow the opposite mother all over blueberry hill.
And even if they forget, I'll never forget those blueberries dropping into a metal pail, "Kuplink, kuplank, kuplunk."
21. Hannah's Tall Order
Hannah is a precocious little girl with a HUGE appetite. She waltzes into a sandwich shop and proceeds to order a sub with ingredients from A to Z.
Normally, alphabet books are pretty boring. Not Hannah's Tall Order!
And my kids always love the surprising, hilarious ending.
22. Pinkalicious
We must have checked out Pinkalicious ten times last year alone (and kept it past the due date).
While some parents see it as a great lesson on "eating your greens", I'm pretty sure for kids, it's just a fantastical story about what might happen if you eat too many sweets.
Pinkalicious adores pink, especially pink cupcakes. Unfortunately, eating too many turns her skin PINK. The doctor recommends eating only green foods to cure her. But will she listen?
23. Wolfie the Bunny
The bunny family adopts an orphan. The only catch? That orphan is a wolf.
Dot, sister to little Wolfie, isn't fooled. She's convinced her new brother is going to eat her whole family. It takes a chance encounter with a serious threat to Wolfie to show Dot her true feelings for her brother.
Kids will love her change of heart and this hilarious story as whole. And even the Amazon reviewers who don't love the story itself rave about the illustrations. Give Wolfie the Bunny a shot!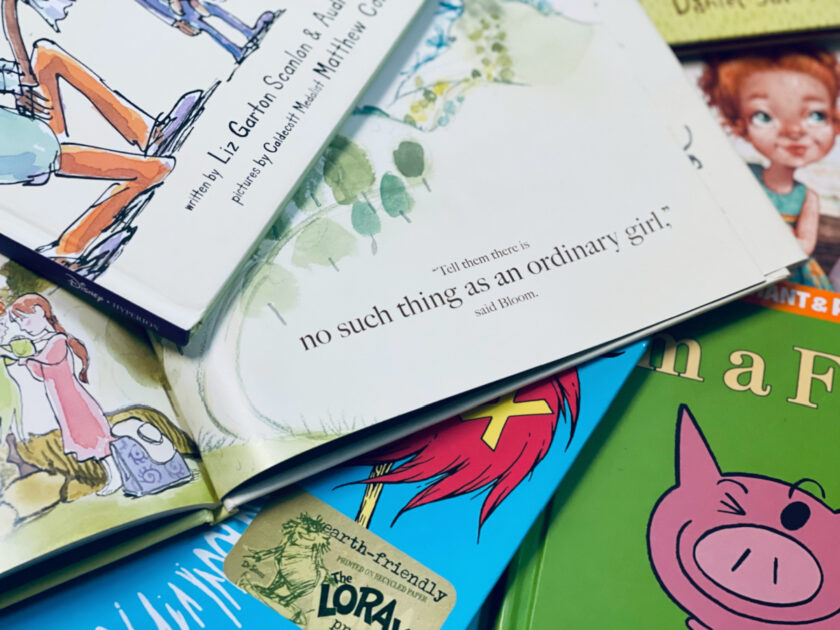 24. Bloom
This little known book by Doreen Cronin (author of Click, Clack, Moo) is a hidden treasure that deserves so much more attention!
The story, the art, the quotes: we love it all.
Bloom is a messy mud fairy fallen from grace and banished to the woods. But now the city made of glass is falling apart, and only an ordinary girl can save it.
25. I'm a Frog!
If you have kids, you're probably familiar with Mo Willems' popular Elephant and Piggie series. I'm a Frog! is the most requested reread in the entire series, at least in our house.
Piggie pretends to be a frog and teaches Gerald the ropes on how to play pretend.
Gerald wonders if everyone plays pretend, even adults? To which Piggie responds, "Alllll the time."
Related: The Best Elephant and Piggie Books (according to parents)
26. Little Red Riding Sheep
This book came in a Literati box, and I'm so glad it did!
Arnold is a sheep who wants to be written into the story of Little Red Riding Hood. But Arnold has…opinions about how the story should go, and who else should be included, too.
Little Red Riding Sheep is one of my all-time favorite stories to read-aloud. Make sure to at least do a special voice for Arnold when you do.
27. A Unicorn Named Sparkle
I recently happened upon this gem, mostly because of my youngest's unicorn obsession.
Lucy sees an ad selling unicorns, twenty-five cents each. Naturally, she orders one. But what shows up is decidedly NOT a unicorn. Lucy tries to make the best of it, and ultimately, she needs to decide whether or not to keep the "not unicorn".
Even if you don't have a unicorn-lover in the family, I still think most kids will love this picture book.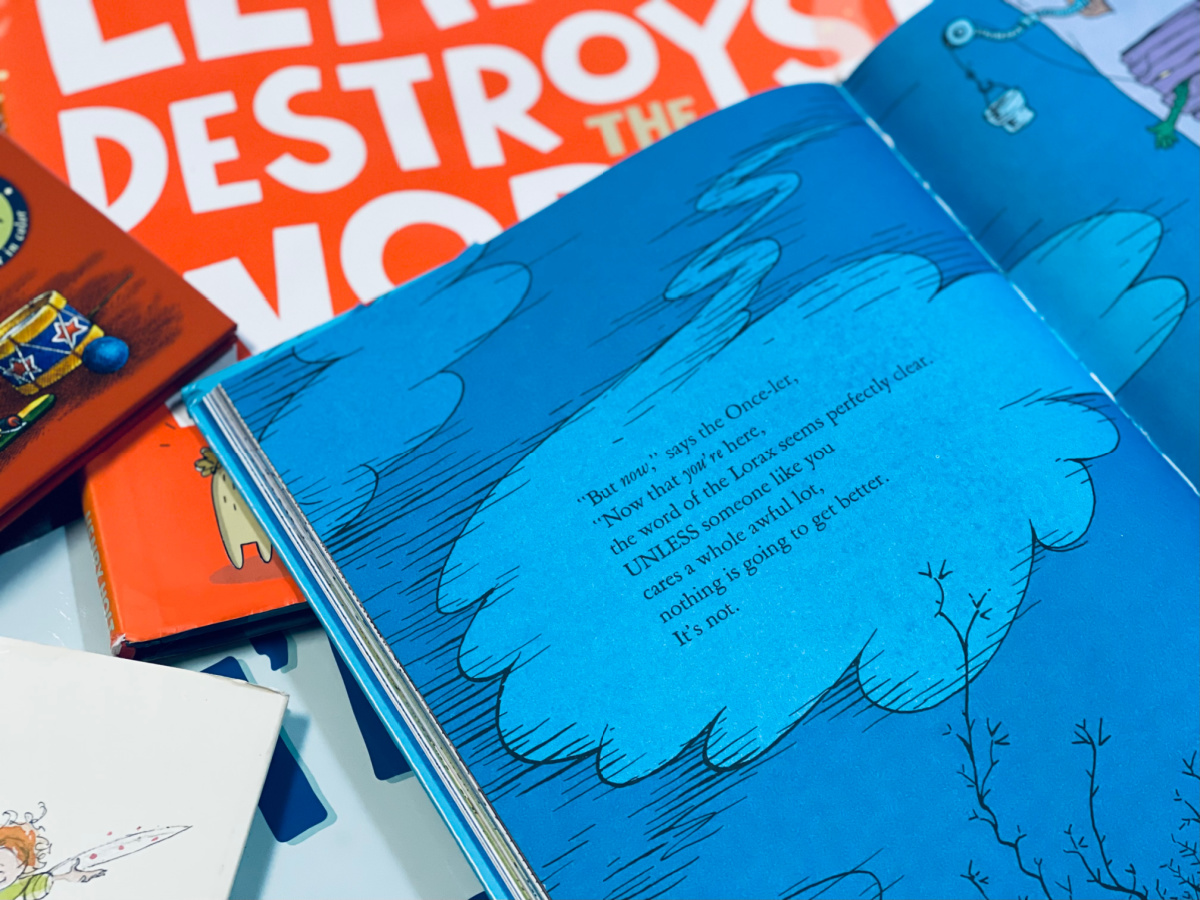 The Best Picture Books Are the Ones Both Parents and Kids Love
We've all had those books our kids adore, but we hate to read aloud. That is not a recipe for read-aloud success!
If you're going to keep reading aloud – and truly love (not dread) it – you need to find books both you AND your kids love.
Hopefully this gives you a giant stack to keep coming back to over and over again, just like we do.
P.S. I can't believe I'm almost out of the picture book phase. I think I'll miss them more than my kids will!
Did I miss any your kids love? What are your favorite picture books to read aloud?
Read Next: 20 Best Chapter Books to Read Aloud (According to Homeschoolers)