Inside: The 10 best Mo Willems books are not necessarily his famous Piggie and Gerald books. This Mo Willems book list contains, in our opinion, his funniest and most engaging books. Enjoy!
If you only know the Elephant & Piggie side of Mo Willems, you are missing some of the best Mo Willems books!
While Elephant & Piggie books introduced us to Mo Willems, we have discovered so many of his lesser known books that we love even more than beloved Elephant & Piggie.
If you have kids and have never read a book by Mo Willems, you are about to discover books that will transform even the most reluctant reader. They'll be asking to hear these books again and again.
Mo Willems really gets kids. He knows just how to make them laugh. He captures their attention with characters that are delightfully witty and funny.
Mo Willems books so inspired my own kids that they have attempted to write their own spin-offs of his books multiple times.
Books that inspire both reading and writing (without bribes or rewards)? Yes, please!
My kids and I love his books so much that it was really difficult to choose favorites.
But for the sake of this post, we narrowed it down to ten to include in this particular Mo Willems book list, and only one of them is an Elephant and Piggie book.
New to my book lists? Find the rest of the "Books for Boys" book lists HERE.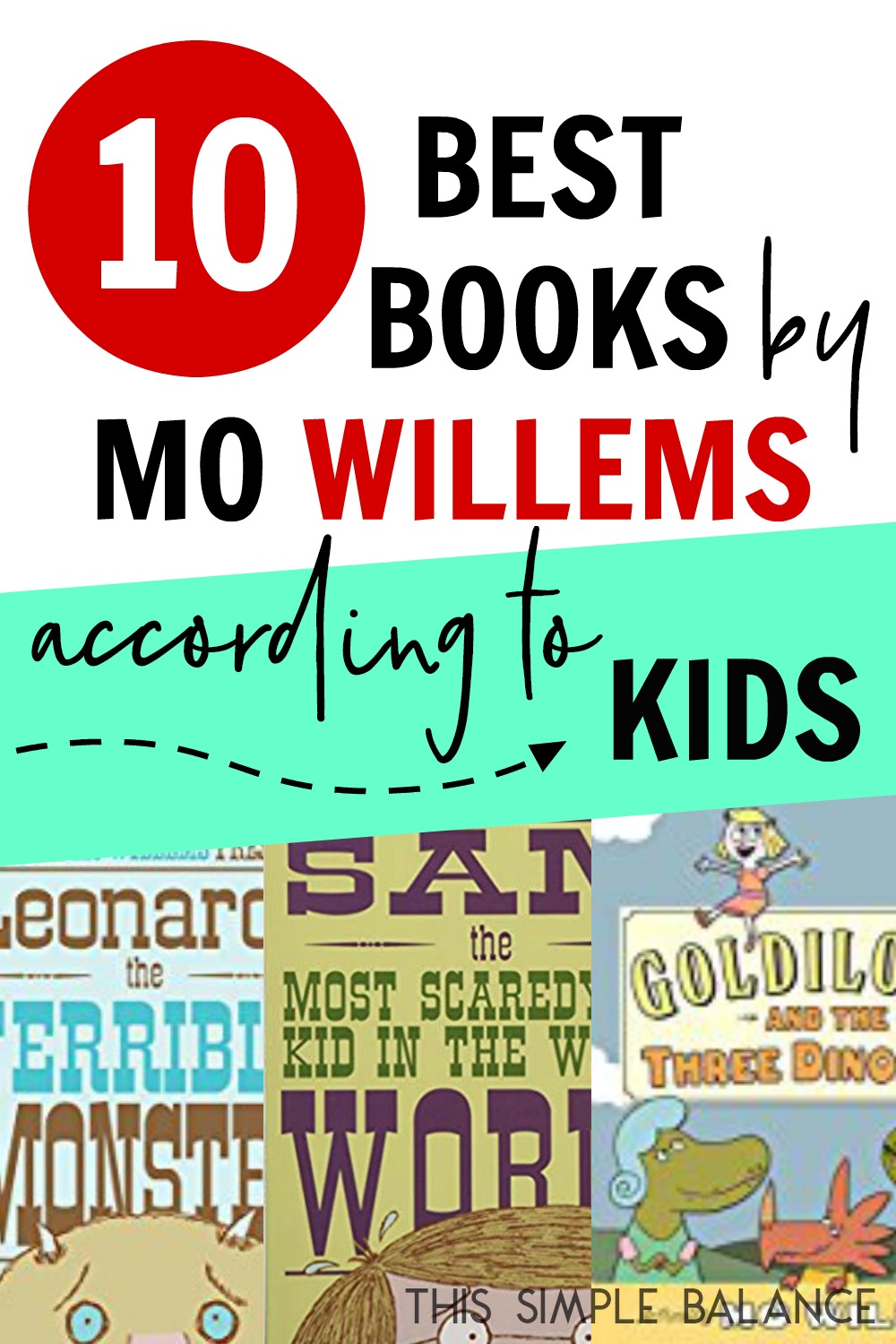 The Best Mo Willems Books
This post probably contains affiliate links, which means I may earn a commission if you make a purchase through those links. As an Amazon Associate, I earn from qualifying purchases. You can find our full disclosure HERE.
(In our humble opinion of course.)
1. Leonardo and the Terrible Monster
Leonardo and the Terrible Monster was a hit with my boys (ages 5 and 3). We read it over and over again for weeks!
Be sure to read to the end for exciting news about this one.
2. Goldilocks and the Three Dinosaurs
The tale of Goldilocks never seems to get old.
Mo Willems puts a fresh new spin on this old classic with Goldilocks and the Three Dinosaurs!
3. Nanette's Baguette
Not only does Nanette's Baguette rhyme beautifully, but the plot will also warm your heart.
Every time I read it, I am challenged to give my kids a little more grace and reminded that the temptations of children and adults are not so different after all.
4. That is NOT a Good Idea
Do you sometimes tire of reading the same books over and over (even though you know that it helps your kids learn how to read)? Me too.
But This is Not a Good Idea? I will happily read it aloud as many times as my kids ask, and that's saying something.
5. Don't Let the Pigeon Stay Up Late
When Don't Let the Pigeon Stay Up Late is all about avoiding bedtime, how can kids possibly NOT love it?
6. Knuffle Bunny Too: A Case of Mistaken Identity
Every child who has ever lost a lovie, precious stuffed animal, or other special toy will love Knuffle Bunny Too: A Case of Mistaken Identity.
Don't miss Knuffle Bunny: A Cautionary Tale, or Knuffle Bunny, Free: An Unexpected Diversion.
7. Don't Let the Pigeon Drive the Bus
The Pigeon is back, and this time in Don't Let the Pigeon Drive the Bus, the reader must stop him from his ultimate dream: driving a bus.
8. Edwina, the Dinosaur Who Didn't Know She was Extinct
Edwina, the Dinosaur Who Didn't Know She was Extinct will prompt discussion about what to say and what not to say, even when it's truth.
In fact, I can think of one particular child of mine (so blunt it makes me wince) who could use a repeat of this one in our next library haul.
9. Should I Share my Ice Cream?
Should I Share my Ice Cream? is our ultimate favorite Elephant & Piggie book. If you ever struggle with sharing at your house (sharing, what?), you'll love this one.
Check out the rest of the Elephant & Piggie series for more awesome books.
You Might Also Like: The Best Elephant and Piggie Books (According to Parents)
10. The Pigeon Needs a Bath
If you have ever had a child resist baths, you need to check out The Pigeon Needs a Bath!
Just as hilarious as every other Pigeon book, it will hopefully coax your reluctant bather into the water (and cleanliness).
I hope you enjoy these books as much as we do!
Related: 17 Unexpectedly Awesome Books for Young Boys
Mo Willems Books: News Flash
If you love Mo Willems, you will be as excited as we were to find out that he is releasing a sequel to Leonardo the Terrible Monster!
Sam, the Most Scaredy-cat Kid in the Whole World: A Leonardo, the Terrible Monster Companion will be available September 5, 2017.
Do you have friends who may not yet know the joys of Mo Willems? Please share this post with them on Facebook. They (and I) will thank you!
---
Related Posts:
How to Choose the Perfect Read-Aloud
Unschooling Language Arts – A Guide for the Elementary Years
How to Homeschool Preschool: 21 Things that Count as School
---