Inside: The best books for little boys can be difficult to find. We love helping other parents by sharing the books our little boys (ages 4-7) love best.
Ever have a child request the same book over and over again? And you just can't figure out what makes that book that book?
It happens around here all the time, but finding those books for boys is difficult, at least for me. Call it luck, but I happened upon quite a few unexpected favorites.
Some of my five-year-old son's favorite picture books are ones that I would never in a million years have guessed would be hits. But something about these books appealed to his little, five year old boy self: he asks for them over and over again.
Maybe it's just that five-year-old boys are interesting creatures in general, and I'm not one (obviously). Maybe I'll never understand my boys fully, but with three sons, I'm working hard to figure them out.
Sometimes, these books have me scratching my head, wondering what exactly makes them so special and appealing to young boys.
But hey, if something works, it works. So I say, just go with it!
Related: 20 More Unexpectedly Awesome Books for Young Boys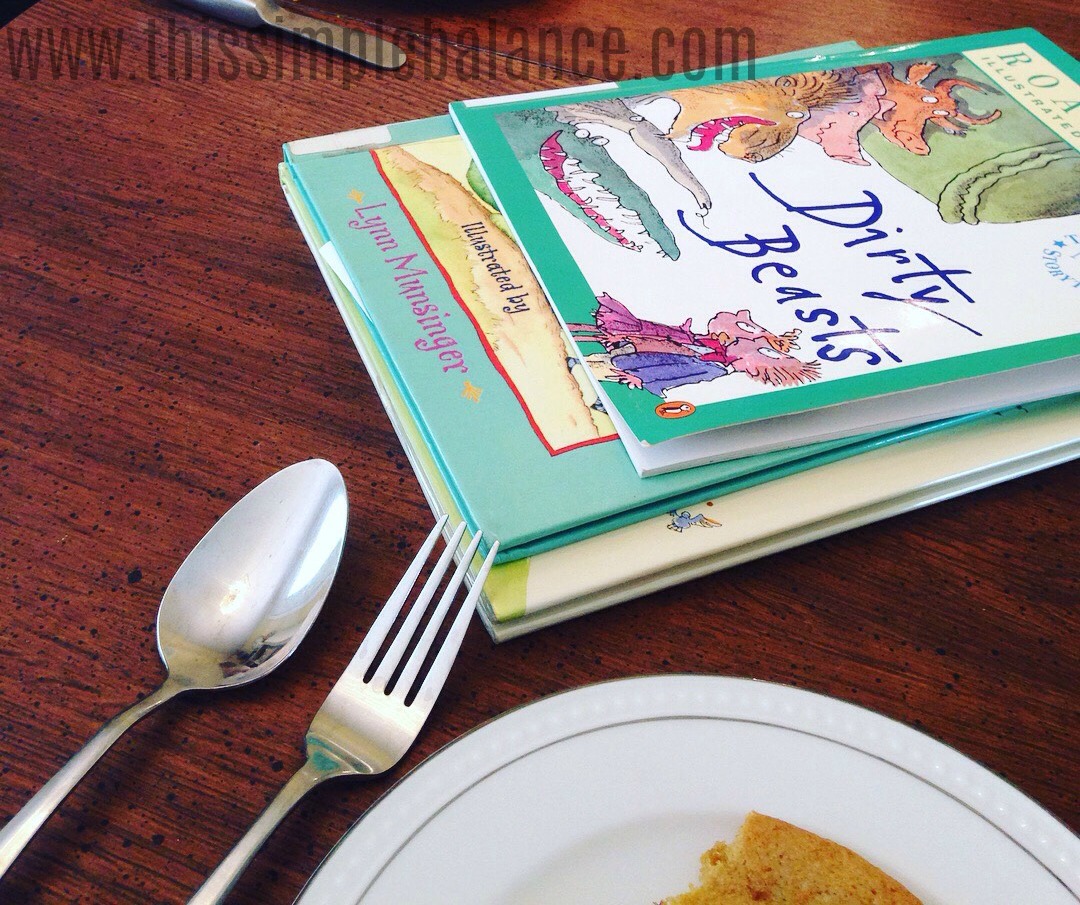 Having boys at our poetry teatimes has forced me to search high and low for funny poetry that boys will enjoy.
We sip water from dainty tea cups while reading Roald Dahl's hilarious (and sometimes grotesque) poetry.
My boys LOVE it: it instantly inspires them to write poetry! Come to think of it, my seven-year-old daughter giggles right along with them, so these books are probably great for girls, too.
Or perhaps that's just what having lots of brothers will do to a girl?
As a side note, if your child is asking to read the same books over and over again, it's a pretty good indication that they are hovering on the brink of reading readiness.
Keep up the repetition, even it bores you to tears. They are making critical connections while you read.
I'm sharing with you all the best books for boys from this past year, just in case you're also a parent to little boys who is struggling to pick out good books, too.
New to my book lists? Find the rest of the "Books for Boys" book lists HERE.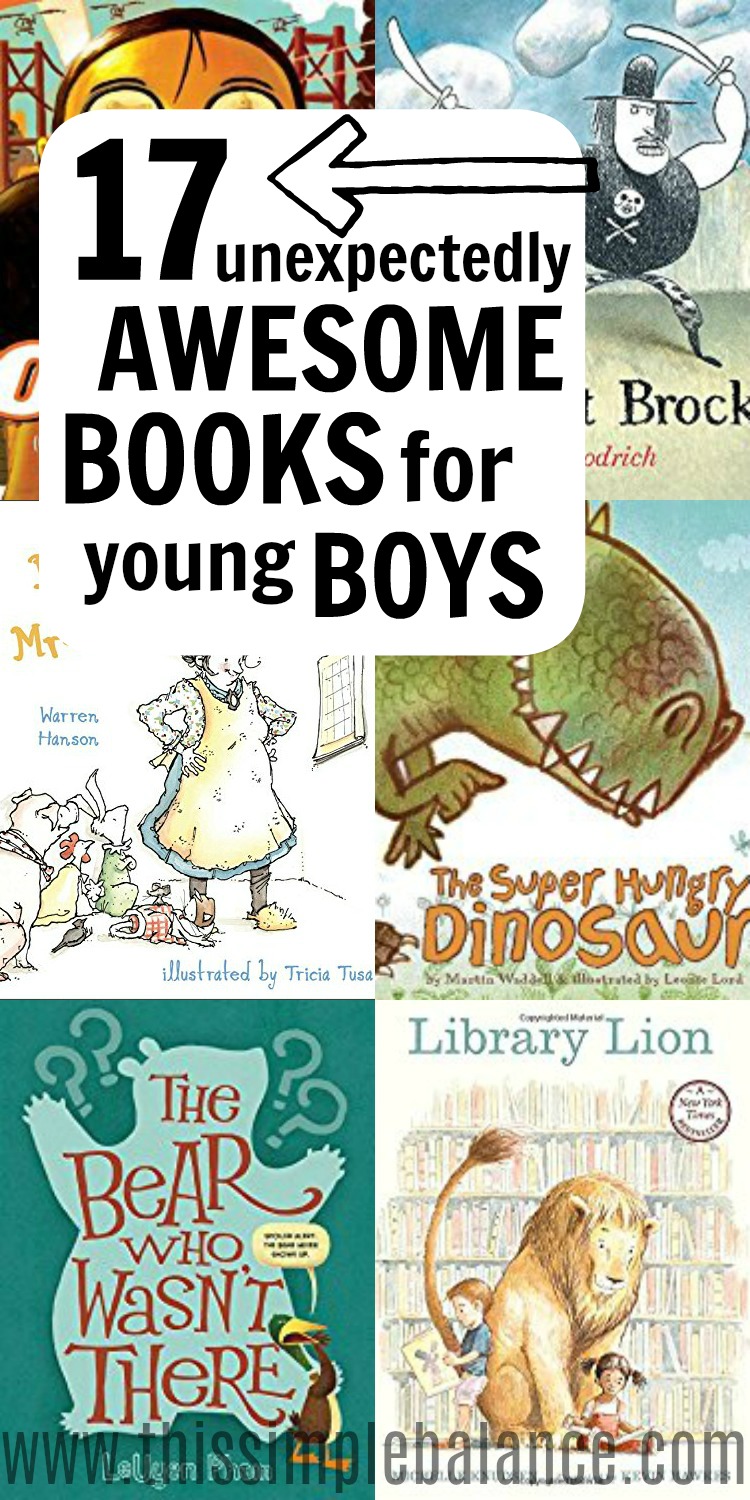 The Best Books for Little Boys
THIS POST PROBABLY CONTAINS AFFILIATE LINKS. AS AN AMAZON ASSOCIATE, I EARN FROM QUALIFYING PURCHASES. YOU CAN READ OUR FULL DISCLOSURE POLICY HERE.
A mischievous cow named Moo takes the farmer's car for a wild ride. Will a bump in the road slow her down?
Younger kiddos will love this board book that tells quite a tale with just one world.
When a young inventor builds a giant robot for her science fair project, chaos ensues when it ends up loose in her city. She quickly realizes she didn't build in any skills for stopping the destruction.
This graphic novel in picture form will appeal to a wide range of ages.
When the California miners are losing all their gold through their holey pockets, Levi Strauss comes to the rescue!
This historical tale filled with both fact and fiction tells the story of how the jeans we now where every day came into being.
Mrs. Jolly Bones has a unique way of tackling her housework. With a pig, cow, chicken, and bunny by her side, her usual weekly chores become a little unusual.
This silly picture book will leave both parents and kid laughing out loud.
Do you dare open this book? Maybe you shouldn't. Or maybe you should!
The author takes readers on a wild adventure filled with monkeys, toucans, and an alligator with very wide jaws.
Young readers will want to keep turning the pages to see what silly thing happens next!
You Might Also Like: The Best Elephant and Piggie Books (According to Parents)
Bear is missing from the pages of his own book. Duck doesn't seem the least bit concerned.
The rest of the animals provide suggestions on Bear's whereabouts, but who will actually find him?
Jameson loves green pants and wears them everywhere he goes. He is thrilled when his cousin asks him to be a part of her wedding—until he finds out he will need to wear black pants.
Can Jameson figure out a way to still be a part of his cousin's wedding while staying true to himself?
Henry's stuffed rabbit, Raspberry, is missing. After Henry's family searches for Raspberry with no success, Henry's grandfather suggests he use his imagination to find the bunny.
A story about the power of love of friendship.
Philip and Brock are best friends, but this is no ordinary friendship. Philip is the only one who can see Brock.
When Philip accidentally leaves Brock at the fair, the two pals miss each other terribly. Will they ever be able to find each other?
Miss Merriweather, the head librarian, is very strict about the rules of the library.
When a lion shows up for a visit, no one is sure what to do, but the lions seems to fit right in. When something bad happens, the lion comes to the rescue.
Maybe some rules are meant to be broken after all?
In this collection of poems by beloved author Roald Dahl, mischievous and mysterious animals are the stars of the show.
This collection of crazy characters will bring a smile to children and adults alike.
Gum has been around for centuries, but bubble gum wasn't invented until 1928.
This book is full of fun facts about the history of the popular Dubble Bubble gum.
Little Wolf is tired of eating the same thing for dinner night after night. What he really wants is a serving of Boy!
While he walks home one day, he begins to shout, "Boy! Boy!" But what happens when a boy actually comes along?
This book is a new twist on a classic tale.
When a hungry T-rex threatens to eat Hal, his parents, and the family dog, Hal must outsmart this hungry beast.
This book will delight all dinosaur lovers.
This classic book is the story about a little house that starts out living in the country, but as the years go by, her surroundings change into a bustling city.
She soon grows to dislike this new environment and finds a way to return home to the countryside.
Sylvester is thrilled to find a magic pebble that grants wishes. But when a lion jumps out at him on his way home, Sylvester finds that making a wish has unexpected consequences.
After overcoming a series of obstacles, Sylvester is eventually reunited with his family.
Honeyguide and Badger have always made a great team. Honeyguide finds the honeycomb and Badger breaks it open.
But when Badger keeps the honey all to himself, Honeyguide decides to teach Badger a lesson.
Rafael likes to follow instructions. Maya likes to think outside of the box.
When Maya, Rafael and the rest of their classmates are given a chance to build and race a go-cart, Rafael learns that maybe thinking outside of the box isn't so bad after all.
Monsters lurk in every corner of this little boy's house (or at least in every corner of his imagination). With newly learned karate skills, he can finally conquer his fear of monsters.
This book is full of fun illustrations that will leave all readers rooting for the main character.
Pig and Mouse are trying to make Cow a fabulous birthday cake. But Duck keeps insisting that a turnip be added to the mix. Perhaps Duck knows a secret they don't?
A cute book with simple text and illustrations perfect for preschool age kiddos.
When Moo Moo decides to become a ballerina, her best friend, Mr. Quackers, isn't too sure about the idea, but cheers her on anyway.
This is a sweet story about friendship and trying something new.
Camilla loves lima beans, but she won't admit that to her classmates because she wants to fit in. One morning, she comes down with a bad case of stripes.
As the stripes change shape and her appearance gets even stranger, Camilla becomes even more worried about what people think of her. A book that explores the importance of being true to yourself.
When Jack gets invited to the princess's birthday party, he must figure out what to give her. He decides to make her a cake.
But when the cake slowly disappears on the way to the castle, Jack ends up giving the princess something even better—an adventurous story!
Sam is scared of everything except for his monster friend, Leonardo. Kerry is scared of everything too, except for her monster friend, Frankenthaler.
When Sam and Kerry meet, they are both scared of each other. But they discover that isn't the only thing they have in common. A sweet and funny book about unexpected friendship.
Related: 10 Best Mo Willems Books That Aren't Well-Known
In this perfect book to read before bed, the narrator gives silly tips for ways to avoid yawning. Because of course, yawning leads to bed-time!
This cute, cleverly written book will draw out yawns from everyone following along.
Bear wants nothing more than to spend a quiet morning by himself. Duck wants nothing more than to go on a morning walk with Bear.
Even though Duck drives Bear a little crazy, Bear loves him all the same. A sweet and funny story about friendship.
A young robin has to overcome various obstacles while he heads south for the winter.
A story of adventure that takes some unexpected fun twists.
A young boy is disappointed in his pet goldfish, Norman, and can't wait to trade him in for a new pet. But as he tries to get rid of Norman, he realizes that Norman is actually a great pet after all.
A funny story about finding happiness in unexpected places.
Bear is exhausted and all he wants to do is go to sleep. But his neighbor Duck is wide awake, and wants nothing more than to hang out with Bear.
Will either of them end up getting what they want? A fun book to read at bed-time, especially for those kiddos that have a hard time falling asleep.
In this 3rd installment in the "How To" book series, the author hilariously describes a variety of different jobs you can have when you grow up, including silly tips on how to nail that job interview!
Perfect for kids who like to play pretend.
Come along with beloved characters, Frog and Toad, as they have fun through all the seasons.
This book holds multiple stories, and is great for kiddos that can mostly read on their own but still might need a little help.
Two friends argue over which one gets to sit in a big comfy chair. They both claim it as their own. Will they ever decide to share?
Kids will certainly relate to the feelings both characters have throughout this tale, and will enjoy the fun ending.
Helpful Hint to Find Great Picture Book Read Alouds
If you are looking for more great books, be sure to check out The Read-Aloud Handbook by Jim Trelease. A few of these titles came from this reading treasury, and I would never have found them on my own. Happy reading!
You might also like: 20 Best Read Aloud Chapter Books for Elementary
Want more great books? You'll love this book list! Check it out HERE.
What are your favorite books for little boys? Share in the comments!
Read Next: 70+ Favorite Picture Book Biographies for Kids