Inside: Move over flashcards and worksheets! Math board games (and math card games) will help kids put their math skills to work, see the practical value of math, and realize the most important thing of all: that math is actually fun (yes, really).
As a relaxed homeschooler with a large family, anytime I can kill two birds with one stone – connect with my kids while doing something educational – I jump on it. Board games are one of the ways I "do it all" as a work-at-home, homeschool mom.
This last year, I've slowly built up our collection of educational board games, including card games. Now when I think of something I want my kids to learn that I don't want to shove down their throats (something I never recommend), the library and the game closet are my go-to's.
I've been so delighted to learn that there are board games for just about every subject! But math board games remain some of our all-time favorites.
We play math board games almost every single week, and we own a good number of the ones of this list. I created this list for you, but also for semi-selfish reasons, as I plan on using this list as a reference to continue to add to our own math board game collection!
You Might Also Like: The Best Math Picture Books for Kids – Learn Math the Fun Way
Why Play Math Board Games?
Did you know that all of elementary math can be learned in just twenty contact hours? In other words, when a child is developmentally ready, and is eager and determined to learn math, they can learn it all with just twenty hours of instruction (source). I'm not talking mastery here, just learning and comprehending elementary math.
Seriously. Just twenty.
So then why, for the love of all that's holy, are we parents so freaked out about math?!
We hem and haw and fret about whether our kids are falling behind in math – behind the kids in their class or possibly more importantly, the kids in Asia who are competing for all the good American math jobs!
At the very least, we want them to know elementary math, the stuff that grocery store and taxes math is made of. You know – real life math.
But then there's our own math phobia/anxiety we have to deal with, and hopefully NOT pass on to our kids. And that, my friends, is actually far more detrimental to our kids than whether or not they fall behind or have gaps in their math education.
Gaps can be easily remedied. Twenty hours, remember?
An "I'm bad at math" mindset? That's much more difficult to overcome.
These math board games for kids help address all of those concerns at the same time.
Math board games make math lighthearted and fun, something most schools fail to do.
Math board games give kids a chance to practice real life, elementary math, the kind of math almost everyone needs to know and be able to use to function as an adult in our society.
Math board games also allow kids to practice math in a low pressure, relaxed context (i.e. not a weekly math test).
Finally, math board games help you build connections with your kids around a subject that can often be contentious, divisive, throw-up-your-hands frustrating, and tear-inducing.
Math board games make you remember what math really should be: fun.
Related: 30+ Science Board Games for Kids
If I could choose just three math board games…
Because this list is fairly long, I like to offer my personal opinions on what I would prioritize buying if I had to start our math board game collection all over again. It's so tough because there are soooo many good ones.
But if I had to start again, I would purchase the following games. Keep in mind, my kids are all under age 10.
Related: How to Raise Kids Who Love Math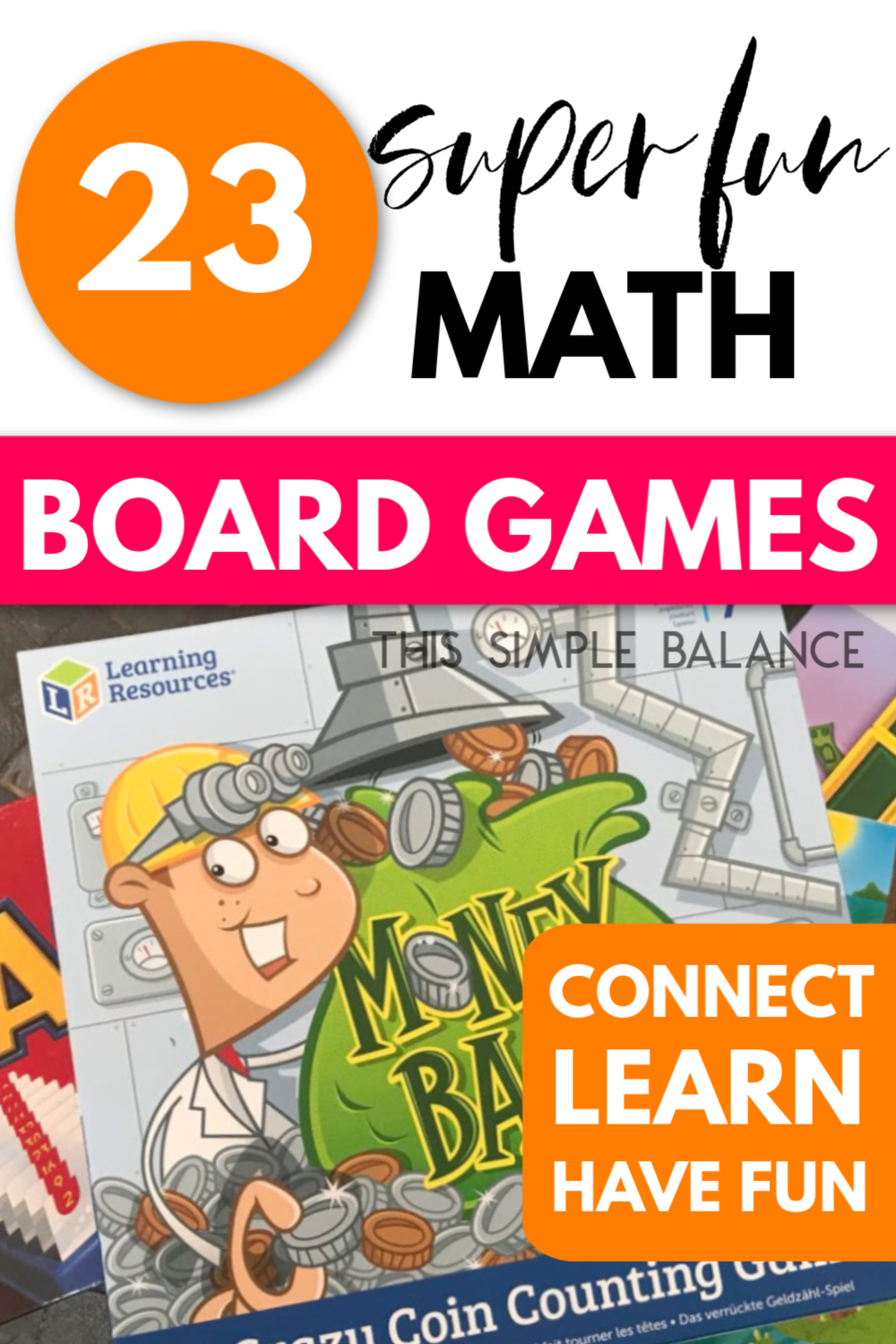 24 Math Board Games for Kids (Organized by Age Level)
THIS POST PROBABLY CONTAINS AFFILIATE LINKS. AS AN AMAZON ASSOCIATE, I EARN FROM QUALIFYING PURCHASES. YOU CAN READ OUR FULL DISCLOSURE POLICY HERE.
We have the most experience with the games in the early elementary set so far. As with my other educational board game lists, a few card games did make it onto the list simply because I don't plan on doing a separate card game round-up.
Preschool Math Board Games
Classic, bright, and fun. Perfect for beginners to practice addition, subtraction and counting!
Players take turns picking pretend cherries, blueberries, apples, and oranges from their trees to fill their basket. The first to fill their basket wins. Little learners will have so much fun filling their basket with fruit game pieces.
Players are helping Mother Hen return her chicks to the coop. Children will learn counting, taking turns, following directions, and social skills with this adorable game. Peaceable Kingdom board games are some of our favorites!
Players spin to determine the number of spaces to move and count their way along the colorful winding board game. Recommended for ages 3+, 2-4 players.
3. Frankie's Food Truck Fiasco
This math board game is a yummy and unique way to learn geometric shapes! This game also helps develop fine motor skills. Players use the spinner to place orders and the Frankie squeaker to pick up food.
While it's not a board game, Tiny Polka Dot is worth including in this round-up. An award-winning card game that teaches counting, arithmetic, and logic, it includes vibrant colors and cards perfectly shaped for little hands.
The set has 16 easy-to-learn games suitable for children as young as 3 years old. It's also perfect for little ones with short attention spans and can be played in as little as five minutes!
Develop counting and number skills with this cute game for puppy loving preschoolers! (Bonus is you're a pug owner.) This math board game also helps develop strategic thinking and fine motor skills. 
Early Elementary Math Board Games
Kids work their way through the swamp using their math skills to guide them. Players encounter swamp creatures, face challenges, and race against the clock.
The pawns in the game are an assortment of swamp creatures which makes the game fun from set-up! Enhances early math skills. Recommended for ages 5+.
If you have a child who doesn't typically enjoy math, this is the game for your family! It's received excellent reviews and aims to build math confidence. Players use their math skills to beat opponents.
Designed for 2-4 players, ages 6 and up. Not only is this math board game great for making math more fun, but the format of the game also encourages working together and helps to develop social skills and reasoning.
8. Zingo
Not your mama's bingo! This is a must-have in your collection of math board games. Recommended for ages 4-10. Includes 6 double-sided bingo cards and 72 double sided tiles.
This best part about the game is the Zinger! It's a hands-on addition to the game of bingo your kids will love and remember for years to come. Anytime we can add a multi-sensory learning experience the better and this game achieves that goal with a fun approach to math practice.
This math board game is perfect for reinforcing coin value. Players collect, count, and exchange money as they make their way along the path.
Money Bags includes the game board with spinners, 100 plastic coins, play bills, and dice. No need to purchase an additional set of pretend money. It's a game and math manipulatives in one! 
10. Race to Planet X
: Number Bond Game
Players make Power Combos to successfully work their way through the board game. Power Combos are made be creating number sentences (1=2+3).
It's a great game for practicing addition and subtraction of numbers 1-20. Recommended for ages 5+ and can be adapted depending on skill level. Cards are brightly colored and named with active words that create excitement like Defend, Smash, and Zap cards. 
11. Rooster Race Family Board Game
Created by a math teacher! This is a fun way to practice greater than or less than concepts. Kids won't even realize they're learning with this math board game.
It's perfect for active kids that need a fun, fast-paced game to grab their attention. The game includes a deck of 72 cards, 15 ears of corn, and simple instructions.
12. Pet Me Multiplication and Division Game
If you have an animal lover, then you need this game. Players discover math fun when they visit the pet park. Feed pets, win hearts, and practice math in the cutest way possible.
The pet park comes to life on this adorable game board. You are sure to boost division skills and confidence with this one! 
13. 4 Way Countdown
Popping! Flipping! Counting! This is another great game for kids that need a multi-sensory attention grabber. The wooden game board is perfect for older kids because it looks a little more "grown up" than the average game board, yet it's still simple enough for younger ones.
Great practice for addition, subtraction, multiplication, and division. Recommended for ages 7+. 
14. Clumsy Thief in a Candy Shop
A game about candy? Yes, please! We might have to break out some real-life samples for this math card game (wink).
Master adding to 20 with this sweet game. Players use the hand they're dealt to make combinations equaling 20. Look out for Thief cards. They steal your candy card stack!
The original game Clumsy Thief practices adding to 100 for more advanced math practice.
15. Sums in Space
This math board game is unique as it can be played either as a cooperative game or a competitive game. How cool is that? Three varying levels of difficulty also help keep kids engaged.
The game is designed to practice first grade math skills – mainly single-digit addition and subtraction. 2-4 people can play, ages 5 and up.
Older Elementary/Middle School Math Board Games
16. Pay Day
This is one of our favorite games to play, partly because the length of the game can be customized. Players move through an entire month on the calendar, and you can play one month or four. Spaces on the board can be anything from getting mail, which includes bills or unexpected income, to buying groceries to investing in property.
You can take out loans, and everyone gets paid at the end of the month. Whoever has the most money at the end of the game wins! Designed for ages 8 and up (our 5-year-old can play with help), and 2-4 players can play.
17. Prime Climb
This colorful gameboard is an attention grabber! Players add, subtract, multiply, and divide their way to the center of the board, all the while bumping opponents back to start and acquiring Prime Cards.
Recommended for ages 10 and up, 2-4 players, time 20-60 minutes.
18. Racko
While the kids haven't gotten into this quite yet, I really enjoy playing this one and hope to win them over one day soon! Not really a board game, I know, but the game involves ordering numbers sequentially, so I included it.
Each player has a "rack" for their cards. Everyone is dealt 10 cards at the beginning of the game, which you put in your rack in the order you received them. The goal of the game is to order your cards sequentially by swapping out a card at a time from the deck. 2-4 players and ages 8 and up.
19. Equate
Think Scrabble, but instead of letters, you're creating and solving equations in the form of a crossword puzzle. This is a great game for all ages and includes a laminated game board, 190 tiles, and 4 racks for players to secretly work out equations. (Just like you'd have for your letters in a game of Scrabble.)
20. MOBI – The Numerical Tile Game
Want to ditch the board from Equate and just have tiles you can easily carry anywhere? Try MOBI tiles. Similar to Banana Grams, you build an equation crossword on the table, adding as you go.
There are two versions: MOBI (pictured) and MOBI Kids. MOBI includes division and multiplication tiles along with addition and subtraction, while MOBI Kids only includes the addition and subtraction functions.
21. Three Sticks
A game based on geometry. How many shape combinations can you make with three sticks? A simple concept becomes a game of geometry and strategy. Players build upon opponent's shapes already on the game board.
Again – much like Scrabble, but with shapes instead of letters. Recommended for ages 10+ and requires 20-45 minutes to play.
22. NewPath Learning Algebra Skills Game
This is a great game to play with a homeschool co-op group! You can purchase the group set you're your family (enough for 4 players) or a class set (enough for 36 students). This game also comes with a free online subscription and helps reinforce key algebra skills for students in grades 6-10th.
23. Monopoly
You can't write a post about math board games and not include Monopoly! Such a classic, kids love learning the basics of real estate while practicing addition, subtraction and mental math.
Plus, there are now themed Monopolies for every interest – Star Wars Monopoly anyone? (the classic version is pictured below).
Develop skill in adding, subtracting, multiply plying, and dividing integers. For 2-4 players, grades 6 and up.
This is game is so cool for building pre-algebra practice. Really beats a textbook lesson!
Do your kids have favorite math board games not on this list? Share in the comments!
Read Next: 30+ Science Board Games for Kids