Inside: A growing list of science board games for kids organized by age level. Have fun, learn science, and connect with your kids all at the same time!
We have a serious love of board games in our family. Even though I'm a minimalist, our board game collection gets a standing pass on the "one in, one out" rule and pretty much every round of decluttering.
I'm a homeschool mom who loves to make learning fun, what can I say?
We add to our stash regularly, and our latest addition was a science board game. My Wild Kratts-loving kids enjoyed it so much it inspired me to create this massive list of science board games, as a resource for you and a wish list for us.
Now I just need to not buy all the educational board games at once…
Related: Top 17 Educational Board Games (that we play ALL the time)
3 Reasons to Play Science Board Games
THIS POST PROBABLY CONTAINS AFFILIATE LINKS. AS AN AMAZON ASSOCIATE, I EARN FROM QUALIFYING PURCHASES. YOU CAN READ OUR FULL DISCLOSURE POLICY HERE.
But why should you choose to buy a science board game as opposed to any old board game?
1. Kids remember information learned while having fun much longer than information learned through rote memorization.
Having homeschooled for five years now, I know that when kids are having fun, they retain so much more information and that information stays with them long much longer than it otherwise would.
Especially if kids already enjoy a certain subject, board games can help them make connections to, and build on their existing knowledge.
2. Playing board games together strengthens family relationships.
Playing games together is also a fantastic way to connect with your kids, whether you homeschool or not. So if you are going to play board games, why not choose board games that teach your kids while also having fun together?
In our family, my second oldest child is extremely interested in and passionate about science. Because of his passion for science, he's roped all the kids in, too, and they watch Wild Kratts together almost every single day (he loved it so much we got two creature power suits that they love to use to act out the episodes later on!).
When we bought this scientific board game recently, my son's enthusiasm was contagious. They ripped open the package and started playing almost immediately. Before I knew it, they played the game for well over three hours!
The only problem seems to be that while my kids never tire of playing educational board games, I have to fight to stay engaged in the game after the second (or third) round.
You Might Also Like: Nature Journaling for Kids Who Aren't That Excited About It
3. Science board games can be an awesome supplement to formal science instruction or serve as a core part of your DIY science curriculum.
At one homeschool convention, a former science teacher confessed that all of elementary science is repeated in the upper grade science classes. After hearing that, I decided to take a laid back, interest-led learning approach to homeschooling science.
Instead of using formal science curriculum, we regularly check out science books from the library and use google to find answers to frequent and random science questions. We also frequent our local science museums.
Science board games are yet another way for us to reinforce the knowledge we already have and learn new science facts at the same time!
Related: Unschooling Science – 8 Easy Ways to Nurture Your Child's Natural Curiosity
If I Had to Choose Just 3 Science Board Games…
Sometimes, these lists can be a bit overwhelming. How on earth can you choose from so many? Sometimes we walk away with nothing.
If I had to choose just three of these games (these are the top 3 in my "to buy" list), I would go with:
Ecosystem (Update: We adore this one, but it's out of stock.)
We already own this game and have really enjoyed it as well! Now on to the massive science board game list…
Looking for more educational board games? Here are more board game ideas to learn just about any subject: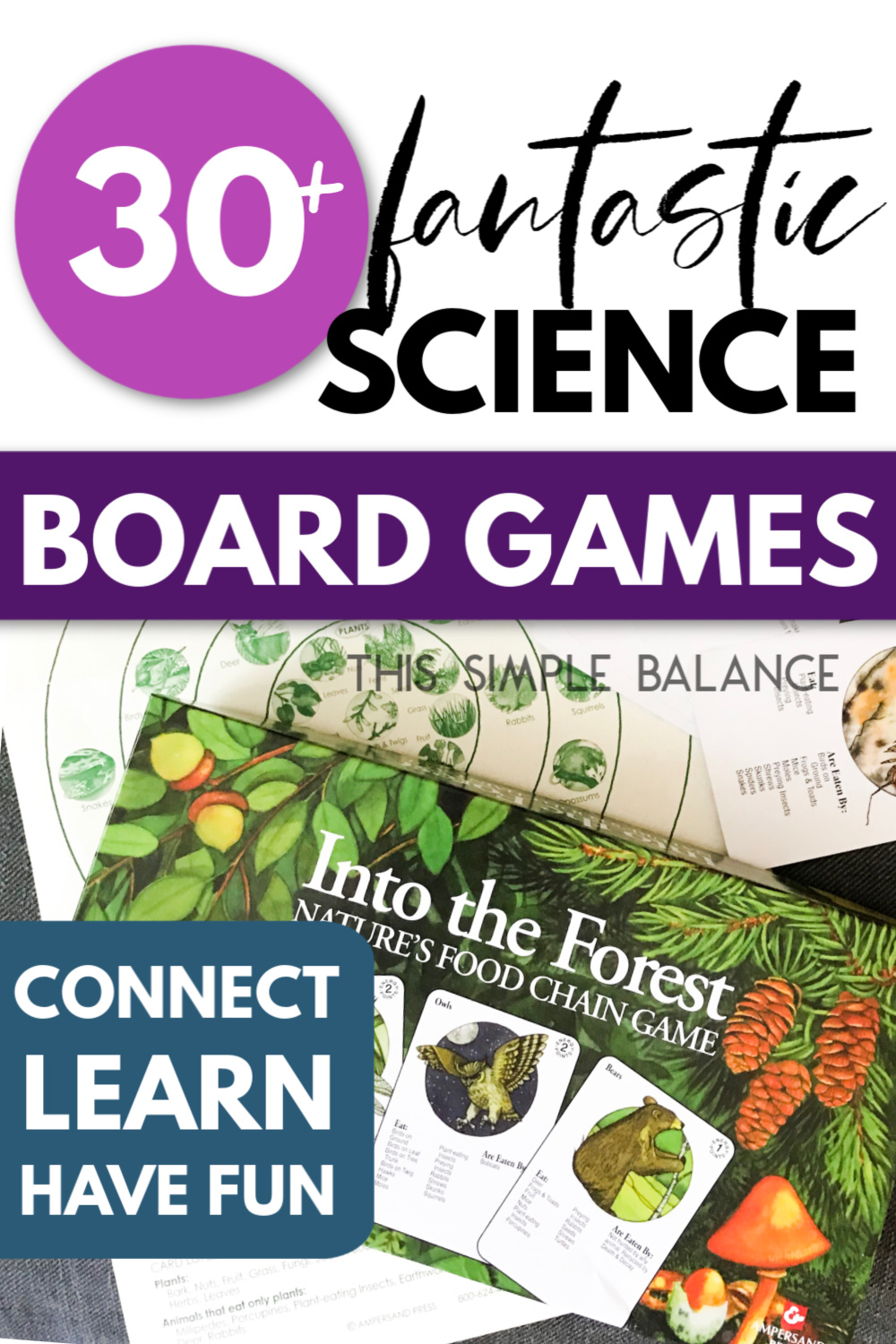 30+ Science Board Games for Kids
Full disclosure: not every game provided in this list is technically a science board game, but the science card games were too good to not mention in this round-up.
I hope this list of science board games makes it easy for you to find the perfect science board games to add to your game collection!
These are organized by age level, starting with preschool and ending with high school level games.
A classic matching game with adorable real-life images of cuddly cuteness for your little learner. Match pairs together and talk about each animal as you play. Great for individual play or one-on-one attention!
A fun and educational Bingo game. Each set included 6 picture boards, 42 information cards and bingo chips. Recommended for ages 4 and up, it's easy enough for the whole family to play and learn together.
Pro Tip: Laminate your cards and use dot markers to add a little more hands-on fun to the experience.
Teach plant and animal life from around the world. The artwork on these cards is gorgeous!
Each game includes 48 cards, 24 pairs, and endless learning while you make your matches.
This is the perfect game to pair with learning about lady life cycle! Players need to help the ladybug find its way home.
The board is similar to Candy Land. While playing, your ladybugs will travel through the Rose Garden, hopefully avoiding the Praying Mantis, and collecting aphids to feed to ants. Adorable game!
Who knew preschoolers could learn to code? This game introduces key coding concepts to children 4 and up through a fun and engaging game the whole family can enjoy.
Recommended for 2-5 players with multiple levels and difficulty. Your preschool players will write programs with playing cards!
Another science board game that's sure to spark your aspiring coder's interest! Players build their own board.
Each set includes 16 maze grids that create a 20 X 20 maze board. Colby (the mouse) lights-up, makes sounds, and features 2 speeds along with colorful buttons to match coding cards for easy programming and sequencing.
You'll need batteries for this one.
This is a cooperative board game (everyone wins or loses). Designed for ages 4 and up, there is no reading required – perfect for younger and older players to play together!
Learn about which herbs and edible plants heal various diseases/conditions. The board game can be played with two or more players.
This card game is our new favorite science game! Build your ecosystems from the bottom up.
You'll need to start with a biome card, and every ecosystem first needs producers for other animals to consume. Complete, healthy biomes give you advantages in the game.
First player to 12 points wins!
This trivia game encourages kids to learn about life in the ocean. A simple card game that combines trivia, true or false, and multiple-choice questions to spark science knowledge in your kids.
Multiple levels of difficulty help keep kids interested. A special three-numbered die is included which adds an element of unpredictability.
Several more versions of this card game are available: The Human Body, The Wonders of Science, Earth Sciences, Reptiles & Amphibians, and more!
Did somebody say car school? These flashcards are perfect for learning on the go! This is a great way to learn and review astronomy concepts.
Players can match, quiz, or spin their way through the game as they pick up all the space knowledge.
Fun for ages 4 and up. Another great game for multiple ages levels the whole family can play.
A biology card game that teaches how viruses work! Play as a virus to take over the host cell and collect helicals, icosahedrals, genomes, spherical envelopes just like in biology class.
Designed to show virus structure and components. Complies with STEM and NGSS standards.
Easy attention getter! Anything gross is a hit with kids, right? This science board game covers biology, chemistry, geology, astronomy, zoology, anatomy, and physics.
Players enjoy answering silly questions and acting out the "gross out" challenge. Includes a game board, 140 Question cards, 50 Gross-Out cards, 30 Lab cards, 4 playing pieces, a die, and a jar of slime!
A classic game we all loved as kids is the perfect compliment to your next human body lesson. What a perfect brain break!
Not only can you review the human body while you play, but it's fun. It's also great for developing fine motor skills, too. Watch out for that buzzer!
A deck building chemistry card game about particle physics and chemistry. Learn concepts such as atoms, elements, and the periodic table.
Players use quarks to build protons, neutrons and electrons. Use those to build elements, just like a particle physicist!
Update: Sadly, this game is no longer available. But Magic School Bus science kits like THIS one look awesome.
Who doesn't love Ms. Frizzle and The Magic School Bus? Learn about different fields of science as you race to be the one who explodes the volcano. You get two games in one with set.
Match science-based topic cards to master cards in one game and use memory and strategy skills in another game!
Gravity Maze is a combination logic game, marble run, and STEM toy. It contains 60 challenges from beginner to expert and helps develop skills such as spatial reasoning and planning.
It's also a great way to introduce engineering!
This game was created by a 9-year-old girl named Samira! It's one the most popular science games out there and has won numerous awards. No coding experience required.
Coding concepts covered: sequencing, conditional, repeat loops, code writing, functions, debugging, branches, inheritance, parallelism, stack, queue, and list.
Update: This game is no longer available, but if you're looking for something space-related, the Apollo board game could work. Only warning – it's a very complex game.
This is a strategy-based card game that covers Math, Science, Language Arts, and Social Studies.
You're able to customize the game and substitute your own content easily. Perfect for adjusting to your child's level or lessons.
In this game, players assemble teams of "Science Ninjas" to build new molecules out of elements to earn points and win the card game. Opponents can break down your bases with acid assaults!
This is a great introduction to chemistry concepts and easy for on-the-go gaming.
Simple and fun board game based on science experiments involving chemicals from daily life. Players choose a magic trick from a collection of 16 tricks that involve chemicals.
Players roll dice and move on the board to collect the chemicals. Once collected, players distract the warden with their magic trick and escape. The first player to escape wins!
This game is a fun way to learn about the various breeds of horses. It comes with 50 illustrated horse cards and a booklet to provide more facts about the different breeds of horses.
There are three different possible adventures for varying, multi-level play to keep the game challenging and exciting.
In this science board game, you are responsible for growing your seeds into full grown trees. You need to be careful where you plant them to ensure they get the correct amount of light and shade. Earn points as leaves gather energy from the sun.
You can play with 2-4 players, and the game is designed for ages 8 and up.
23. Hit the Habitat Trail
Update: This science board game is no longer available.
Players move forward in this board game by answering a question correctly, and play follows the spiral through each of the different habitats. The player who earns the most cards wins.
Keep in mind that some reviewers found the questions to be challenging for elementary aged children. If you want to use the game to learn science facts, it's perfect for elementary and up.
If you want to use it to test knowledge already learned, it may be more appropriate for middle and high schoolers.
Learn about the night sky and the different constellations. Players collect the stars needed to compose various constellations and complete their designated pattern.
Designed for 2-4 players and ages 7+, this science board game also includes a workbook about the stars, science, and the mythology behind the constellations.
In this strategic board game, players invent new species in order to adapt in an ever-changing ecosystem. There are over 12,000 possible species players can create, so the game continues to be new and challenging every time you play.
The game is for ages 12+ and designed for 2-6 players.
26. Cytosis: A Cell Biology Game
Update: This science board game is no longer available.
Learn cell biology from a science board game! Players build enzymes, hormones, and receptors and play with proteins, carbohydrates, lipids and DNA or mRNA just like in biology class.
All organelles, macromolecules and science vocabulary are concepts covered in high school biology class!
Learn how to ionic bonds are built with this compound building game. Players build neutral compounds from a hand of positive and negative ions (game cards). Simple and educational!
Players learn biology from this science board game where players build peptide chains out of amino acids.
Players learn about cells converting genes into proteins. So much better than a textbook lesson!
Let's start with the gorgeous bird cards. There are 170 unique cards, which include where the bird lives and a fun fact about each bird.
You can also download the Wingsong app and play each unique bird call (our favorite part).
Players build up their bird sanctuary by carefully playing cards in each type of habitat. Each habitat corresponds to a specific action:
Getting Food
Laying Eggs
Getting Cards
You need birds in each type of habitat to progress in the game. The more birds you have in each habitat, the more effective each turn will be (e.g. if you have 4 bird cards in the forest, your "get food" turn will yield more food than if you only have one).
There are so many different features to the game that earn you more points, but you'll just have to see for yourself! If you love board games, I don't know how you won't love this one.
Players build chemical compounds through careful management of elements and game play and trading.
Players take on the roles of lab managers, racing to complete the most compounds before they are completed by others.
Or else? They're destroyed in an explosion!
This looks like a very comprehensive science board game! It features 25 individually packaged sets of 30 full-color, review cards per topic (a total of 750 curriculum-based questions), and covers the following topics:
The Science of Biology; Introduction to Cells; Cell Structure & Function; Cell Processes; Cell Reproduction; Nucleic Acids & Protein Synthesis; Photosynthesis; Genetics & Heredity I; Genetics & Heredity II; DNA Technology/Genetic Engineering; Evolution & Classification; Introduction to Plants; Plant Structure & Function; Ecology I; Ecology II; Microorganisms I; Microorganisms II; Introduction to Animals; Invertebrates I; Invertebrates II; Vertebrates I; Vertebrates II; Human Biology I; Human Biology II; and Lab Investigations/Scientific Method.
Another great game for teaching the concepts of building molecules and learning the periodic table. One player has knowledge of the secret molecules and must silently give clue cards to all other players, who then attempt to accurately construct their secret molecules using their element tiles.
Build all your secret molecules before the guess tokens run out and everyone wins!
Chemistry concepts aren't so intimidating when the come in the form of a game! Reinforce chemistry concepts while spending quality time together.
Players use atoms and laboratory gear to match the current goal and win!
I hope this list of science board games gives you plenty of ideas for your homeschool or educational board game collection, or to add to your Christmas or birthday wish list. Happy gaming!
Did I miss one? What science board games would you add to this list?
Read Next: 24 Math Board Games for Kids