Inside: A growing list of over 25 history board games. Get board game ideas for history to use for homeschooling, in the classroom, or as a gift for the history buff in your life!
We adore board games in our family, and I love using them in our homeschool. While two of my kids enjoy learning through reading and writing, my second-born is definitely a kinesthetic learner and prefers ANY kind of hands-on activity to reading aloud or writing.
Unfortunately, he also seems to be allergic to history. When I pull out the history books, I get eye rolls and sighs almost every time. At first, it broke my heart just a little because I love history.
After he enthusiastically described our local history museum to his brother, I realized he doesn't hate history per se, he just needs hands-on activities pretty much all the time.
Enter history board games.
THIS POST PROBABLY CONTAINS AFFILIATE LINKS. AS AN AMAZON ASSOCIATE, I EARN FROM QUALIFYING PURCHASES. YOU CAN READ OUR FULL DISCLOSURE POLICY HERE.
Even if he wasn't so averse to more traditional modes of learning, my husband and I have always enjoyed playing board games. "Gameschooling" is an easy way to pass on our love of board games to our kids, and I am slowly, but surely, building our collection of educational board games.
The only thing holding me back is our budget – games aren't cheap!
After making this list of board game ideas for history, I'm seriously tempted to jump straight into American History – soooo many history game ideas! (If you see the Oregon Trail board game and get a little nostalgic, you're not alone!)
How to Use History Board Games
At first glance, history board games might not appear to be the best way to teach history.
Some of the history board games you'll find on this list are trivia-type games, which, depending on your children's personalities, might be frustrating if they do not already know at least a portion of the facts.
Because they have the potential to be frustrating, I wanted to offer a few ideas for ways you can use these history board games in your homeschool (or classroom).
1. Pair history board games with a quality unit study to practice or reinforce learning.
The first approach would be to play the board games after you've completed a unit study. Learn all about the Constitution and then play the Founding Fathers board game. Read about the Oregon Trail and then play the Oregon Trail Board Game.
Your kids may enjoy the games more if they know about the historical time period in advance.
2. Play history games in order to spark curiosity in your kids, which may lead to additional interest-led history study/exploration.
Alternatively, you can use a history board game to create interest in a particular subject. Especially if you have a kinesthetic learner like I do, starting with a board game and/or a field trip will likely promote far more joyful and interest-led learning than starting with books.
Unless they're lift-the-flap Usborne books, typical history books (even shorter history books like this one!) prompt serious groans from my second-born, but he does occasionally find biographical picture books interesting.
You could also pair a history board game with picture book biographies from the time period, supplementing with documentaries from Curiosity Stream and videos from the TedEd YouTube (short and sweet) for a well-rounded unit study.
3. Simply play history board games for the love of games (and history)!
It's so hard to stop brainstorming ways to make everything educational. Maybe it's just a homeschool mom problem?
Like I'm seriously considering replacing our game of Sequence with Sequence States & Capitals just so it can be more educational. #homeschoolmom
But sometimes, board games can just be games…you know, for fun? Mind-blowing, I know.
Not everything needs to be educational. 😉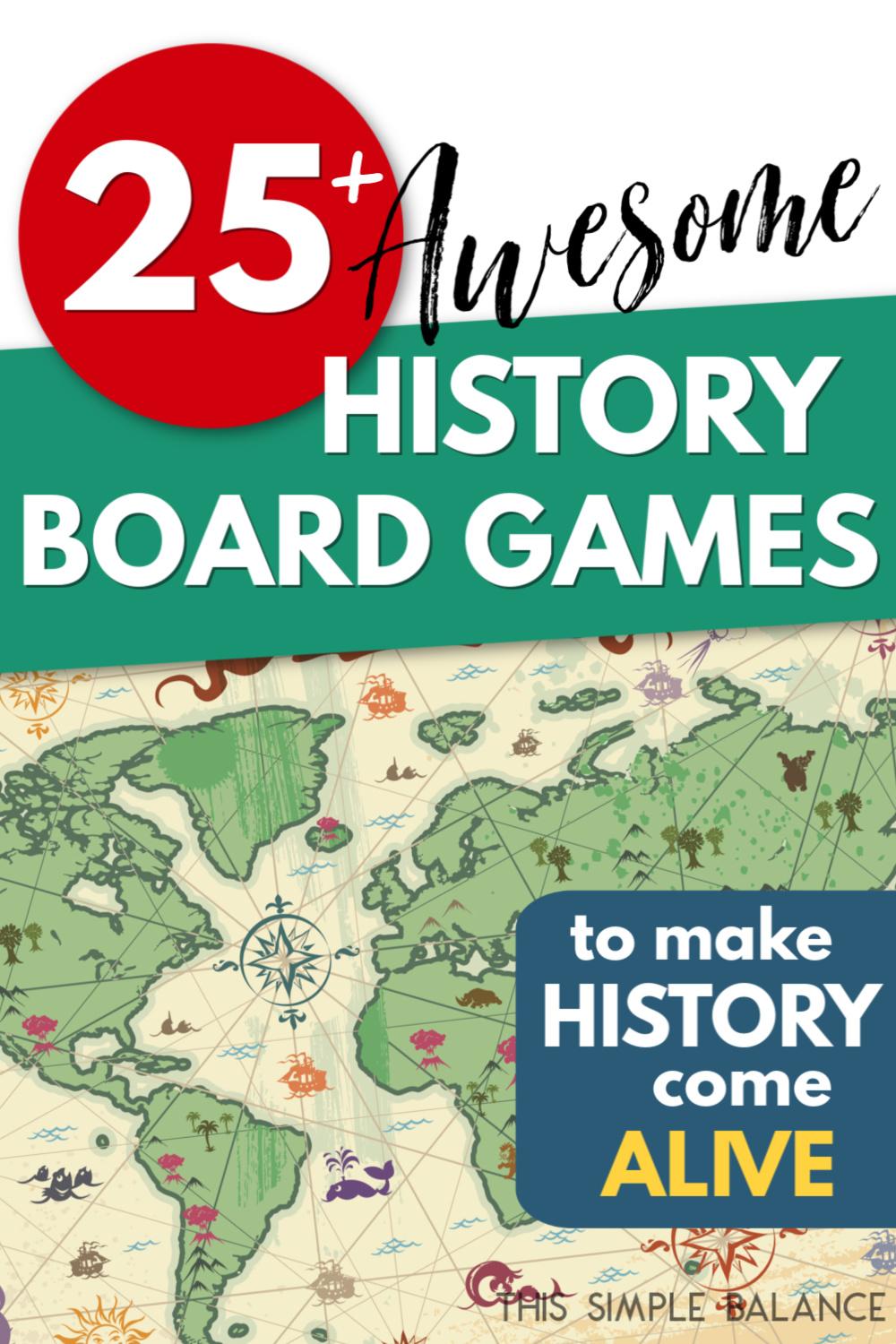 25+ History Board Game Ideas (by History Type)
As with my previous board game lists, I included a few history card games simply because there weren't enough to warrant a separate post on history card games.
This list is segmented according to history type:
General world history board games
World War II history board games
American history board games, and
Biblical history board games
One note: Board games can be a risky investment. One of these games received several five star reviews, but then several one star reviews as well!
You can either love them or hate them, with no way of knowing in advance whether or not it will be a hit with your kids.
I recommend creating an Amazon wish list and adding the games you are interested in to your list. That way, you can check back to see if there any price changes, or ask to be notified of price changes.
If you buy it at a much lower price, you can pass it along to another homeschool family or donate it to the thrift store with less buyer's remorse.
I hope this helps you find a history board game your kids (and you) will enjoy!
World History Board Games
American History Board Games
World War II Board Games
Biblical History Board Games