Inside: The 12 best decluttering books for finally achieving a clutter-free home! Provided are thorough summaries of each decluttering book, plus expert advice on what differentiates each book from the rest, so you can choose the best decluttering book for YOU.
This is a guest post from professional declutterer Julianna Poplin of The Simplicity Habit.
Are you tired of the clutter in your home? Are you ready to make changes so that you can finally be free from under the weight of your stuff?
You can regain control of your home, but most people like to have guidance in the process.
You wouldn't think that getting rid of stuff would be so difficult, but depending on how much clutter you have, there are just SO many decisions to make. Decision fatigue leaves us begging for help! Which is of course why today, there's no shortage of decluttering advice out there.
But what IS the best way to learn how to declutter? The two most popular options are reading decluttering books or taking online courses.
Which one is best for you depends on your learning style and the level of support you need to take action.
Decluttering Books Are Best For….
Decluttering books are best for people who are motivated, but need a bit of direction. Books can provide insights on the best ways to declutter and can inspire and motivate you through reading about others' success stories.
A quick warning about books though: there are far more people who read decluttering books than who actually declutter.
The act of reading the book doesn't do the decluttering for you (I wish!). You have to be willing and prepared to take action and implement what you've learned.
I read SO many books as I prepared to declutter my home. There were different gems in each of them.
Each book helped me get more excited about decluttering my home and helped me start to dream about what a decluttered home would be like.
I continued searching for the perfect decluttering book that I thought would have all the right answers.
I never found one.
There are really great books on the topic, but none are going to be one hundred percent perfect. And none will do the actual work for you.
You need motivation and discipline to complete the decluttering process.
For some people this comes easily. Others will read book after book and still stay stuck.
Related: Quick & Easy Decluttering Tips to Make Progress Fast
You Might Need a Decluttering Course If…
THIS POST PROBABLY CONTAINS AFFILIATE LINKS. AS AN AMAZON ASSOCIATE, I EARN FROM QUALIFYING PURCHASES. YOU CAN READ OUR FULL DISCLOSURE POLICY HERE.
If you feel like you've read every decluttering book in the world, but you STILL feel stuck, taking a course is most likely the next step for you.
Decluttering courses are created specifically to help you take action.
A good course will provide a clear step by step process, so you know what to do. The instructor virtually holds your hand to help guide you through decluttering.
If you tend to lack direction, motivation, and/or follow through a course will better serve your needs.
While courses are more expensive than books, choosing to invest money in one helps you to commit to the process. There is a mental shift that happens when you spend money on a course.
Spending money demonstrates your commitment to do the work. When you invest in yourself and your home by purchasing a course, you increase your chances of follow through.
That isn't to say that a decluttering course doesn't still take work and effort, but having a plan laid out for you AND accountability makes it so much easier.
Courses often include a Facebook community where you can get support, encouragement, and accountability. When you read a decluttering book, there is no direct accountability, unless you find a friend who is willing to read the book and declutter with you (strongly recommended!).
A course is especially helpful if you live alone or in a home where other family members are not supportive of your decluttering efforts. It's important to be part of a like-minded community who will encourage you along the way and help you if you get stuck.
How to Get the Most Out of Decluttering Books
To get the most out of the decluttering books that you read, take notes. Writing down key points will help you to remember them.
Create your own action plan based on what you've read. Write it down, and commit to following through.
Consider making checklists for areas you want to declutter in your home. Set your goals and do the work.
If you want to get the most out of reading, you need to implement what you have learned.
It would be ideal to find an accountability partner who is committed to decluttering, too. You could go through the book together, share your wins, and choose reasonable decluttering deadlines you can both stick to.
What is the Best Decluttering Book?
I wish I could say definitively which book is the best decluttering book. But really, this is the wrong question.
What you need to ask is, "What is the best decluttering book for me?"
Everyone is different.
Some people know they want to live a minimalist lifestyle, and decluttering their stuff is the natural first step.
Others simply want to pare down their belongings for a less stressful life.
Still others are downsizing and are making different, and sometimes more difficult, decisions than someone who is decluttering, but staying in the same home.
Your decluttering goals, your lifestyle, how much time you can devote to decluttering – all of these will affect which decluttering book will be the most helpful for you in your decluttering journey.
Related: The Best Books on Minimalism on Simple Living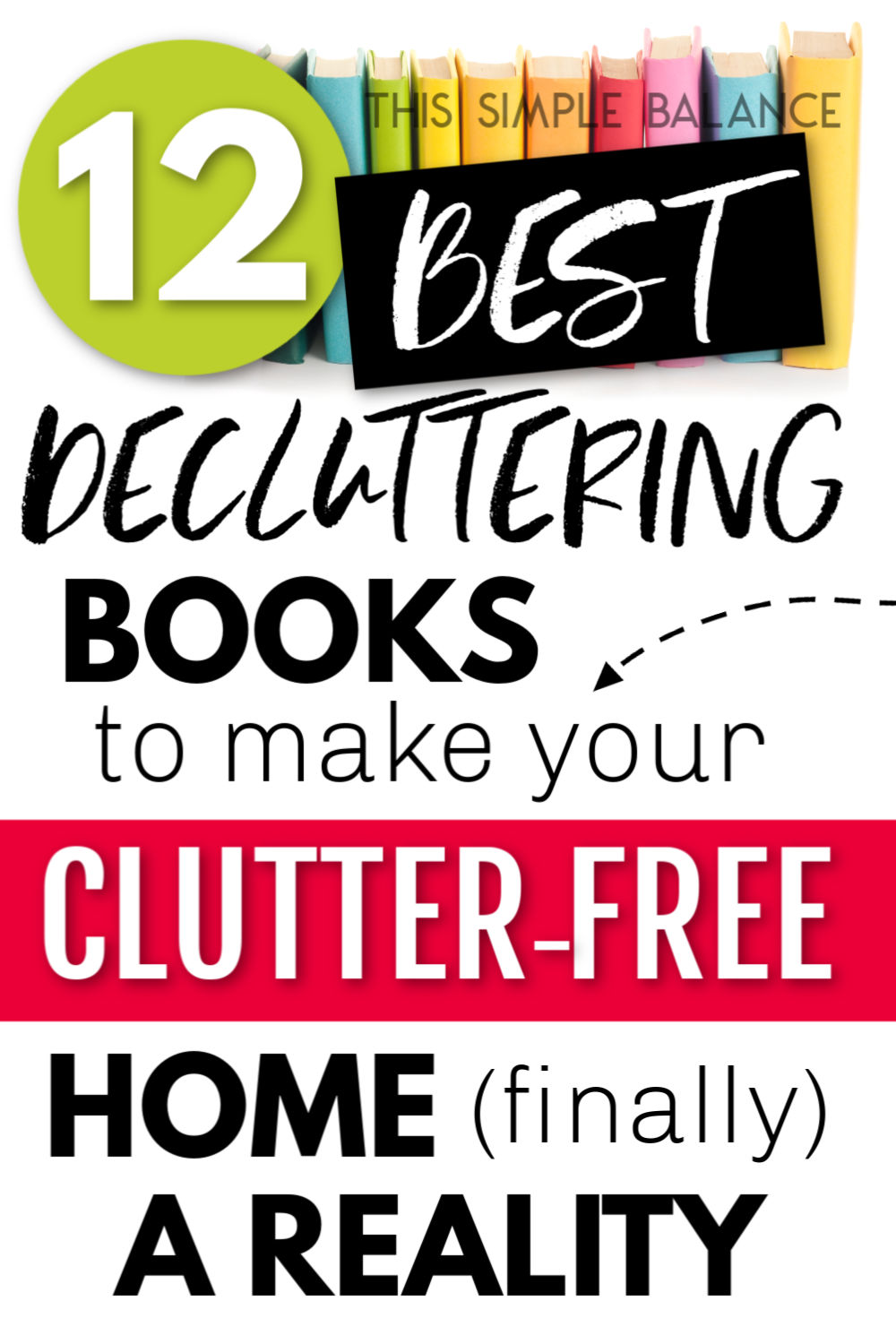 12 Best Decluttering Books for DIY Decluttering
The following books are the 12 best decluttering books for going the DIY route.
Each one offers something unique. I'll provide a short summary, highlight the key points, give you powerful quotes directly from the books.
I'll also give you my expert opinion, having read the majority of these books, on who that particular decluttering book is best suited for.
Ready? Here we go!
In this book, Gretchen Rubin shares her experience of how outer order contributes to inner calm in her life.
Her first book The Happiness Project examined habits that made people happier. One finding that surprised her was how most people felt more energized, creative, and cheerful in an orderly environment.
Rubin's advice is to first identify the problems in your home. If you are finding items that are often in your way or are difficult to find, create organizational solutions to those challenges.
She provides three questions to ask yourself when determining what should stay and go in your home.
Do I need it?
Do I love it?
Do I use it?
She challenges readers to examine their habits and make changes to keep clutter out of the home.
Each section of the book offers practical tips and advice. Her realistic suggestions provide plenty of options for people who want to declutter and organize their home. While not every option will work well for everyone, there is something every person can get out of this book that will work for their home.
Quotable Quotes:
When deciding what to buy, remember that some things are easy to buy—but then we have to use them. If they're not used, they don't enhance our lives; they just contribute to guilt and clutter.
Outer order isn't a matter of having less or having more; it's a matter of wanting what we have.
This is the best decluttering book for you if: you want quick tips you can apply immediately in decluttering and organizing your home.
Following his popular book, The More of Less, Joshua Becker wrote The Minimalist Home.
While The More of Less focuses on the WHY of having fewer items in your home, The Minimalist Home focuses on HOW to declutter the items from your home.
Joshua advocates a room by room approach to declutter your home which he has termed "the Becker method". He suggests starting in the easiest room in your house and ending with the most challenging.
He focuses on keeping only items that you need and love.
His sentiments in The Minimalist Home echo his previous book: keep your mind on what matters most to you and your family and how to have your home to reflect that.
Joshua talks about how downsizing and saving money can free you up to be able to give back as well. He is mission-centered and purposeful in his process.
Joshua Becker is one of my favorite authors. I've written a full review of The Minimalist Home HERE.
Quotable Quotes from the Book:
Have the courage to build your life around what is really most important to you.
In our overcrowded homes today, most possessions are not truly "belongings." They are only distracting us from the things that do belong.
This is the best decluttering book for you if: You are an aspiring minimalist who needs a how-to guide for decluttering your home.
Marie Kondo wrote the very popular The Life-Changing Magic of Tidying Up, which was later followed by her Netflix show Tidying Up.
She is best known for her practice of picking up every item and asking if it sparks joy before deciding whether to discard it. Her system is done by gathering all items of one category before moving on to the next category.
Her decluttering process is not for the faint of heart as she suggests getting it all done as quickly as possible.
Kondo believes that if you are thorough in decluttering your home, you should not ever have to do it again.
Her suggestion is to first declutter clothes, followed by books, then papers, and finally kimono, which means everything else. Sentimental items are saved for last.
She has a unique way of folding clothes so that you can more easily see all items in the drawer.
Her book has its quirky moments. She clearly has had a love for tidying even from a very young age. There are some cultural differences since she is from Japan and practices Shintoism but I found my own faith challenged through her methods.
Many types of items typical American homes have are not included in this book. You could still apply her same rules, but if you want a book that will walk you through every area you will have in a typical American home, this book isn't it.
Quotable Quotes:
The question of what you want to own is actually the question of how you want to live your life.
The space in which we live should be for the person we are becoming now, not for the person we were in the past.
This is the best decluttering book for you if: You are ready to jump in, declutter it all at once and don't need specific guidelines for your whole home.
Related: 7 Best Marie Kondo Tips that are Pure Decluttering Genius
Peter Walsh guides you through downsizing and decluttering your home in Let It Go. This book was written after Peter went through the process of downsizing his childhood home and dividing his parents' possessions with family members.
After going through all the sentimental items, he realized how overwhelming that process can be for family members.
This book helps people who want to:
downsize either within their current home or in preparation of moving
to work through the emotions associated with decluttering
keep only the most meaningful momentos
decide how much you want to keep vs. let go, and
provide strategies for diving up family heirlooms without causing drama
Let It Go reminds you of your mortality. It pushes the reader to examine what they are keeping and why they are keeping it.
Walsh gently guides readers through the process so that you can face your fears and anxiety as you declutter. He also encourages readers to focus more on what matters in life.
Quotable Quotes:
Whatever has kept you from attaining the meaning you want in your life–whether it's your attitude, a possession, or a sabotaging person–leave it behind in this move.
If you've been overly wrapped up in the stuff you own, I guarantee that your life has less meaning than if you had spent your time on learning, loved ones, profound experiences, and helping others. With this downsizing, let stuff go and fill the empty space with these ingredients.
This is the best decluttering book for you if: you are dealing with (or will be soon) a family member's estate. This book is also helpful for helping aged parents downsize or to downsize your own home if desired.
The title alone may make you a bit nervous. What you should first know is that it isn't about cleaning your home.
This book reflects the Swedish practice of clearing out unnecessary belongings in your home before others have to do it for you. You can go through this decluttering process at any point, but the author suggests the earlier, the better.
Magnusson uses humor and whit to introduce her readers to minimalism. While her methods may be radical, they help family members start difficult conversations.
Although the title of the book may sound dark, the author brings a lot of joy and levity to the book. It's a bit colorful in parts so if you are sensitive about that kind of thing, this may not be the book for you.
She guides you through decluttering some of the easier items and offers suggestions on what you may want to keep. She instructs reader to not keep things that would embarrass them after they are gone.
This book suggests giving away your possessions after you are no longer using them. The author doesn't want you to leave a burden for family members to deal with after you are gone.
Quotable Quotes:
I often ask myself, Will anyone I know be happier if I save this?
Let me help make your loved ones' memories of you nice—instead of awful.
This is the best decluttering book for you if: you want a different perspective on decluttering. This book offers a humorous bent on the hard truth of what happens to what we own after we die.
This book was written by Dana White, who is known for her blog A Slob Comes Clean. If you identify as someone who is messy and perhaps even hopeless for decluttering your home, this is the book for you.
Many books written on decluttering are by authors who have a natural bent for decluttering and organization. White self-admittedly does not.
Her clutter was making her crazy, so she figured out the best methods of getting rid of things with the least amount of effort.
This book is essentially a lazy person's guide to decluttering.
White identifies mindset and emotional challenges that hold people back from decluttering. She has a humorous, no-nonsense approach to dealing with clutter.
The two questions she asks during the process are:
If I needed this item, where would I look for it first?
If I needed this item, would it ever occur to me that I already had one?
White challenges even the most resistant and distracted of declutterers to move past their excuses and get to work, even if in short windows of time.
Quotable Quotes:
Accept the limitations of the space you have, and declutter enough that your stuff fits comfortably in that space.
If I feel like my head is going to explode over a decision that isn't life changing, but feels totally life changing, I choose to declutter the item. Because no item is worth my head exploding.
This book is best for you if:. You feel like a slob and don't have natural inclinations towards organization and want to see results working in shorter time spans.
Related: Please Don't Declutter Your Entire Home in a Weekend – Here's Why
In Unstuffed, Ruth Soukup shares personal stories, biblical truths and actions plans to help you to feel empowered to get rid of the clutter and take your life back.
The book covers:
setting goals for your home
setting limits with what you bring into the home
how to deal with kids' clutter
avoiding overscheduling your life
dealing with paperwork
getting over guilt attached to items, and
cultivating healthy friendships
Soukup writes in a vulnerable and relatable way sharing her own struggles and challenges. She covers more than just the clutter in our homes.
The book is also about the clutter in our finances and spending habits, in our relationships, and in our minds.
She encourages the reader to start new habits by offering practical solutions. When we free ourselves up from the stuff, we can make intentional choices that improve our lives.
Quotable Quotes:
A busy life is not the same as a meaningful one.
Once you've determined that something needs to go, get rid of it as quickly as possible, whether that means selling it, donating it, or throwing it away. Items that linger end up coming back; the best solution is to get it out fast.
This book is best for you if: you feel overwhelmed and want to learn how to get unstuck and declutter various aspects of your life.
In The Minimalist Way, Erica Layne walks you through applying minimalism to every aspect of your life. She offers exercises and activities to try as you work through the process, mainly centered around determining your values.
This book offers practical strategies for decluttering emotional, physical, and mental clutter. Letting go of physical items is not the focus of this book, but it does offer some practical ideas and solutions for that.
The Minimalist Way includes a collection of ideas, essays, suggestions, and stories on how to declutter your life. It takes a holistic approach to removing the clutter from every aspect of your life.
Layne writes in a non-judgmental way and invites readers to incorporate minimalist habits into their own lives at whatever pace works for them. She advocates for creating your own customized approach according to your values – what is most important to you.
Quotable Quotes:
This is the beautiful secret of minimalism: It may seem like it's about stuff, but once you've cut through the clutter and adopted a new frame of mind, you learn that it's barely about "the stuff" at all.
Bottom line: If our lives are burdened with clutter, we're giving the best of ourselves away to the things that matter least.
This is the best decluttering book for you if: You are interested a values-based approach to decluttering, learning more about minimalism and how you could incorporate minimalist habits into various areas of your life.
Organized Simplicity offers ideas on how to live more simply and intentionally. Tsh Oxenreider explains that simplicity isn't about what you are giving up, but rather what you are gaining.
It's her minimalist manifesto, convincing you to remove things that don't matter to you in order to free up your time for the things that do matter.
Oxenreider opens the book by looking at our fascination with stuff and explains that the more we have the less time we tend to have available for people and relationships. She covers all the bases with simple living, including finances.
The book includes an action plan for:
organizing each room in your home
ideas for creating a family purpose statement to clarify your values and priorities
templates for daily, weekly, and monthly tasks to efficiently manage your home, and
recipes for natural household cleaners and cleansers
Quotable Quotes:
We want stuff, so we work hard; our hard work allows us to buy stuff, but our hard work takes all of our energy, so we can't enjoy our stuff as much as we would like.
Simplifying your life is meant to make things better, not worse. It's about choices — about saying no to the things in your life that aren't the best so that you are free and available to say yes to those things you truly want.
This is the best decluttering book for you if: you want ideas on how to live more simply in various aspects of your life, as well as helpful information for managing and organizing your home.
Similar to Dana White, Cas Aarssen, known by her YouTube channel called Clutter Bug, is not a naturally organized person.
Over the years she has learned a lot about organizing and decluttering and has worked with many clients as well. In Real Life Organizing, Aarssen teaches simple and practical tips that can work in any home.
One interesting part of Aarssen's philosophy is that there are 4 different types of organizational styles. She has coined them as 4 bug types: a ladybug, cricket, bee, and butterfly.
She offers a quiz to determine which one you are, but likely you'd also be able to tell by reading the descriptions. Shesuggests different types of organizational solutions depending on which "bug" you are.
Real Life Organizing is full of humor and her writing style is down-to-earth and relatable.
She is all about a balanced approach to organizing and decluttering and offers many cost-effective storage solutions. She also includes multiple lists and guides at the end of the book to help you get your life more organized.
Quotable Quotes:
You're not deciding which child to keep; it's just stuff.
Having less clutter means more time with loved ones, more money in your pocket, and way more happiness.
This is the best decluttering book for you if: you want help organizing your home using a simple and practical approach that can work in just 15 minutes per day.
In this book by Melissa Michaels, the reader is encouraged to minimize and make space for things that you love. She advocates for buying higher quality items that last rather than cheaper items that will fall apart and turn into clutter.
If you're very frugal, that idea may be difficult for you, but Michaels makes good points about how selective spending more may be warranted.
Make Room for What You Love is relatable and offers suggestions for how to efficiently declutter and organize so that you can love your home. She is encouraging and offers practical advice to inspire you to create a space that brings you peace and allows you to pursue what matters most.
This book helps you think through why you have the clutter so that you can change your habits and prevent it from returning. Michaels wants you to have a stress-free home that brings you peace and contentment.
Quotable Quotes:
The home that is supposed to be our sanctuary, our haven from the chaos outside, is full-to-overflowing with things that drown out the peace we are craving.
Clutter is a stealer of joy and contentment. Your home should breathe happiness into your family's story, not slowly suck the life out of you.
This is the best decluttering book for you if: you want some inspiring ideas on how to declutter and organize your home as you consider quality over quantity.
Clutter Free will help you regain control over your home and your life. Lipp's humor helps give a light-hearted feel to this book while walking you through how to declutter your things.
The book opens with her explaining the reasons we accumulate clutter. She helps you to understand the how and whys of clutter so that you can make lasting changes and not repeat the same mistakes.
She offers unique and helpful tips on how to get rid of the excess. She suggests that as you declutter you ask yourself:
Do I currently use it?
Do I really love it?
Would I buy it again?
Clutter Free is full of personal examples and solutions to clutter problems. Her decluttering suggestions can make any size home appear larger by removing the excess.
Quotable Quotes:
At its heart, clutter is a lack of peace.
When every possession is special, none of them are.
This is the best decluttering book for you if: you are ready to declutter your home, and you want a variety of ideas and solutions to help you let go of your stuff.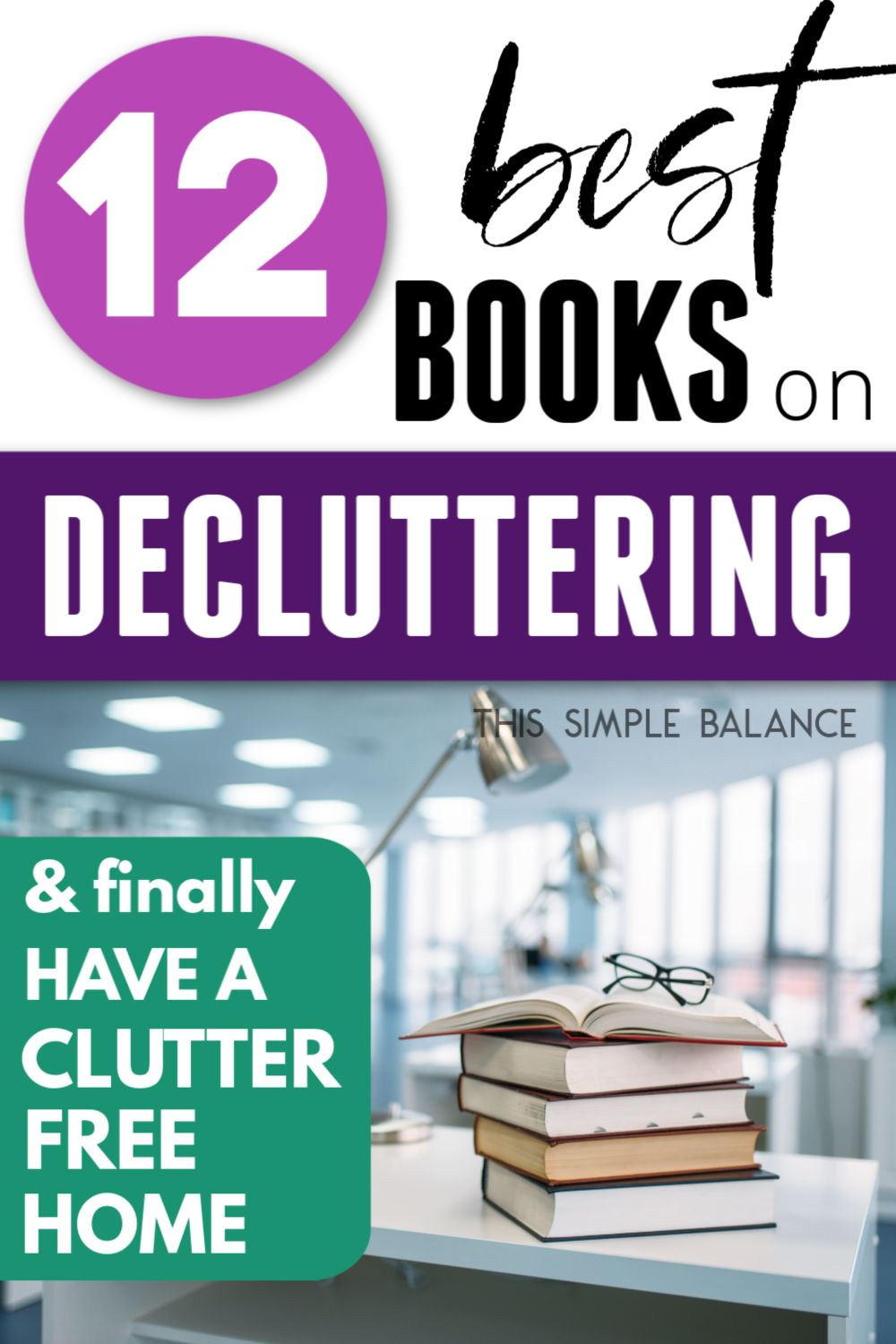 What Next?
Select the decluttering book (or books) that are the best fit for where you are and what you want to work on.
If you don't take action after reading the books, or have already read multiple decluttering books and not taken action, find a course that will walk you step-by-step through the decluttering process.
It's o.k. to need more help and to feel like a book doesn't solve the challenges you are facing. A course is a great way to get more specific help and to find a community who is working towards the same goals.
While a course will cost significantly more than a book, what's most important is getting results and making lasting changes to your habits. The end result is worth it when you feel at peace in your home.
Focus on doing whatever you need to do to meet your goals. If you are feeling overwhelmed with the clutter in your home, take the steps needed to help you get there.
You will find so much freedom when you learn to let go. And your clutter-free home will finally be your haven.
Read Next: 8 Decluttering Tips For When You're Living on a Low Income
About The Author: Julianna Poplin blogs at The Simplicity Habit. She is a wife, mama, and professional declutterer who helps people create margin so they can say yes to the great. You can also find her on Facebook.