Inside: Quick and easy decluttering tips you can use right away to make getting started simple, fast, and painless!
This is a guest post by Lauren from Simply Well Balanced.
The thought of decluttering your home may feel completely overwhelming. For many of us, it can seem like a huge project with no end in sight.
Fortunately, there are some easy decluttering tips that can make it a simple and fun process to start.
Keep reading to learn how to clear your home of clutter quickly.
How Do I Get Rid of Clutter Fast?
If you have been putting off clearing your home of the piles and mess it's probably because you're afraid that you will put in a ton of effort and not be able to notice a difference.
That is completely understandable, but don't let your fears stop you from getting started.
Everyone is motivated by progress. When you start a project and experience instant gratification it makes it easy to keep moving forward.
After living as a minimalist for the past few years, I've had the privilege of helping friends and family members kick-start their own decluttering projects.
Through helping others start decluttering their homes, I've learned a few tips and tricks that make it super easy, especially since you see progress right away.
Related: Can You Really Make Money Selling Clutter?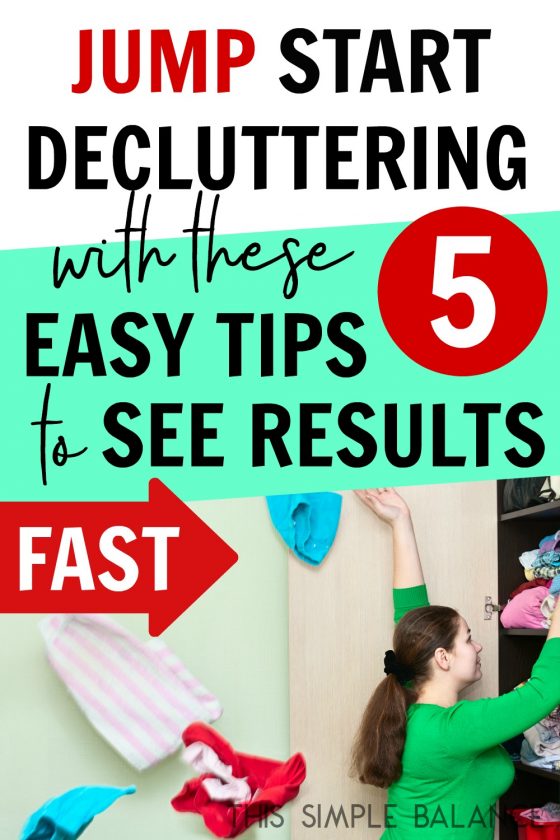 5 Easy Decluttering Tips for Fast Results
THIS POST PROBABLY CONTAINS AFFILIATE LINKS. AS AN AMAZON ASSOCIATE, I EARN FROM QUALIFYING PURCHASES. YOU CAN READ OUR FULL DISCLOSURE POLICY HERE.
1. Get motivated.
The first step to make decluttering easy is to have a clear vision of what's to come.
Take a few moments to hop on Pinterest or Instagram and get inspired by the beautiful images of clean and clutter-free homes. Curate your own collection of images that match your decor tastes.
Use those images to fuel your motivation as you get started. Eventually you will be posting your own before and after pictures and will be inspiring others!
2. Set a timer.
Keep your motivation up by working in quick bursts of time. Depending on your lifestyle and household this may be anywhere from 10 minutes to one hour.
As a busy mom with kids, I have found 20 minutes to be my sweet spot.
Use the timer on your phone or microwave and see what works best for your. I recommend starting with 10 minutes. If the timer goes off and you are ready to keep going add another 10.
Keep that up until you start to feel your energy slide. At that point, call it a day.
You can always come back to it at another time.
3. Start with the easy stuff.
Collectibles, clothes and sentimental items are some of the most difficult items to get rid of.
For that reason, they're not a good place to start.
Instead, you want to start your decluttering process with your belongings that you are not particularly attached to.
Good places to start usually include:
The junk drawer
Your pantry
A hallway closet
Of course, this is different for everyone but the point is that in the beginning you want to quickly be able to make decisions about what you are going to keep and what you are going to let go of.
I suggest starting with items you can declutter quickly – meaning that they can either be thrown away or donated for someone else to use.
4. Ditch the duplicates.
Once you have gotten the garbage and unwanted items out of the way, it's time to take a look at what you still have in those cabinets, closets and drawers.
If I were a gamblin' sort of girl – I would bet that you have multiples of the certain items that you can easily declutter.
Here are some of the usual suspects:
Kitchen utensils (like rolling pins and spatulas)
Jeans
Umbrellas
Baking sheets
Flower vases
These are items that you can quickly pare down.
Do you need a rolling pin? YES!!! Do you need 3 of them? No!!!
As you declutter your home be aware anytime you come across duplicates. Gather them all together and then keep only your favorites, or the one's you use frequently.
Related: 110 Things You Can Declutter Quickly (Declutter Your Home Checklist)
5. Donate to a special cause.
One hurdle that everyone faces when it comes to reducing the clutter in our homes is the struggle to let go.
Having a mother who straddles the line between hoarder and certified pack-rat I grew up watching this battle. She would gather up everything that she didn't need, but then would be paralyzed when it came to actually removing it from the house.
The breakthrough point came when we found a local donation center that gave it's proceeds to the county hospice program. Having numerous friends and family members experience that benefits of hospice it was a charity that she wanted to support. Finally, she was able to let go of her belongings because she was motivated to help others.
You might be surprised to learn of the charities in your area that accept donations. No matter what the cause that is special to your heart, like:
Animals
The American Cancer Society
Disabled Veterans
Elderly Citizens
You will be able to find an organization that can really use your donations to help others.
Related: 7 Reasons You Have Difficulty Getting Rid of Stuff (and how to make it easier)
The Power of Decluttering Progress
The key to keep moving forward on your journey to live with less is to make visible progress. When you are able to quickly see the results of your efforts it will make the process rewarding and fun.
These easy decluttering tips will help you stay motivated to become clutter-free!
Read Next: Decluttering Clothes – a Realistic Step by Step Guide
More about the Author:
Lauren Tingley is the creator of Simply-Well-Balanced, a site where she shares tips to help busy moms learn how to simplify modern motherhood. With a focus on decluttering and intentional parenting, she is passionate about finding easy and practical ideas to help moms reduce stress and increase joy.
You can find her latest and greatest tips by following her on Pinterest or Instagram.