Inside: The best books on minimalism and simple living to help you slow down, declutter and simplify. Great for helping both the beginner and experienced minimalists live a minimalist lifestyle.
Do you feel stressed and burned out by the crazy pace of life with kids? Are you overwhelmed by the sheer amount of stuff in your house, stuff that you keep organizing and cleaning up? Does obligation dictate your schedule far more often than you would like?
That's where I was three years ago.
I was juggling three young children under five with the usual household duties, along with Christian ministry obligations that were far too intense for my season of life. My house was also filled with way too much stuff, although I didn't realize it yet.
Why was I trying to do so much? The underlying reason was simply this: I felt like I had to. Almost everything in my life was dictated by "shoulds."
I felt like I SHOULD:
Adopt hundreds of family traditions.
Put my kids in extracurricular activities.
Send my kids to traditional school.
Go to every event on the church calendar.
Attend every wedding and baby shower.
Volunteer for EVERYTHING (because you're a SAHM – you have time, right?).
A meaningful and purpose-filled life looked like keeping a frantic pace – one I couldn't keep up with even before I had kids. Busyness and the push for more, more, more leaves no sphere of society untouched – even the church.
I occasionally questioned whether I was really meant to live such a crazy, busy life. I felt "slow" and "low capacity," and those words sounded like "behind" and "less than", no matter how people said it.
More is better. Faster is better. That's the chant I kept hearing in my head.
Finally, I started reading books about minimalism and simple living, and I realized that maybe there is a different way to live.

The Minimalism and Simple Living Movement
The minimalist and simple living movement is growing rapidly: a direct and opposite response to the consumerism and rush our society promotes and applauds.
This movement celebrates owning less and doing less – not for the sake of it, but for the joy it adds to our lives.
And families need minimalism and simple living even more than the rest. Our homes and our schedules are overflowing, and the stress is killing us (literally).
These books gave me the courage to "step off the beaten path," as one author put it (Loechner).
You would think that there's only so much one can say about minimalism and simple living, but every author contributes something new – different perspectives and fresh insights that I truly appreciate. I learn something new in every book I read.
While I've been challenged to find balance in it all, I couldn't have decluttered and slowed down without many of these books. I haven't read every single title, but the ones I haven't read yet are on my reading list for 2018.
If you need a place to start and I was forced to pick at favorite, it would be Tsh Oxenreider's books – but it's hard to choose! Essentialism would also be high on the list. I hope you find a book on this list that helps you slow down and simplify.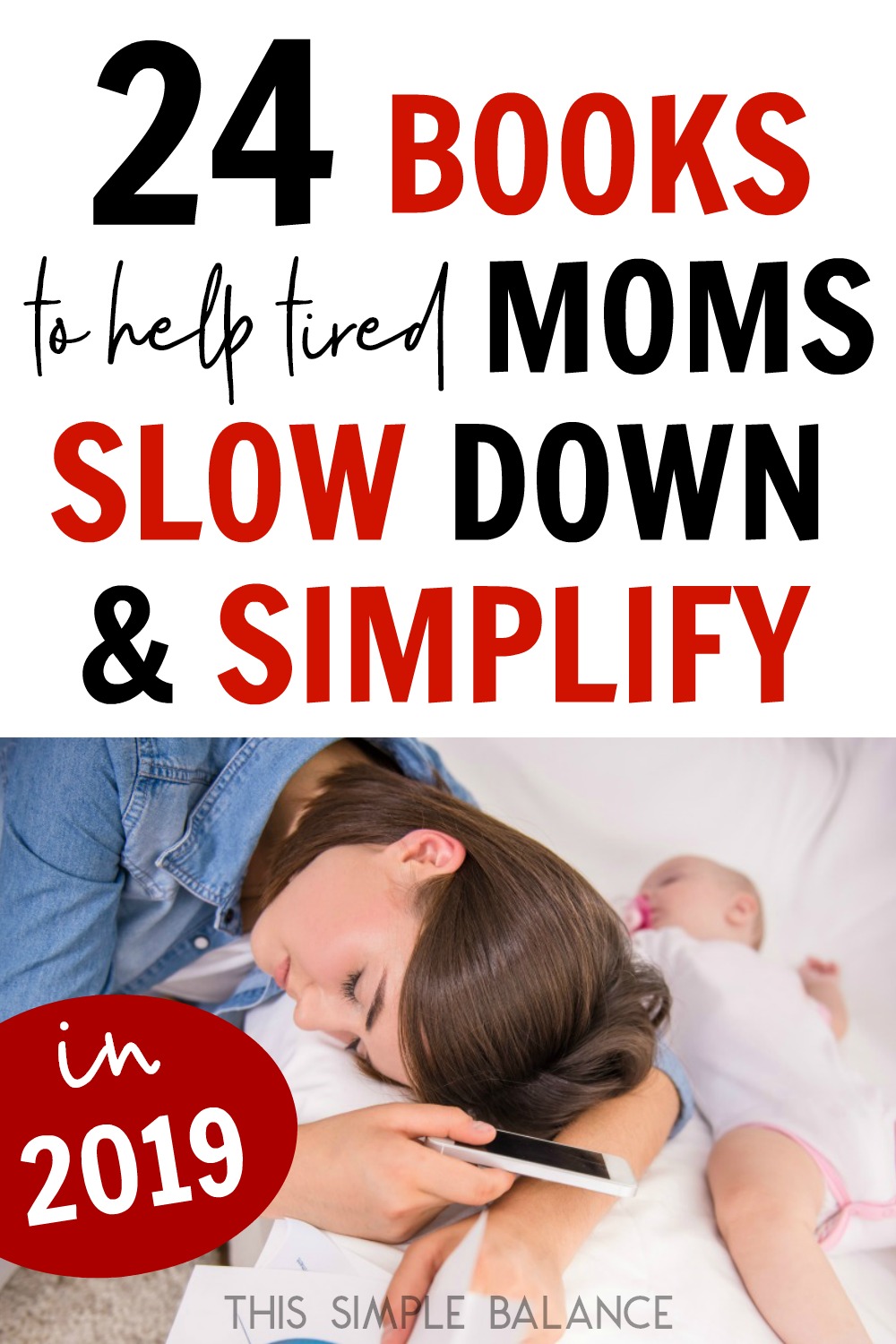 24+ Best Books on Minimalism for Overwhelmed Moms
The More of Less: Finding the Life You Want Under Everything You Own
Miss Minimalist: Inspiration to Downsize, Declutter, and Simplify
Minimalism for Families: Practical Minimalist Living Strategies to Simplify Your Home and Life
Simplicity Parenting: Using the Extraordinary Power of Less to Raise Calmer, Happier, and More Secure Kids
The Joy of Less: A Minimalist Living Guide
Present Over Perfect: Leaving Behind Frantic for a Simpler, More Soulful Way of Living
Chasing Slow: Finding the Courage to Journey Off the Beaten Path
It's Simply Tuesday: Small Moment Living in a Fast-Moving World
Breaking Busy: How to Find Peace and Purpose in a World of Crazy
Soulful Simplicity: How Living with Less Can Lead to So Much More
Unstuffed: Decluttering Your Mind, Home, and Soul
The Cozy Life: Rediscover the Joy of the Simple Things Through the Danish Concept of Hygge
Notes from a Blue Bike: The Art of Living Intentionally in a Chaotic World
The Life-Changing Magic of Tidying Up: The Japanese Art of Decluttering and Organizing
Organized Simplicity: The Clutter-Free Approach to Intentional Living
Do Less: A Minimalist Guide to a Simplified, Organized, and Happy Life
The Minimalist Mom: How to Simply Parent Your Baby
The Joy of Doing Nothing: A Real-Life Guide to Stepping Back, Slowing Down, and Creating A Simpler, Joy-filled Life
Destination Simple: Everyday Rituals for a Slower Life
The Year of Less: How I Stopped Shopping, Gave Away My Belongings, and Discovered Life is Worth More Than Anything You Can Buy in a Store
Minimalist Parenting: Enjoying Modern Family Life More by Doing Less
Essentialism: The Discipline Pursuit of Less
Cozy Minimalist Home: More Style, Less Stuff
The Minimalist Home: A Room-by-Room Guide to a Decluttered, Refocused LIfe
Slow: Simple Living for a Frantic World

What do you think are the best books on minimalism?