Inside: Homeschool supply list for new homeschoolers. Each of the supplies on this list are essential when you're just starting out. Included is a list of homeschool reference texts you can acquire all at once or as your budget allows.
Remember getting your school supply lists in the mail growing up? Best.piece.of.mail. Ever. Although I'm pretty sure I loved those supply lists a lot more than my parents did, since they were the ones paying for all those supplies!
Going to Staples or Walmart with my mom and my brother to shop for school supplies was without a doubt one of my very favorite things about school. There's nothing quite like the smell of new notebooks and crayons and erasers and…you get the idea. C'mon – I know I'm not the only one!
That fresh school supply smell came back to me the other day as I drove past a local elementary school. That smell memory and the nostalgia washed over me and was strong enough to give me brief pause about homeschooling.
For real: new school supplies are pretty powerful stuff.
You Might Also Like: How to Start Homeschooling – A Minimalist Guide for Beginners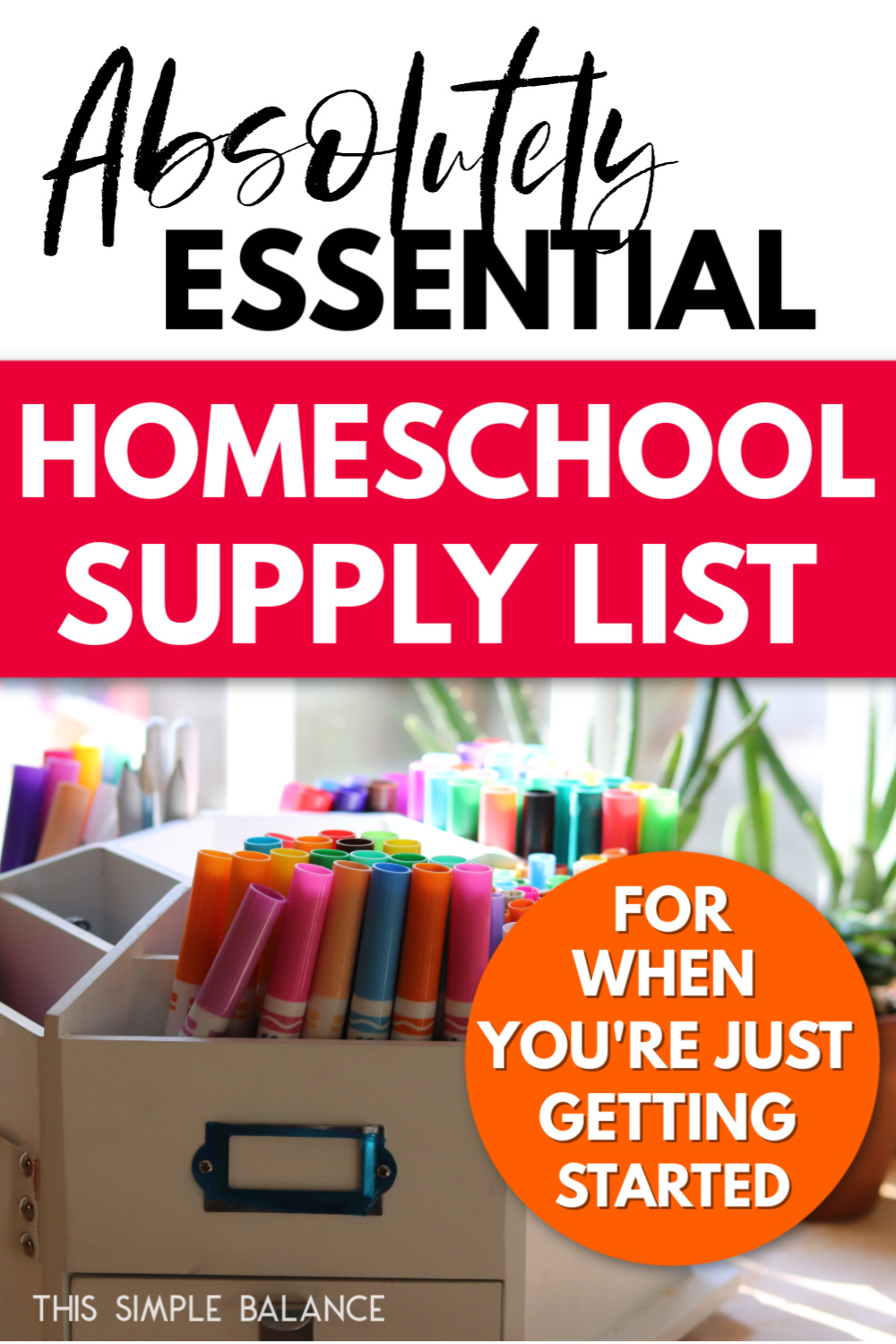 Homeschoolers Can Get In On The Joys of School Supply, Too
But just because you homeschool doesn't mean you have to miss out of the joy of fresh school supplies! You get to make a homeschool supply list of your very own.
Oh, the joys!…and the decisions.
Since decision fatigue is intense and I'm pretty passionate about helping homeschool moms cut decision fatigue at all costs, I'm sharing with you my essential homeschool supply list for brand new homeschoolers.
Everything on this homeschool supply list is what I consider your basic needs when you start homeschooling at the elementary level. I'm a minimalist, so rest assured, this is a no-fluff list. These are must-have homeschool supplies every new homeschooler needs.
The reference texts you can choose to acquire gradually over time if your homeschool budget is tight. I know almost everything can be found on the internet these days, but some reference books, for kids especially, just can't be replaced.
As you grow more confident in your homeschool style and you figure out what types of activities make you and your kids light up (or conversely, which ones make you want to cry), you can add to this list the homeschool supplies that bring you joy.
Please note: glitter may look like it'll bring you joy, and maybe it does…for a brief minute. But the clean-up? I would avoid it at all costs. But that's just me.
Onto the homeschool supply list!
Related: 20+ Genius Homeschooling Tips for Beginners
Homeschool Supply List: Just the Basics
THIS POST PROBABLY CONTAINS AFFILIATE LINKS. AS AN AMAZON ASSOCIATE, I EARN FROM QUALIFYING PURCHASES. YOU CAN READ OUR FULL DISCLOSURE POLICY HERE.
I'm going to start with the classic school supplies, the ones you very well might already have on hand anyway. About half of these are art supplies. My kids do art just about every day in some fashion – sharpies are their current favorite.
Once you've reviewed everything on the list, you can skip to the end for links to all of these products in a quick bullet list for easy shopping. Alternatively, if you're going to Staples or another school supply store in person, there is printable checklist available for free at the end of this post as well.
I do most of my homeschool supply shopping on Amazon and consider my Amazon Prime membership money VERY well spent.
If you don't already have a Prime membership, you can try Amazon Prime for 30 Days free!
I lived without a printer for two years. This year, I caved and purchased a fairly basic HP printer with copying, scanning and printing abilities.
It's opened up amazing opportunities for so many different projects, including my kids starting their own business!
I intentionally purchased an HP printer (we have this one) because of the HP instant ink program. What's HP instant ink? It's absolute genius. You sign up based on how many pages a month you anticipate printing. They track via wireless your ink levels. When they're low, they automatically mail you new cartridges.
Best part? It's only $4.99 a month, set it and forget it.
What homeschool would be complete without a map? We currently have two, one in the kitchen and one in our living room.
Any decent-sized map will do. Ours is similar to this one.
The globe is another essential, and it can double as décor (always a plus when you're a minimalist!). The ones with raised topography are especially fun for little hands to feel as you point out different countries.
We have a dry erase board in our kitchen, where we do most of our reading and school work. If I could go back, I would probably have purchased a chalk board, and I will when we buy a house.
Chalk boards can add more mess with chalk dust, but the look of a chalkboard compared to a white board is my personal preference. You will also want to consider the age of your kids and whether or not those expo markers are going to end up all over your walls….
Ultimately, just pick one and run with it!
Paper
I used to get most of our plain white printer paper for free from the Staples rebate program. Sadly, they seem to have discontinued that regular deal.
It's especially sad because my kids go through paper like its water! They draw every day, all day. I choose not to restrict their paper use.
We buy a case of Amazon Basics paper every couple months and use it as both drawing paper and printer paper.
If you decide to make handwriting instruction a priority in your homeschool, you can purchase special handwriting paper HERE. You could also make DIY handwriting paper using regular lined paper.
Having lined paper on hand for general use is a good idea once you get past second grade or so. I've found that using lined paper piece by piece and adding it to a notebook is a better investment that buying spiral-bound notebooks.
My kids will start one notebook only to abandon it for another. You'll end up with a pile of partially used notebooks that nobody wants to use up but you feel guilty throwing away (welcome to my storage room shelf).
You can find lined paper HERE. Make sure to avoid college-ruled as the lines are far too small.
Pencils
Ticonderoga pencils are pretty much gold standard here. You can use a different brand, but there is a noticeable difference in quality.
Buy them in bulk, but keep most of them tucked away from your main homeschool area. Bring them out ten at a time.
Up until this point, we mainly purchased separate erasers. But I've found that instead of grabbing a pencil and eraser, my kids would sort through the pencils until they found one with an intact eraser. That left with me with several half-used pencils and unused erasers.
These pencil eraser caps are so much more convenient and ensure the pencils without erasers see continued use.
Clipboards
We use clipboards for all the things. Especially because we aren't really "sit at the table" homeschoolers.
You can use them to hold printables to put on the wall, or for drawing or writing stories on the floor.
Pencil Sharpener
What are pencils without a quality sharpener?
We bought this one two years ago, and it's still going strong with daily use! I see it recommended time and again by other homeschool moms as well.
I've never been a big fan of white glue. Kids tend to use way too much, and you end up with a huge mess.
Glue sticks have their downsides: they dry out if left uncapped for long. But when you're homeschooling, I haven't found that to be a huge problem, since you're right there to remind your kids to recap them.
Again, I recommend buying them in bulk (and by bulk, I mean packs of 30, like this one) and keep the majority in a storage bin.
We have two sets of magnet letters, mostly because you can't spell decent sentences without two sets.
They are not always out because my three-year-old likes to fling them around the kitchen, but I do bring them out at least once a week for my youngest and newest readers.
Art Supplies
What you choose to purchase will largely depend on the ages of your kids, but I'm a firm believer in having at least basic art supplies available to your kids at all times.
Here's what you need for a basic art supply stash:
We've also found having organizing tools for all those supplies is super helpful.
Letter trays for different kinds of paper keeps everything separate, and a rotating tabletop organizer similar to this one makes the different art supplies accessible to everyone at the table.
Magazine Files
I use these magazine files to keep various school work samples. I simply put things in there when the kids are finished with them and go through them every few months.
Using this method, I don't need to make a decision on the spot about what to keep and what to toss – a nearly impossible decision that wastes waaaay too much brain power. Instead, every few months, I can look at a larger group of papers altogether and can easily see which worksheets or papers are the best samples to keep long-term.
I use binders to store my own homeschool records, printed curriculum, and various other odds and ends. Grab a couple in various sizes – I'm sure you'll find a use for them!
Plus, they're pretty and can double as décor.
Early Readers
Besides your reading curriculum and regular home library, it's helpful to have at least 15-20 early readers available. As your kids become more confident readers, they will have not too boring reading material available to practice on.
My second child was a reluctant reader, and I eventually realized that part of his reluctance was the stories he could read at his level were boring. He wanted to read decent stories, even at his very elementary reading level.
No matter what reading curriculum you decide to go with, this simple reading curriculum we use has the best stories from Day 1. It's worth having them on your bookshelf just to give your kids something to read that's funny and engaging, even when all they know are "-at" words.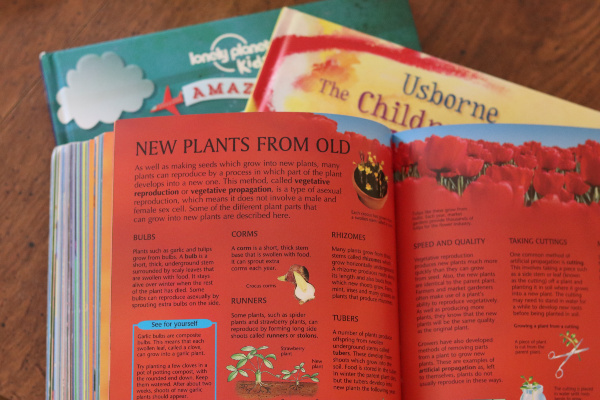 Bonus Homeschool Supply List: Reference Books
We can all agree that a complete encyclopedia set is a thing of the past. In our homeschool, we heavily rely on the internet as our go-to resource for finding answers to our random questions throughout the day.
However, I've found that having several beautiful reference texts on various subjects inspires reading and learning about core subjects. If you rotate them, keeping them out and available for regular use, I promise you'll find your kids pouring over them.
Alternatively, you could add them to your morning basket, if that's your thing. You can also use them to supplement or enhance your regular studies.
Related: Usborne Homeschool Books Actually Worth Buying
Our favorite homeschool reference books are:
This one is our most used reference text. This science encyclopedia covers every scientific discipline, with amazing illustrations. My kids love pulling it off the shelf to do a "science report" and to flip through it to learn random information.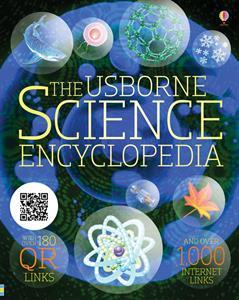 Music study is one of those "extras" for most homeschool moms. You could use this reference text in a variety of ways – just have it on the shelf, available for everyday reading, or add it to your morning basket and read about one composer a day.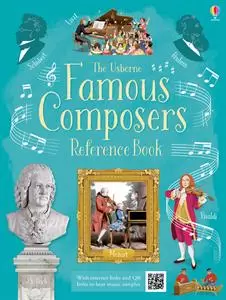 Another easy thing to miss is art appreciation and famous painting recognition. Adding this book to your bookshelf or morning basket is an easy way to add homeschool art appreciation to your days.
Warning: there are famous paintings and sculptures of naked men and women included in this book ( ). If that's something you aren't o.k. having in your home, I would avoid this one. If you do get it, be prepared for questions!
I love this book as a U.S. History supplement. It offers timelines, noteworthy achievements and failures, and famous images for each president.
This edition includes President Barak Obama.
This is a recent addition to our book shelf, mostly inspired by one of my children's lack of interest in Story of the World. We're loving it so far.
The more progress we make in the Story of the World series, the more I realize that it is definitely written for older children, from the chapter length to the advanced vocabulary. I will use the Short History of the World and the Timelines (see below) to give an overview to my non-history lover, and eventually, younger kiddos.
Hopefully, this book will prepare them for the Story of the World when they are ready.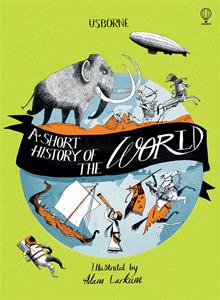 We live in a very small house with no dedicated homeschool room, so I prefer not to have a timeline strung up on my wall. While Story of the World is great, even I have trouble keeping track of where we are on the history timeline when the author jumps to other regions of the world in the same time period we just read about in the last chapter (or even before the previous chapter).
This book helps us keep it all straight without a wall timeline.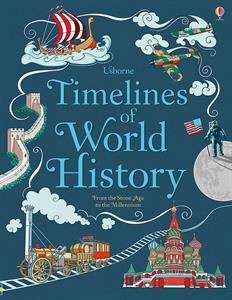 Every family who homeschools should have a quality atlas. I chose this one based on recommendations of other homeschoolers, and I was not disappointed!
Filled with amazing photography and interesting stories and cultural information, this atlas is helpful for both geography and social studies. We love flipping through and looking at random facts about various countries and regions.
We have another geography book called Maps, which we also enjoy, but Maps only covers so many countries. The Lonely Plant Kid's Atlas is a more traditional atlas covering every major geographic region.
An excellent companion to the above-mentioned World Atlas, this is an absolutely beautiful guide to the fifty states (plus Washington, D.C.). Each map includes fun facts and major landmarks. A guide to the state flags and U.S. Presidents is also included.
Every state also features an introduction, key facts such as the capital and state bird, famous people connected to that state, significant dates and events in the state's history, and a spotlight on a particular region or city.
If you plan on covering Greek mythology at all, you're not going to want to miss this beautifully illustrated Usborne Book! It includes 32 retellings of the most common Greek myths, including "Pandora's Box" and "Jason and the Golden Fleece."
In addition, the index includes illustrated maps of Ancient Greece and a huge reference guide to the gods, heroes and monsters.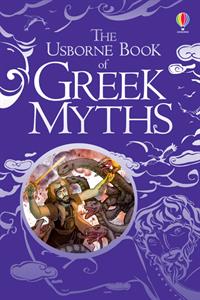 Click HERE to download a printable version of the homeschool supplies shopping list!
What are your must-have homeschool supplies? What's missing from this essential homeschool supply list? Share in the comments!
Read Next: 30 Easy Homeschool Lunch Ideas Kids Can Make Themselves