Inside: Stay-at-home mom clothes don't need to consist of t-shirts and yoga pants! With a little planning and intentionally, you can create a fall capsule wardrobe that makes you excited to get dressed in the morning. Get inspiration from a real-life example of one stay-at-home mom's fall capsule wardrobe.
I spend a LOT of summer looking forward to fall. I'm seeing photos all over my Instagram feed tearfully saying good-bye to summer, and I'm all over here saying, "Peace out, Summer! Don't come again for a loooong time!"
Besides the obvious benefits of not sweating it out in over 90 degrees, fall's cool weather also ushers in one of my very favorite things: my fall capsule wardrobe.
As much as I don't miss the heavy snows and endless Boston winters, I do miss wearing cool weather clothing for pretty much nine months of the year. Give me flannels and vests and boots over shorts and sandals any day!
My summer capsule wardrobe (a post to be written at another time) is pretty boring. A handful of tank tops and tees with shorts, of which I currently only have three pairs. Maybe I'll add another pair of shorts next summer?
Don't get me wrong, there are so many pros to having a "daily uniform". But keeping that uniform for months on end could get a little dry after a while.
The summer uniform wasn't a problem when we lived in New England, but we are currently living in a state where the weather can be hot as early as the end of April. The weather stays that way through September, and even into October!
That means I really have two main capsule wardrobes that change only every six months: a summer capsule wardrobe and a fall capsule wardrobe. And my fall capsule wardrobe offers a lot more variety and opportunity for mixing and matching.
Bring on fall!
Related: I Tried Not Buying Clothes for a Year. Here's What I Learned.
The Benefits of Having a Capsule Wardrobe
THIS POST PROBABLY CONTAINS AFFILIATE LINKS. AS AN AMAZON ASSOCIATE, I EARN FROM QUALIFYING PURCHASES. YOU CAN READ OUR FULL DISCLOSURE POLICY HERE.
If you're new to the whole capsule wardrobe idea, you can read more about where the concept originated in this post about capsule wardrobes.
As a stay-at-home mom (now also work-at-home and homeschooling mom), having a capsule wardrobe completely changed my experience with getting dressed in the morning. Pre-capsule wardrobe, I would spend way too much time getting dressed if I bothered changing out of my sweats at all. And it didn't seem to matter how many times I changed outfits, I rarely felt confident in my clothing choices.
You could argue that there's something about getting into your mid-30's that simply makes you more self-aware and more confident, but while I think that's also true, I attribute much of my current confidence in my appearance to minimalism and the capsule wardrobe concept.
Even if you had all the money in the world to invest in building a capsule wardrobe from scratch (which you don't need to do), these benefits don't happen overnight. It takes time to learn what pieces you reach for every day and which ones actually hold up to regular wear and tear to build a capsule wardrobe you love.
You Might Also Like: Why You Should Stop Folding Your Kids' Clothes…And Maybe Yours, Too
1. You feel good wearing every piece of clothing in your closet.
Again, this isn't instantaneous. Every year, your capsule wardrobe will get closer and closer to this ideal.
When I first started working on a capsule wardrobe, I went overboard decluttering my clothes. I was a little too zealous when we didn't have money at the time to replace what the things I gave away.
I replaced things here and there, getting new clothes for free with this method or accepting various hand-me-down bags, keeping an item or two before passing the rest along.
This is also subject to change based on weight gain and the pregnant/postpartum cycle (I've been through it five times now!).
2. You have fewer daily decisions to make.
The average adult makes a staggering 35,000 decisions a day, and I'm pretty sure moms make more.
By limiting the number of pieces in your capsule wardrobe to 33 or less, as suggested by Courtney Carver from Be More with Less, you eliminate so much decision-making and overwhelm. Even with only 33 pieces, the number of outfit possibilities is pretty astounding!
3. You stop wasting money and closet space buying clothes you never wear.
Once you look at your wardrobe as a whole, you can start to see the not-so-awesome patterns in your buying habits.
That random shirt you loved on the rack, so you bought it without considering the fact that you have nothing to go with it, so it sits in your closet, unworn.
The dresses you buy because you think you should wear dresses. But in reality, they just sit on the hangers unworn.
You Might Also Like: 5 Convincing Reasons to Buy No New Clothes for a Year
4. You take better care of the clothes you do have.
This one is a new benefit to me. As I've invested in clothes I love (whether in the time to find them or spending a little more to buy them), I find that I take better care of them.
When I stain them, I take care of them right away and make sure to get the stain out immediately.
The fewer things I own, the better I take care of them.
Read More: 5 Not So Obvious Steps to Taming Laundry Chaos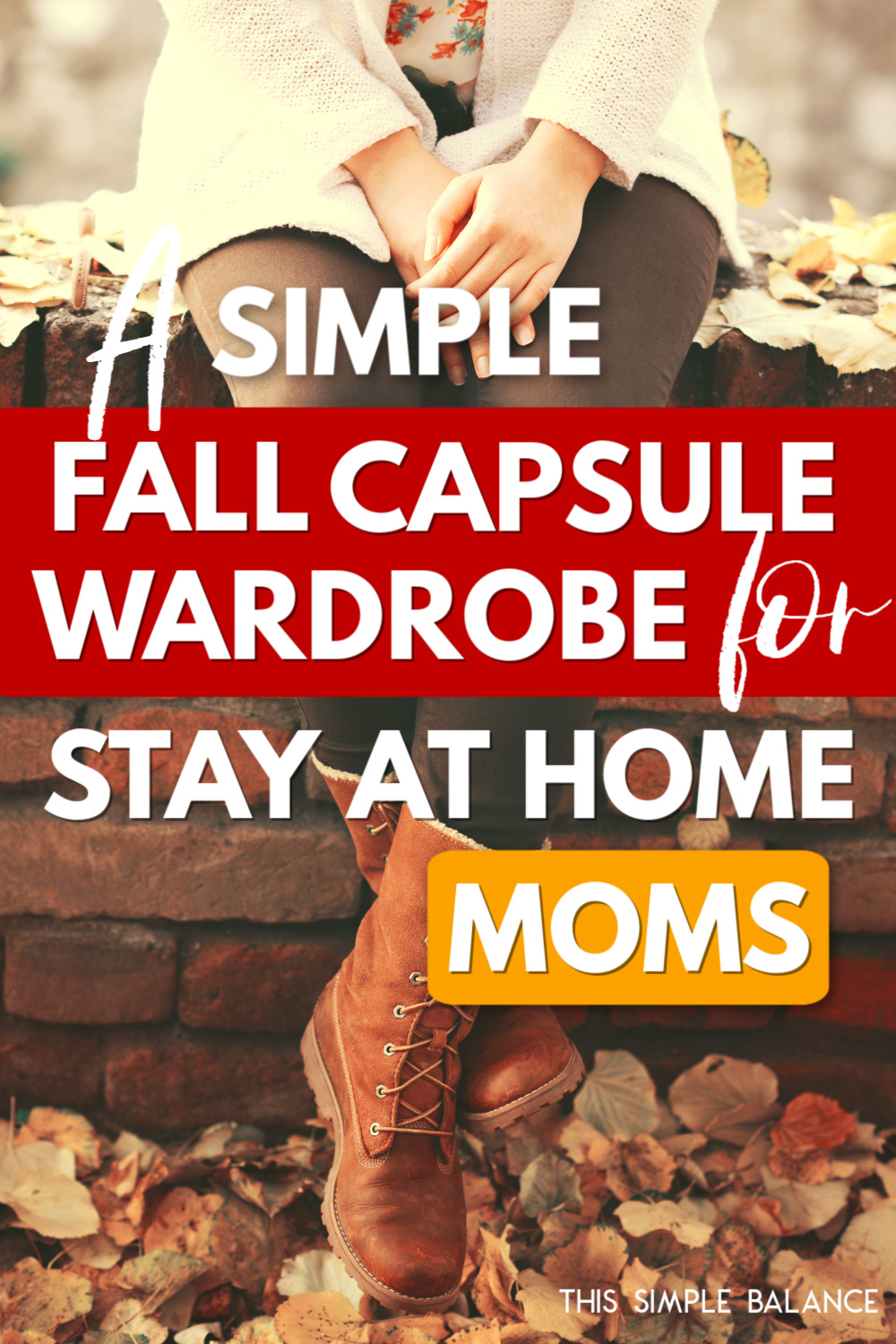 How to Build a Fall Capsule Wardrobe
Before I dive into my own fall capsule wardrobe, I wanted to give a brief overview of how to build your own fall capsule wardrobe (again, I cover this more in depth in this post about capsule wardrobes in general).
1. Start with what you love.
What do you wash every single week?
What do you go looking for in your closet and get pretty sad about when you discover it's in the dirty clothes pile?
What clothing items or styles makes you feel comfortable and confident – most like yourself (assuming you love your unique self, which is highly encouraged)?
Make a list of the clothing you have that you love.
2. Evaluate that "clothing I love" pile.
Can it all mix and match easily?
Do you already have what you need – a good mix of tops, bottoms, shoes and jewelry that coordinate?
If not, what's missing?
What style of clothes do you grab most frequently?
Is there a particular neckline or fit that looks best on you?
If you're having trouble figuring out what's missing, Get Your Pretty On offers a great Casual Wardrobe Staples Capsule Wardrobe Guide to help you know exactly what classic pieces you should look for in an evergreen capsule wardrobe.
You can shop thrift stores, hand-me-down bags, or Target. It really doesn't matter where you're getting your clothes. This guide will help you choose the best pieces that will work well together long-term.
Get the Capsule Wardrobe Casual Staples Guide HERE.
3. Box up what you don't love.
Because I had some decluttering regret after decluttering my own wardrobe, I would encourage you to keep things at least three months (six if it makes you feel better). Box up the clothes you never wear, except for 1-2 pieces of formalwear for weddings or special events.
Write the date on the outside of the box and put it in a storage room or under your bed. If you don't even think about it for 3-6 months, you can safely donate it. The exception would be if you're going through a season where you are wearing different clothing, like pregnancy or illness. Then, you may end up keeping items longer than six months.
More Capsule Wardrobe Tips & Advice:
What I Counted as a "Piece" in My Fall Capsule Wardrobe
My fall capsule wardrobe includes tops, bottoms, shoes, outwear, jewelry and bags. It does not include underwear, loungewear, workout wear, wedding rings, or running shoes.
What is My Lifestyle Like?
I'm a homeschooling, stay-at-home mom of five, so my capsule wardrobe includes mostly casual, comfortable clothing. My stay-at-home mom clothes aren't going to win any awards, but I still like to feel put together and able to go anywhere and NOT be in yoga pants or workout clothes (Hey – if yoga pants are your thing, don't let me stop you. I lived in them all last year during pregnancy!).
My Fall Capsule Wardrobe: Less Than 33 Pieces
The majority of the clothes in my fall capsule wardrobe are from GAP and Target, with a few items from trying Stitch Fix recently.
You might hear some of those brands and automatically think "expensive", but I regularly get clothes from GAP and Old Navy for free using this method.
I only buy Target clothes on clearance. I only signed up to try Stitch Fix after a friend shared a random special to get $50 credit (that's twice the usual amount) towards your first fix.
I've heard mixed Stitch Fix reviews, but I gave very specific descriptions of the pieces I was looking for and my stylist listened! So I thankfully was able to get three nice pieces that will (hopefully) last a long time.
While I did love the ease of Stitch Fix, it will definitely be a once a year/very special occasion thing for me because I can't justify the expense when I can get consistently get new clothes for free. I also would only recommend using it to get dressier/classic pieces like blouses, jeans, or sweaters.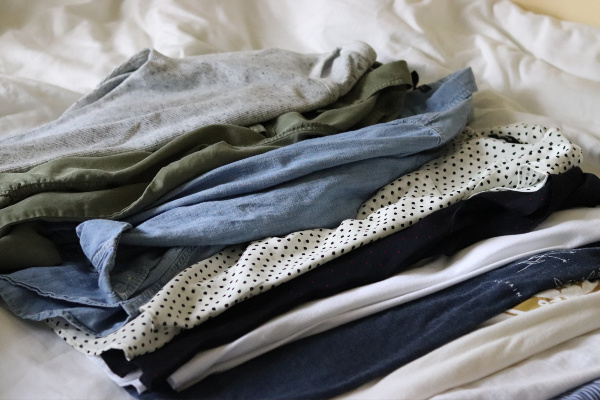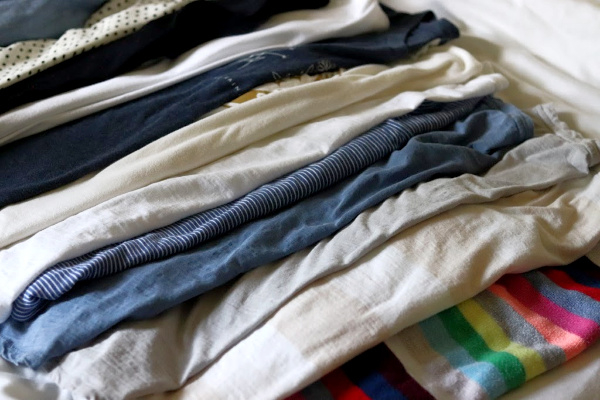 Tops
1/ Light Blue Slub Tank Top 2/ White Slub Tank Top 3/ Cream & Brown Striped Slub Tank Top 4/ Blue & White Striped Slub Tank Top 5/ Gray Slub Tank Top 6/ Blue "No Rain, No Flowers" Tee 7/ Cream & White St. Paul & the Broken Bones Tee (thrift store find) 8/ Navy with Pink Polka-Dots Blouse 9/ White with Black Polka-Dots Blouse 10/ Olive Long-Sleeved Button-Down Shirt 11/ Light Blue Long-Sleeved Button-Down Shirt (similar) 12/ Multi-Colored, Striped GAP Sweater 13/ Beige Thermal Long-Sleeved Shirt 14/ Long-Sleeved Flannel Shirt
I primarily wear blues, whites or creams, and grays. I've finally figured out the perfect fitting tank top for me: a slub racerback tank top. It pairs well with sweaters and long-sleeved button down shirts – super easy to mix and match!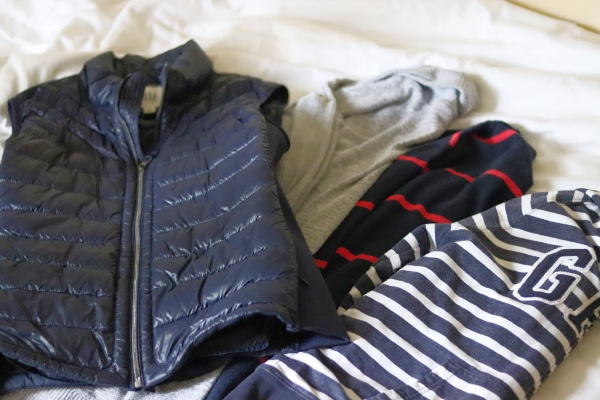 Cardigans/Vests
1/ Blue with Pink Stripes Cardigan 2/ Long Gray Open Front Sweater 3/ Blue and White Striped Zippered GAP Sweatshirt 4/ Blue Outerwear Vest (similar)
Again, I love my blues, whites, and grays! They all mix and match well together, and the vest is one of my very favorite layering pieces. I wear it almost every day in the fall and winter.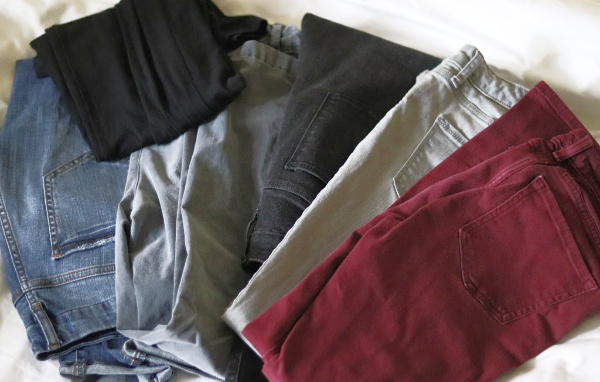 Bottoms
1/ Universal Thread Gray Jeans 2/ Studio Blue Jeans 3/ Universal Thread Black Jeans 4/ Simple Black Leggings 5/ Burgundy GAP Jeans 6/ Yellow Knee-Length Skirt
I can't stand dresses, and while I'm on the hunt for one versatile dress that can be worn for weddings or any special events, I know now that I will never own more than one dress. I just don't like them, and once I admitted that, I stopped wasting money and closet space on them.
The skirt from Old Navy is worn very occasionally for special events, and only paired with brown boots. It stands in for the dress at the moment.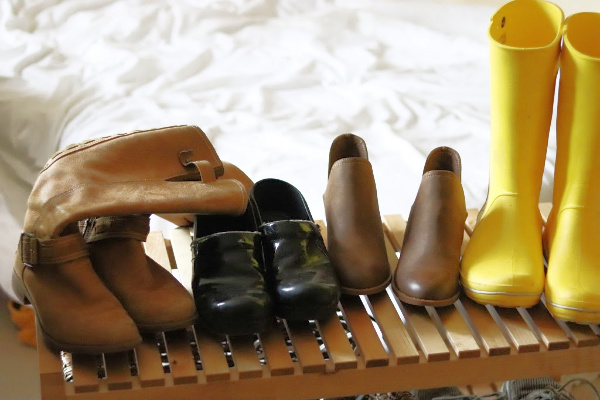 Shoes
1/ Black Patent Leather Danskos 2/ Light Brown Tall Boots 3/ Universal Thread Ankle Boots in Cognac 4/ Yellow Crocs Jaunt Band Rain Boots
I've had the Danskos for forever – they have lasted over ten years and are my go-to everyday shoe in the fall. I used to love TOMs shoes, but they never held up longer than a year and a half with daily use.
The light brown tall boots may be phasing out, but I do hang onto them for special occasions. The booties I bought half off at Target recently, and I'm looking forward to wearing them once or twice a week for days when I want to feel more dressed up.
And the Crocs rain boots: I can't tell you the number of compliments I get on these, and they are so affordable compared to other brands! I highly recommend checking them out. Only black and navy are available on Amazon, but Crocs has more colors.
Jewelry
1/ A pair of simple silver earrings
I bought the silver earrings on our honeymoon in Mexico 12 years ago, and I wear them every single day. It makes for a lot less decisions, and I love that. I may eventually add a second pair for special occasions, but I honestly love the simplicity a single pair brings.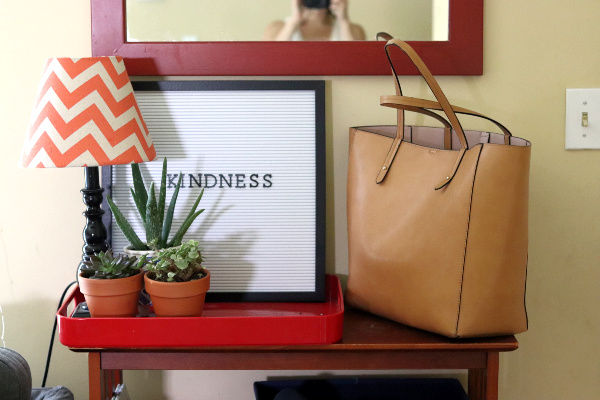 Outerwear & Bags
1/ Navy Pea Coat 2/ Light Brown Tote Bag (similar)
The pea coat was a gift from an old friend.
I only have one tote bag, and I use zippered pouches like these ones to keep things like diapering supplies and kid snacks organized. This bag works hard for me and serves all the purposes – I don't have a diaper bag or smaller purse. I love that I can always fit a book and my bullet journal inside, along with everything else.
How Many Non-Capsule Wardrobe Pieces of Clothing Do You Need?
All of my the things not in my capsule wardrobe fit in one dresser drawer or also hang in my closet. Besides underwear and socks and bras, I also have:
6 Camisoles
3 Workout Shorts/Pants
3 Workout Shirts
1 Workout Jacket
1 Workout Vest
4 T-Shirts
3 Pajama Pants
3 Nursing Tanks
These seem to be more than sufficient for my needs, although I may add a couple more workout pieces as I start running more frequently this fall.
How many extra clothes you need in addition to your capsule wardrobe is really up to you and your lifestyle. Just make sure to take into account whether or not you are actually wearing the clothes you do have.
Related: Decluttering Clothes: A Realistc Step-by-Step Guide
How to Organize Your Fall Capsule Wardrobe
Even though it may seem like 33 pieces is not a lot of clothing for a capsule wardrobe (depending on who you are), I am not sure I'll actually wear everything I have.
In order to know at the end of the season what you've worn and not worn, start with all the hangers facing the wrong way. Whatever you end up not wearing by the end of the season can be donated at the end of the season.
Grouping clothes together by category and rotating through my items in each category, so that they aren't going through the wash too frequently, can extend the life of your clothes.
I will probably end up paring down my wardrobe by the end of the season, especially the outlier pieces like the striped sweater. That particular sweater has survived round after round of decluttering clothes. However, while it's something I love to look at (the reason it's stuck around), I never actually reach for it.
Those are the kinds of observations you'll start to make after you start to intentionally observe your clothes and shopping habits.
The Perfect Capsule Wardrobe: Final Thoughts
One especially wise minimalist principle I'm learning to live by is that you don't need to possess everything in order to appreciate its beauty. You can see something beautiful in a store and not need to OWN that thing.
You can appreciate its beauty and move on.
You don't need to own something in order to appreciate its beauty.
There will always be clothing colors I love that don't look good on me. In the past, I might be tempted to buy that shirt or those pants because I loved how they looked.
I've finally learned that looking good on the rack or on the model doesn't mean it will look good on YOU.
The more you practice self-awareness, learning over time what colors and clothing lines look best on you, the better your capsule wardrobe will become!
Related: The Basics for a Simple Spring Capsule Wardrobe
Have you started thinking about your fall capsule wardrobe? Share in the comments!