Inside: Thinking about not buying clothes for a year? I attempted a no new clothes for a year challenge from June 2020 to June 2021 (full disclosure – I lasted just over six months). Here's what I learned from participating in the challenge, and why I ended up quitting early.
Last year I decided to commit to a "no new clothes for a year challenge".
The anxiety and uncertainty brought on by the events of early 2020, plus the unexpected death of a loved one a few months prior AND postpartum depression, sent me spiraling down the deep deep rabbit hole of Amazon for a good 2-3 months.
Being stuck at home and not knowing when it was going to end…well, like many of us, buying stuff made me feel a little bit better.
But inevitably, the more I bought, the worse I started to feel. Add onto that buying a house for the first time, and all the things we needed for said house, I was ready to stop buying something.
The question was – what?
Clothes for myself seemed like the one thing I could probably get away with not buying for a while (not buying clothes for the ever-growing kids? not so much). And a year felt like enough time to break the addiction to that buyer's adrenaline rush.
I started the challenge with what I thought was more than enough clothes…turns out it wasn't enough for a variety of reasons.
Spoiler Alert: I quit six months into the challenge.
But I still got a LOT out of the challenge, leading me to believe that you can get similar benefits in a six month no new clothes challenge that you can in a full year challenge. So I invite you to learn from the four reasons I quit the challenge early, what I learned from the six months I lasted and whether or not the length of a challenge really matters after all.
In this post, I'll cover:
why I quit the no new clothes challenge six months in,
what new clothes I ended up buying,
and what I learned from not buying clothes for six months.
Related: 5 Reasons to Try a No New Clothes Challenge (and what to consider before you do)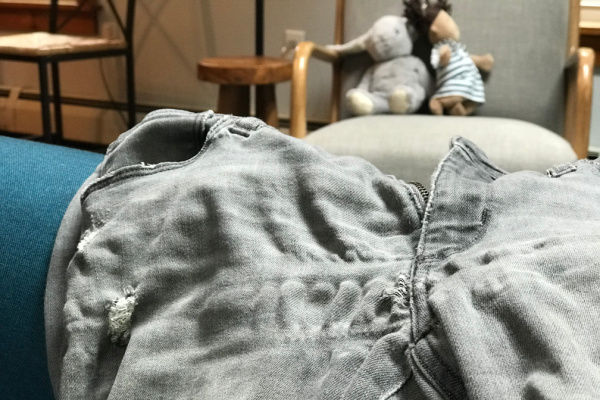 Why I "Failed" at Not Buying Clothes for a Year (Learn From My Mistakes)
This post probably contains affiliate links, which means I may earn a commission if you make a purchase through those links. As an Amazon Associate, I earn from qualifying purchases. You can find our full disclosure HERE.
There are several reasons I ended up buying new clothes after six months. A few of them were things I probably should have anticipated in advance, while one was not fully in my control.
Hopefully they help you better plan your own "no new clothes challenge" a little bit better than I did.
Related: The Daily Uniform – The Ultimate Way to Simplify Your Mornings
1. I decided to start a new exercise habit a few months into the challenge.
I decided in the fall that I wanted to get back into running shape. Never mind that this lasted until February when I couldn't take the cold anymore and the slip and slide that was our neighborhood.
When the cold first kicked in, I quickly realized that I didn't have enough weather-appropriate workout clothing. In late January/early February I caved and bought two pairs of long running leggings.
At that point, I excused it as necessary, not feeling like was really breaking the rules yet.
Not having enough weather-appropriate clothing turned out to be a theme.
Related: An Invitation to Life Without Goals (& New Year's Eve Alternatives)
2. I didn't have enough weather-appropriate clothing for our new climate.
We spent almost four years living in North Carllina, where it's basically 5-6 months of summer. Winter is extremely mild and rainy and only lasts a few months.
Just before I started the challenge, we moved to the Pocono mountains of Pennsylvania, where the climate is essentially the opposite. With only 2ish months of intense heat, and almost six months of intense cold.
I didn't realize how few real winter clothes I actually had, or how many I would need.
I started out with:
4 long-sleeve shirts,
3 sweaters
2 zip-up sweatshirts
a vest
3 pairs of jeans
2 pairs of leggings
I had t-shirts I typically worse in other seasons, but I definitely tend towards being cold all.the.time. In the winter you'll often find me wearing a long-sleeve shirt, a zip-up sweatshirt, vest, jeans, wool socks and slippers, but sometimes I was STILL COLD.
I also quickly realized I didn't love wearing sweaters. Add to that the fact that one was dry-clean only and we now lived 25 minutes from a dry-cleaner…well, you can guess how that went.
I would wear the sweaters when I was desperate, but I was super sad when I automatically reached for my favorite winter outfit and found that my favorite clothes were dirty. Again.
Re-wearing long-sleeve shirts wasn't an option because life with kids equaled dirty shirts every single day.
I tried to make what I had work, and I made it to mid-February. That's when I realized there were still three more months of winter left, more or less.
Yes. Three. Whole. Months.
I was doing my own laundry twice a week to keep up. That plus laundry for a family of 7…I was tired.
3. That pandemic 10 (or maybe 5 babies and not being as young as used to be?) caught up to me.
After each previous baby, I managed to lose all the pregnancy weight and sometimes more nine months postpartum. I'd fluctuate between size 8/10 jeans post-pregnancy and work my way back down to a 4 or a 2.
A year and a half after baby number five…the weight wasn't falling off like it did before.
I'm sure stress eating had something to do with it. Again, the whole postpartum depression, grief, and then, you know a GLOBAL PANDEMIC probably contributed to the inability to drop that last 10 pounds.
Let's just say Ben and Jerry's was a good friend this past year.
When not even running was making a difference, I was forced to admit that 3/4 of my jeans were too tight. Even the leggings were not super comfortable. I'm talking, desperately want to change into sweats by the end of the day kind of too tight.
Especially when it seemed like the weight wasn't going anywhere anytime soon, I knew I wasn't going to make it another six months.
I needed new jeans, especially because…
4. My clothes started to wear out. Literally.
It started with realizing that one of the only pair of jeans that DID fit was developing holes. These holes were not in acceptable places, like the legs. They were in the BUTT.
That wasn't going to work for long.
I mean, I was home all the time pretty much, but there was no telling when a serious split was going to happen. And the grocery store is not when you want that to happen.
Then my nursing bras literally BROKE. As in unwearable anymore. Both of them.
Unfortunately, that meant new clothes were a necessity.
Related: Decluttering Clothes – A Realistic Step by Step Guide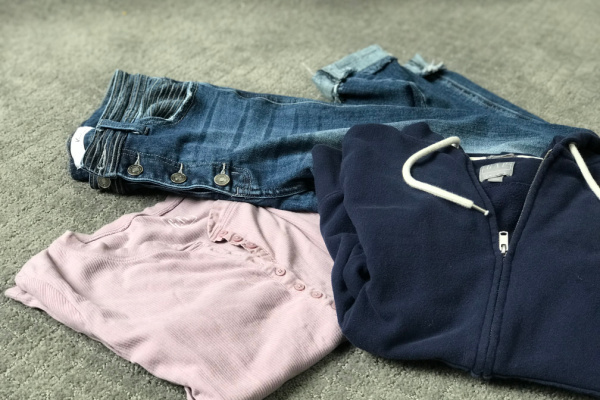 So, What Clothes Did I End Up Buying Six Months In?
Curious about what I ended up buying when I broke the challenge early?
Here's what I bought (and from where).
Three Pairs of Jeans
These jeans replaced the three pairs of jeans I started with, all of which became too tight during the challenge.
One pair, I replaced with the exact same version from Stitch Fix, just a size bigger. I ended up buying two more from Stitch Fix as well, since I've had a great experience with their jeans.
I didn't order a "fix", I just ordered directly from their website. By chance, I discovered that KanKan jeans feel like they were made for me – as in, when I bend down, everything stays covered back there. Yay!
Three Long-Sleeve Shirts
I purchased three new long-sleeve shirts to make it through the winter, although I didn't spend any money on them.
I get a good number of clothes for free from GAP and Old Navy, for myself and for my kids.
You can read more about my method for getting brand new clothes for free HERE.
Three Zip-Up Sweatshirts
Another free to me purchase, I ordered three zip-up sweatshirts (two identical navy blue ones, and one gray replica of one I already had), which became part of my winter daily uniform.
Two Pairs of Running Leggings
I thought I could run through the winter without new running leggings. Ha!
Did I mention it's COLD where we live now? For like, six months? As I type this winter is back and the high is 45 degrees.
And it's Memorial Day weekend, y'all. MEMORIAL DAY.
Needless to say, I needed at least a couple pairs of long, warm running leggings…which I also got for free from GAP.
Three Bras
I literally had none left. A necessity, unfortunately.
TOMs Classic Slip-Ons
I admit, this one probably wasn't a necessity.
It was more of a "I've wanted a new pair of these for forever and put it off for forever, and I deserve a spring (& fall) pair of slip-on shoes, dangit" kind of purchase.
But I absolutely adore them, and they've become my spring go-to shoe.
Related: How to Build a Spring Capsule Wardrobe for Less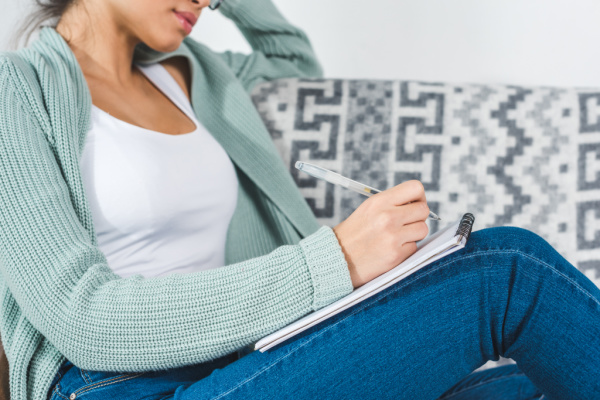 What I Learned From the No New Clothes Challenge, Even Though I Only Lasted Six Months
I in no way consider the challenge a failure. I still got a TON of value from not buying new clothes for sixish months, even though I decided not to stick with it the full year.
1. I learned what clothes I love to wear, and which ones I really don't.
Very quickly, you become more aware of what you reach for naturally every single day. What you miss when it's in the laundry.
You learn what you keep passing over and wait to wear until you are completely out of your favorites.
I even established a daily uniform for the winter, and I'm working on my summer one.
Sweaters are not one of my go-to options, although I will probably keep two out of the three that I currently have. The fact that one requires dry-cleaning, and there are no close dry cleaners, is a major factor here.
I have a stack of clothes to give away, sell or recycle now – mostly lounge clothes I never wore and the clothes I've sized out of.
Related: 7 Effective Ways to Minimize Your Wardrobe (& Take Back Your Closet!)
2. I realized the downsides to smaller wardrobes, and am figuring out my own version of "enough".
Clothes wear out, especially when you are wearing and washing the same ones week in and week out.
There is definitely a balance to having less clothes so you aren't overwhelmed, but having enough that they don't wear out too soon from all that washing.
Because then you have to invest time in finding new clothes you love, and I really hate hunting for new go-to clothes. I'd much rather find things I love and buy those same things again when the old ones wear out.
Yes, you can take better care of your clothes. However, you either need to wash them less or invest in better quality clothes.
I'm currently eyeing Woolx and am considering replacing long-sleeve shirts and tank tops down the road one by one as they wear out with Woolx ones.
They claim you can wear the shirts a few days in a row without them getting smelly, which means less washing. Plus, wool lasts longer than cotton and is far more durable (source).
These are pricey shirts – yikes! Especially because of that price tag, I will start with one or two at a time to see if they stand the test of time.
If the quality really is what they say it is, if they last, I think the investment will be worth it. Because hunting for new clothes that fit you and that you love in this fast fashion, quickly changing clothing landscape is NO fun and can be a total time and energy suck.
Do you know of clothing brands that are quality materials and workmanship and last a long time (and won't break the bank)? I'd love to hear about them! Please do share in the comments.
3. I am far more intentional with my clothing purchases.
I hinted on this in the last point, but now I think a lot more about how long my clothes are going to last, and what will happen to them after they wear out.
I am working on investing in clothes that will stand the test of time OR clothing that can be repurposed once I'm done wearing it. I am also trying to learn how to repair clothes, too, although this is NOT my favorite thing.
Related: How to Stop Shopping – 10 Steps to Finally Break the Habit
4. I have a plan for clothes shopping moving forward because I'm more aware of my true needs.
Thankfully, clarifying what clothes I actually love was super helpful in curbing my shopping. But still, it's can be ver easy to get sucked back into consumerism. It can also be hard to know when to stop, when you have "enough".
Clearly I didn't have enough clothes when I started. As far as my winter wardrobe is concerned, I now have enough clothes.
Except maybe socks – my feet are always cold. And next year, I will need to invest in a winter coat, and possibly winter boots for longer outings and snow play with the kids. Also, are snow pants for adults a thing? I've gotta look into that too…
Now that we are coming up on spring and summer, I'm running into the same problems I mentioned above.
I need to replace a couple pairs of shorts because: that pesky pandemic 10. I am adding more graphic tees and more of these identical flowy tanks to my wardrobe to make them last longer and replace ones with holes. I'm hoping to stick to these two warm weather shirts, so I can eventually turn the worn out graphic tees into a quilt.
Anyway, no matter how long it's been, you're never really cured of the shopping bug. But a no new clothes challenge can help you to know what you truly need…and what's excess.
Still, make sure to have good boundaries in place or some kind of accountability when you finish the challenge. You're going to need them!
Related: How to Get Started with Capsule Wardrobes…And Why You Need One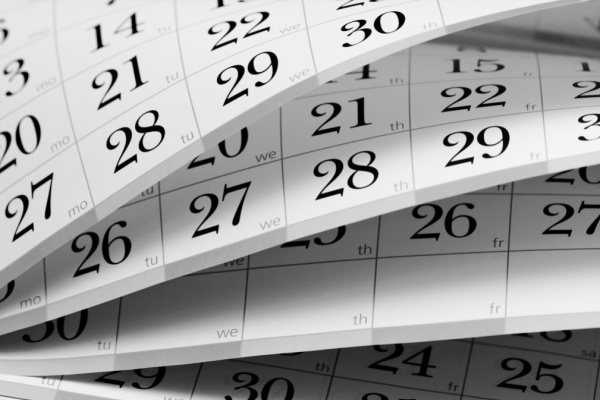 So, Is Not Buying Clothes for a Year a Good Idea? That Depends
I think you could get just as much value from a shorter challenge – say, six months, instead of a year. Shorter than six months and you will probably not get the same benefits.
But so much depends on how many clothes you have to begin with.
Maybe I'm not the norm? I think most people who attempt a no new clothes for six months or a year probably start out with far more clothes in their closet than I did.
When you start with more, you are less likely to wear clothes out, or run out of clothes.
At the very least, the challenge can help you realize what clothes you reach for day after day, the things you get sad about when you realize they're in the dirty clothes. That information is what I consider to be my most valuable takeaway from the challenge.
Read Next: 5 Not So Obvious Steps to Keep On Top of the Laundry
Have you tried not buying clothes for a year? How did it go? Share in the comments!